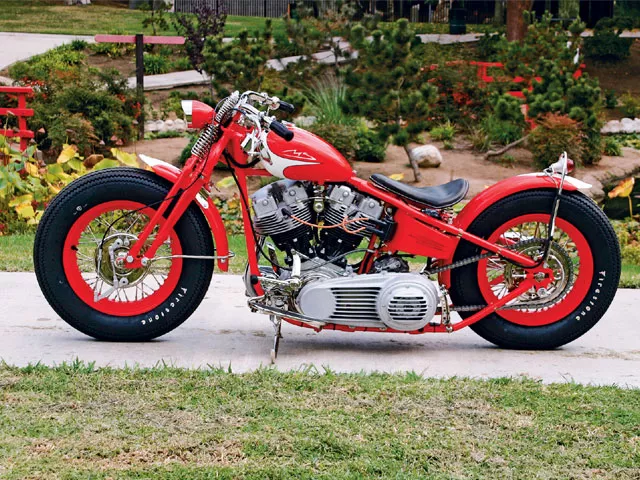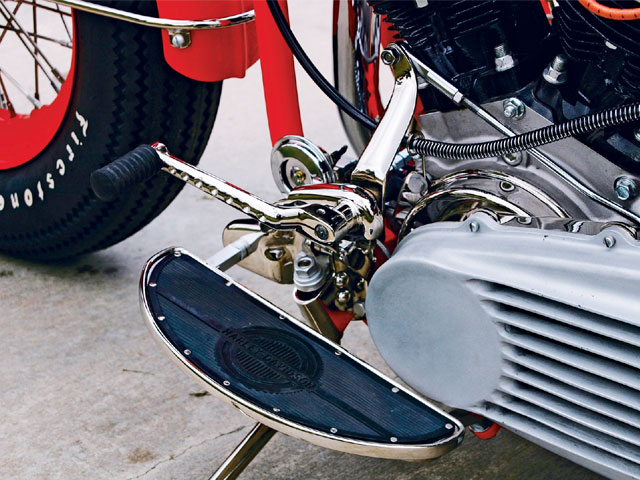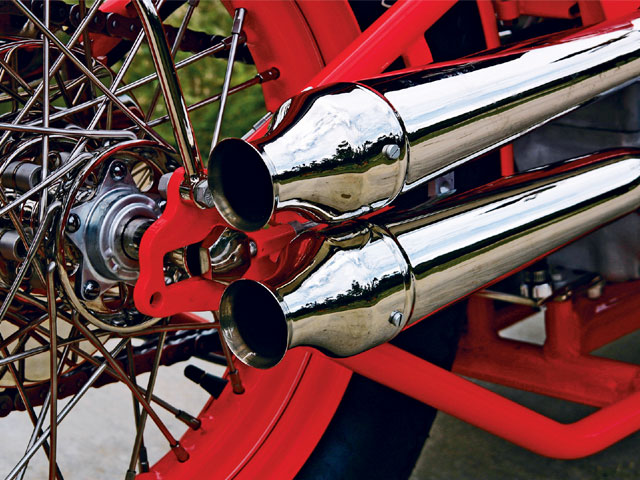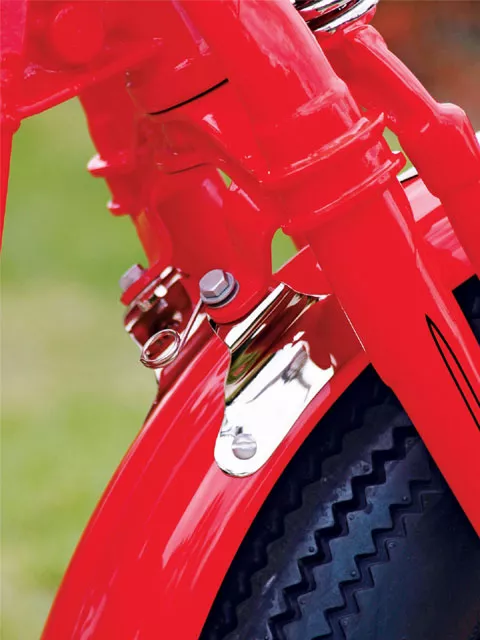 How cool would it be to retire like Michael Shumacher? You work really hard, become the Michael Jordan of your profession, retire at the top of your game, and get a sexy custom bike as your going-away present. It beats the hell out of getting a cake and a watch.
If you don't follow Formula 1 racing, you may or may not know that Shumacher is one of the most (if not the most) successful racers in the history of that sport. Between 1994 and 2006, the German auto jockey claimed seven Formula 1 championships (most of them for Ferrari), breaking the previous record held by Juan Manuel Fangio in the 1950s. He also holds F1 records for most wins, most wins in a season, and most consecutive world championships, among others. He hung up his helmet at the end of the 2006 season, and that's where this bike comes in.
It's the creation of Yoshi Kosaka's Garage Company in Venice Beach, CA. Yoshi's no stranger to racing, either. When he's not building two-wheelers in his motorcycle shop, you can find him at racetracks like Willow Springs, either watching or competing with one of his vintage bikes. His love affair with motorcycle racing started in the '70s, and he's raced in both the U.S. and Japan. He even took an AHRMA national title in 1993 on a Bultaco TSS.
When Shumacher announced his retirement, Ferrari recruited Garage Company to make his going-away gift: A 1981 Harley-Davidson FLH converted into a sweet red chopper. As with a lot of Yoshi's custom bikes, much of this machine is the original article, reinvented into a classic chopper.
A lot of work went into making that happen. The customizer's and restorer's arts were doled out in equal measure to transform this bike over a four-week period. Yoshi's shop tore the motor apart and restored it, but the valves, pistons, and cam all needed replacement. This was also true for the tranny; although the vast majority of it is the original article, they had to swap out the stock clutch for a Primo.
On top of that, Garage Company tossed the swingarm, then cut and welded the back of the frame into a rigid. A Springer frontend went in place at the neck to give the bike some suspension. Yoshi's shop is a veritable parts museum, and among the piles of stuff he found a set of 16-spoke wheels that were perfect for the old school look he wanted. Since he wasn't going for "classic look, modern tech," caliper brakes wouldn't do, so Kosaka kept the old drum wheel stoppers but refinished them to make sure they looked good.
The tanks and fenders were a different story. None of the original H-D sheetmetal made it into the new chopper. Both fenders were cast away in favor of ribbed ones that were in line with the style of the bike, and in the depths of his shop Yoshi found a peanut tank that was the perfect match for the bike. Here he also made one of the few modern concessions you'll find on this bike: a Drag Specialties oil sack.
Despite all of Garage Company's hard work, the transformation wasn't exactly complete. One big step remained: paint. Would it be black? Teal? Desert camo? Of course not. With Shumacher's history, only Ferrari Red made any sense, and after Jim's Cycle Painting laid down a beautiful dose of that color, Bob Iverson added Shumacher Racing's signature logo on both sides of the tank.
Shortly thereafter Yoshi flew out to Italy for the champ's farewell party. Michael Shumacher loved the bike and Yoshi, a longtime racer himself, was absolutely thrilled to present it to him. Even though Michael made $80 million a year as a racer, now he can finally get the money from that pension he paid into all those years and spend it on road trips with his going-away gift.
Spec Sheet
| | |
| --- | --- |
| GENERAL | |
| OWNER | Michael Shumacher |
| SHOP | Garage Company |
| PHONE | (310) 821-1793 |
| WEBSITE | www.garagecompany.com |
| YEAR/MAKE/MODEL | '81/Harley-Davidson FLH |
| FABRICATION | Garage Company |
| ASSEMBLY | Garage Company |
| BUILD TIME | 4 weeks |
| | |
| --- | --- |
| ENGINE | |
| YEAR/TYPE/SIZE | '81/H-D Shovelhead/80ci |
| BUILDER | Garage Company |
| CASES | H-D |
| CYLINDERS | H-D |
| HEADS | H-D |
| ROCKER BOXES | H-D |
| CAM | Sifton |
| CARBURETOR/EFI | S&S; |
| AIR CLEANER | Old |
| IGNITION | Points |
| EXHAUST | Garage Company |
| | |
| --- | --- |
| TRANSMISSION | |
| YEAR/MANUFACTURER | '81/H-D Four-speed |
| CASE | H-D |
| CLUTCH | Primo |
| PRIMARY DRIVE | Belt |
| | |
| --- | --- |
| FRAME | |
| YEAR/MANUFACTURER | '81/H-D FLH |
| | converted to hardtail |
| RAKE | 33 degrees |
| STRETCH | None |
| | |
| --- | --- |
| SUSPENSION | |
| MANUFACTURER FRONT | Springer |
| LENGTH | Stock |
| TRIPLE TREES | H-D |
WHEELS, TIRES, AND BRAKES MANUFACTURER FRONT/TYPE Garage Company SIZE-WIDTH/HEIGHT 16-inch TIRE/SIZE Firestone/5.00-16 BRAKE H-D drum REAR MANUFACTURER REAR/TYPE Garage Company SIZE 16-inch TIRE/SIZE Firestone/5.00-16 BRAKE H-D drum
| | |
| --- | --- |
| FINISH/PAINT | |
| COLOR(S) | {{{Ferrari}}} Red |
| PAINTER | Jim's Cycle Painting |
| GRAPHICS | Bob Iverson |
| MOLDING | Jim's Cycle Painting |
| | |
| --- | --- |
| ACCESSORIES | |
| FRONT FENDER | West {{{Eagle}}} (ribbed) |
| REAR FENDER | West Eagle (ribbed) |
| GAS TANK | Old peanut |
| OIL TANK | Drag Specialties |
| GAUGES | Tedd Cycle |
| HANDLEBARS | Garage Company |
| MIRRORS | Garage Company |
| HAND CONTROLS | Tedd Cycle |
| FOOT CONTROLS | Tedd Cycle |
| FOOTPEGS | H-D |
| HEADLIGHT | Drag Specialties |
| TAILLIGHT | Garage Company |
| LICENSE MOUNT | Garage Company |
| SEAT | Backdrop USA |