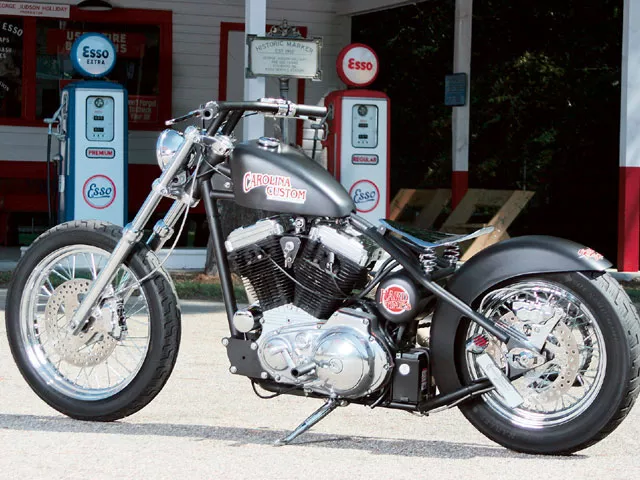 Those of us not born with the proverbial silver spoon in our kissers have all been there. It's that unpleasant place where your two-wheeled dreams and desires are totally out of sync with the realities of your bank account. Perhaps it was when you were in high school or college, or after a divorce, or maybe you got laid off-there's never a good time to have hard times. So how do you satisfy your need for a sufficiently cool new ride that provides pride of ownership when you're down (but not out)?
Dorian Swanner remembers his hard times. You might think it'd be tough for him to do so, considering the phenomenally successful business he has built, Carolina Custom Products (CCP), located in Union Grove, NC. After all, he's got 50 employees and $6 million worth of CNC equipment churning out 1,500 frames, a couple hundred rolling chassis, and hundreds of wheels a year. But at his core he's a down-to-earth, good ol' biker who knows what he likes and knows how to build it. "We're about providing end users with a complete solution in order for them to build a custom bike, and doin' it in America instead of overseas.That's totally what our company is based on," Dorian told us by phone. The idea behind this stunner of a Sportster actually came from his wife, who essentially dared him to try to make something great but do it cheap. He said that she asked him straight up, "What can you do for $10,000?" He continued, "Well, I looked her straight in the face and said, 'You can't do shit for $10,000.' And then the challenge was on."
The project started with a tired but serviceable donor cycle in the form of an '88 Sportster Custom for the very reasonable price of $2,500. Dorian knew what to look for-good spoke wheels, straight forks, and a healthy motor and tranny. The idea was that the more he could salvage, the better the chance of bringing it all in under 10K. Dorian said, "This is the way she put it to me: 'Anybody can build a nice motorcycle if they've got $50,000. Who can build one for $10,000 that's worth havin'?' I'll be honest with you-at first, I thought it was totally impossible."
His plan was a brave one. Build a cheap bike from scratch-in a week-and then display it in front of thousands of critical bikers in Sturgis who have gotten jaded by $100,000 objets d'art. Most people would have been done in by the old truism: you can't have it good, cheap, and fast, but with luck maybe you can get two out of three. Not Dorian. "Spending money is not hard to do, but trying to do something that's really killer and not spend any money-that's a chore. It's the hardest thing I've ever done in my life."
Of course, it sure helped to have a first-rate team of fabricators and artisans who invested plenty of their own sweat equity. It also helped that this entire bike was in Dorian's head in perfect 3-D before he spun the first wrench. "Back when I was 16, I didn't have any money, so I had a Sportster. And you wanted to be cool, know what I mean? So I made a rigid out of my Sportster. Well, since I had done some of these same things to my Sportster back in the late '70s, and here I was working against this budget of 10 grand, I realized I had to do things the way I would have done it when I didn't have any money. For example, if you look at the pegs on the bike, they're just two pieces of pipe that we sawed off and drilled a damn hole through and bolted 'em on. They are just pegs."
Dorian looked at what worked and what didn't on the stock bike from a custom point of view and let that be his guide. "We kept the stock geometry on our frame so the parts from the old Sportster would bolt directly to it. Now, we did use internal fork stops because they give a cleaner look. We also ground off all the tabs that are on the trees and polished 'em and cleaned up the fork legs. We took the headlight that normally hangs from the top triple-tree and put on a tractor-style headlight that we mounted to the bottom triple-tree. This was just to give it an old-school, nostalgia-type look."
Dorian wanted to continue the theme with a simple sprung leather seat, but fate intervened. "It turns out the two guys at High Rollers who usually cover my seats had both wrecked their motorcycles and were in the hospital. So I ran down there to get the seat pan. We had 24 hours left before we had to leave for Sturgis, so I took it to my chromer and said, 'Just chrome this thing.' It rides great, and I have no intention of changing it-it surprised the shit out of me, how well it rode."
But it wasn't all just cut and grind and happy accidents-a few key areas got special attention. Perhaps the coolest innovation on this machine is under that chrome seat. Look there, and you'll see a nice round oil bag, but that's just half the story-one that begins with Dorian's friendship with the guys at Milwaukee Iron. "When Milwaukee Iron did the six or so episodes for the Discovery Channel, we furnished the wheels and frames and stuff for everything they did. Anyway, I knew Randy could help me since he was making some round oil tanks. When I got the frame done I went to them, and Randy said, 'Go on back there and work with Gary.' So Gary and I worked together, and Gary helped me develop the fender and the oil tank. As far as I know, this was the last project Gary worked on before he passed away. One half is the oil bag; the other half is where all the electronics are mounted. The circuit breakers, the coil-all that stuff is concealed under the left-hand side of the oil bag. So that's what you'd call a multifunctional oil bag: one side screws off, and it's just a cover for all your electronics."
When the engine was pulled out of the stocker, it was immediately trucked over to the nearby Nitro Shack, where Big Dave Lytton tore into it. "I told him to just freshen it up a bit, but he knows me better than that," admitted Dorian. A former AMI Mechanic of the Year and Horsepower Shootout winner, Dave has extensive experience building fast and reliable V-Twins. He installed high-compression pistons, fresh cams, and adjustable pushrods and massaged the heads for better flow. A new Mikuni carb replaced the gummed-up original. That and a few other tricks are good for about a 20hp bump-up from stock. Add that to the fact that this custom weighs a good 80 pounds less than the original, and you've got a pretty potent little package. "I just wanted it to be small, light, and nimble," says Dorian. "It feels like a durned flat-tracker. The performance is just phenomenal."
Dorian is, of course, heartened by the response he's gotten to "Hard Times," a custom that has given birth to a line of Sportster kits. The Bobster kit is modeled after this custom, and there's a version for taller riders with a 5-inch backbone stretch. He's also come up with a model that has a 6-inch rise and a 4-inch stretch he calls the Chopster, as well as one that sources the beefy Buell frontend, engine, and fat rear wheel to make a Pro-Street-type model he calls the Mobster. "Since we built this bike, we've built about a dozen of them and sold I don't know how many frames." From our point of view, this is what you could call a "value proposition," because the good news is that if you're thinking about building a bike like this for yourself, it is easy to find cheap Sportster parts. "The swap meets are just full of this stuff," offered Dorian with a smile. "At first I thought you'd need to go buy a donor bike, but I'm finding frontends everywhere and good engines-and a lot of Buells are out there."
As tough as it was for him to get this bike right in that one grueling week, Dorian has tried to make it as easy as possible for first-time builders to pick up the Sporty ball and run with it. "We have tech sheets, and we have three tech specialists here who stay on the phone 16 hours a day helping people." So now you've got a "no excuses" way to become a custom bike builder. "We made this almost stupid-proof. That's what our goal was," said Dorian.
| | |
| --- | --- |
| SPEC SHEET | |
| GENERAL | |
| OWNER | DORIAN SWANNER |
| SHOP | CAROLINA CUSTOM PRODUCTS INC. (CCP) |
| PHONE | (704) 592-5454 |
| WEBSITE | WWW.CAROLINACUSTOM PRODUCTS.COM |
| YEAR/MAKE/MODEL | '88/H-D SPORTSTER/CUSTOM |
| FABRICATION | ED HILL |
| ASSEMBLY | DORIAN SWANNER |
| BUILD TIME | ONE WEEK |
| | |
| --- | --- |
| ENGINE | |
| YEAR/TYPE/SIZE | '88/H-D SPORTSTER/1,200CC |
| BUILDER | DAVE LYTTON |
| FLYWHEELS | H-D |
| RODS | H-D |
| PISTONS | WISECO |
| CYLINDERS | H-D |
| HEADS | H-D/THE NITRO SHACK |
| VALVES | H-D |
| ROCKERS | H-D |
| ROCKER BOXES | H-D |
| PUSHRODS | ANDREWS |
| PUSHROD TUBES | ANDREWS |
| CAMS | ANDREWS V-6 |
| LIFTERS | H-D |
| CARBURETOR | MIKUNI |
| AIR CLEANER | S&S; |
| IGNITION | DYNA DUAL FIRE |
| EXHAUST | DRAG SPECIALTIES |
| | |
| --- | --- |
| TRANSMISSION | |
| YEAR/TYPE | 88/H-D FOUR-SPEED |
| CASE | H-D |
| GEARS | H-D |
| CLUTCH | BARNETT |
| PRIMARY DRIVE | CCP |
| FINAL DRIVE | CCP |
| | |
| --- | --- |
| FRAME | |
| YEAR/TYPE | '05/CAROLINA CUSTOM PRODUCTS RIGID |
| RAKE | 33 DEGREES |
| | |
| --- | --- |
| SUSPENSION | |
| FRONT BUILDER | H-D |
| YEAR/TYPE | '88/SPORTSTER |
| MODIFICATIONS | TABS TRIMMED, CHROMED |
| LENGTH | 2 INCHES UNDER |
| TRIPLE-TREES | H-D |
| REAR | NONE |
| | |
| --- | --- |
| WHEELS, TIRES, AND BRAKES | |
| FRONT BUILDER/SIZE | H-D/19-INCH |
| TIRE/SIZE | DUNLOP/{{{100}}}/90X19 |
| CALIPER | HHI |
| ROTOR | CCP |
| REAR BUILDER/SIZE | H-D/16-INCH |
| TIRE/SIZE | DUNLOP/130/90X16 |
| CALIPER | HHI |
| ROTOR | CCP |
| | |
| --- | --- |
| FINISH/PAINT | |
| COLOR | FLAT BLACK |
| PAINTER | CCP/TOMMY KERR |
| PLATING/POLISHING | CCP |
| | |
| --- | --- |
| ACCESSORIES | |
| REAR FENDER | CCP |
| FENDER STRUTS | CCP |
| GAS TANK&CAP | CCP |
| OIL TANK | CCP/MILWAUKEE IRON |
| HANDLEBARS | CCP |
| RISERS | CCP |
| MIRRORS | DRAG SPECIALTIES |
| HAND CONTROLS | PERFORMANCE MACHINE |
| FOOT CONTROLS | H-D |
| FOOTPEGS | CCP |
| HEADLIGHT | H-D |
| TAILLIGHT | CCP |
| LICENSE MOUNT | CCP |
| SEAT | CCP |