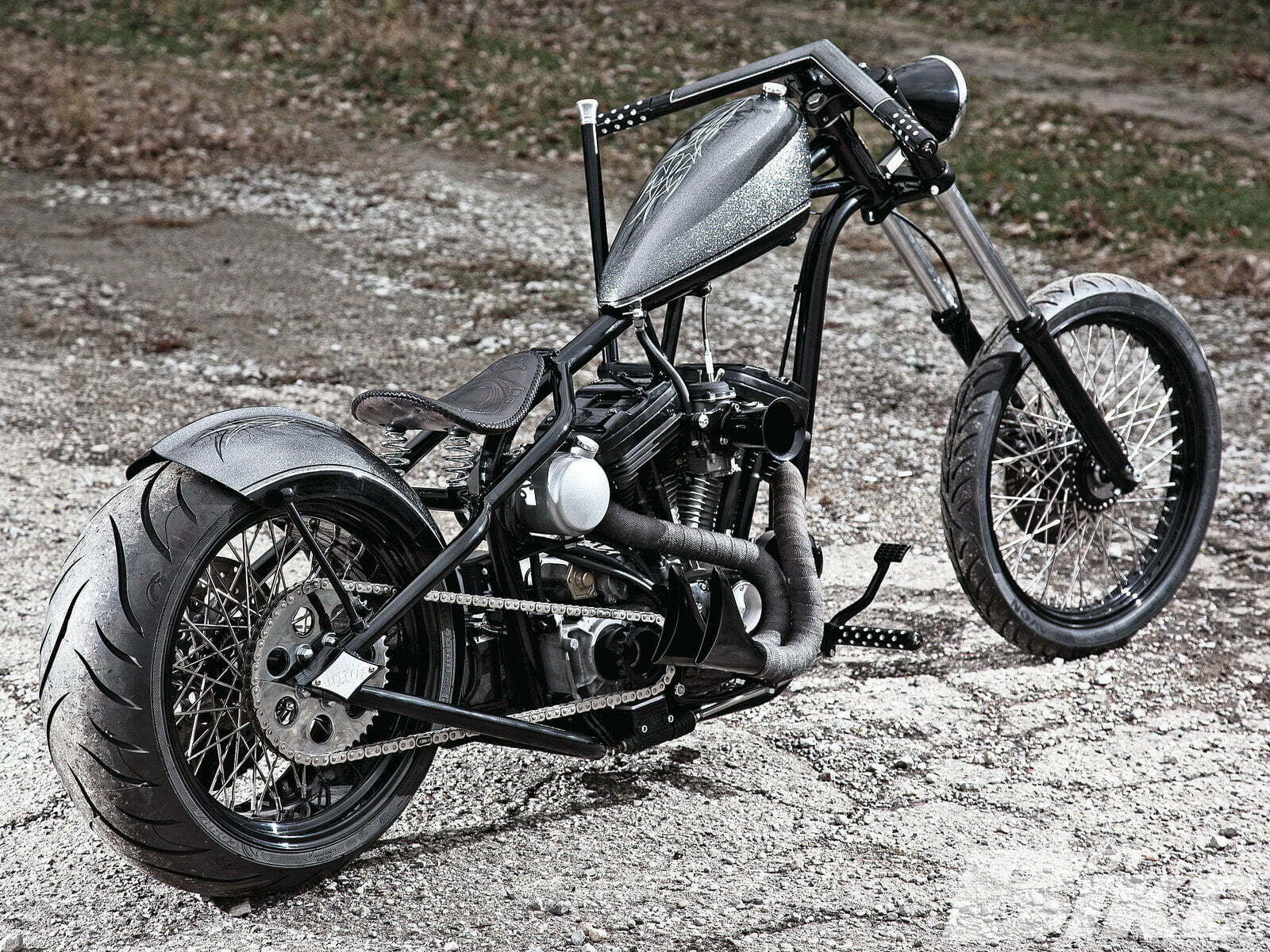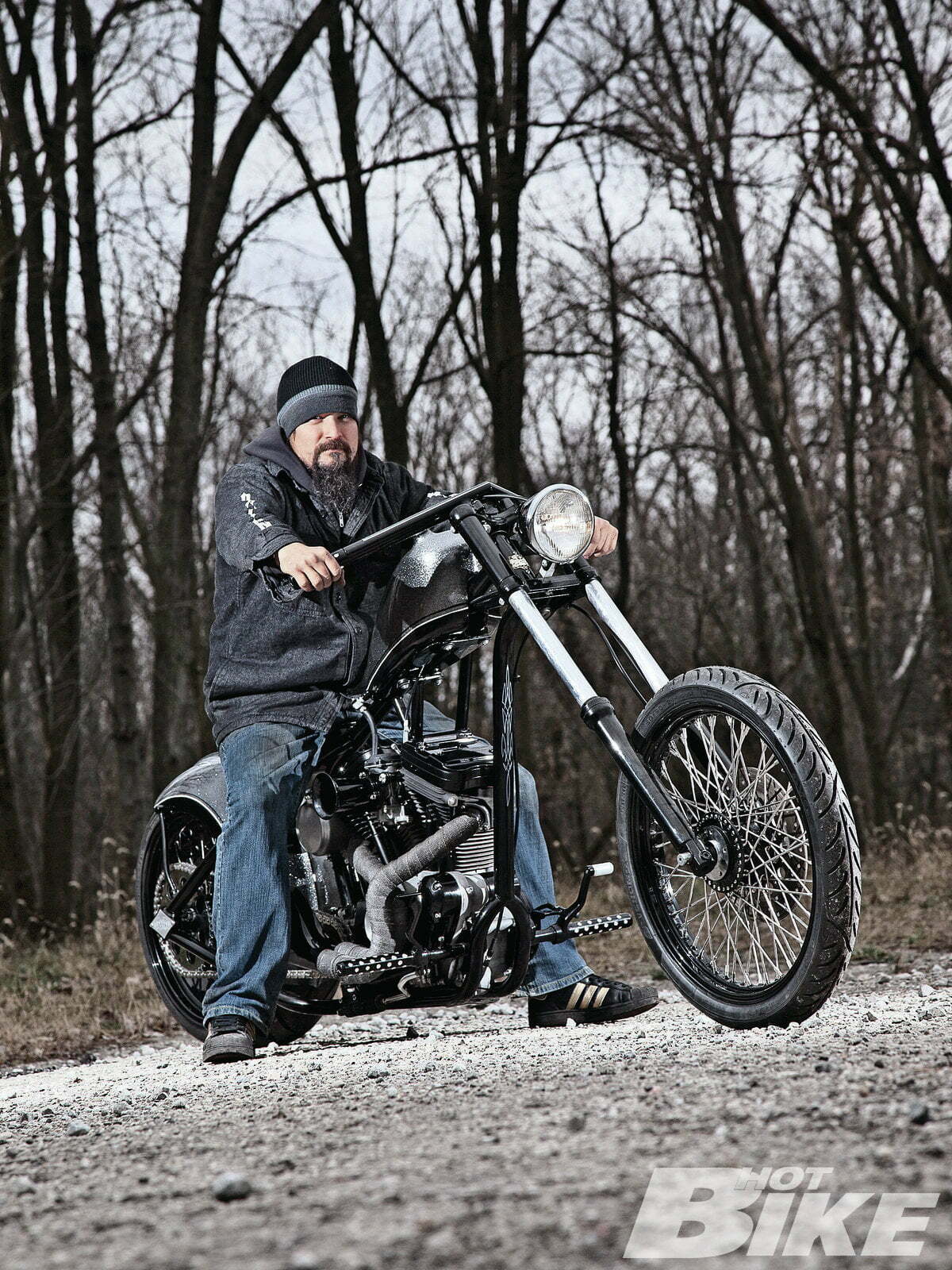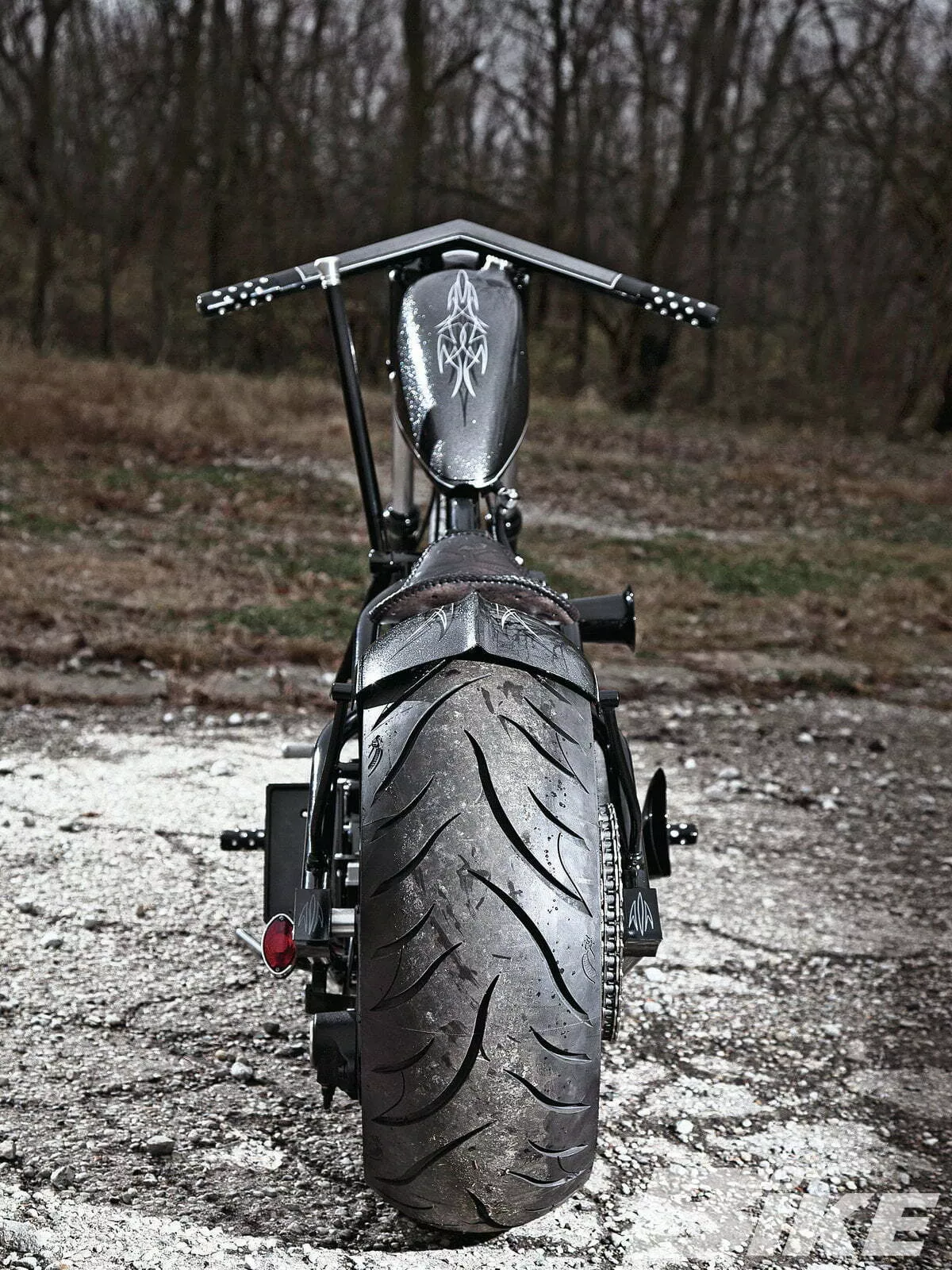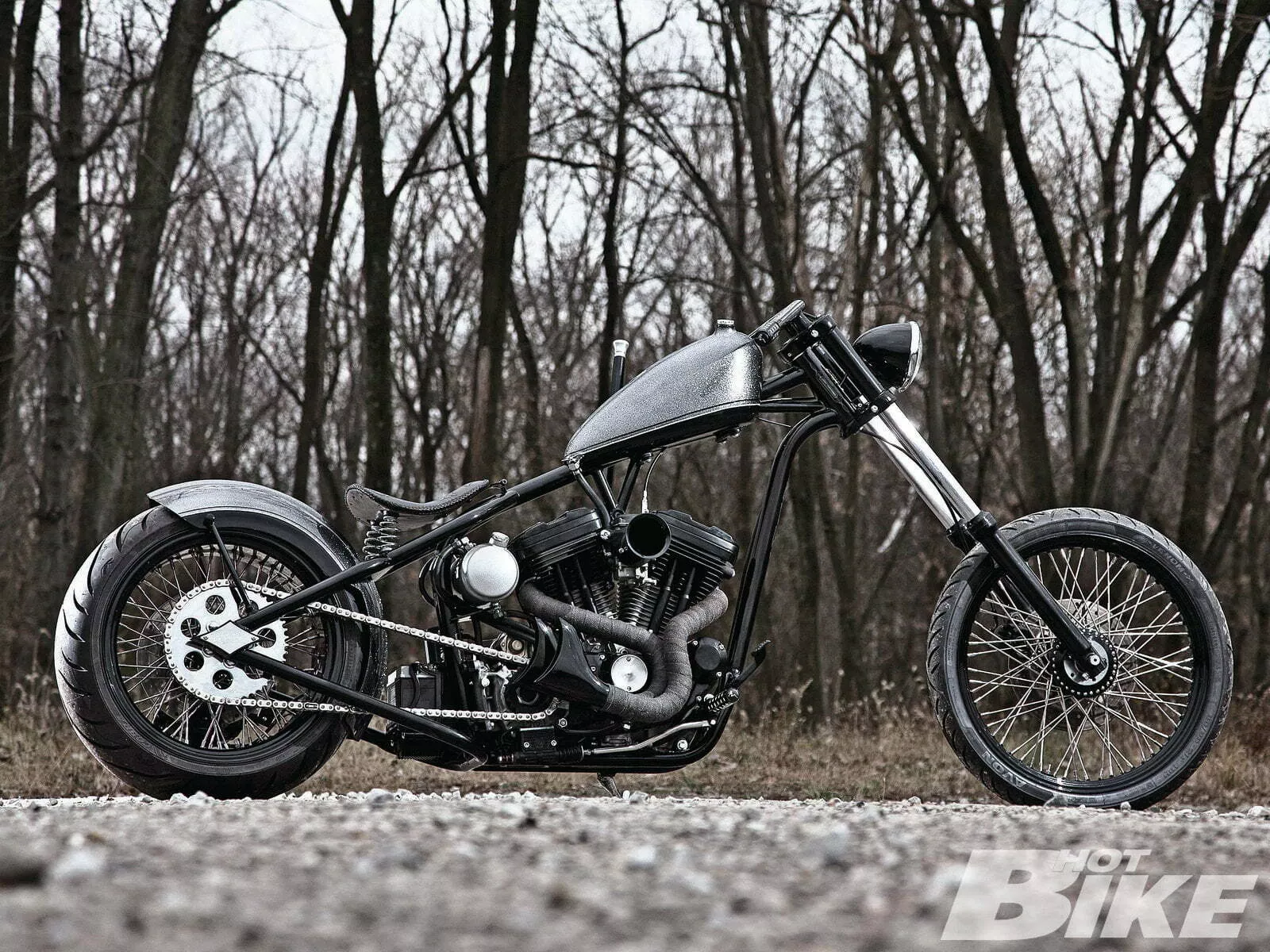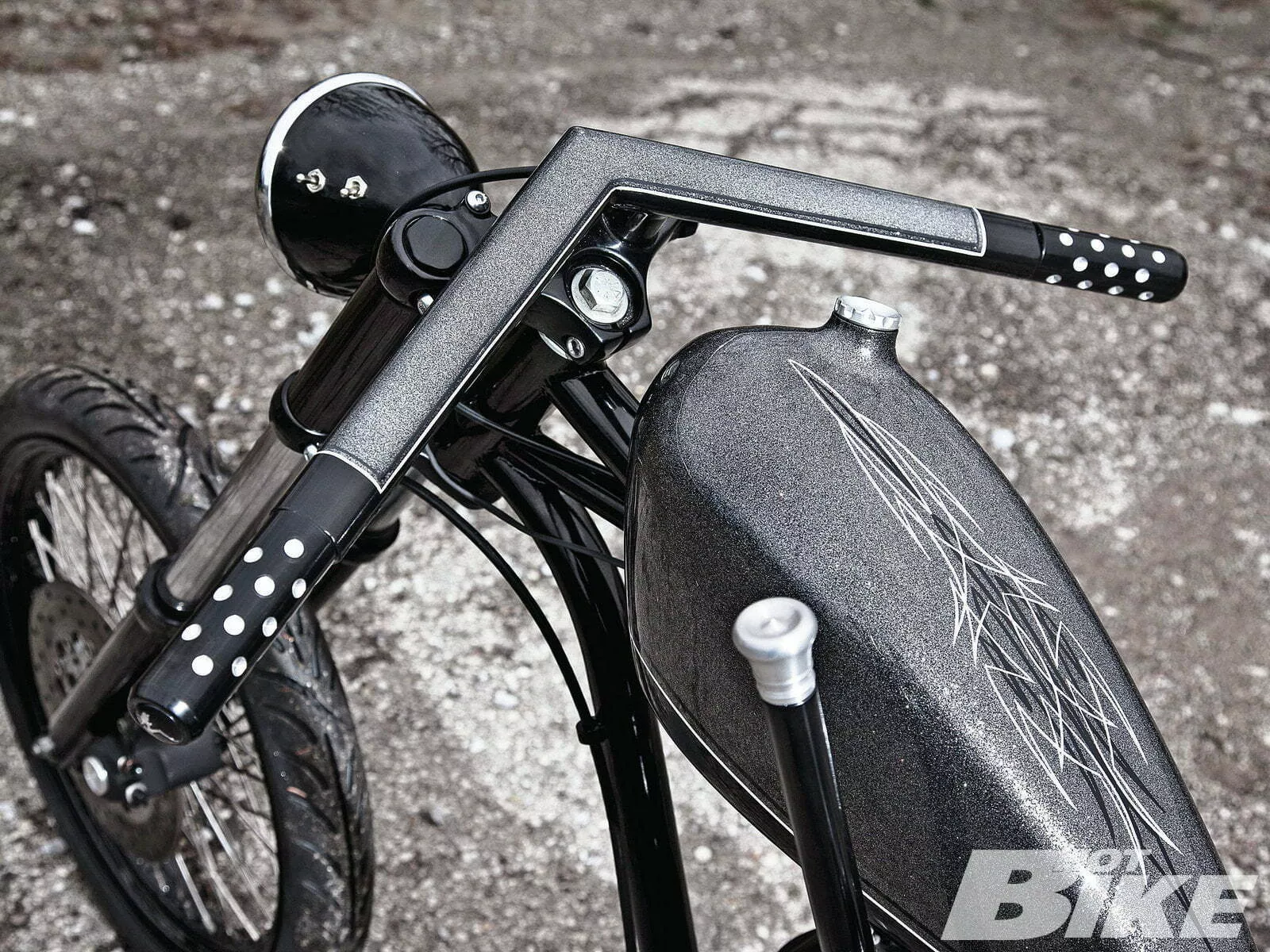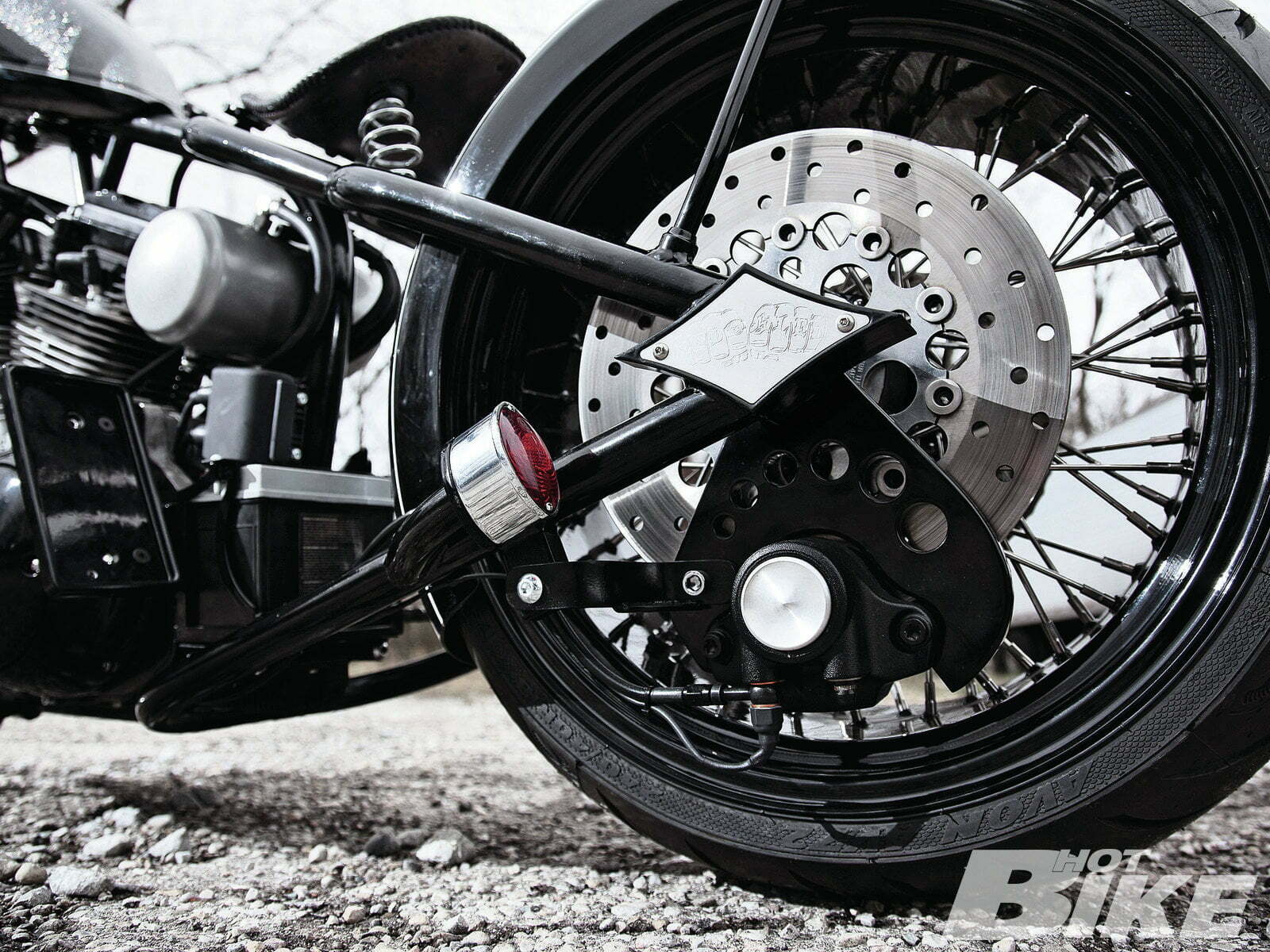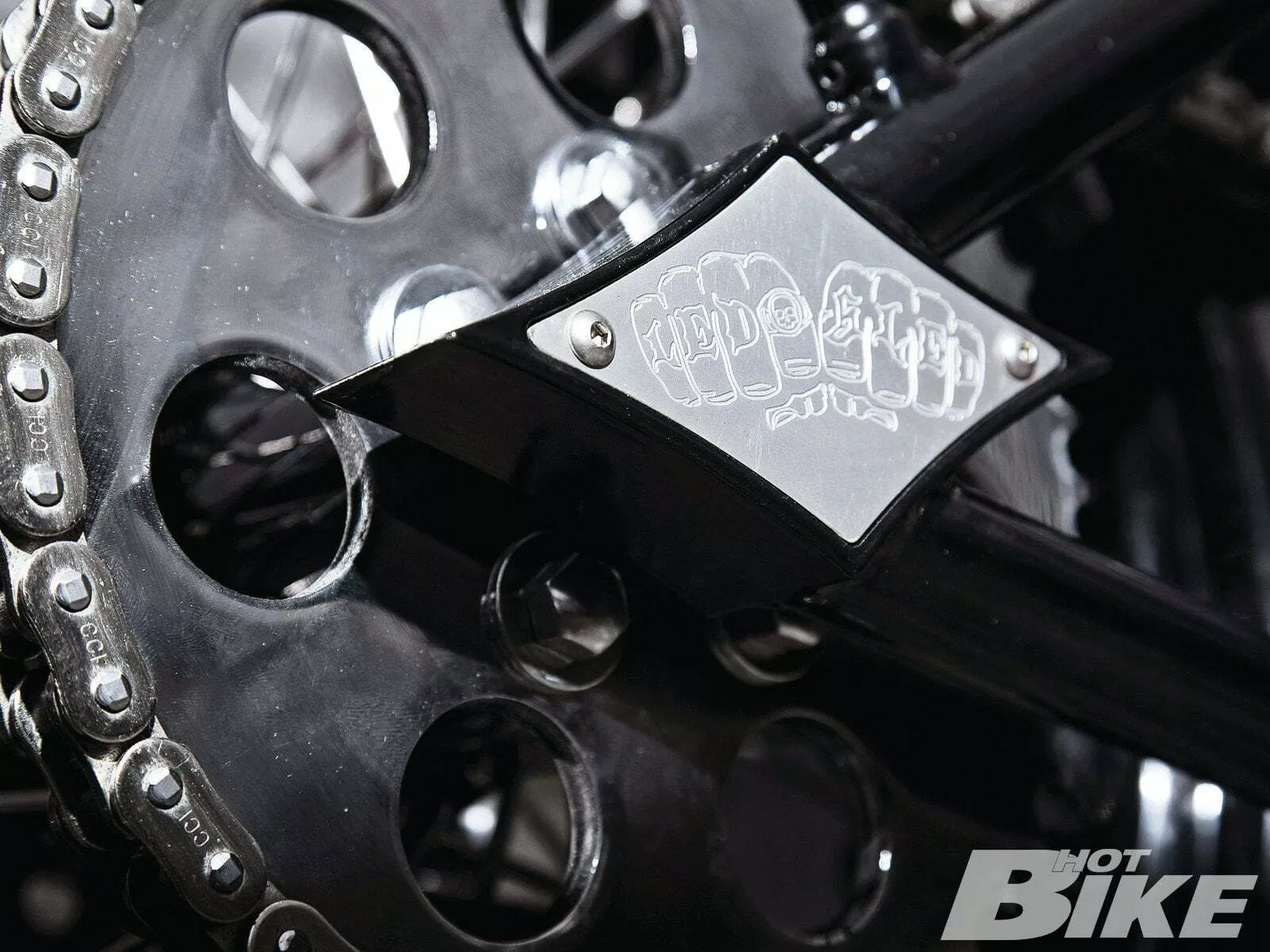 When Pat Patterson was asked whether or not he'd do anything different with this bike if he had a do-over, he had but one simple answer, "Nothing. Every bike we build for a customer, if an idea pops up, we don't hold back. I can't say we've built a bike a yet that when it's over, I can't say, 'It's not done.'"
Pro shops are plenty motivated to do great work as it is, but there's always a little extra incentive when you create a chopper for a US Army sniper. There is something about giving back to someone who has devoted his life to serving our country. And, there's the motivation of never, ever wanting to piss off someone who can turn a watermelon into a pink mist from more than a mile away, but I digress.
Kris March was the Army sniper and Pat Patterson at LedSled Customs was the moto architect who took on the job of creating a fast-as-hell chop job. Mr. March spied some of the projects on the LedSled website and got inspired by LedSled's "Qualifier" bike. "He's like a lot of dudes who just call us," Pat says. "They'll see something on the site and want something a little different." Kris also loosened the LedSled reins to build something unique just for him. Provided, of course, that it was hard-charging and aggressive on the street.
Pat's shop specializes in Buell- and Sportster-powered custom iron. Lean and mean wasn't going to be a problem. Mr. Patterson is a self-taught professional who made his fame and fortune (sort of) in the garage. He makes his own frames, controls, fenders, and sheetmetal all in-house, along with doing his own bodywork and paint.
Kris demanded his bike have a hardcore motor and got just that from a '98 Buell Thunderbolt 1200. Unlike a high-displacement aftermarket Big Twin, Buell mills go for cheap. Pat keeps a full stable of them and Sportster motors in his garage for projects like this. LedSled bent the exhaust tubing that hugs the barrels then ends in fishtails at the cam chest. Doing so killed a few birds with two pipes. The short exhaust not only gives the motor a sense of compactness, it's also a way to keep weight down (shorter pipes, less metal). It also makes for an uncluttered view of the rear wheel on that side of the bike. Pat's shop also fabricated the svelte air cleaner that's just big enough to do the job.
As cool as the motor configuration is, what Pat really loved about this project was the overall look of the bike. "I like the stance; the bars, the colors. The way the silver and black go together is really nice. It's just got kind of a badass aura sitting there." Kris March's chopper gets its villainous looks from the rigid frame Pat made for it as much as the evil black-and-silver paint. LedSled cut and welded a chassis raked 40 degrees and stretched 6 inches up and out to set the tone, but it's the handlebars that set off the profile in its own right. Pat had some wishbone bars sitting around in the shop's back yard, waiting patiently for the day to mate with the right project. "People can get a lot of those parts from us. We build parts for garage builders—the cats building cool bikes on their own. That's our bolt-on jockey kit on Kris's chopper. Since I work on or with these parts all day long, it's hard for me to say a project is super custom. But it is."
Pat may be used to the rigors of creating a hot chopper, yet time constraints can give even the most seasoned veteran wrench fits. Face it, three months is forever when you're a kid waiting for Christmas morning. It's a lot tighter when you're turning tubing and sheetmetal into a finished motorcycle. When you're the one making something for service personnel waiting to be deployed, such as in Kris's case, giving them as much time to enjoy something they love before heading off to war is a wonderful aspiration.
When Kris finally got his finished chopper, needless to say he was plenty happy. He must have been—Pat is still around at least. Pat Patterson and LedSled gave life to the fast, evil chopper Kris always dreamed of, with just enough time for him to break it in before deployment. We hope he enjoyed the hell out of it.
Specifications
| General |   |
| --- | --- |
| Owner | Kris March |
| Shop  | LedSled Customs |
| Shop Phone | (937) 879-4645 |
| Website | ledsledcustoms.com |
| Year/Make/Model | 1998 Buell Thunderbolt |
| Fabrication | LedSled Customs (LSC) |
| Build Time | Three months |
|   |   |
| Engine |   |
| Year/Type/Size | 1998 Buell Thunderbolt 1200 cc |
| Builder | LSC |
| Cases | Buell |
| Cylinders | Buell |
| Heads | Buell |
| Rocker Boxes | Buell |
| Cams | Andrews |
| Throttle Body | CV |
| Air Cleaner | LSC |
| Exhaust | LSC |
|   |   |
| Transmission |   |
| Year/Type | 1998 Buell five-speed |
| Gears | Buell |
| Clutch | Buell |
| Primary Drive | Buell |
|   |   |
| Frame |   |
| Year/Type | 2012 LSC rigid |
| Rake/Stretch | 40 degrees, 6 inches up and out |
|   |   |
| Suspension |   |
| Frontend  | H-D |
| Shocks | N/A |
| Swingarm | N/A |
|   |   |
| Wheels, Tires, and Brakes |   |
| Front |   |
| Builder/Size | Ride Wright 21×2.15-inch |
| Tire/Size | Avon 80/90 |
| Calipers | None |
| Rotors  | None |
| Rear |   |
| Builder/Size | Ride Wright 18×8.5-inch |
| Tire/Size  | Avon 250 |
| Caliper | H-D |
| Rotor | H-D |
| Pulley | LSC chain conversion kit |
|   |   |
| Finish/Paint |   |
| Manufacturer | Dupont |
| Colors | Silver Flake and Black |
| Paint/Graphics | LSC |
| Plating/Polishing | None |
| Powdercoating | LSC |
|   |   |
| Accessories |   |
| Front Fender | None |
| Rear Fender | LSC |
| Gas Tank | None |
| Dash | None |
| Gauges | None |
| Handlebars | LSC |
| Grips | LSC |
| Mirrors | None |
| Hand Controls | None |
| Foot Controls | LSC |
| Floorboards | LSC |
| Headlight | LSC |
| Taillight | LSC |
| Turn Signals | None |
| License Mount | LSC |
| Seat | LSC |
| Stereo | None |
| Amplifier | None |
| Speakers | None |
| | [email protected] |