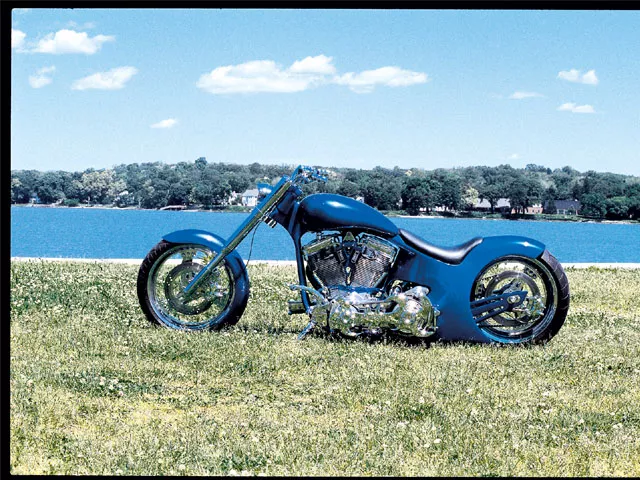 To look at it, you'd never know that this bike was born a Harley Fat Boy (unless you checked the VIN on the frame). But that's exactly the case.
Its owner, Mike "Big 1" Orsino of Stamford, CT, bought it from his cousin Sal while it was still stock, then brought it over to his buddy Will O's house on Thanksgiving. As the turkey grew cold on the dining room table, the two guys decided on changes for the Harley. Two extreme makeovers later, the bike became what you see now.
At first he was pretty happy with the bike, but after riding it for a short while, Mike hungered for more power, so out came the stock mill and in went a 100-inch RevTech V-Twin with a Mikuni 42mm carb, Wimmer velocity stack, Crane ignition, and Martin Bros. pipes. Increased power also cost the stock trans its job, and it was fired in favor of a RevTech six-speed with a Ness clutch.
While the bike was torn apart, Mike altered the frame by kicking the neck rake out to 42 degrees for a longer profile, then changed out the swingarm to hold an RC Components Imposter wheel shod in a Metzeler 240 tire. Up front, the forks were swapped out for a Mean Street inverted Street Stalker setup with another Imposter/Metzeler combo. Both wheels have matching RC brake configurations.
On the sheetmetal side, Mike chose two Fat Katz fenders for his machine and molded the rear one to flow into the new oil tank for a smoother, sexier look. An Independent gas tank got tapped to replace the old H-D setup, and after that the bike was turned over to Al Lobalbo, who mixed his own concoction of Long Beach Blue paint just for Mike's reborn ride. When it came back, Big 1 was extremely pleased with the results, and we can't blame him.
| | |
| --- | --- |
| SPEC SHEET | |
| OWNER | Mike Orsino |
| YEAR/MAKE/MODEL | '99/H-D/Fat Boy |
| FABRICATION | Owner |
| ASSEMBLY | Will O |
| BUILD TIME | 4 months |
| | |
| --- | --- |
| ENGINE | |
| YEAR/TYPE/SIZE | '03/RevTech/100ci |
| BUILDER | RevTech |
| CASES | RevTech |
| FLYWHEELS | RevTech |
| RODS | RevTech |
| PISTONS | RevTech |
| CYLINDERS | RevTech |
| HEADS | RevTech |
| VALVES | RevTech |
| ROCKERS | RevTech |
| ROCKER BOXES | RevTech |
| PUSHRODS | RevTech |
| PUSHROD TUBES | RevTech |
| CAM | RevTech |
| LIFTERS | RevTech |
| CARBURETOR | Mikuni 42mm |
| AIR CLEANER | Wimmer velocity stack |
| IGNITION | Crane HI-4 |
| EXHAUST | Martin Bros. War {{{Eagle}}} II |
| | |
| --- | --- |
| TRANSMISSION | |
| YEAR/TYPE | '03/RevTech six-speed |
| CASE | RevTech |
| GEARS | RevTech |
| CLUTCH | Arlen Ness |
| PRIMARY DRIVE | Hitech |
| | |
| --- | --- |
| FRAME | |
| YEAR/TYPE | '99/H-D Fat Boy |
| RAKE | 42 degrees |
| STRETCH | None |
| | |
| --- | --- |
| SUSPENSION | |
| FRONT | '03 Mean Street inverted Street Stalker |
| LENGTH | Stock |
| TRIPLE-TREES | Mean Street |
| REAR | |
| SWINGARM | Hale Bob |
| SHOCKS | {{{Legend}}} Air |
| ROTOR | RC Components |
| | |
| --- | --- |
| WHEELS, TIRES, AND BRAKES | |
| FRONT | |
| BUILDER/SIZE | RC Components/18-inch |
| TIRE/SIZE | Metzeler/18-inch |
| CALIPER | RC Components |
| ROTOR | RC Components |
| REAR | |
| BUILDER/SIZE | RC Components/18-inch |
| TIRE/SIZE | Metzeler/{{{240}}} |
| CALIPER | RC Components |
| ROTOR | RC Components |
| | |
| --- | --- |
| FINISH/PAINT | |
| COLOR | Cousin Al's custom Long Beach Blue |
| PAINTER | Al Lobalbo/Lobalbo Brothers Auto Body |
| MOLDING | Will Oberdorster |
| | |
| --- | --- |
| ACCESSORIES | |
| FRONT FENDER | Fat Katz |
| REAR FENDER | Fat Katz |
| GAS TANK | Independent |
| OIL TANK | Will O |
| GAUGES | {{{Dakota}}} Digital |
| HANDLEBARS | Arlen Ness |
| MIRRORS | Arlen Ness |
| HAND CONTROLS | OMP |
| FOOT CONTROLS | Accutronix |
| FOOTPEGS | Accutronix |
| HEADLIGHT | Kodlin |
| TAILLIGHT | CCI |
| TURN SIGNALS | None |
| LICENSE MOUNT | Hitech |
| SEAT | Front Page Upholstery |