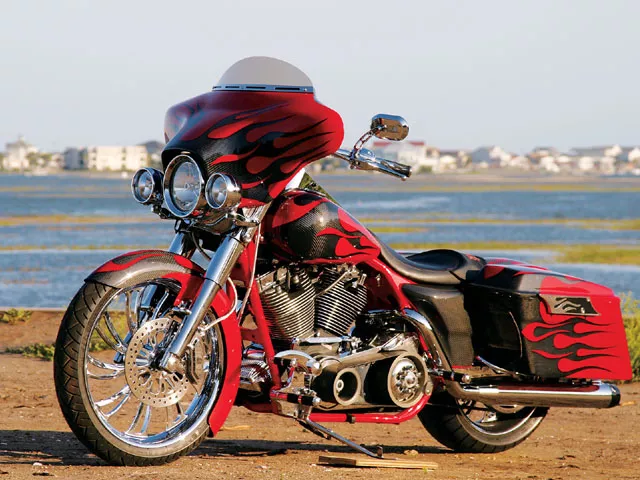 Kevin Martin, owner of Dragonfly Cycle Concepts, inserted his key into the ignition of his customized '00 H-D Road King. As he turned the motor over and his machine began to purr, he pulled back on the throttle, and the purr transformed into a deafening growl. He popped the clutch after shifting into First, then breezed through the rest of the gears on the makeshift runway as he reached an eye-blurring top speed. For a split second it looked as if Kevin's back wheel lifted from the ground, and the bagger started to soar into the atmosphere, destined for parts unknown.
Maybe we were having some kind of a drug-induced hallucination while photographing Kevin aboard his Incredible Flying Object (IFO), but when he pulled back on the bars and pointed the nose of the Road King up toward the heavens, we were flabbergasted! With an S&S; 124-inch powerplant underneath his seat, we knew that it just might have enough power to rocket him up to a neighboring galaxy.
We ran into Kevin at the Myrtle Beach rally this past May, and he told us all about his inspiration for this build.
Kevin started out in the industry kind of by default. After purchasing his first '00 Road King in 1999, he grew weary of waiting for someone in the industry to produce a cool fairing suited for his needs-one loaded with speakers and state-of-the-art stereo equipment. "After waiting around for three years for somebody to make one I said 'screw it, I'll make my own,'" Kevin recalled.
In 2002, he began working on a fairing he could easily attach/detach in a matter of moments, and about a week later he had a prototype ready for Sturgis. This thing was loaded with goods! When he arrived at the rally, inquisitive participants surrounded Kevin like a pack of hungry wolves. When he stopped to field their questions, a light went off in his head and he decided to turn his little creation into an enterprise, thus spawning Dragonfly Cycle Concepts. Shortly thereafter he launched a line of detachable fairings for Road King, Heritage Softail, Softail Deluxe, and Fat Boy models. Dragonfly now produces approximately 150 fairings a month.
In the Spring of 2007, Kevin decided it was time to revamp this Road King by beefing up the rear with Fat Baggers' 200 Rear Tire Kit. "I needed more traction," he explained, and the FBI kit provided the solution. He also used a wrap-around fender for the front to keep an overall proportionate look for the King. In order to power the wider rear tire, FBI also sent out their Extended Main Shaft to coexist with the original H-D case and the JIMS six-speed gear set.
Once the rear conversion was completed, Kevin began laying carbon fiber throughout the bike, totaling over 50 hours of labor. Then he sprayed on the clear gel-coat extra thick, using almost two gallons throughout the bike to get the finish of the carbon fiber just right. After all, this baby is the spokesmodel for Dragonfly, and Kevin wanted it perfect. Three applications of clear gel-coat later, the King was shipped off to Kevin's production fairing painter, Randy Burke of Randy Repaints in Edmonds, WA.
Once it was finished, Kevin knew exactly what would complete the package, and he added his new fairing. It came complete with a custom Kenwood 719 DVD player, a video iPod, a Sirius satellite radio receiver, and 600 watts to power the two speakers in the fairing and the two 6x9s in the saddlebags (one in each bag). In the bottom portion of the fairing Kevin installed a new one-off front wind deflector under the trees.
The jaw-dropping wow-factor of this build is the extensive attention to detail of the intricately placed lighting system. This can be attributed to LED guru Steve Harris of Glow Ride in Bakersfield, CA. Kevin and Steve met at a bike show a few years ago and became good friends. Steve began to work his magic, and 471 individual lights later, this glowing saucer-esque ride is possibly more fascinating than a UFO.
So the next time you're riding around the Seattle countryside at night and you see a beaming light barreling toward you from the opposite direction on a dimly lit two-lane road, don't start counting your blessings right away; it might just be Kevin on his extraordinary Road King.
| | |
| --- | --- |
| SPEC SHEET | |
| GENERAL | |
| Owner | Kevin Martin |
| Phone | (877) 374-6359 |
| Shop | Dragonfly Cycle Concepts |
| Year/Make/Model | '00/H-D/Road King |
| Fabrication | Dragonfly Cycle Concepts |
| Assembly | Dragonfly Cycle Concepts |
| Build Time | 4 weeks |
| | |
| --- | --- |
| ENGINE | |
| Year/Type/Size | '05/S&S;/124ci |
| Builder | S&S; |
| Cases | S&S; |
| Flywheels | S&S; |
| Rods | S&S; |
| Pistons | S&S; |
| Cylinders | S&S; |
| Heads | S&S; |
| Valves | S&S; |
| Rockers | S&S; |
| Rocker Boxes | S&S; |
| Pushrods | S&S; |
| Pushrod Tubes | S&S; |
| Cam(s) | S&S; |
| Lifters | S&S; |
| Carburetor | S&S; Super G |
| Air Cleaner | S&S; |
| Ignition | S&S; |
| Exhaust | Rinehart |
| Finish | Black Wrinkle/Chrome |
| | |
| --- | --- |
| TRANSMISSION | |
| Year/Builder/Type | '00/JIMS/Six-speed |
| Finish | Black Wrinkle/Chrome |
| Case | H-D |
| Top/Side Covers | H-D |
| Clutch | BDL |
| Primary Drive | BDL |
| Final Drive | Screamin' {{{Eagle}}} |
| Gears | JIMS 6-speed |
| | |
| --- | --- |
| FRAME | |
| Year/Type | '00/H-D |
| Rake | Stock |
| Stretch | Stock |
| Molding | None |
| Finish | Candy Red overWhite Base and Gold Pearl |
| Swingarm | FBI Chrome |
| Suspension | |
| Front | |
| Builder | FBI |
| Type | 1-inch lowered White Brothers |
| Modifications | Single-sided brake |
| Triple Trees | H-D |
| Rear | |
| Year/Type | '07/Adjustable coil cover |
| Modifications | None |
| Shocks | Progressive Suspension |
| | |
| --- | --- |
| WHEELS/TIRES/BRAKES | |
| Front | |
| Type/Size | Renegade/21×3.5 {{{Aspen}}} |
| Tire Make/Size | Metzeler/ME880 120×21 |
| Hub/Spokes | Renegade |
| Caliper | HHI six-piston |
| Rotor(s) | Renegade |
| Rear | |
| Type/Size | Renegade/18×6 Aspen |
| Tire Make/Size | Metzeler/18×200 |
| Hub/Spokes | Renegade |
| Caliper | H-D four-piston |
| Rotor | Renegade |
| | |
| --- | --- |
| FINISH/PAINT | |
| Color(s) | Real Carbon Fiber w/ |
| White Base Paint and Red Candy | |
| Painter | Randy Burke at Randy Repaints, |
| Sheamus Mcquade at Wesco Auto, | |
| Body by Dragonfly | |
| Graphics | Sheamus Mcquade |
| Molding | Dragonfly |
| Chrome Plating/Polishing | None |
| Powder Coating | None| None |
| | |
| --- | --- |
| ACCESSORIES | |
| Front Fender | FBI |
| Rear Fender | FBI |
| Gas Tank/Cap | H-D/K_f_ryakyn |
| Oil Tank | H-D |
| Dash | H-D |
| Gauges | H-D |
| Handlebars | Wild Ones |
| Risers | H-D |
| Mirrors | H-D |
| Hand Controls | Drag Specialties |
| Foot Controls | Accutronix |
| Foot Pegs | Accutronix |
| Headlight | Adjure |
| Taillight | Bad Dad |
| Turn Signals | None |
| License Mount | Bad Dad |
| Seat | Corbin/Dave Ames Upholstery |