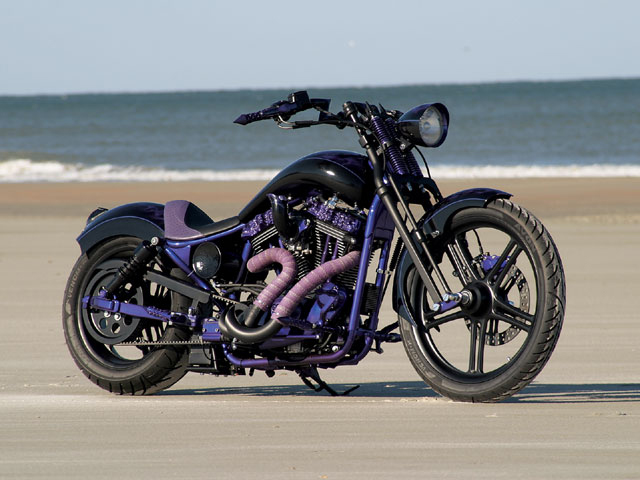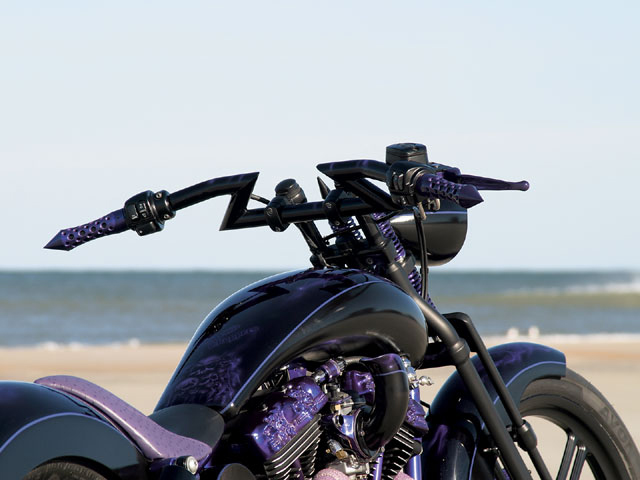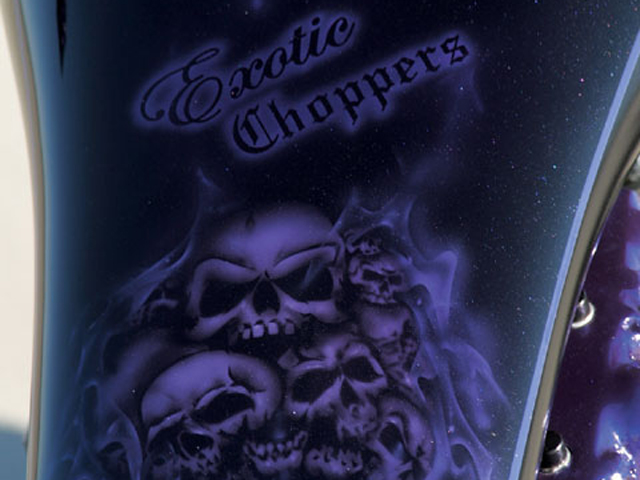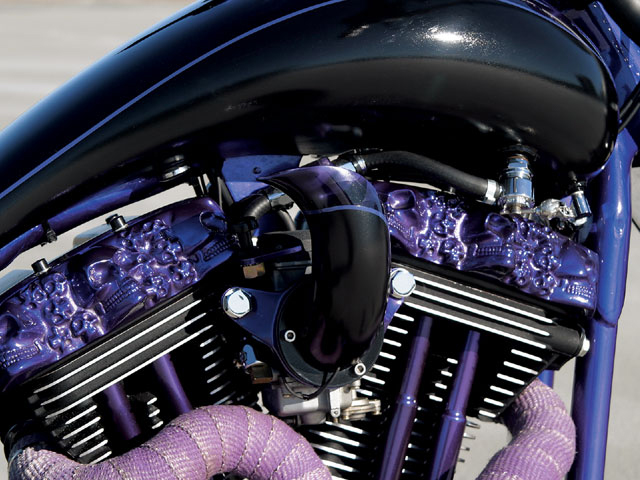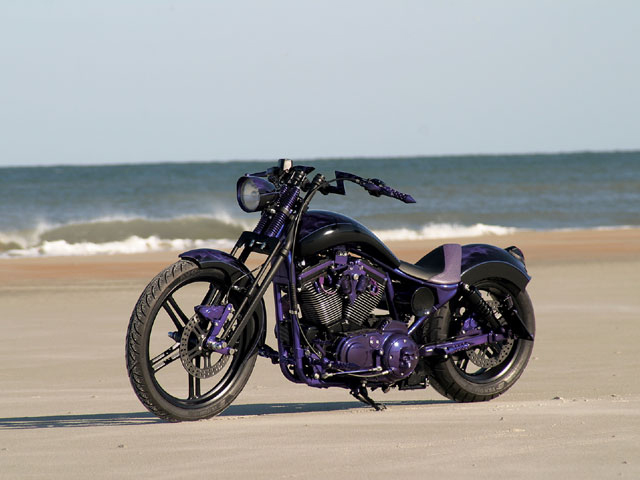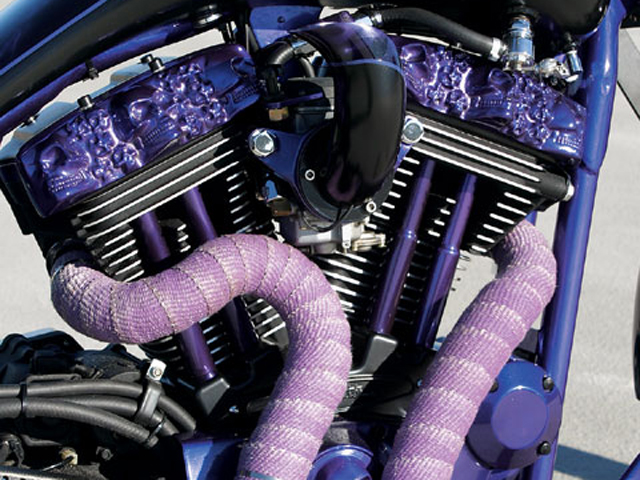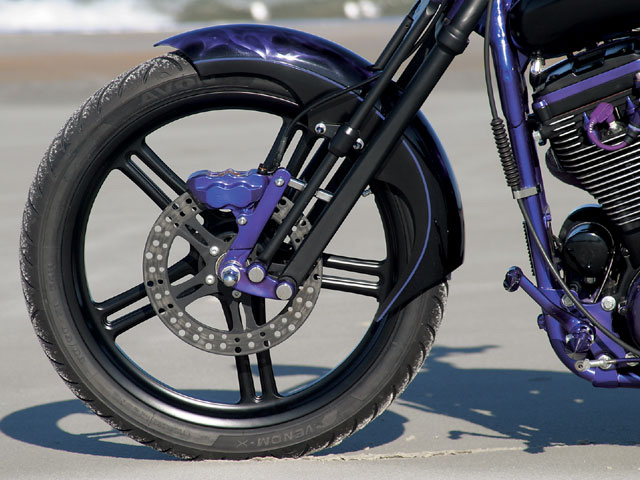 Blacked Out
We're not just an exhaust shop, although that's what we're known for," Paul Kokesh told us when asked about this bike. Exotic Choppers in Orlando, Florida, is his operation, and this '02 Sportster Custom is a clear illustration that he does a lot more than make pipes, whether it's fabrication, paint, powdercoat, or ceramic finishing. The major players on this bike (frame, motor) are largely Harley-Davidson, but Paul made a lot of it in his shop, too.
Part of that goes back to Paul's youth. His first bike, at age 19, was a beat-down chopper that he picked up for two grand. "I wasn't exactly rolling in cash, so if I wanted something, it was either make it or go without," he said. "Bending steel was pretty cheap. It started out as a hobby, but when my buddies started settling down, I went to AMI. Later on I went pro."
That said, modding a stocker on a budget was right up Paul's alley, and his customer wasn't looking to throw a huge pile of money at her scoot. Katie Burnette brought this Sporty to him with a mere five miles under its wheels, saying it was too top-heavy for her. "No problem," he said, "we'll just lower it a couple of inches." It was still too weighty up top for her. The only way to slam it lower without buying a new set of bones would be to chop the existing skeleton and modify and shave the forks. Paul suggested that if you're going to grill two racks of ribs, you might as well roast the whole hog; if she wanted to personalize it further, this would be as good a time as any.
Katie was down with that for a few reasons. The stance wasn't her only issue with the stock Harley; shifting was a little harder than she liked and she loved the idea of having a bike she could take to shows. Over the next three months, Paul brought all of her ideas to fruition in one smooth-running package. The end result was a slammed, skulled-out XL with really aggressive lines.
A lot of that comes from the frame changes. Paul stripped the bike down to the chassis and put it under the proverbial knife, trimming the tabs to clean it up. That was the least of the changes, though. He left the main hoop of the frame alone but cut away the triangle area that surrounds the oil tank and battery box, then widened the swingarm so Katie could run a 180 back tire. He also raked the neck to 36 degrees, but that didn't provide quite the look she was after, so Paul shaved 3/4-of an inch off of the springs and loaded up the adjustment on the Springer forks she was using up front.
The frame was by far the hardest part of the build, what with keeping it symmetrical and allowing for the bigger back tire. It took a whole lot of nights and weekends to reinvent this bike; "labor-intensive" describes it to a "T." Both owner and builder know good and well it was time well spent, though. "It's different; the opposite of most trends." As for the paint scheme, "Katie loves flat black but I told her flat black never wins shows and the show thing was important to her," Paul said. "The no chrome thing was important to her too. That's why we went with the purple," according to Paul. "If I could say only one thing to people, it's stop following trends and start following your heart."
Spec Sheet
| | |
| --- | --- |
| OWNER | Katie Burnette |
| SHOP | Exotic Choppers |
| PHONE | (407) 253-1233 |
| WEBSITE | www.exoticchoppers.com |
| YEAR/MAKE/MODEL | '02/H-D Sportster Custom |
| FABRICATION | Exotic Choppers |
| ASSEMBLY | Exotic Choppers |
| BUILD TIME | 3 months |
| | |
| --- | --- |
| ENGINE | |
| YEAR/TYPE/SIZE | '02/H-D Sportster/1200cc |
| BUILDER | H-D/Exotic Choppers |
| CASES | H-D |
| CYLINDERS | H-D |
| HEADS | H-D |
| ROCKER BOXES | H-D with CCI skull covers |
| CAMS | H-D |
| CARBURETOR | H-D |
| AIR CLEANER | Exotic Choppers |
| EXHAUST | Exotic Choppers |
| | |
| --- | --- |
| TRANSMISSION | |
| YEAR/TYPE | '02/H-D Sportster |
| CASE | H-D |
| CLUTCH | H-D with EZ clutch release |
| PRIMARY DRIVE | H-D |
| | |
| --- | --- |
| FRAME | |
| YEAR/TYPE | '02/H-D Sportster |
| RAKE | 36 degrees |
| STRETCH | None |
| | |
| --- | --- |
| SUSPENSION | |
| FRONT | H-D Springer |
| LENGTH | 2 inches under |
| TRIPLE-TREES | None |
| REAR | |
| SWINGARM | H-D widened by Exotic Choppers |
| SHOCKS | Progressive Suspension (10-inch) |
| | |
| --- | --- |
| WHEELS, TIRES, AND BRAKES | |
| FRONT | |
| BUILDER/SIZE | WCC/21-inch Penta |
| TIRE | Avon Venom |
| CALIPER(S) | HHI |
| ROTOR | WCC |
| REAR | |
| BUILDER/SIZE | WCC/16×5-inch Penta |
| TIRE | Avon Venom |
| CALIPER | HHI |
| ROTOR | WCC |
| | |
| --- | --- |
| FINISH/PAINT | |
| COLOR(S) | Matte Black and Candy Purple True |
| | Fire |
| PAINTER | Paul at Exotic Choppers |
| GRAPHICS | Skull pile with True Fire by Paul at |
| | Exotic Choppers |
| | |
| --- | --- |
| ACCESSORIES | |
| FRONT FENDER | Exotic Choppers |
| REAR FENDER | Exotic Choppers (strutless) |
| GAS TANK | Exotic Choppers |
| OIL TANK | Exotic Choppers |
| HANDLEBARS | Exotic Choppers |
| MIRRORS | Exotic Choppers |
| HAND CONTROLS | H-D |
| FOOT CONTROLS | H-D |
| FOOTPEGS | Exotic Choppers |
| HEADLIGHT | Accessories Unlimited |
| TAILLIGHT | Ol' school |
| TURN SIGNALS | Exotic Choppers |
| LICENSE MOUNT | Exotic Choppers |
| SEAT | Mark Thrasher Motorcycle Seats |