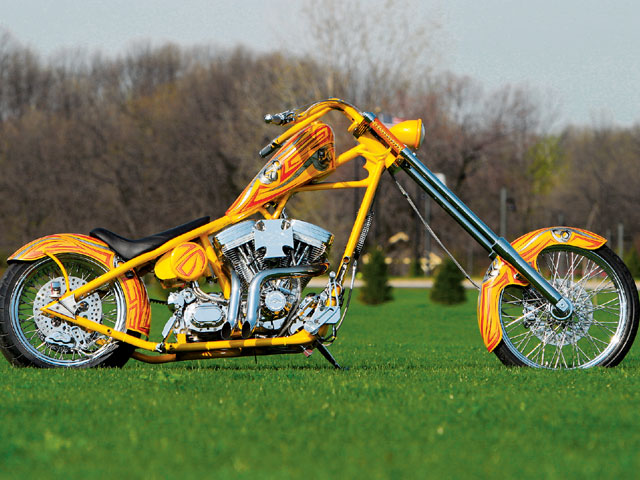 Never say never-that's the cliche, right? Well, regardless of whether or not it's an over-used adage, it's the first thing that pops into your head when you hear how Thomas Corcoran became the owner of this custom chopper. You see, Thomas started out with an '81 Suzuki 600; that's right-his first love was not for the V-Twins but for sport bikes. He moved onto a Yamaha 650 V-Star, in which he had installed a nitrous-oxide system, straight pipes, bolted on just about every piece of chrome possible, and performed plenty of other modifications. But he soon became bored with that motorcycle, too. Never believing he would be riding anything like an American V-Twin, Thomas did, however, begin to watch shows such as American Choppers, Monster Garage, and Biker Build-Off. Watching these guys build custom bikes, he started wishing he had his own custom chopper. Thomas found himself admiring the craftsmanship that went into the bikes, as well as the power that could be pumped out by the huge powerplants. Finally, Thomas admitted he wanted to "change sides" and asked himself the all-important question, "Could I build my own theme bike?"
The real adventure began with a meeting between Thomas and the guys of Orange County Choppers (OCC) at a local charity fundraiser. The highest bidder in an auction was able to pose on a chopper with the crew from OCC. Thomas bid a total of $800 for two photos. Even though he really didn't have the money to do so, he figured it would help to get his foot in the door with the OCC guys. This resulted in meeting Mike Campo, one of Paul Sr.'s and Paul Jr.'s right-hand men. Thomas asked him if he could buy a frame from the shop. He felt not only would this be the first step to really having an awesome bike, but it would also help him get some pointers from a well-known shop. Campo gave Thomas his number and told him to give them a call after the show. Thomas ended up meeting up with him one Saturday morning and ordered a frame.
The rigid frame was set up with 40 degrees of rake in the neck, an added 6 inches in the downtubes, and 4 inches additional in the backbone. Why a rigid? To go Softail would be an additional cost, and, more importantly, he firmly believed that "die-hard riders ride rigid choppers." Obviously, Thomas was really getting into his motorcycle conversion.
Once the frame was at his house, he started to get impatient. Every weekend Thomas bought more parts; his credit cards loved the attention, but his bank account soon started complaining. As much as it disappointed Thomas to delay the build, he knew he needed to hold off until his finances would allow him to continue. Every day he would come home from work and stare at his bare frame. Talk about a visual motivation-Thomas was just itching to move on with his build, so he did whatever he could to pay off his credit cards so he could work with a clean monetary slate. As soon as his statement arrived reading "no amount due," Thomas went crazy. He immediately called the guys at OCC to find about which motor and transmission to run. Vinnie and Rick were a big help. The two knew what Thomas was trying to build, so they suggested that if he was still trying to stay within a budget, he should go with a 100ci RevTech mill and a JIMS six-speed transmission. Not wanting to waste one more day, Thomas told them to order the recommended internals, along with a BDL belt drive to boot. As soon as all the drivetrain pieces were on hand, he started mocking up the bike. He began by lining up the motor, primary, and transmission.
The next move was to get the bike from the bench to the ground and move it around the shop. Thomas bolted up a set of OCC billet triple-trees, then slid a set of 14-inch-over-stock chrome tubes in place, along with a set of billet lowers to hold the 21-inch chrome spoke wheel. Out back, Thomas went with an 18×8.5-inch spoke wheel and covered both with Metzeler rubber. For stopping power, he bolted on a set of Russell rotors and HHI calipers. With the bike able to move around his shop, he started on the sheetmetal. Thomas decided to go with a metalwork and machine-shop theme, a skill deeply rooted in his background. So after fitting the fenders to the frame and finding a WCC gas tank that he liked, he started working on incorporating his chosen theme. He welded a mount to the downtubes for a timing chain and another for a set of connecting rods along the lower framerails. Thomas knew the next step was integral in pulling the theme of the bike together-the paint.
While Thomas was purchasing parts from OCC, he pondered over whom to go to for paint, so he asked around for someone who could paint his chopper to rival the bikes he'd seen in magazines. Vinnie and Rick recommended JB Grafi-X. Once again taking their advice, Thomas set up a meeting with Justin of JB Grafi-X. Blown away by Justin's skills, Thomas asked if he had the time and would he be willing to paint his bike. He discussed with Justin the idea of incorporating his machine-shop logo into the bike's paint scheme. After weeks of mockup and trial and error, a complete rolling chassis stood before him. It was just upsetting that he had to dismantle the bike for paint. Although it would have been less expensive to paint his entire truck, Thomas knew it was worth every penny. The paint job came out better than he ever could have expected. It was time to pay the bill and get the bike back together. Connecting rods, the timing chain, rocker arms, valves, and an excellent paint job were all combined to make the "TLC Machining Bike."
The build started on November 1, 2003, and finished on March 1, 2004. On the final building days, the challenge was to put the bike back together without scratching the paint, along with getting it wired and filling it up with the fluids. As Thomas accomplished these tasks one by one, assisted by his dad's knowledge of electrical wiring and his own mechanical abilities, Thomas felt he had truly created a personal theme bike. It was finally time to turn the key. As he started it up, he listened to the roar of the pipes and realized he had undertaken a complex project and followed it through from inception to completion.
| | |
| --- | --- |
| SPEC SHEET | |
| OWNER | Thomas Corcoran Jr. |
| SHOP | TLC Machining |
| PHONE | (845) 340-7441 |
| YEAR/MAKE/MODEL | '03/TLC Machining |
| FABRICATION | TLC Machining |
| ASSEMBLY | TLC Machining |
| BUILD TIME | Four months |
| ENGINE | |
| YEAR/TYPE/SIZE | '04/RevTech/100ci |
| BUILDER | RevTech |
| CASES | RevTech |
| FLYWHEELS | RevTech |
| RODS | RevTech |
| PISTONS | RevTech |
| CYLINDERS | RevTech |
| HEADS | RevTech |
| VALVES | RevTech |
| ROCKERS | RevTech |
| ROCKER BOXES | RevTech |
| PUSHRODS | RevTech |
| PUSHROD TUBES | RevTech |
| CAM | RevTech |
| LIFTERS | RevTech |
| CARBURETOR | Mikuni HSR 42 |
| AIR CLEANER | Air Cone |
| IGNITION | Dyna |
| EXHAUST | Samson Bone Shakers |
| TRANSMISSION | |
| YEAR/TYPE | '04/JIMS six-speed |
| CASE | JIMS |
| GEARS | JIMS |
| CLUTCH | BDL |
| PRIMARY DRIVE | BDLTF-2000 Top Fuel |
| FRAME | |
| YEAR/TYPE | '03/Rigid Racing Innovations |
| RAKE | 40 degrees |
| STRETCH | 6 inches up, 4 inches out |
| SUSPENSION | |
| FRONT chrome- | '03 Pro-one |
| | billet forks |
| LENGTH stock | 14 inches over |
| TRIPLE-TREES | Chrome billet |
| REAR | Rigid |
| WHEELS, TIRES, AND BRAKES | |
| FRONT | |
| BUILDER/SIZE | CCI/21-inch |
| TIRE/SIZE | Metzeler {{{80}}}/{{{90}}}/21H |
| CALIPER | HHI |
| ROTOR | Russell |
| REAR | |
| BUILDER/SIZE | CCI/8.5 |
| TIRE/SIZE | Metzeler {{{240}}}/40 VR18 |
| CALIPER | HHI |
| ROTOR | Russell |
| FINISH/PAINT | |
| COLOR | Yellow with White Pearl |
| PAINTER | JB Grafi-X |
| GRAPHICS | JB Grafi-X |
| MOLDING | JB Grafi-X |
| ACCESSORIES | |
| FRONT FENDER | Wyatt Gatling |
| REAR FENDER | Wyatt Gatling |
| FENDER STRUTS | TLC Machining |
| GAS TANK | West coast choppers |
| OIL TANK | CCI |
| GAUGES | Mini Speedo |
| HANDLEBARS | TLC Machining |
| RISERS | TLC Machining |
| MIRRORS | {{{Eclipse}}} |
| HAND CONTROLS | Arlen Ness |
| FOOT CONTROLS | Legends |
| FOOTPEGS | TLC Machining |
| HEADLIGHT | Billet/CCI |
| TAILLIGHT | Side mount/CCI |
| TURN SIGNALS | TLC Machining |
| LICENSE MOUNT | Side mount |
| SEAT | Danny Gray |