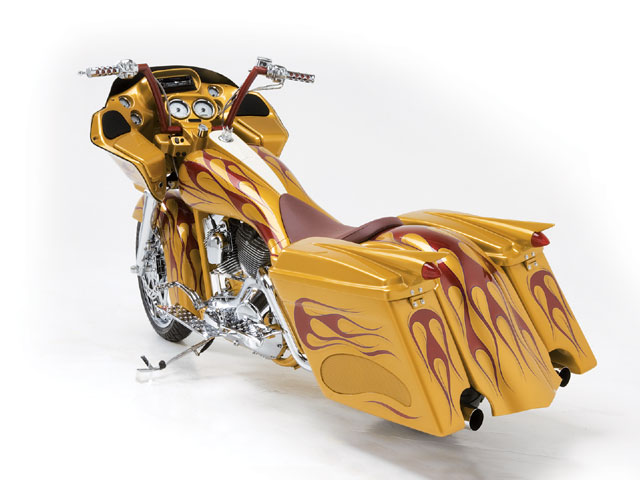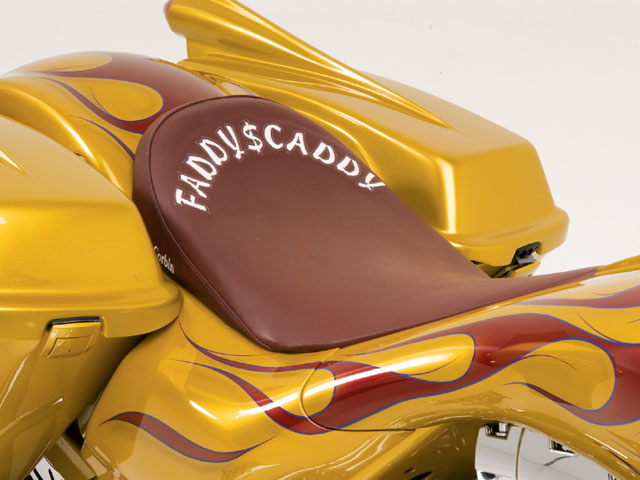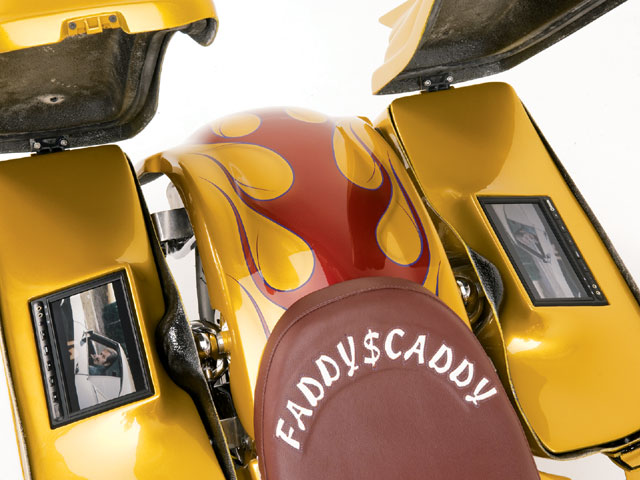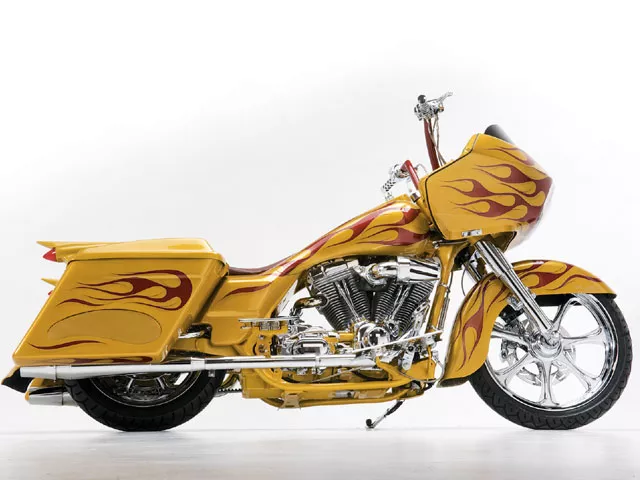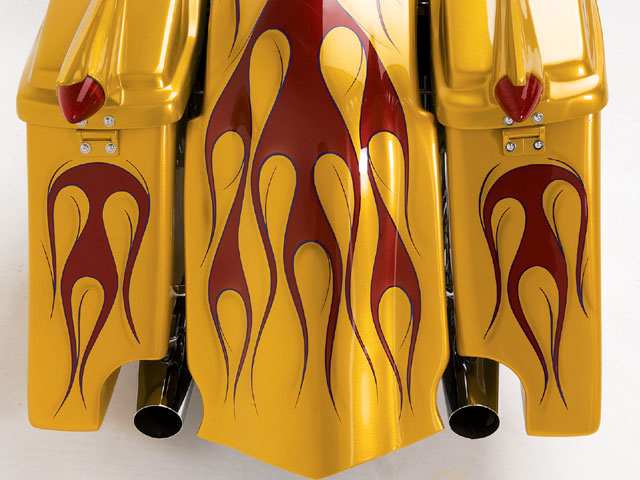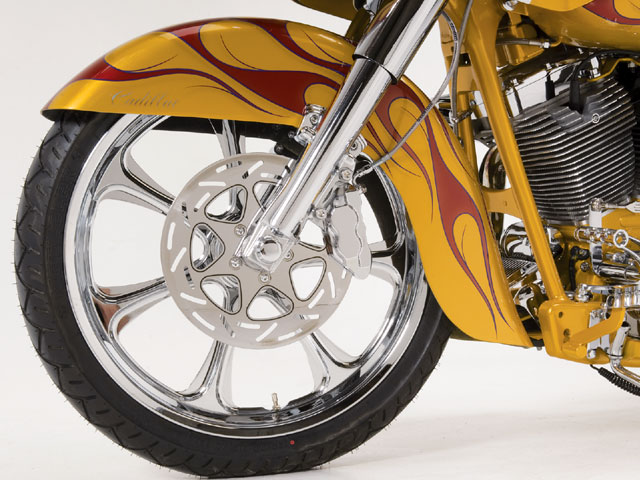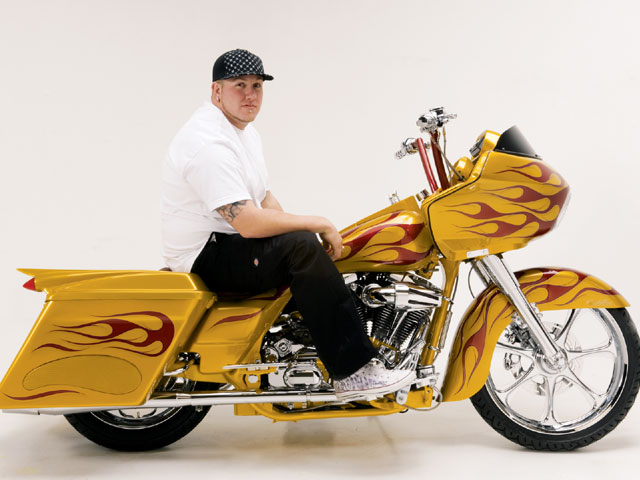 This past January while attending the Arlen Ness Show in San Jose, CA, we had one goal in mind: find tight and done-right Harleys to feature in future issues. Well, that show (we'll bring you the coverage next issue) had so many sweet bikes, it was like fishing with dynamite. We didn't just accomplish our goal-we annihilated it. Our crowning achievement for the show was when we came across this golden beauty. We immediately knew that we were staring at a future cover bike.
Unfortunately, the stars weren't completely in alignment for us that weekend, as we could never find the owner or anyone who knew the owner to make the necessary arrangements. However, as luck would have it, a few weeks after the show an e-mail came in from a new freelance photographer we'd just picked up, and attached to his e-mail was a pic of the RG. We were back in business.
So that's how we came across this cover bike. Now let's hear the owner, Jeremy "Lumpy" Sturgill, tell us in his own words how this '05 Glide went from rolling stock to total shock.
"In December of '05, this guy I ride with, Mike Lacy, set me up on a blind date with his sister Melissa. Surprisingly, we hit it off, and after talking to her for a few weeks, I found out she had never ridden on the back of a motorcycle. Seeing as I am the type of guy who rides all the time, I knew I had to talk her into getting on the back of my bike.
"On our first ride together, I have to admit it; she was a trooper. Somehow the place we ended up going to was three hours away. Not to mention that my bike at the time, a custom chopper, wasn't set up to have a passenger on it, so I threw a p-pad on the rear fender and told her to manage. During the ride I yelled out, 'How is it?'
"'Not so comfortable,' was all I remember her saying. When we stopped halfway through the ride, we realized she'd burned off the toe of her boot on my pipes. Guess that's what happens when you ride a passenger on a 'single man's bike.' When the ride was over, her thoughts about the whole experience weren't the greatest, but she did say she'd like to do it again. I knew at that moment it was all going to have to change.
"A few weeks later, my father went down to the local Harley dealership to buy a new Ultra Classic, so Melissa (she had now become my fiance) and I decided to tag along. While we were there, Melissa and I sat on a Road Glide, and the first words out of her mouth were, 'I could get used to this. This is like riding in a Caddy.' My response wasn't as positive: 'I will never own an old man's bike!' I ended up riding it home a couple weeks later, with the word 'Caddy' rolling around in the back of my head.
"One day in August, my buddy Shane Hill called and asked if he could borrow my bike to go to work. I thought to myself, 'It's stock…why not?' Later on the next evening as I was relaxing, I got a call from Shane. He was in a panic, saying, 'Bro, I just got hit by a truck on 880 in front of the Oakland Coliseum!' I laughed and told him to quit joking and just bring the bike home. As soon as I hung up the phone, it rang again. This time it was the paramedics. We all play pranks on each other, and I thought this was just another joke. However, this time around it was the real thing. So we jetted over to the ER, and after waiting for hours we found out that Shane was going to be OK. The doc said he had a few minor injuries, including a screwed-up pinky toe that he is still getting therapy for. In spite of this, the bike wasn't so lucky-it had 12 grand in damages, topped off by a bent frame.
"Naturally, the next step was to fix it. I got together with James Cashman of Cashman Customs, and our minds started racing like crazy with millions of ideas. We swapped the stock bags for a set of Ness extended bags with lids that open from the back forward. We added a subtle classic Cadillac theme by molding in a set of '59 Caddy taillights into the back of the bags. To match the custom bags, we stretched the tank to flow all the way into the side covers. We added a set of Ness wheels with a single rotor/caliper setup up front, put a 1-1/2-inch drop on the frontend, and bagged the back with a Legend Air Ride system. I also had some highbars bent up and had a custom dash made.
"The motor was bumped up to a 95, and the heads and cylinders received the diamond-cut treatment, while the lower end and trans were sent out to get covered in Gangsta Gold (the base color of the bike). Speaking of paint, there are only 12 bolts on the entire bike that aren't painted or chromed. Electronically, we added a custom JL Audio stereo with a 4-1/2-inch touchscreen deck, then loaded the bags with four 6×9-inch speakers and an 800-watt amp, and capped them off with a TV in each. James and I figured the pice de rsistance would be the custom Gangsta Gold and Razberry Pearl paint job. We even thought about throwing it in the San Francisco Rod and Custom show if we got it done in time.
"One thing led to another, and you know how that goes. All the shop groupies kept saying, 'You've gone this far-why stop now?' I told Melissa about putting it in a show, and she replied, 'Don't go overboard-this is our cruising bike that we like to take on vacation.' Fortunately, she didn't want to see the bike until it was done. That was her mistake but my luck.
"The first time she saw the bike, it blew her mind, and she loved it. The bike was only gone for a short time, but she was amazed by the outcome. The bike took 17 days and many sleepless nights to finish. After winning a couple of trophies at the Rod and Custom show, as well as the Arlen Ness show, I look back and know it was all worth it. But I couldn't have done it without everyone who helped. Many thanks go out to James and his crew at Cashman Customs, Antioch Custom Cycles, Pops, Guy, Ty, and Buffalo Mike Detail Products.
"Now I want to buy a Street Glide. I guess I'll have to see what Melissa has to say about that. Priorities first."
| | |
| --- | --- |
| SPEC SHEET | |
| GENERAL | |
| OWNER | JEREMY "LUMPY" STURGILL |
| SHOP | CASHMAN CUSTOMS |
| PHONE | (925) 778-2362 |
| WEBSITE | WWW.CASHMANCUSTOMS.COM |
| YEAR/MAKE/MODEL | '05/H-D/ROAD GLIDE CUSTOM |
| FABRICATION | JAMES CASHMAN, GAVIN ROSS |
| ASSEMBLY | MIKE ELLIOT, MATT FARAGO,JAKE PARK |
| BUILD TIME | 17 DAYS |
| | |
| --- | --- |
| ENGINE | |
| YEAR/TYPE/SIZE | '05/H-D/95CI |
| BUILDER | MATT FARAGO |
| CASES | H-D |
| FLYWHEELS | H-D |
| RODS | H-D |
| PISTONS | H-D SCREAMIN' EAGLE |
| CYLINDERS | H-D/DIAMOND HEADS |
| HEADS | H-D/DIAMOND HEADS |
| VALVES | H-D |
| ROCKERS | H-D |
| ROCKER BOXES | H-D |
| PUSHRODS | H-D SCREAMIN' EAGLE |
| PUSHROD TUBES | H-D |
| CAMS | H-D SCREAMIN' EAGLE |
| LIFTERS | H-D |
| EFI | H-D |
| AIR CLEANER | K&N; |
| IGNITION | H-D/RACE-TUNER |
| EXHAUST | THUNDER HEADER |
| | |
| --- | --- |
| TRANSMISSION | |
| YEAR/TYPE | '05/H-D |
| CASE | H-D |
| GEARS | H-D |
| CLUTCH | H-D |
| PRIMARY DRIVE | H-D |
| | |
| --- | --- |
| FRAME | |
| YEAR/TYPE | '05/H-D ROAD GLIDE |
| RAKE | STOCK |
|||
|—|—|
| SUSPENSION|
| FRONT |
H-D | LENGTH | 1-1/2 INCHES UNDER|
| TRIPLE-TREES | H-D|
| REAR|
| SWINGARM | H-D|
| SHOCKS | LEGEND AIR RIDE|
| | |
| --- | --- |
| WHEELS, TIRES, AND BRAKES | |
| FRONT | |
| BUILDER/SIZE | NESS/21 |
| TIRE/SIZE | METZELER/120/70-21 |
| CALIPER | HHI |
| ROTOR | NESS |
| REAR | |
| BUILDER/SIZE | NESS/18 |
| TIRE/SIZE | METZELER/150/70-18 |
| CALIPER | H-D |
| ROTOR | NESS |
| | |
| --- | --- |
| FINISH/PAINT | |
| COLORS | GANGSTA GOLD/RAZBERRY PEARL |
| PAINTER | CASHMAN CUSTOMS/JAMES CASHMAN |
| GRAPHICS | CASHMAN CUSTOMS/JAMES CASHMAN |
| MOLDING | CASHMAN CUSTOMS/SHOOTER MCGAVIN/JOHNNY/SHAWN/DAN |
| PLATING | HIGH LUSTER |
| | |
| --- | --- |
| ACCESSORIES | |
| FRONT FENDER | NESS |
| REAR FENDER | NESS |
| FENDER STRUTS | H-D |
| GAS TANKS & CAPS | CASHMAN CUSTOMSWESTBURY HOT RODS |
| OIL TANK | H-D |
| DASH | CASHMAN CUSTOMS |
| GAUGES | H-D |
| HANDLEBARS | CHUCK WISE |
| HAND CONTROLS | ROAD KING |
| FOOT CONTROLS | NESS |
| FOOTPEGS | BATTISTINI |
| HEADLIGHT | H-D/LUMPY |
| TAILLIGHT | '59 CADILLAC |
| SEAT | CORBIN |