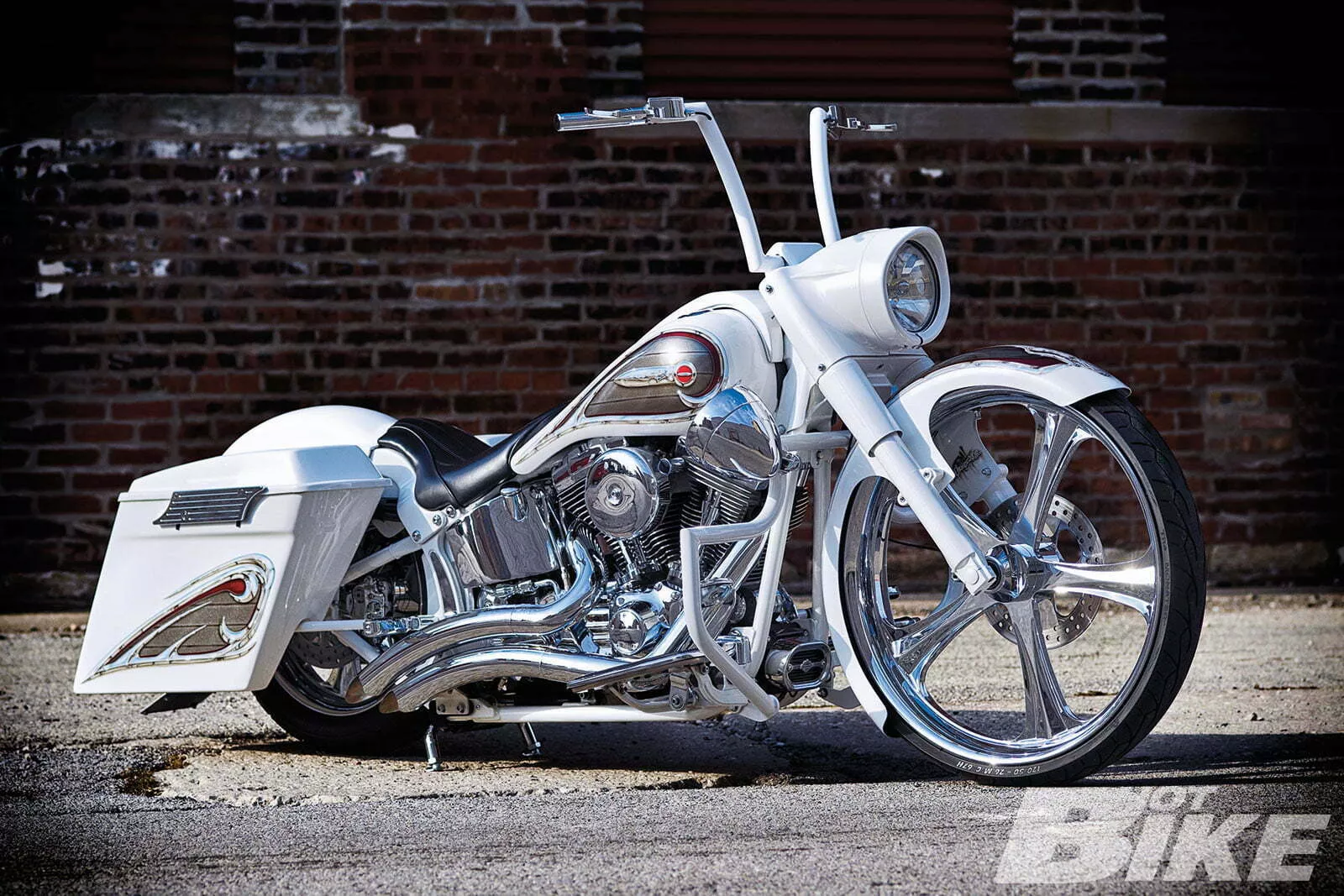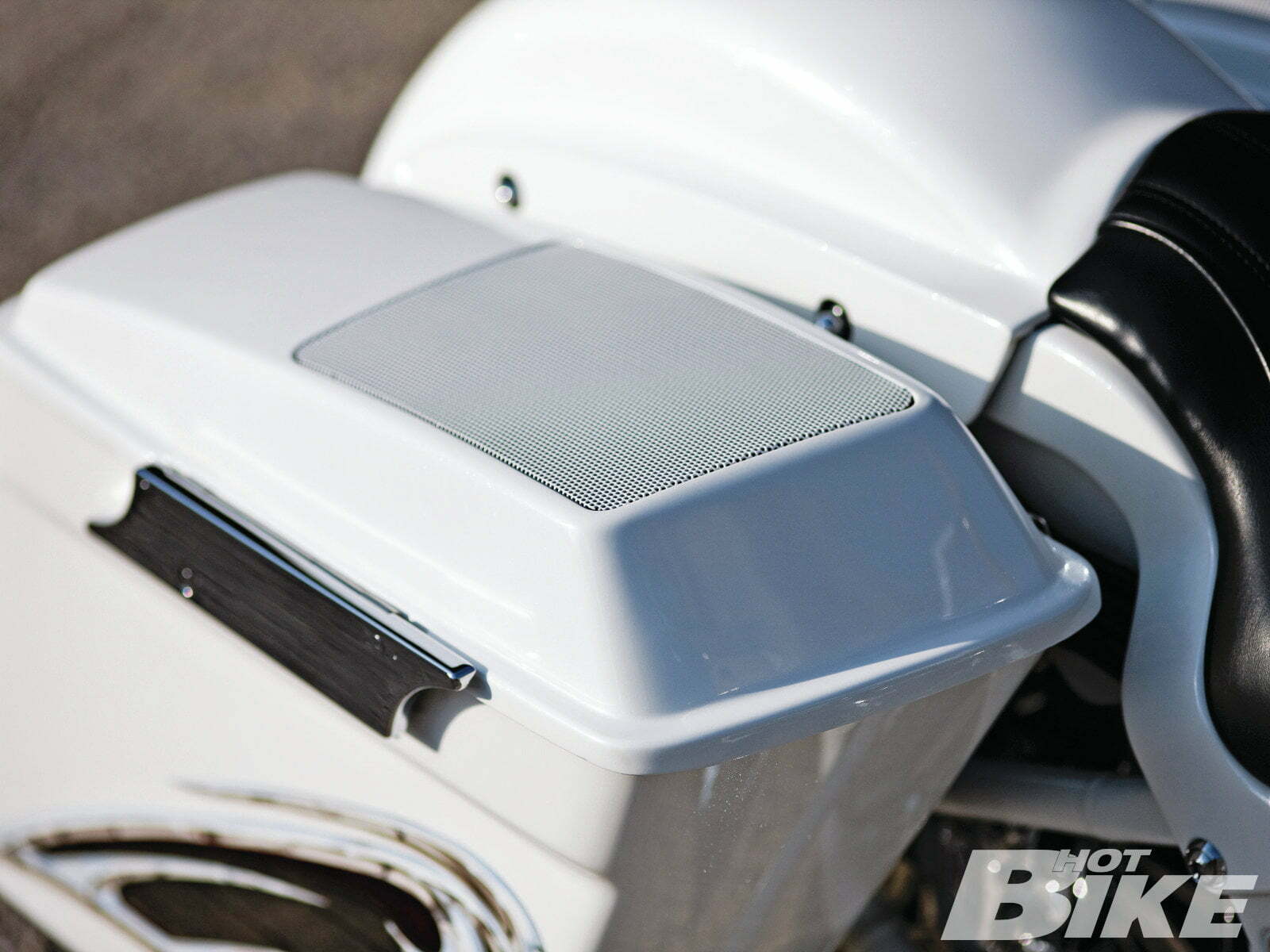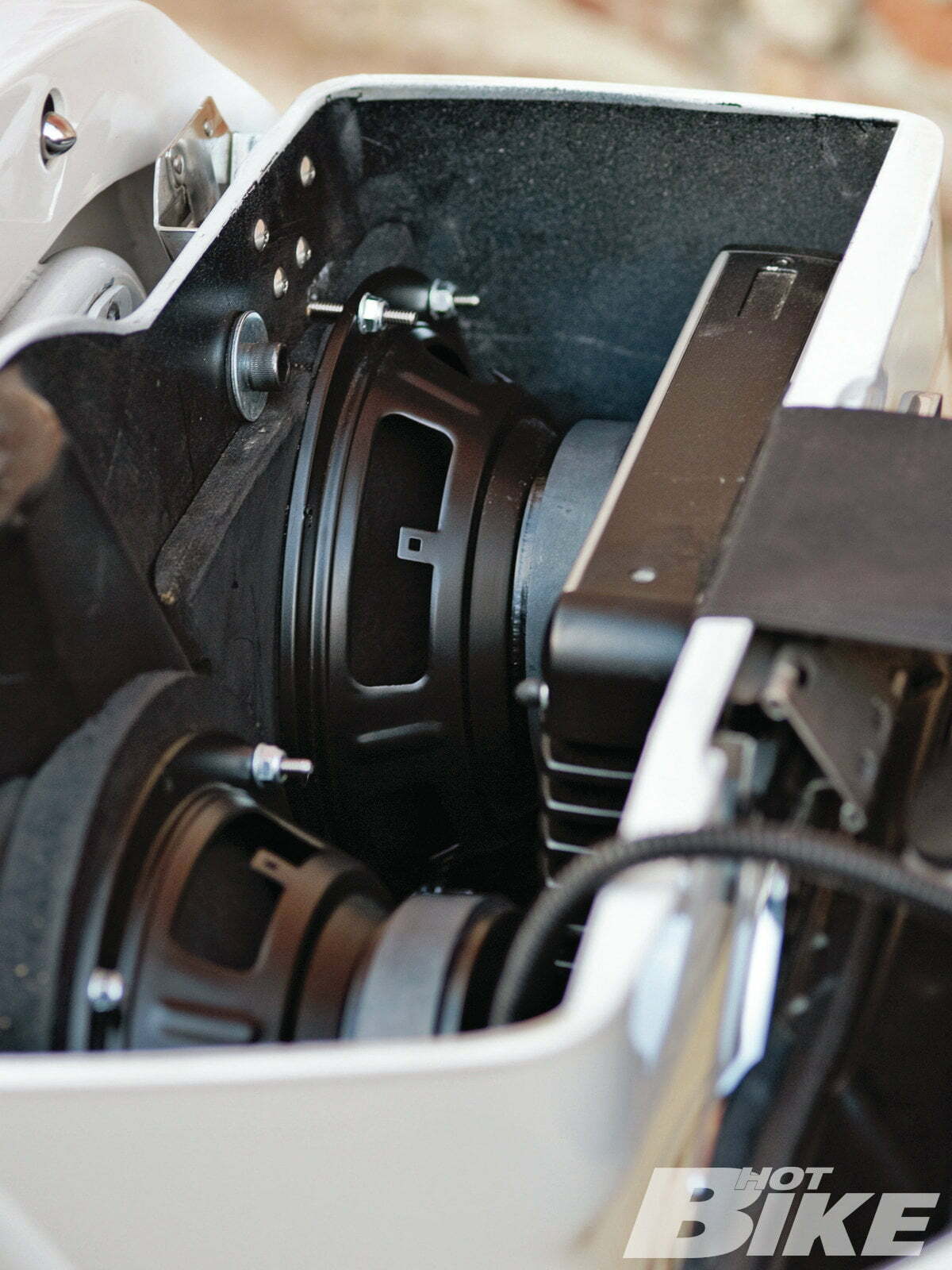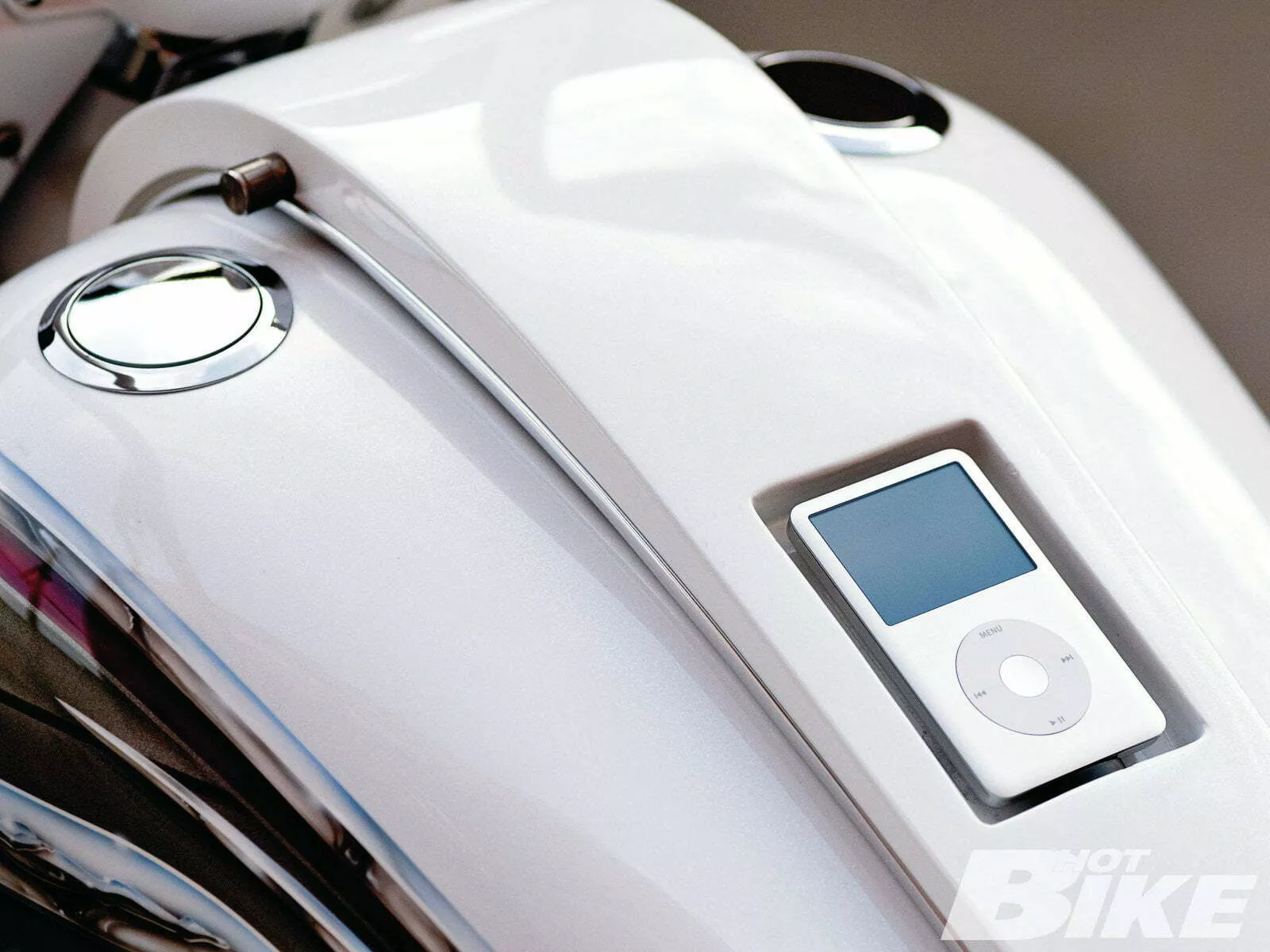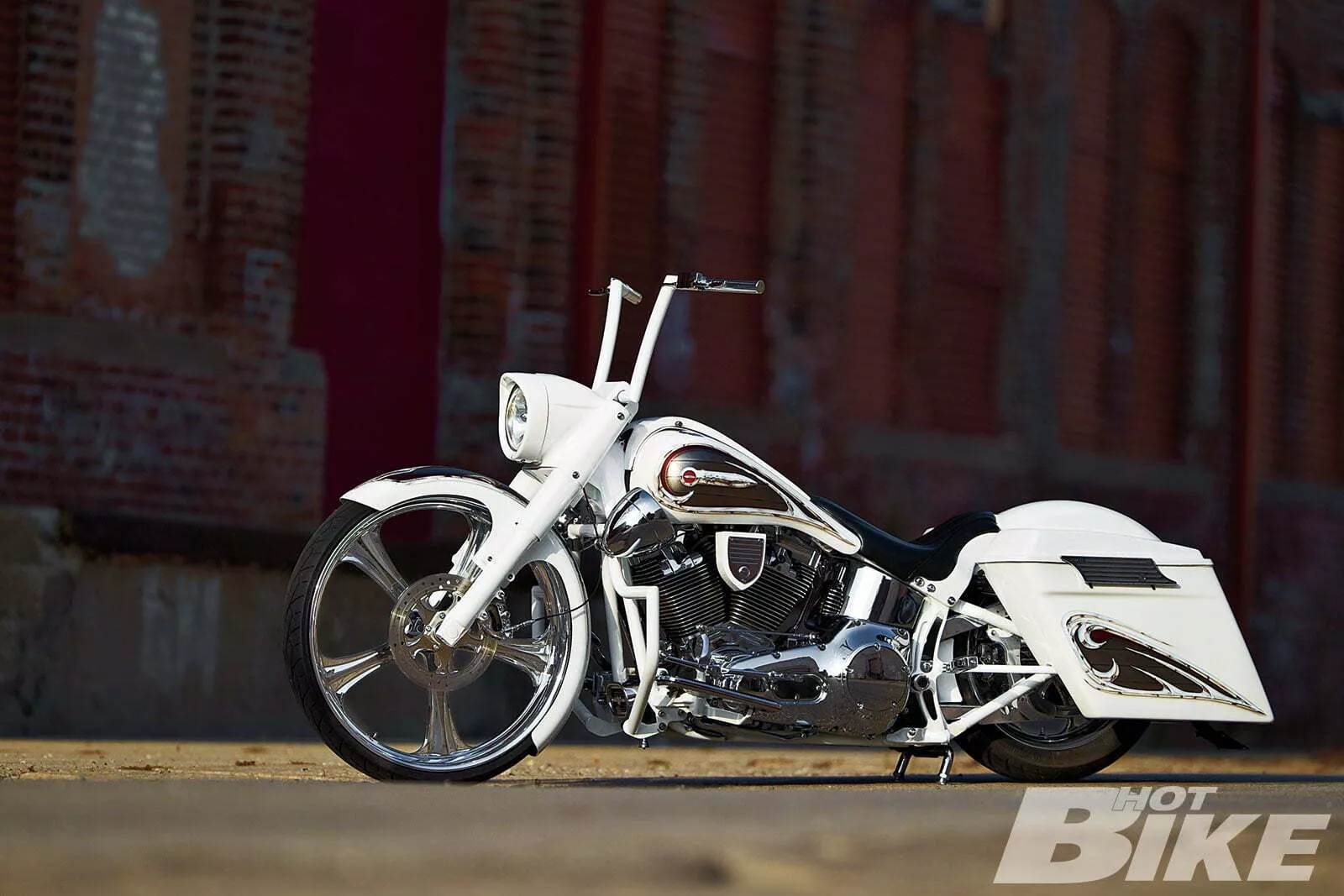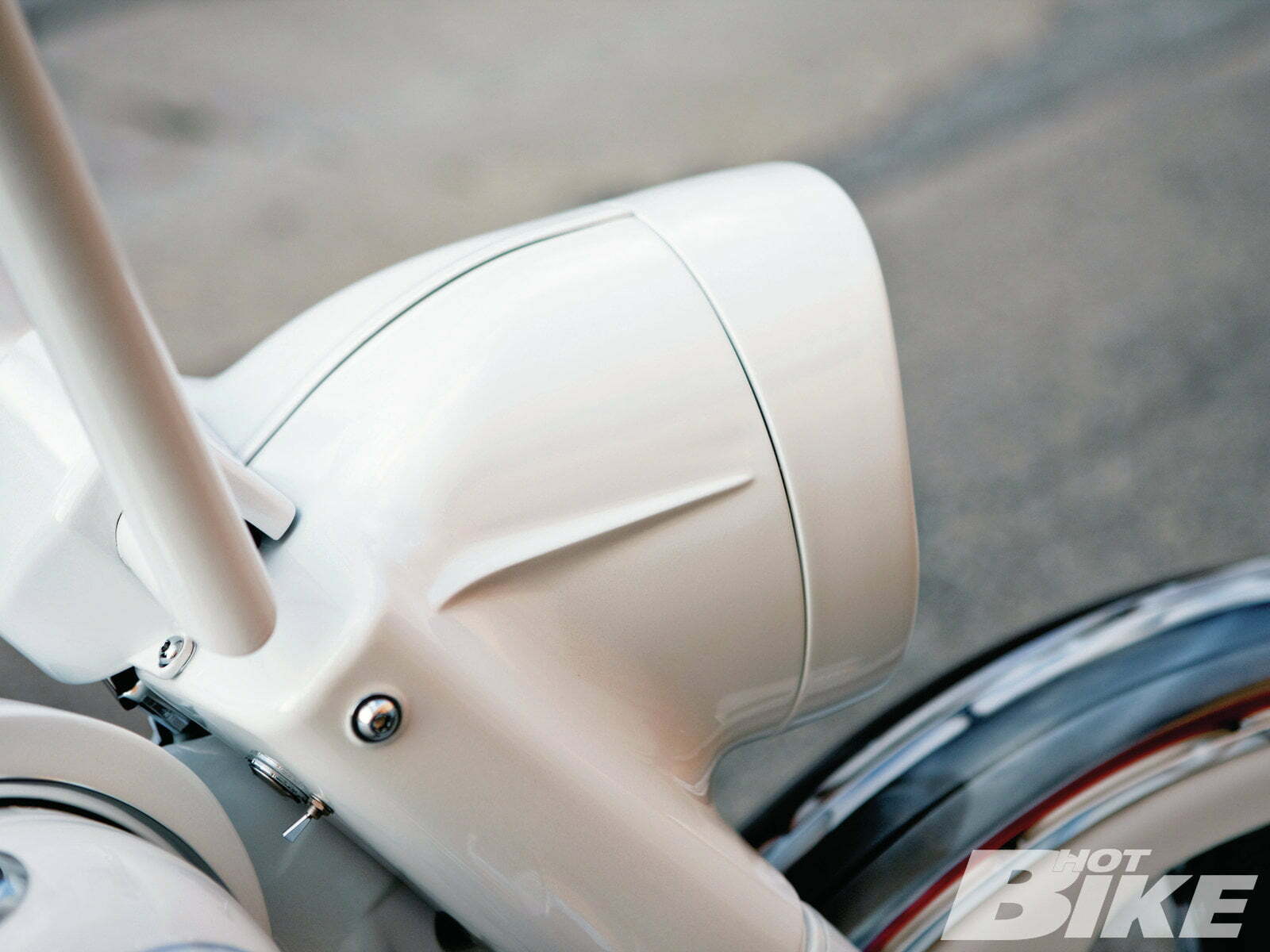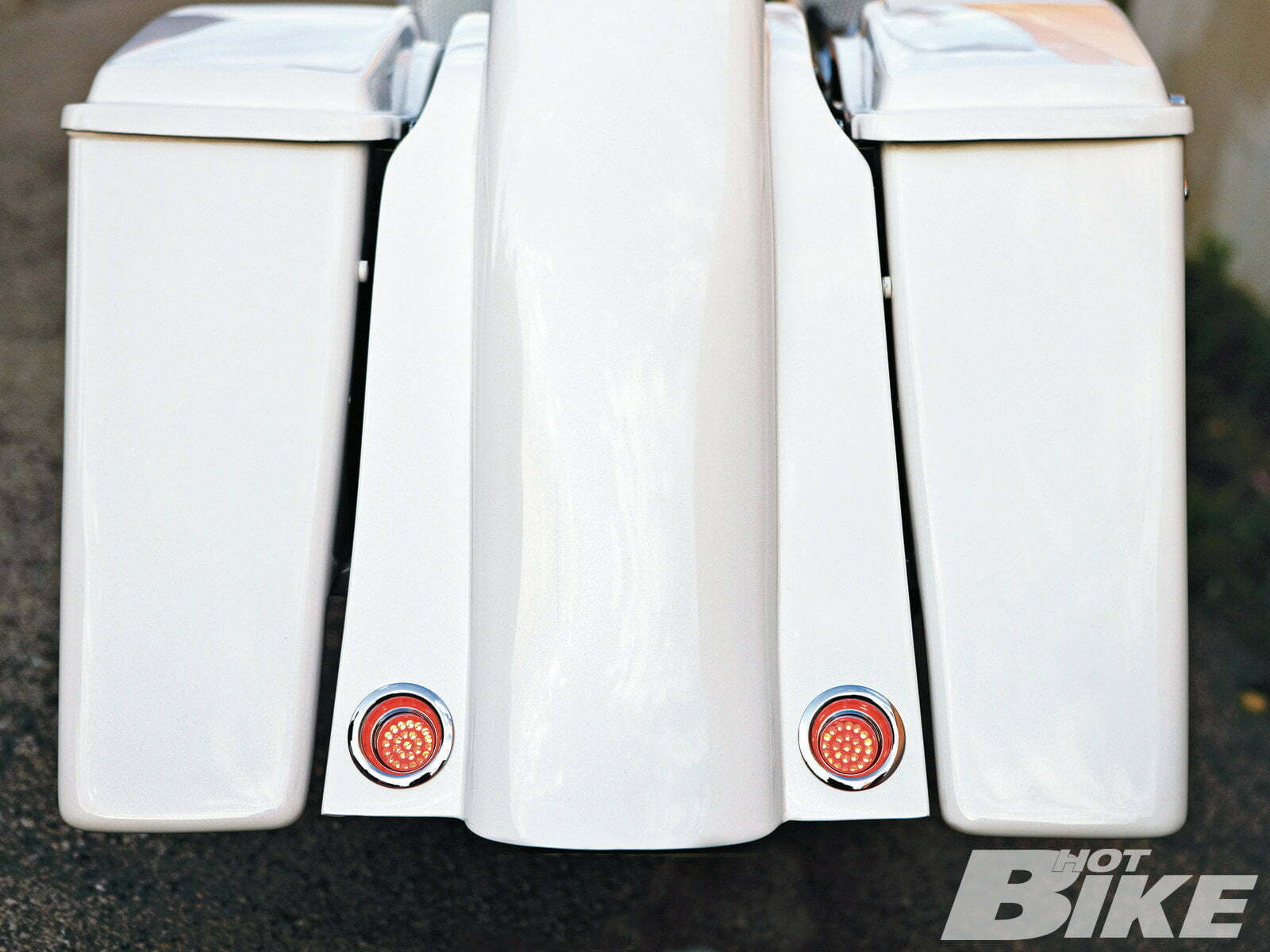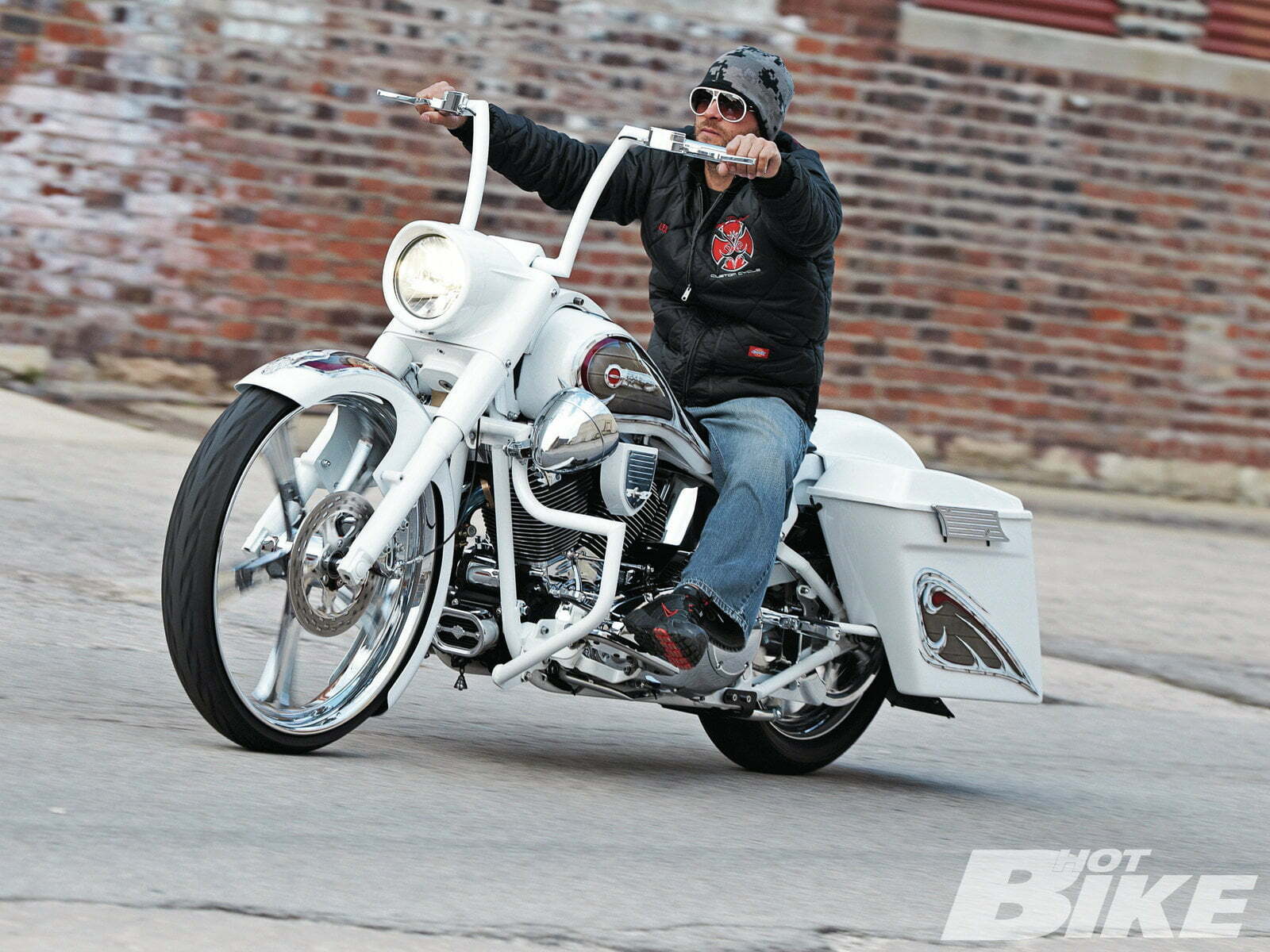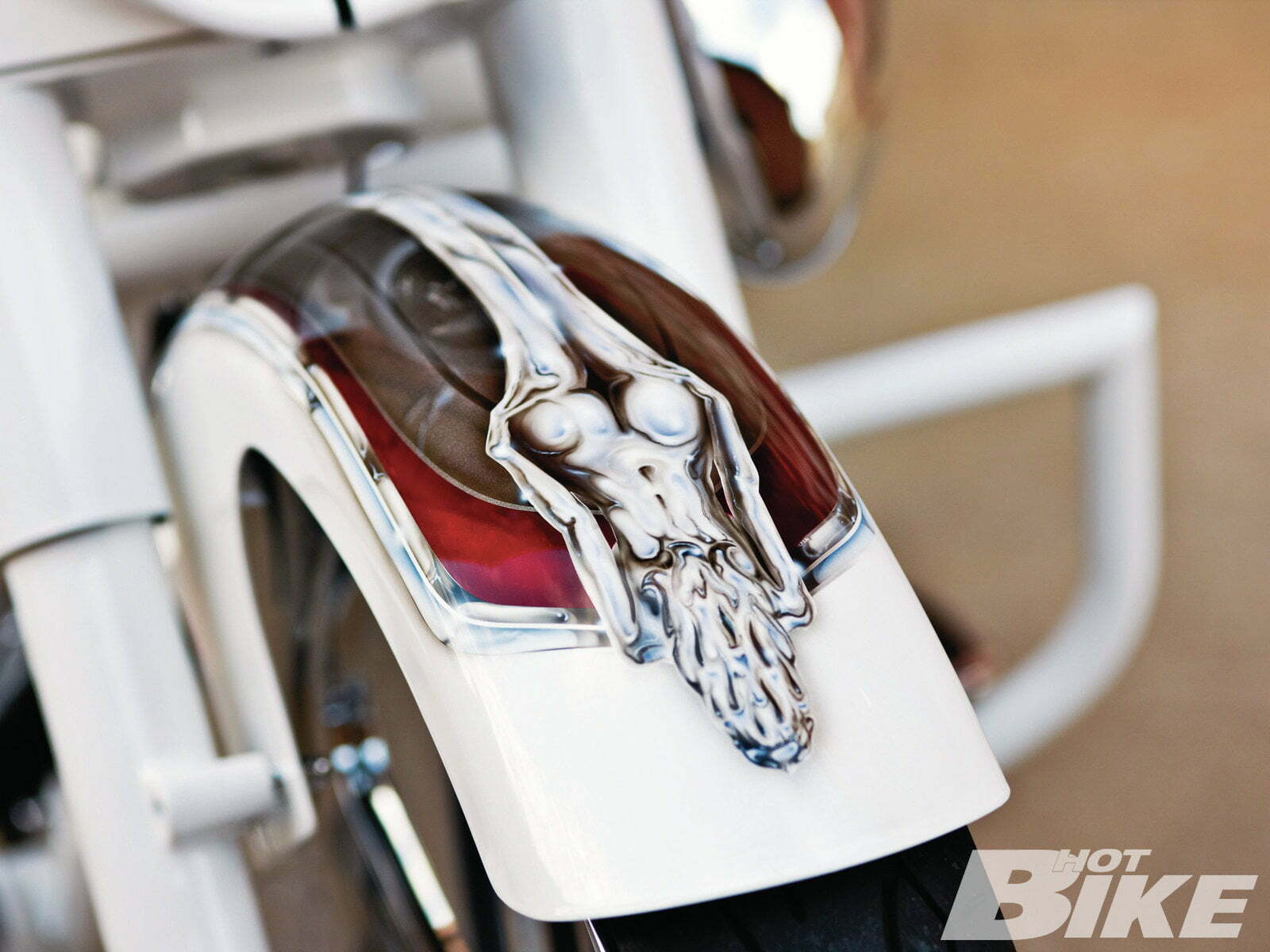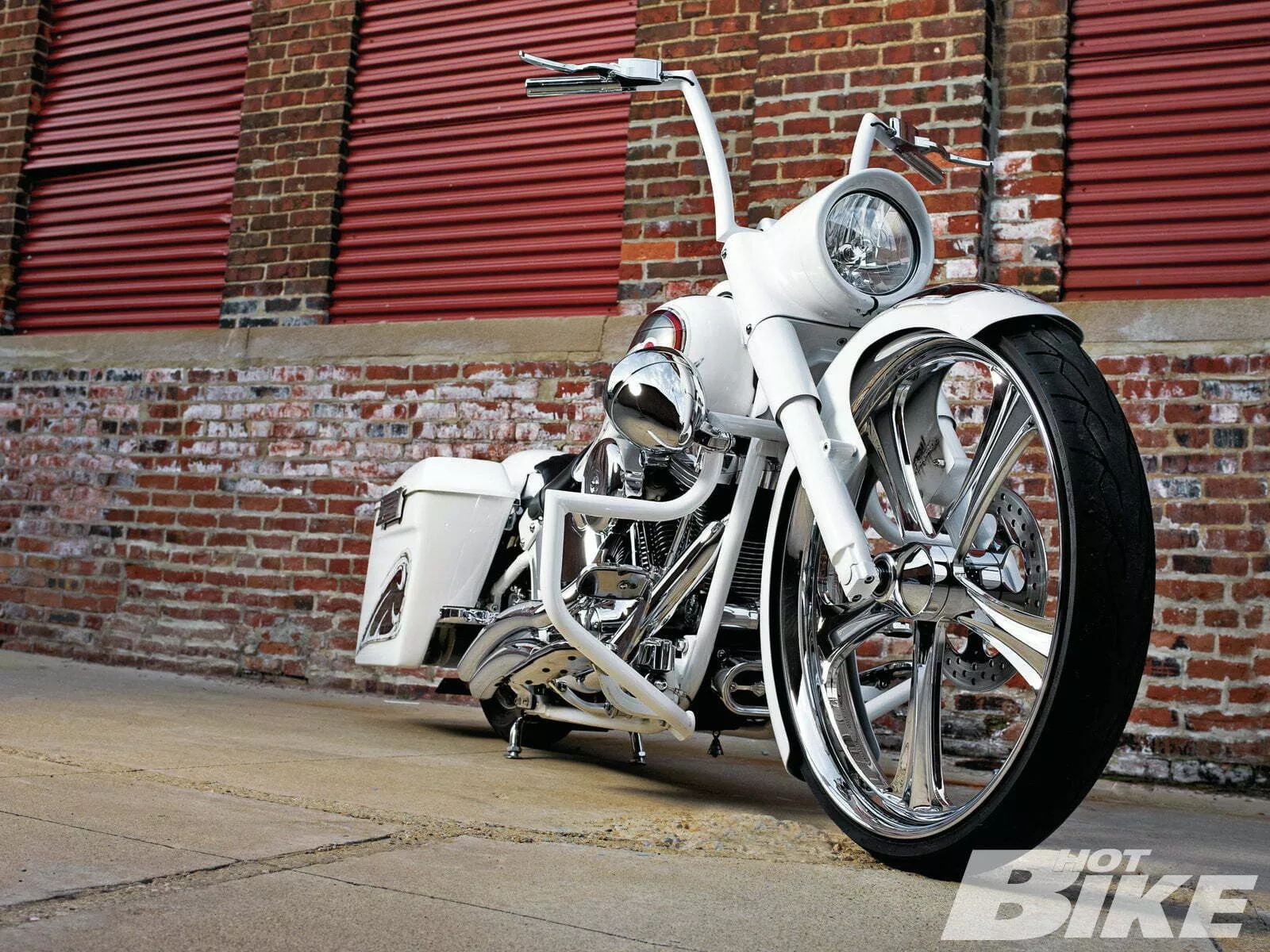 Bagged
Calling Lex Rivera's bagger a Softail Deluxe is kind of like referring to World War II as a minor disagreement between Hitler and Churchill. His motorcycle may have started that way (it was a 2005 Softail Deluxe at birth) but it's grown far beyond that.
The story here is about a Softail baggered out with a serious stereo system. Being a neat freak, Lex ran all of the wiring internally and that includes the throttle, clutch, front and rear brake, and the front and rear air ride cables and wires as well.
Lex also ran an eight-speaker stereo system in the hard bags that booms 1,350 watts. Specifically, two JL Audio HD amps, (eight total) Hertz speakers, and an iPod set into the dash. What's more, the bags are wired with quick disconnects for ease of maintenance. That's clearly bagger territory and why we chose to share this badass machine with you. Lex gave me his insights into transforming his Softail into a very cool white bagger.
HB: Why a Softail and not a stock bagger?
LR: I was going for something different. Everyone is doing Glides and Road Kings so making a Softail into a hard bagger would stand out from the mainstream. I also wanted huge stereo system. I've got to have my tunes.
HB: Tell us about wiring it up.
LR: I welded on a channel through the left cowbell. I also ran the regulator wiring into the frame, the cables, everything. The bike's got a Super Air Ride now. It's wired in a custom bracket in the down tubes.
_HB:_ What do you like most about the bike?
LR: The 26-inch wheel on a Softail. It gets a lot of compliments and rides perfect. Between the cut neck and the raked trees, the bike has 45 degrees rake total. My second favorite is the stereo. I've tinkered with sound all my life. In the last test at the stereo shop it cranked 130 decibels. We started doing stereos seven years ago and now it's big in Chicago.
_HB:_ What would you do different if doing it again?
LR: Yeah, I'd do a Street Glide. [Laughs] The bigger bikes give you more of an opportunity for bigger stereos. Other than that, not a thing. I spent years looking at different stuff. On my first Harley, I wasted six grand or so on bolt-ons like everyone else. In the end, that bike didn't really stand out. I'd rather spend the extra cash for one-off parts at a machine shop to really make a motorcycle my own.
_HB:_ How did you mount the bags?
LR: I started off with buying aftermarket bracketry. They worked great so long as you didn't put weight in the bags but I ended up making my own brackets to reinforce the mounting.
_HB:_ Matching the rear fender to the bags must have taken some work.
LR: Yeah. The fender started as stock. I stretched it 7 inches and smoothed it out, welded fillers to cover the struts, and make the look flow right. That's pretty popular too. I also repositioned the fender 3 inches back and 1.5-inch lower. Now it lines up better with the bags that way. The fender didn't look right with just fillers so we repositioned it.
_HB:_ How do you control the sound system, via the iPod directly or some other control?
LR: I've got the iPod and an iSimple cord to charge and LC-1-that's instant volume to replace the volume control on the iPod because the iPod loses its volume control while plugged into the charger. LC-1 is crucial to keep the cops from pulling you over for noise. You have to have that instant response so you can turn it down before they get you. It's on the left side of the dash and directly wired to the amp.
_HB:_ What's with the switches behind the headlight?
LR: They're for both air rides. One's for the front, one's for the rear. On the right side of the headlight nacelle there's a start button by Battistini.
_HB:_ The bars were made from 1.31-inch diameter tubing. Why?
LR: Our (Dave Dupor's) standard Ghost Bar setup hides everything and I came up with a variant of it using the 1.31 tubing made by BR Customs. See, the K-tech components from Eurotech that I was using are made for 1.31-inch bars. The spacers, controls all match for a smooth, streamlined look. The bars, spacers, and grips were all made to match.
HB: Why a white bike?
LR: White was my favorite color growing up. I used to have a white Lexus. I had my body shop guy find me a flake that was super fine and in the sun it looks like broken glass. He put two tablespoons of that in the mix. Now it really glows in the light. Rich Keylard at Airephix did an awesome job with the graphics, too. The tank has 1947 Harley-Davidson emblems in the paint only without the script. Rich also airbrushed a couple of girls on this bike. I like old vintage stuff and wanted that look. The '50s Caddy had a girl on it and he put one on as an homage. This is my rendition of chrome only airbrushed on.
HB: How'd you get into working on motorcycles and what do you like most about it?
LR: I've had them all my life. My dad owns a body shop so I was a gear head growing up. I met Dave Dupor seven years ago and he did internals, then found out I was working on bikes. I went to work part-time for Dave, now I'm full-time. I love doing it; my friends and family all have bikes and I'm their go-to guy for customizing.
Lex wants to give thanks to the late Wendell Smith at Rampage Wheels for the work he had done on the wheels for this project. He'd also like to thank Bill Rickard from BR Custom bars and, of course, Dave Dupor.
Specifications
General
Owner: Lex Rivera
Shop: DD Custom Cycle
Shop Phone: (847) 356-8053
Website: ddcustomcycle.com
Fabrication: Lex Rivera
Welding: Lex Rivera
Assembly: Lex Rivera
Build Time: Never done
Engine
Year/Type/Size: H-D
Pistons: H-D
Cylinders: H-D
Heads: H-D
Cams: H-D
Air Cleaner: H-D
Exhaust: Vance & Hines Big Radius
Transmission
Year/Type: 2005 H-D five-speed
Case: H-D
Gears: H-D
Clutch: H-D
Primary Drive: H-D
Frame
Year/Type: 2005 H-D Softail
Rake: 38 degrees total
Stretch: N/A
Modifications: Completely molded
Suspension
Front
Manufacturer: DDCC Air Ride
Length: Stock
Triple Trees: Hawg Halters Inc.
Swingarm: H-D
Shocks: Climax Air Ride
Stabilizer: None
Wheels, Tires, and Brakes
Front
Builder/Size: Rampage Wheels 26×3.75-inch
Tire/Size: Vee Rubber 26-inch
Calipers: H-D four-piston
Rotors: Rampage Wheels
Rear
Builder/Size: Rampage Wheels 18-inch
Tire/Size: Avon 140/40 r18
Caliper: H-D
Rotor: Rampage Wheels
Pulley/Sprocket: Rampage Wheels
Finish/Paint
Manufacturer: House of Kolor
Colors: Pearl White with custom flake
Painter: Dave Cross Hot Rod Haus
Graphics: Rich "The Man" Keyland at Airephix
Molding: Hot Rod Haus
Plating/Polishing: Meclec
Powdercoating: J&J; Powdercoating
Accessories
Front Fender: Fat Katz
Rear Fender: Lex Rivera
Rear Fender Fillers: Lex Rivera
Gas Tank: DD Custom
Dash: DD Custom
Gauges: H-D
Handlebars: Lex Rivera/BR Custom Bars/DD Custom
Grips: Lex Rivera/DD Custom
Risers: H-D
Mirrors: None
Hand Controls: K-tech
Foot Controls: H-D
Floorboards: H-D
Headlight: H-D
Taillight: Todd's Cycle
Front Turn Signals: None
Rear Turn Signals: None
License Mount: DD Custom
Seat: Vintage Stitch
Saddlebags: H-D/Lex Rivera
Saddlebags Latches: H-D
Saddlebag Extensions: None
Stereo: iPod
Amplifier: JL Audio (x2)
Speakers: Hertz (x8)