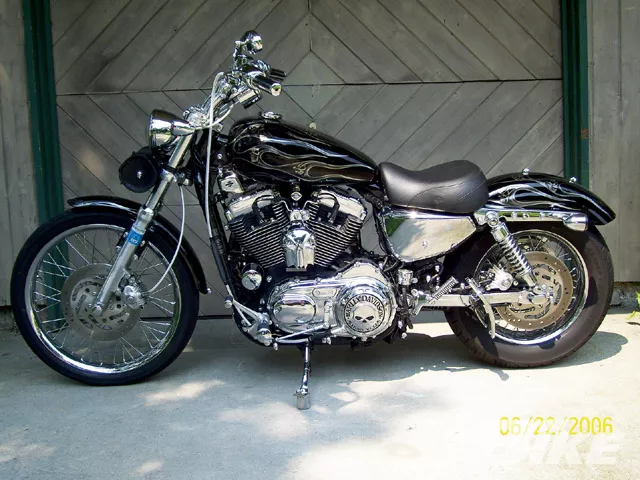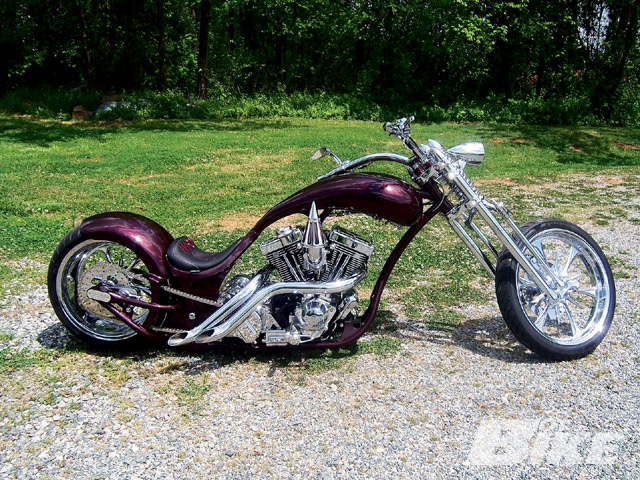 We would like to start by asking you, the reader, to help us with your ride submissions. There is no shortage of Readers' Rides coming across the editor's desks; however, only about 1/4 of them can be used. The reason: bad photos, little or no info about the bike, and even worse, no contact info to get better photos or the needed bike specs. So before you put a stamp on that envelope or send out that e-mail, make sure that you have filled out the basics: Your name, phone number and/or e-mail, where you're from. Then fill out a spec sheet-all you need to do is copy the info from the magazine: Motor, tran, frame, wheels, and so on. Last, a brief history about you and your bike. Now that you know exactly what we're looking for, we can't wait to see what you're going to send in. Thanks!
E-Mailto: [email protected]
I love Chrome and Skulls
After 25 years of riding an old Honda 750KB and dreaming that it was a Harley, Kenny Peck finally saved up and got a Harley-Davidson Sportster. As with anything he owns, Kenny had to make the Sporty as different as he could. First, S&S; pipes and an air cleaner were installed, next came a chromed swingarm, drive pulley and belt guards, followed by hand and foot controls, the mirrors, and finally swapping out for stainless steel cables. Then it came down to the paint. Kenny wanted it to be black with flames and skulls, as many skulls as he could. There are 78 skulls throughout the bike. As you can tell, Kenny loves chrome and skulls.
| | |
| --- | --- |
| CITY/STATE | Selden / NY |
| YEAR/MODEL | '05/Sportster |
| BUILDER | H-D/Kenny Peck |
| ENGINE | H-D |
| HEADS | H-D |
| CARB | H-D |
| CAMS | H-D |
| PIPES | S&S; |
| IGNITION | H-D |
| TRANSMISSION | H-D |
| PAINT COLOR | Black/Ghost Flame |
| WHEELS | Spoke |
| TIRES | Dunlop |
| BRAKES | H-D |
Close to Hanging out With Jesus
Travis Loftis, a deputy sheriff in Rockingham County, North Carolina, was on duty and in the line of fire when a AR-15 round went through his vest and into the middle of his back taking out one of his ribs, part of the lung and blowing the liver all to hell. Travis remembered one thing while lying in ICU, which was his father-in-law had told him if he makes it out of this then they would build the bike of his dreams. His father-in-law, David Truitt, is an old gear head that has been fixing bikes for years and wanted to build a bike. With a lot of prayers and good doctors, Travis made it out OK and then as soon as he was back on his feet, the two of them built this custom. As far as Travis sees it, he is in heaven every time he is riding his life saver.
| | |
| --- | --- |
| CITY/ STATE | Rockingham County, NC |
| YEAR/MODEL | '06/Custom |
| BUILDER | David Truitt |
| ENGINE | S&S;/96ci |
| HEADS | S&S; |
| CARB | S&S; |
| PIPES | LA Choppers |
| TRANSMISSION | Roadmax/6 Speed |
| PAINT | Doug Brame/Brames Auto |
| COLOR | Black cherry |
| WHEELS | RC Components/Vegas |
| TIRE | Avon |
| BRAKES | Exile Sprotor |