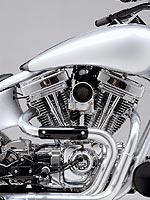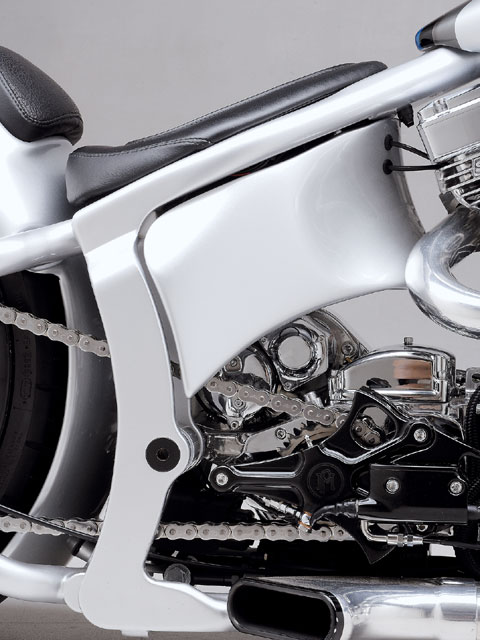 Coming up with an appropriate, fitting moniker for a bike can be a sacred task, not unlike choosing a name for your firstborn child. Here at HOT BIKE, we come across all sorts of bike names-ranging from off the wall to just plain perfect-some of which raise our eyebrows and pique our curiosity. Readers, meet "The Code" (and vice versa). Don't be shy; this sleek, sneaky Pro Street's got a bit of explaining to do. Actually, let's turn our attention to the man behind this mysterious nomenclature: Brian Klock, owner of Klock Werks in Mitchell, SD, and the Klock Werks design team.
If you're drawing a blank regarding Klock Werks, allow us to rewind the clock (ahem) for a brief background check on Brian and his shop. Whether it's a chopper, bobber, or bagger, Brian and his design team have wrenched on them all. In fact, they stay this diverse to stay alive in the industry. "I've been at this, officially, since 1997," Brian said, "starting in a 700-square-foot garage and staying there until May 2004." What most people don't know about Brian and his shop is that they've actually been building custom baggers for 10 years. Speaking of baggers, besides them being a hot thing right now, you may be familiar with the shop's recent Discovery Channel Biker Build-Off "WFB" bagger. It's loaded with Klock Werks originality.
Speaking of originality, this brings us to your patient wait for an explanation of The Code and getting on with a discussion of the craftsmanship that went into this bike. The Code nickname is actually short for "binary code"-the plot deepens. The name seemed fitting, considering this bike was built for Dakota Digital, a major manufacturer of digital instrumentation, specialty electronics, and accessories. Dakota Digital, located in Sioux Falls, SD, has been digitally enhancing motorcycles, automobiles, and trucks for more than 20 years. "They asked us to build a bike that was a rich-looking Pro Street," Brian said, "and would represent their company without looking like a theme bike. This understated, smooth appearance with attention to detail is what we specialize in." Collaborating with the gurus over at Dakota Digital, Brian and his design team started the four-month build on The Code.
With sparks flying, equations being crunched, and 0s and 1s being computed, the "binary code" was in its first stages of design. OK, we're kidding. But seriously, folks, the minds over at Klock Werks were being challenged (just like back in the SAT days) to design a motorcycle that represents Dakota Digital without it screaming "tacky theme bike."
"We wanted a very clean and high-tech look because that's the type of product we make," said Ross Ortman, owner of Dakota Digital. When it came to its design, "Less is more," Brian commented, and this naked-truth approach is apparent throughout The Code.
Klock Werks started with an '05 Rolling Thunder frame with 40 degrees of rake in the neck and 2 inches added to both the downtubes and backbone. A Legend Air suspension aids the rear of this bike and any rider over at Dakota Digital with the bumps in the road. The front is handled by H-D Deuce forks, with a Dakota billet axle and Klock Werks' new triple-tree. Brian and his design team then sneaked several of Dakota Digital's gauges onto this bike to display just a taste of what the company makes for the industry. A speedometer was integrated in the triple-tree, which, according to Brian, isn't something you typically see. Normally, connected handlebars would be used, which would get in the way of an installation such as Brian's. Therefore, one-off bars were fabricated with no risers, thus allowing you a full view of the gauge. Dakota Digital's tach and multi-function gauges were integrated into the dash on the gas tank, while the company's air gauge was installed off the custom motor mount. This brings us to the motor and transmission, as well as the collaborative effort between Klock Werks and Dakota Digital. John Patton of Quigley Motor Werks, a division of Klock Werks, built the 124ci Twin Cam A from S&S; that's mounted in this Pro Street. In order to mate the motor to the Baker RSD six-speed transmission, the shop made a one-off billet adapter plate to connect the two. If you've noticed the low, front-mounted oil tank and were wondering why it's there, it came about through necessity. Perhaps few people know that Twin Cam A motors require low-mounted oil tanks (under the trans) for the pump to work properly, according to Brian. By the way, all electronics are concealed in the "normal" oil tank location.
The Code, with its black wheels, handlebars, and triple-trees, is considered the "black version" in a series of three bikes from Klock Werks for Dakota Digital. The second, more notable "chrome version," is an '07 Street Glide turned custom bagger that was featured in the March/April issue of our own Baggers magazine. And the third bike, according to Brian, is a mystery-the plot deepens even further.
Let's see: We've got a sleek, ground-pounding Pro Street and a classy touring machine. Our curiosity is piqued, but our guess is as good as yours, folks. Looks as if Klock Werks and Dakota Digital may have more explaining to do in the near future.
| | |
| --- | --- |
| SPEC SHEET | |
| GENERAL | |
| OWNER | DAKOTA DIGITAL |
| SHOP PHONE | (605) 996-3700 |
| SHOP WEBSITE | WWW.KUSTOMCYCLES.COM |
| YEAR/MAKE/MODEL | '05/KLOCK WERKS/KUSTOM |
| FABRICATION | KLOCK WERKS DESIGN TEAM |
| ASSEMBLY | KEVIN WHEELER,KLOCK WERKS DESIGN TEAM |
| BUILD TIME | FOUR MONTHS |
| | |
| --- | --- |
| ENGINE | |
| YEAR/TYPE/SIZE | '05/S&S; TWIN CAM A/124CI |
| BUILDER | QUIGLEY MOTOR WERKS,JOHN PATTON |
| CASES | S&S; POLISHED |
| FLYWHEELS | S&S; |
| RODS | S&S; |
| PISTONS | S&S; |
| CYLINDERS | S&S; POLISHED |
| HEADS | S&S; |
| VALVES | S&S; |
| ROCKERS | S&S; |
| ROCKER BOXES | S&S; |
| PUSHRODS | S&S; |
| PUSHROD TUBES | S&S; |
| CAMS | S&S; |
| LIFTERS | S&S; |
| CARBURETOR | S&S; G POLISHED |
| AIR CLEANER | TROTTA VELOCITY STACK |
| IGNITION | S&S; "IST" |
| EXHAUST | TALLEDEGA 21-INCH BYKLOCK WERKS |
| FINISH | MOORE POWER COATINGS |
| | |
| --- | --- |
| TRANSMISSION | |
| YEAR/TYPE | '05/BAKER RSD SIX-SPEED |
| FINISH | POLISHED |
| CASE | BAKER |
| TOP/SIDE COVERS | KLOCK WERKS/DAKOTA DIGITAL |
| CLUTCH | RIVERA PRO CLUTCH |
| PRIMARY DRIVE | JON PANITZKE, DAKOTA DIGITAL |
| FINAL DRIVE | DRIVE-SIDE SPROCKET |
| GEARS | PRIMO/BAKER |
| | |
| --- | --- |
| FRAME | |
| YEAR/TYPE | '05/ROLLING THUNDER |
| RAKE | 40 DEGREES |
| STRETCH | 2 INCHES UP, 2 INCHES OUT |
| MOLDING | KLOCK WERKS |
| FINISH | PPG SILVER STAR |
| SWINGARM | SOFTAIL |
| | |
| --- | --- |
| SUSPENSION | |
| FRONT | |
| YEAR/TYPE | '05/H-D DEUCE 41MM |
| MODIFICATIONS | DAKOTA DIGITAL BILLET AXLE/BLACK POWDERCOAT |
| TRIPLE-TREES | KLOCK WERKS HIDDEN GAUGE |
| REAR | |
| YEAR/TYPE | '05/LEGEND AIR SUSPENSION |
| MODIFICATIONS | HIDDEN COMPRESSOR |
| SHOCKS | AIR |
| | |
| --- | --- |
| WHEELS, TIRES, AND BRAKES | |
| FRONT | |
| TYPE/SIZE | WELD KORONA,POWDERCOATED/21X3-INCH |
| TIRE/SIZE | METZELER ME880/120/21 |
| HUB/SPOKES | WELD KORONA |
| CALIPER | HAWG HALTERS |
| ROTOR | WELD |
| REAR | |
| TYPE/SIZE | WELD KORONA,POWDERCOATED/18X10 |
| TIRE/SIZE | METZELER/ME880/280/18 |
| HUB/SPOKES | WELD DRIVESIDE |
| CALIPER | HAWG HALTERS |
| ROTOR | WELD KORONA |
| | |
| --- | --- |
| FINISH/PAINT | |
| COLORS | PPG VIBRANCE SILVER STAR/TRUE BLUE |
| PAINTER | KLOCK WERKS BY CUSTOM PLUSIN MITCHELL, SD |
| GRAPHICS | BRIAN KLOCK, JAMES MAYER |
| MOLDING | KLOCK WERKS/CUSTOM PLUS |
| PLATING/POLISHING | J&D; PLATING/ST. PAUL, MN |
| POWDERCOATING | KGM POWDERCOATING/MITCHELL, SD |
| | |
| --- | --- |
| ACCESSORIES | |
| FRONT FENDER | KLOCK WERKS |
| REAR FENDER | WERNIMONT, MODIFIED |
| FENDER STRUTS | KLOCK WERKS, HIDDEN/INTERNAL |
| GAS TANK & CAP | INDEPENDENT/MATT HOTCH |
| OIL TANK | KLOCK WERKS, FRONT MOUNTED |
| DASH | KLOCK WERKS |
| GAUGES | DAKOTA DIGITAL |
| HANDLEBARS | KLOCK WERKS |
| RISERS | BUILT INTO BARS |
| HAND CONTROLS | PERFORMANCE MACHINE (PM) |
| FOOT CONTROLS | PM MID-CONTROLS |
| FOOTPEGS | PM |
| HEADLIGHT | HEADWINDS, PAINTED |
| TAILLIGHT | PRO-FAB BY JAYBRAKE |
| LICENSE MOUNT | PRO-FAB |
| SEAT | DANNY GRAY |
| ELECTRICAL | KEVIN WHEELER |
| COIL | S&S; |
| STARTER | POWER MASTER |