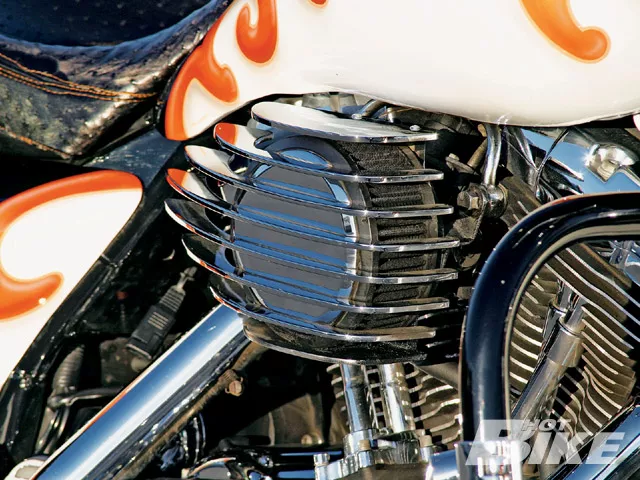 Somehow, I think that God has placed a special love within each of us, that when we hear that rumbling of a Harley-Davidson rolling down the road, you can't help but to stop what you're doing, watch it ride past and have huge respect for that two-wheeled machine and know in your heart, "one day, that will be me." Or for those that already have a Harley, they stop whatever they're doing and think to themselves "I wish that was me right now."
The bug bit me when my husband, Duane, got his second Harley, a 1999 Springer. I would always follow Duane in my car. At that time I never really had a desire to ride on the back. I had ridden on the back a couple of times and it just wasn't for me–but that soon changed and Duane could see I wanted my own. I had never ridden a motorcycle (successfully) before and I didn't have a clue. It's definitely not like riding that moped I rode in high school. In fact, my first attempt at riding a motorcycle was Duane's Kawasaki. I thought it was like riding that moped. Simple right? I throttled and couldn't stop! I kept throttling and dragging my feet like the Flintstones trying to stop the bike. Well, I finally got the bike to stop–right after crashing into the side panel of my neighbors car. Doh! So, it was pretty obvious that I needed lessons. So, Duane and I both took the CHP class.
In 2002 Duane blessed me with my first Harley, a 2002 Sportster. It was purple and beautiful and it was all mine.
This is about the time that we realized that riding was a perfect witnessing tool. Riding up on our bikes, anywhere, brought attention from all likes. People would come up to us and talk to us and we were able to share how Christ had blessed and allowed us to have such beautiful machines and meet such awesome people.
Throughout the years I've watched Duane transform regular looking bikes into masterpieces, with stretched tanks, extended fenders, new handlebars, chrome, and paint–the works. And it was a really beautiful wide-tire, purple, pro-street bike Duane put together that led to my second bike. I sat on that bike and stood it up without having to strain my muscles to hold it up. I took it around the block, and…ahhh….it was a done deal, that bike had to be mine. My third bike was a sweet 1998 Heritage Softail that Duane turned into a low rider with rust color metal flake paint, white walls, and fishtail exhaust pipes.
For a long time Duane had really been trying to talk me into getting a bigger bike, as our rides had been getting more frequent and longer distances. Duane really wanted me to get a Road King, but I was just too intimidated by the size. I'm a small girl in stature, with short little legs, I just knew that I wouldn't be able to handle such a bike without killing myself. As much fussin' and fighting against the idea that I did, Duane knows me better than I know myself and on November 28, 2007 he came home with an early Christmas present, a 2005 solid black Road King. It was pretty sweet all by itself, I thought, "I could roll with that." Then Duane told me that he really didn't like the paint, and if I wanted, he would have it painted for me. I went right inside, grabbed a box of colored markers, some paper and let my creative juices flow. It didn't take long. In fact, it was the first and only design that I drew. I was set and convinced that these colors and design would reflect my personality to a tee. Being a bigger bike, it has a natural masculinity; strong, powerful, and confident. It demands the attention of everyone when it enters any area. Yet, my girly swirls also state "I'm all girl, stilettos and all." I chose the orange, black and white color scheme because it's vibrant, strong and classic. I knew people would understand and respect the classic Harley-Davidson colors that will stand the tests of time and not fade away with the next trend. As for the graphics, I call them Swirly Girl and that's the name I chose for the bike. My personality through the Holy Spirit designed these graphics. It couldn't have happened any other way. That's how I knew they were perfect with the first draft. People who know me know that this is a perfect reflection of who I am. Girly, but not too girly, swirly, but not too swirly.
Duane and I are always really busy so we took the bike over to our friend Rodney Owens, owner of Hog Heaven, in Montclair, California. Rodney has worked on all of our bikes so we let him handle the build with Duane's input and my design giving him direction. We wanted to really dress up the bike so just about everything was replaced or modified in one way or another. Rodney welded on some Ness tank extensions, and to flow with the stretched look he added Ness stretched saddlebags with frenched-in lights. He modified a Street Glide rear fender and stretched and lowered the front fender. We ordered a Batwing fairing from the local H-D dealership and Rodney pumped up the audio with a Pioneer CD player with a pop out screen, added an amp subwoofer in the saddle bags and better speakers in the fairing. We swapped out the wheels for a set from PM, which we had painted to match the overall look of the bike. The gauge trim rings were also painted to match. Of course I can't forget about the power. Rodney loaded up the engine with a 95-inch kit and added a set of Thunderheader ThunerCones for bark. I don't know what sounds better, my stereo system or the roar of the pipes. Anything that wasn't painted was swapped for new chrome like the grips, floorboards and horn cover. Joe at Paintworx, in Lake Elsinore, California, handled all the paint. Joe was able to look at my novice drawings and know that I wanted it exactly as I drew it. Joe and his team did a fantastic job. If I put the original drawing next to the bike they look exactly the same.
Tossing my leg over that two-wheeled machine might bring some thought of "Macho-ism" and that may be true to a point, but don't get it twisted, like I said before, "I am all woman!" and wrapping my leg around that beautiful bike is like donning a beautiful outfit, with all the perfect accessories.
I love riding, and I think I love it more because of the challenge and the mastering of the skill. Riding definitely takes a lot of skill, and I think most people realize that. So, when they see a woman rider, it doesn't seem to matter who they are, they all have a certain respect. Whenever I ride, I get hollers, thumbs up, smiles, waves, whistles, and cheers. Complete strangers are proud of little ol' me.
Some of the skills that you need to possess to control this metal machine are that you have to always be aware when you ride. You're always thinking, watching, shifting, twisting, leaning, signaling, waving and you have to do all this "just right," because the slightest wrong move could have you eating the pavement. But even though you know there's a certain element of danger, with no real protection…you don't mind. In fact, you sometimes even find yourself pushing the limit, you know the power that you have between your legs and you just sometimes want to test it out, shifting those gears, faster, faster and when you turn that corner, you soon learn that you can lean so deep into a turn that your knee almost scrapes the concrete. There's not a turn that I make that you won't see gravel and sparks fly from by bags and floorboards
The Lord has allowed me though, to take this machine that seems so scary and intimidating to most women and has given me the strength and courage to control this bike and it has been a wonderful inspiration to many women out there who have wanted to ride, but didn't think they could.
I have to say that my husband and I ride for fun. We have miles and miles of happiness together in more ways than one. I will not however, go as far as saying that it's our lifestyle, or that we "Ride to Live and Live to Ride," but I can definitely say that we will ride `til we die. Riding is a part of who we are, and it's good for us. One day my husband went to the doctor, and the doctor told him he needed to exercise more, that he should take up bike riding." Well, we did, and the doctor was right! It works wonders!
| | |
| --- | --- |
| Specs | |
| BIKE OWNER | Teri Dade |
| YEAR/MAKE/MODEL | '05 Road King |
| FABRICATION | Hog Heaven |
| ASSEMBLY | Hog Heaven |
| BUILD TIME | Nine Months |
| | |
| --- | --- |
| ENGINE | |
| YEAR/ MANUFACTURER | '05/H-D |
| TYPE/SIZE | Twin Cam/95ci |
| BUILDER | Hog Heaven |
| CASES | H-D |
| CYLINDERS | H-D |
| HEADS | H-D |
| ROCKER BOXES | H-D |
| EFI | H-D |
| AIR CLEANER | Cycle Smiths |
| EXHAUST | H-D/Thunderheader |
| | |
| --- | --- |
| TRANSMISSION | |
| YEAR/MANUFACTURER/TYPE | '05/H-D/5-speed |
| CASE | H-D |
| CLUTCH | H-D |
| PRIMARY DRIVE | H-D |
| | |
| --- | --- |
| FRAME | |
| YEAR/MANUFACTURER | '05/H-D |
| RAKE | Stock |
| STRETCH | Stock |
| | |
| --- | --- |
| SUSPENSION | |
| MANUFACTURER FRONT | H-D |
| LENGTH | Lowered 1 1/2-inches |
| TRIPLE TREES | H-D |
| MANUFACTURER REAR | Progressive Suspension |
| SWINGARM | H-D |
| | |
| --- | --- |
| WHEELS, TIRES, AND BRAKES | |
| MANUFACTURER FRONT/TYPE | PM/Gasser |
| SIZE-WIDTH/HEIGHT | 21×3 |
| TIRE/SIZE | Metzeler/21×120 |
| CALIPER | H-D |
| ROTOR | PM |
| MANUFACTURER REAR/TYPE | PM/Gasser |
| SIZE-WIDTH/HEIGHT | 18×3.5 |
| TIRE/SIZE | Metzeler/18×140 |
| CALIPER | H-D |
| ROTOR | PM |
| | |
| --- | --- |
| FINISH/PAINT | |
| COLOR | Black, Orange Pearl White |
| PAINTER | Paint Works |
| GRAPHICS | Paint Works |
| | |
| --- | --- |
| ACCESSORIES | |
| FRONT FENDER | H-D/Hog Heaven |
| REAR FENDER | H-D/Hog Heaven |
| GAS TANK∩ | H-D/Hog Heaven |
| OIL TANK | H-D |
| DASH | Russ Wernimont |
| GAUGES | H-D |
| HANDLEBARS | Handlebar Lee |
| MIRRORS | H-D |
| HAND CONTROLS | H-D |
| FOOT CONTROLS | H-D |
| FOOTPEGS | H-D |
| HEADLIGHT | H-D |
| TAILLIGHT | Ness/Hog Heaven |
| TURN SIGNALS | Ness/Hog Heaven |
| LICENSE MOUNT | Ness |
| SEAT | Corbin |