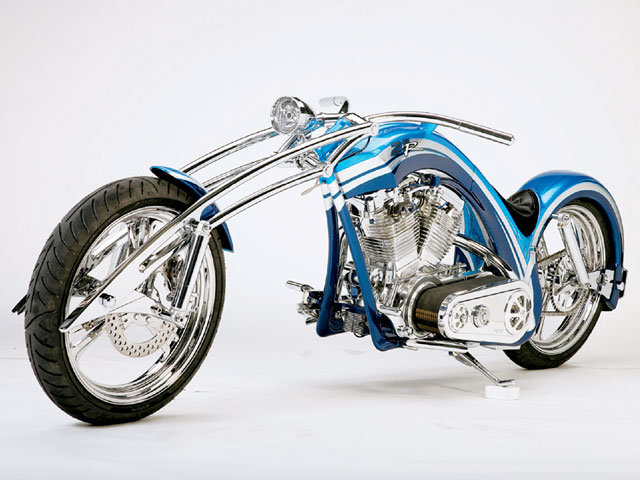 From what we've seen of Fred Kodlin's work from Germany, we know he's creative and unique in designing and building motorcycles. Even when we think he has done it all, he comes up with something new. For Sturgis, he rode to South Dakota on a bike that changed everything-even the history of suspension systems in motorcycle building.
What Hamsters member Fred Kodlin rode to the Sturgis rally is one of the most innovative bikes he has ever built. As far as we know, it is the only bike in motorcycle building history that sports a suspension with a pushed rear swingarm and a pulled frontal suspension. In and of itself, it might not be that new, but as a combination it surely is.
You might be wondering what a pushed swingarm is. Let us look at your own ride. Imagine the rear wheel and how the swingarm is connected to your frame and the wheel. Somewhere there is a (more or less) hidden shock, and the swingarm will have a mount and an axis some place in the frame. With this setup the whole rear is pulled, so you have a pulled swingarm.
Fred designed a rear part for the 21R that includes a swingarm that pushes the wheel's axis. The rear fender hides a massive and stiff tube-bow made of three steel tubes where the swingarm's bearing is attached behind the wheel. What this means is that Fred created a massive, bold rear frame that is different from the usual cut-to-nothing sub frames we see in normal customs today. Without pictures of that, we might think this should look like a wide, thick, and unpleasant rear to carry a custom's rear wheel. But that is totally wrong.
What we see is a lean, slim, and bold back end. Fred got away from the typical German means of design. He used a slim 21-inch rear rim that usually is a front model from Performance Machine. Both rims on this bike are the same size. By using wheels that are lean and huge in diameter, Fred gained a slim look that makes it even more unbelievable that the rear design would work. The bracket of the rear swingarm is almost invisible and is only marked by two chromed bolt heads in the fender.
Another trick to keeping that clean look is the Kodlin pulley shaft brake. This brake stops a disc attached to a shaft on the right side of the bike, and is driven by the primary pulley's drive. There is no brake to disturb the design of the rear rim, and no extra space is needed on the left side of the frame to bear the brake. To fit optically into the concept and to do things differently, Fred designed a frontend with a pushed suspension and a handlebar that grows right out of the top tree. The frame itself is an almost normal double-tube type, but is totally covered like a monocoque. The slim waist and the edged gas tank were followed by similarly designed triangular and edged footrests. Airbrush artist Marcus Pfeil underlined the bodywork with his skilled color design.
What you might not see but rather feel while riding this bike is a special centrifugal clutch like what is used on the drag strips. It comes from Primo/Rivera and works perfectly. When idling there is no power to the transmission. You can shift into First gear and stay cool and calm. When you pull the throttle, the thing winds up and roars away. Anyone thinking about problems with the technical aspects of that might know that in dragster racing this kind of clutch is very common-what pulls away at 1,000 and more horsepower might also work reliably in your scoot.
Fred rode the 21R to Sturgis not only as a unique custom, but also as a motorbike, and this motorcycle did the job quite well, thundering through the country powered by the huge TP 124ci motor. And while rolling along the highways, the swing concept wrote motorcycle history.
Write [email protected]
| | |
| --- | --- |
| SPEC SHEET | |
| GENERAL | |
| BIKE OWNER | Fred Kodlin |
| SHOP NAME | Fred Kodlin Motorcycles |
| SHOP PHONE | +49 (0)5682 7071-0 |
| SHOP WEBSITE | www.kodlin.com |
| YEAR/MAKE/MODEL | '06/21R |
| FABRICATION | Fred Kodlin Motorcycles |
| ASSEMBLY | Fred Kodlin |
| BUILD TIME | Six weeks |
| | |
| --- | --- |
| ENGINE | |
| YEAR/MANUFACTURER | '06/TP Engineering |
| TYPE/SIZE | Evo/121ci |
| BUILDER | TP Engineering |
| CASES | TP |
| CYLINDERS | TP |
| HEADS | TP |
| ROCKER BOXES | TP |
| CARBURETOR/EFI | Mikuni HSR45 |
| AIR CLEANER | Fred Kodlin |
| EXHAUST | Fred Kodlin |
| | |
| --- | --- |
| TRANSMISSION | |
| YEAR/MANUFACTURER/TYPE | '06/RevTech |
| | Six-speed |
| CASE | Revtech |
| CLUTCH | Primo/Rivera |
| PRIMARY DRIVE | Primo/Rivera |
| | |
| --- | --- |
| FRAME | |
| YEAR/MANUFACTURER | '06/Fred Kodlin |
| RAKE | 50 degrees |
| STRETCH | -3 |
| | |
| --- | --- |
| SUSPENSION | |
| MANUFACTURER FRONT | Fred Kodlin |
| LENGTH | N/A |
| TRIPLE TREES | Fred Kodlin |
| MANUFACTURER REAR | Fred Kodlin |
| SWINGARM | Fred Kodlin special |
| SHOCKS | Fournales/air suspension |
| | |
| --- | --- |
| WHEELS, TIRES, AND BRAKES | |
| MANUFACTURER FRONT/TYPE | Performance |
| | Machine/Trinity |
| SIZE-WIDTH/HEIGHT | 21×3 |
| TIRE/SIZE | Avon/120-70/21 |
| CALIPER | Performance Machine 4-piston |
| ROTOR | Performance Machine |
| MANUFACTURER REAR/TYPE | Performance |
| | Machine/Trinity |
| SIZE-WIDTH/HEIGHT | 21×3 |
| TIRE/SIZE | Avon/120-70/21 |
| CALIPER | Performance Machine/ |
| | Fred Kodlin Special Construction |
| ROTOR | Performance Machine |
| | |
| --- | --- |
| FINISH/PAINT | |
| COLOR | House of Kolor |
| PAINTER | Pfeil Design |
| GRAPHICS | Pfeil |
| PLATING/POLISHING | Schroeder |
| POWDERCOAT | N/A |
| | |
| --- | --- |
| ACCESSORIES | |
| FRONT FENDER | Fred Kodlin |
| REAR FENDER | Fred Kodlin |
| FENDER STRUTS | Fred Kodlin |
| GAS TANK & CAP | Fred Kodlin |
| OIL TANK | Fred Kodlin |
| HANDLEBARS | Fred Kodlin |
| HAND CONTROLS | Fred Kodlin |
| FOOT CONTROLS | Fred Kodlin |
| FOOTPEGS | Fred Kodlin |
| HEADLIGHT | CCI |
| TAILLIGHT | CCI |
| LICENSE MOUNT | CCI |
| SEAT | Maikx |