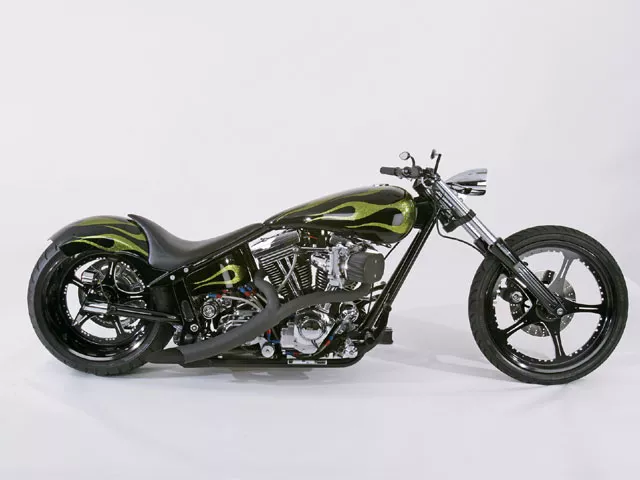 Subtlety apparently isn't Dean Wilson's strong suit. It's a fact that becomes all too apparent as Dean, the owner of BackRoad Choppers (BRC) in Delhi, CA, conveys stories about the blatant disregard shown for the local traffic code during the company's grand opening party this past April with the black and metalflake green beauty seen here.
"We had about 3,000 people at our new factory for the grand opening, and we made a few drag passes up and down the block with the bike," Dean said. "People really seemed to enjoy that."
After a lifetime spent in manufacturing, creating everything from camper trailers to high-end custom homes, Dean decided to jump into the custom American V-Twin production market feet first this past spring, setting a 100-bike quota for the company's first nine months. This emerald-flamed hot rod served as the prototype for the company's Pro-Street 250 model, one of four models slated for production in 2006-'07.
"Bobbers are kind of the main thing for us," Dean said, "so we just wanted to do something a little bit different and show people what else we could do."
With that in mind, Dean got to work spec-ing out a tubular swingarm-style Daytec frame with 8 inches of backbone stretch, an inch out of the downtubes, and 50 degrees of rake. A set of 4-inch-under Pro-One fork tubes and triple-trees was hung out front with a set of BackRoad's proprietary no-rise drag bars, while a Legend Air Ride system keeps things plush in the back.
"It's not a bike you're going to get on and ride 400 miles in a day very often," Dean said. "It is remarkably comfortable for a bike like this, though."
Looking to make his new Pro-Street go as fast as it looked, Dean broke form and called the horsepower gurus at TP for one of their proven 121-inch mills instead of the standard 110-inch powerplant found in BRC's other three models. Not wanting to leave good enough alone, a pair of 45mm Mikuni carbs handles the air and fuel on top, while a set of Martin Bros. pipes keeps things roaring right along at the other end. All that power gets channeled through a closed-chain primary before grinding its way through a left-side-drive Baker six-speed transmission.
"This is the hot rod model for sure," Dean said. "You know it right when you get on that throttle."
With the drivetrain in place, Dean's brother Evan got to work on the tins, slamming the BRC fuel tank down tight to the top of the engine and crafting a custom rear fender complete with one-off cut-down fender struts.
The Wilsons sent the finished tins off to painter Shawn Hart, who laid down a deep pool of black before adding the bike's signature mega-flake flame job. Powdercoating duties for the frame and other accessories were handled in-house by BRC.
"We wanted everything about this bike to have an aggressive look about it, even the paint," Dean explained. "We wanted it to catch people's eye without being flashy. Everything we're doing is not just to be different, but we definitely don't want to be the same as everybody else either."
As with all of BRC's bikes, the Pro-Street 250 was designed with function and ridability in mind, so when it came time to choose skins, a relatively modest Avon 250-series tire got the nod out back, while a race-inspired 90-series Avon was pulled for the front. The tires were strung over a set of Pro-One's black-anodized Sinn-A-Ster wheels with matching blacked- out rotors.
"A 250 is about as wide as I wanted on this bike," Dean said. "I didn't want to go too radical on the back tire because of what we were trying to accomplish with this bike, and how we wanted people to ride it. I'm not interested in selling a bike to a guy who's just going to bring it home and park it in his garage and polish it all the time, then show it to his buddies when they come over. We want the guy who's going to ride the heck out of it."
With a shelf full of show trophies already to its credit, this prototype has generated more than a little buzz for the production model, and while some of the less EPA-friendly parts will have to be omitted, Wilson is confident the showroom-ready rendition will be no less well-received.
"There's been an amazing amount of interest from the prospective dealers who've seen it," he said. "We won't mirror the bike exactly, but we'll mirror it enough that our dealers will be comfortable with it on the floor, and we can be comfortable knowing it's a safe and ridable motorcycle."
Spec Sheet
| | |
| --- | --- |
| GENERAL | |
| OWNER | DEAN WILSON |
| SHOP | BACKROAD CHOPPERS (BRC) |
| PHONE | (209) 669-3824 |
| WEBSITE | WWW.BACKROADCHOPPERS.COM |
| YEAR/MAKE/MODEL | '06/BACKROAD CHOPPERS/ |
| PRO-STREET | |
| FABRICATION | BRC |
| ASSEMBLY | BRC |
| BUILD TIME | THREE MONTHS |
| | |
| --- | --- |
| ENGINE | |
| YEAR/SIZE/TYPE | '06/TP/EVO |
| BUILDER | TP |
| CASES | TP |
| FLYWHEELS | TP |
| RODS | TP |
| PISTONS | TP |
| CYLINDERS | TP |
| HEADS | TP |
| VALVES | TP |
| ROCKERS | TP |
| ROCKER BOXES | TP |
| PUSHRODS | TP |
| PUSHROD TUBES | TP |
| CAM | TP |
| LIFTERS | TP |
| CARBURETOR | MIKUNI |
| AIR CLEANER | MIKUNI |
| IGNITION | NOLOGY |
| EXHAUST | BRC/MARTIN BROS. |
| FINISH | BLACK |
| | |
| --- | --- |
| TRANSMISSION | |
| BUILDER/YEAR/TYPE | BAKER/'06/SIX-SPEED |
| FINISH | BLACK/CHROME |
| CASE | BAKER |
| TOP/SIDE COVERS | BAKER |
| CLUTCH | WET |
| PRIMARY DRIVE | CHAIN |
| FINAL DRIVE | BELT |
| | |
| --- | --- |
| FRAME | |
| YEAR/TYPE | '06/PRO-STREET |
| RAKE | 50 DEGREES |
| STRETCH | 8 INCHES |
| | |
| --- | --- |
| SUSPENSION | |
| FRONT | |
| BUILDER | PRO-ONE |
| YEAR/TYPE | '06/PRO-ONE |
| MODIFICATIONS | 4 INCHES UNDER |
| TRIPLE-TREES | PRO-ONE |
| | |
| --- | --- |
| WHEELS, TIRES, AND BRAKES | |
| FRONT | |
| SIZE/TYPE | PRO-ONE |
| TIRE MAKE/SIZE | AVON/90-21 |
| CALIPER | PRO-ONE |
| ROTOR | PRO-ONE |
| REAR | |
| SIZE/TYPE | PRO-ONE |
| TIRE MAKE/SIZE | AVON/250-40-18 |
| CALIPER | PRO-ONE |
| ROTOR | PRO-ONE |
| | |
| --- | --- |
| FINISH/PAINT | |
| COLORS | BLACK/GREEN FLAMES |
| PAINTER | SHAWN HART |
| GRAPHICS | SHAWN HART |
| POWDERCOATING | SHAWN HART |
| | |
| --- | --- |
| ACCESSORIES | |
| REAR FENDER | BRC |
| FENDER STRUTS | BRC |
| GAS TANK & CAP | BRC |
| OIL TANK | BRC |
| HANDLEBARS | BRC |
| MIRRORS | PM |
| HAND CONTROLS | PM |
| FOOT CONTROLS | PRO-ONE |
| FOOTPEGS | PRO-ONE |
| HEADLIGHT | ARLEN NESS |
| TAILLIGHT | DRAG SPECIALTIES |
| LICENSE MOUNT | BRC |
| SEAT | CORBIN |