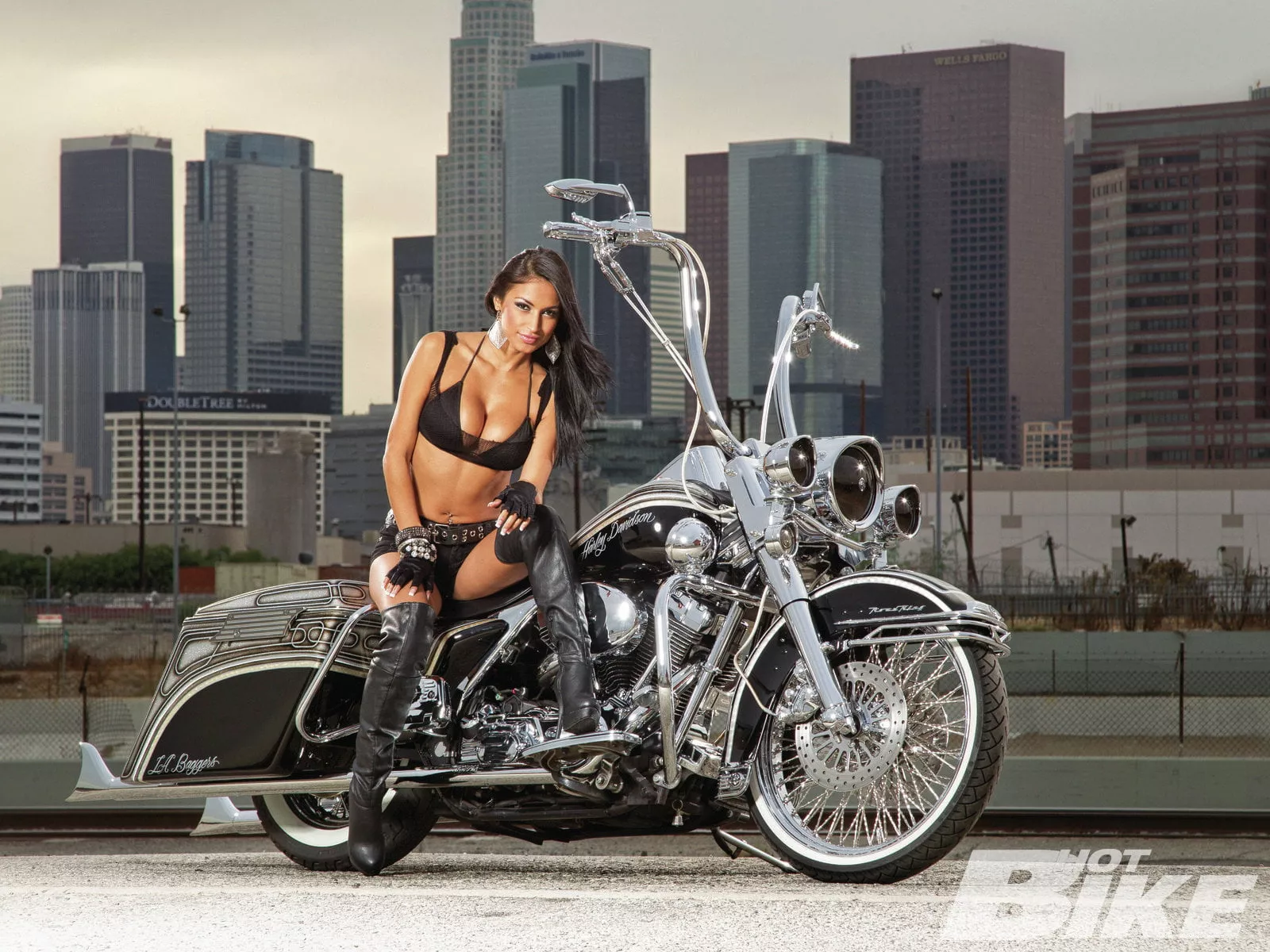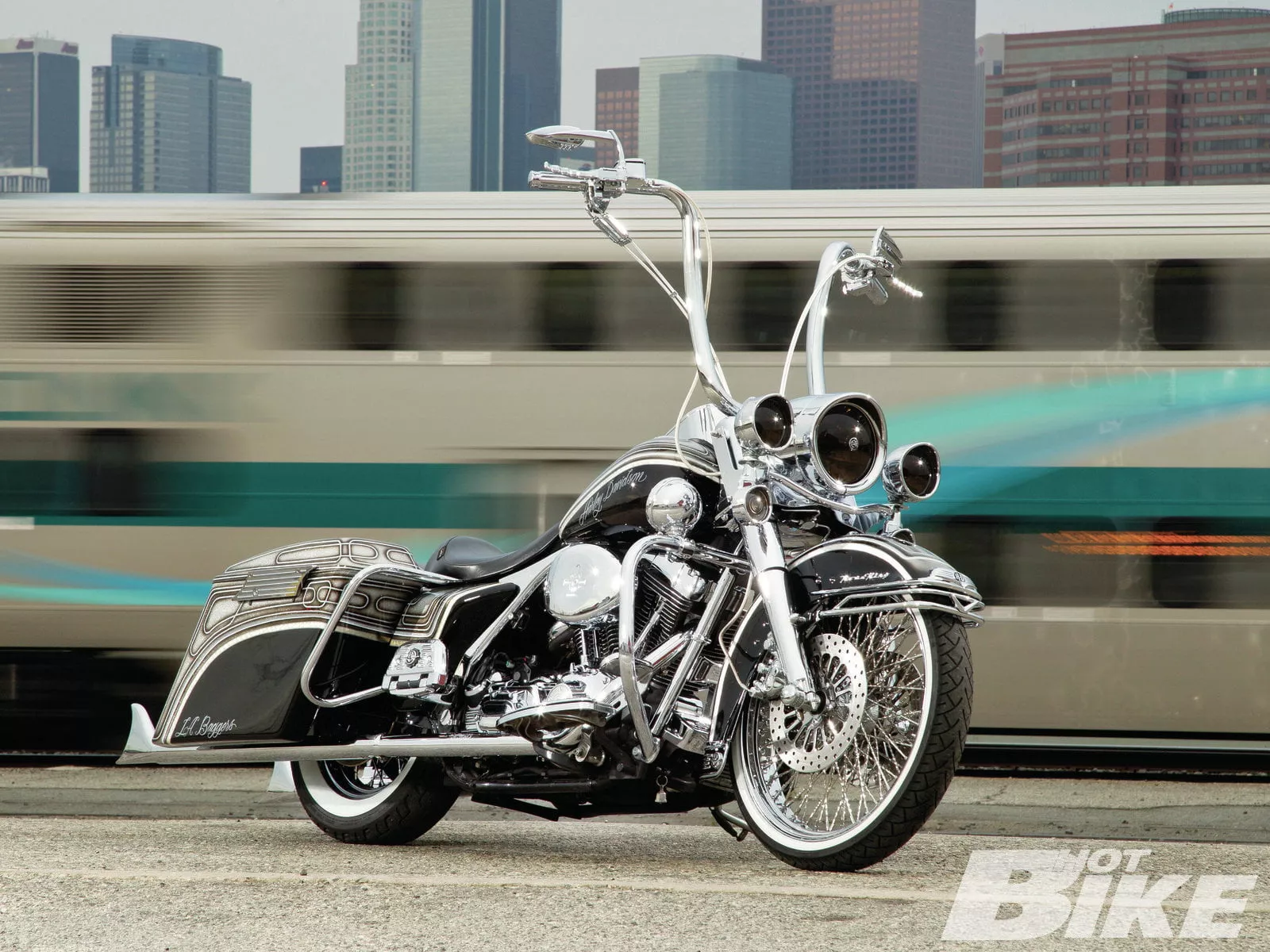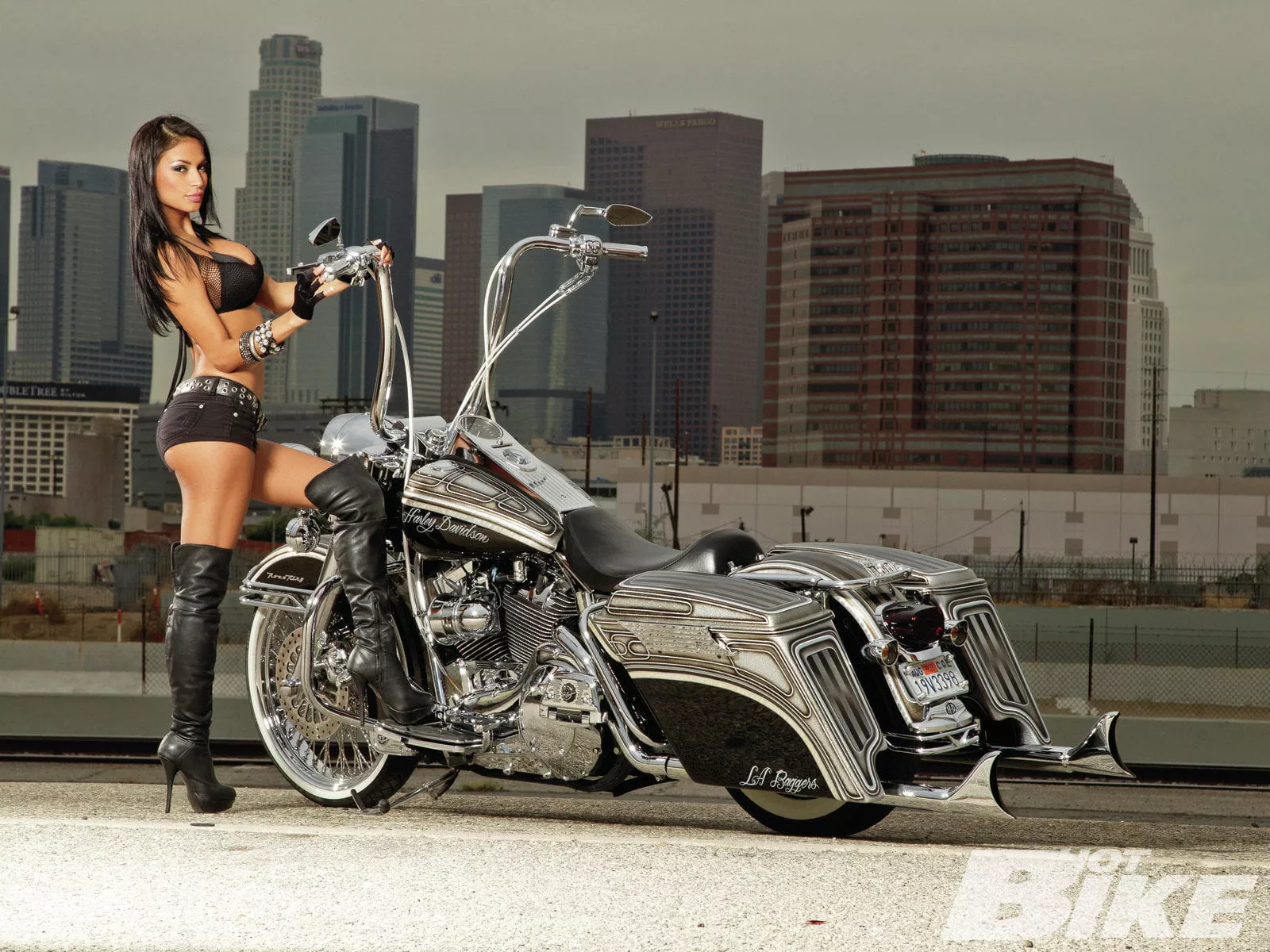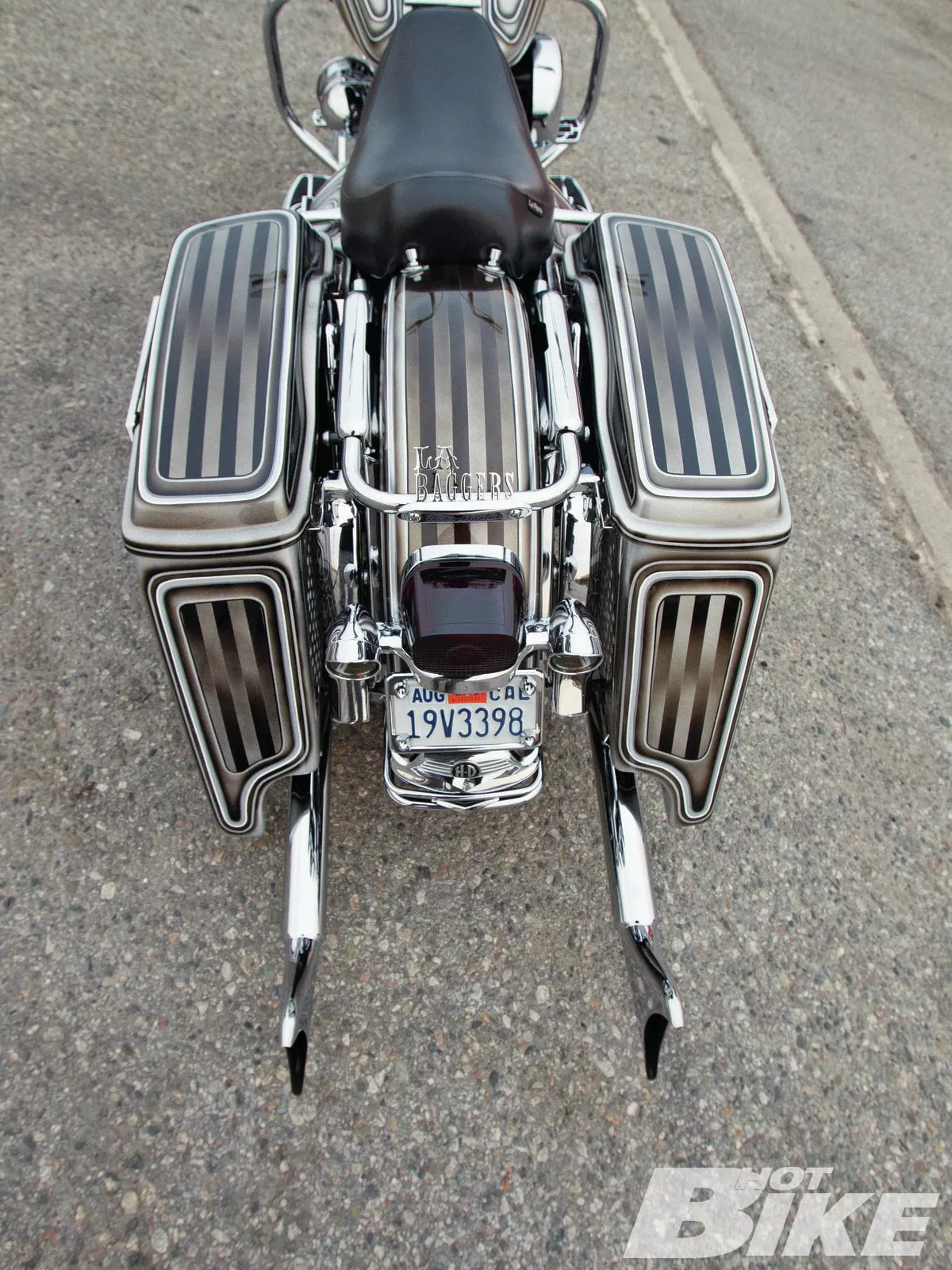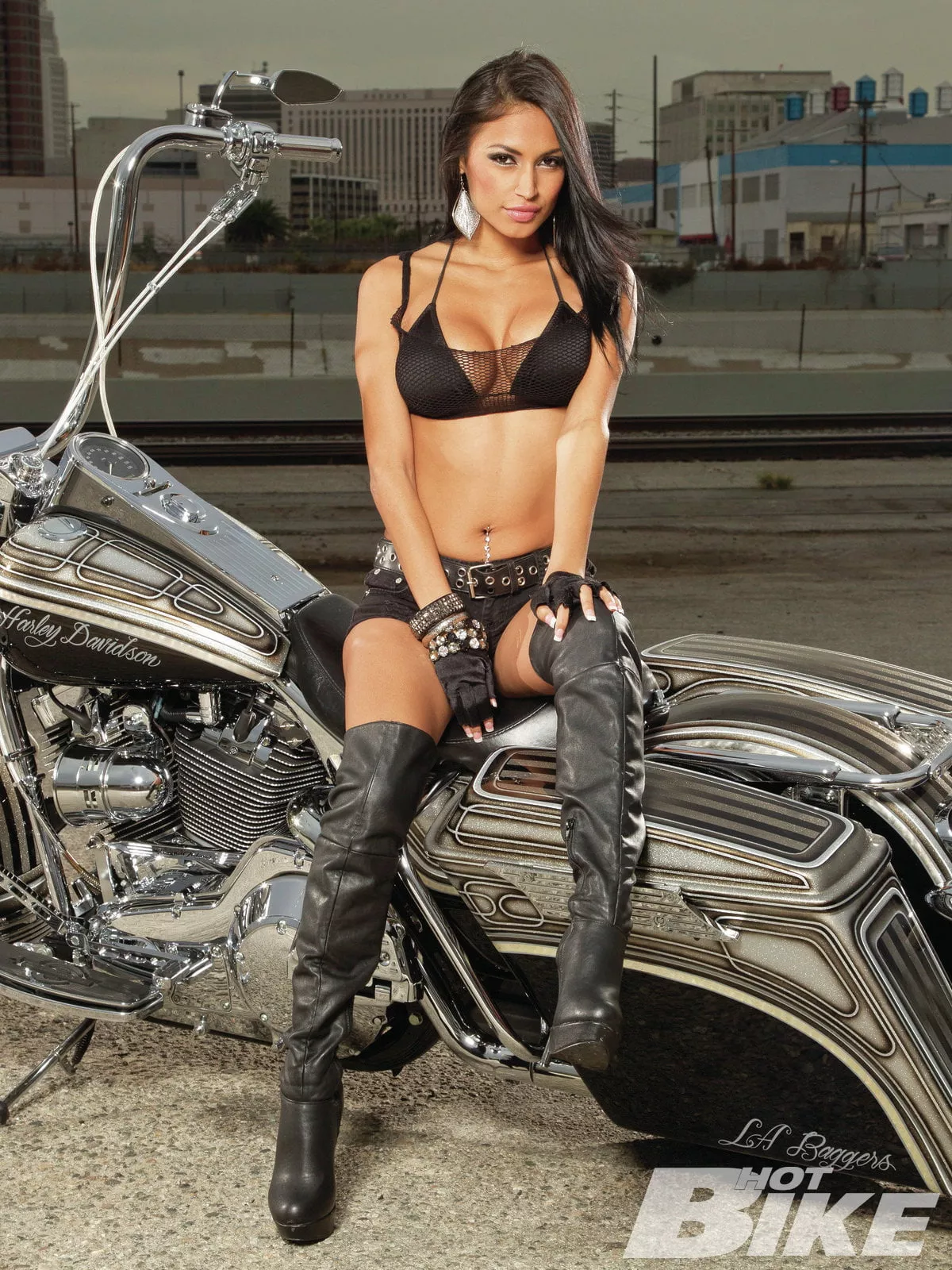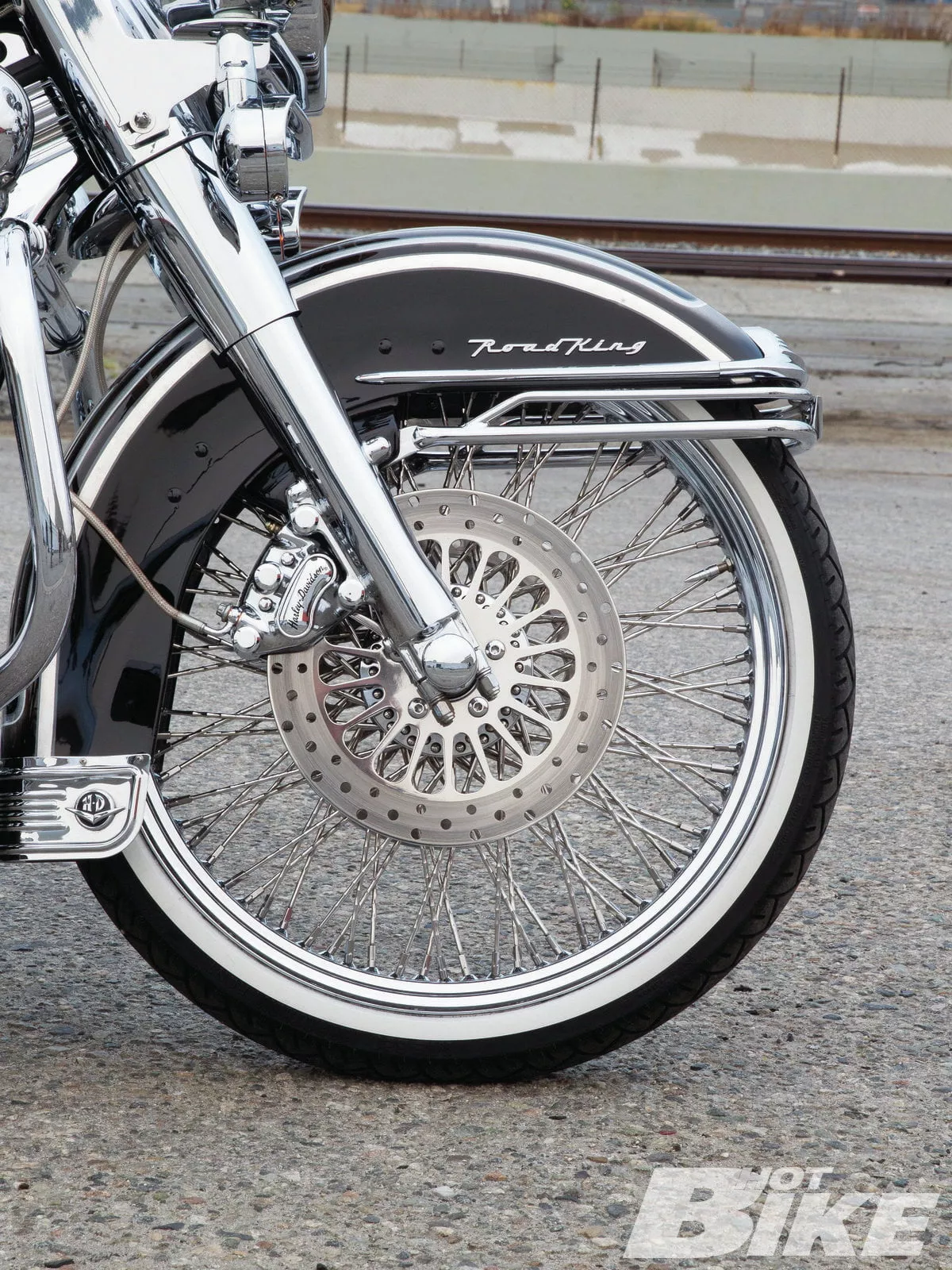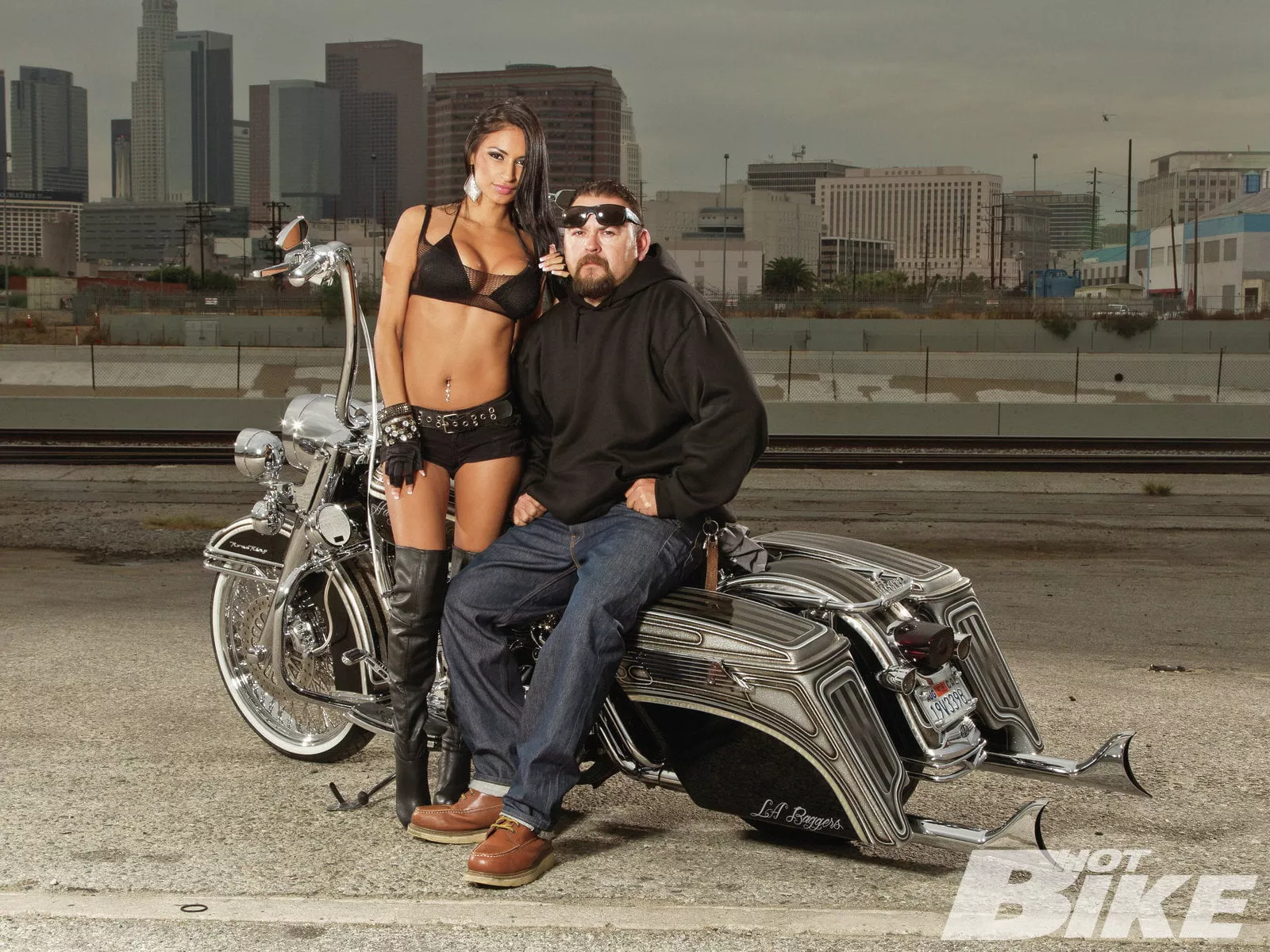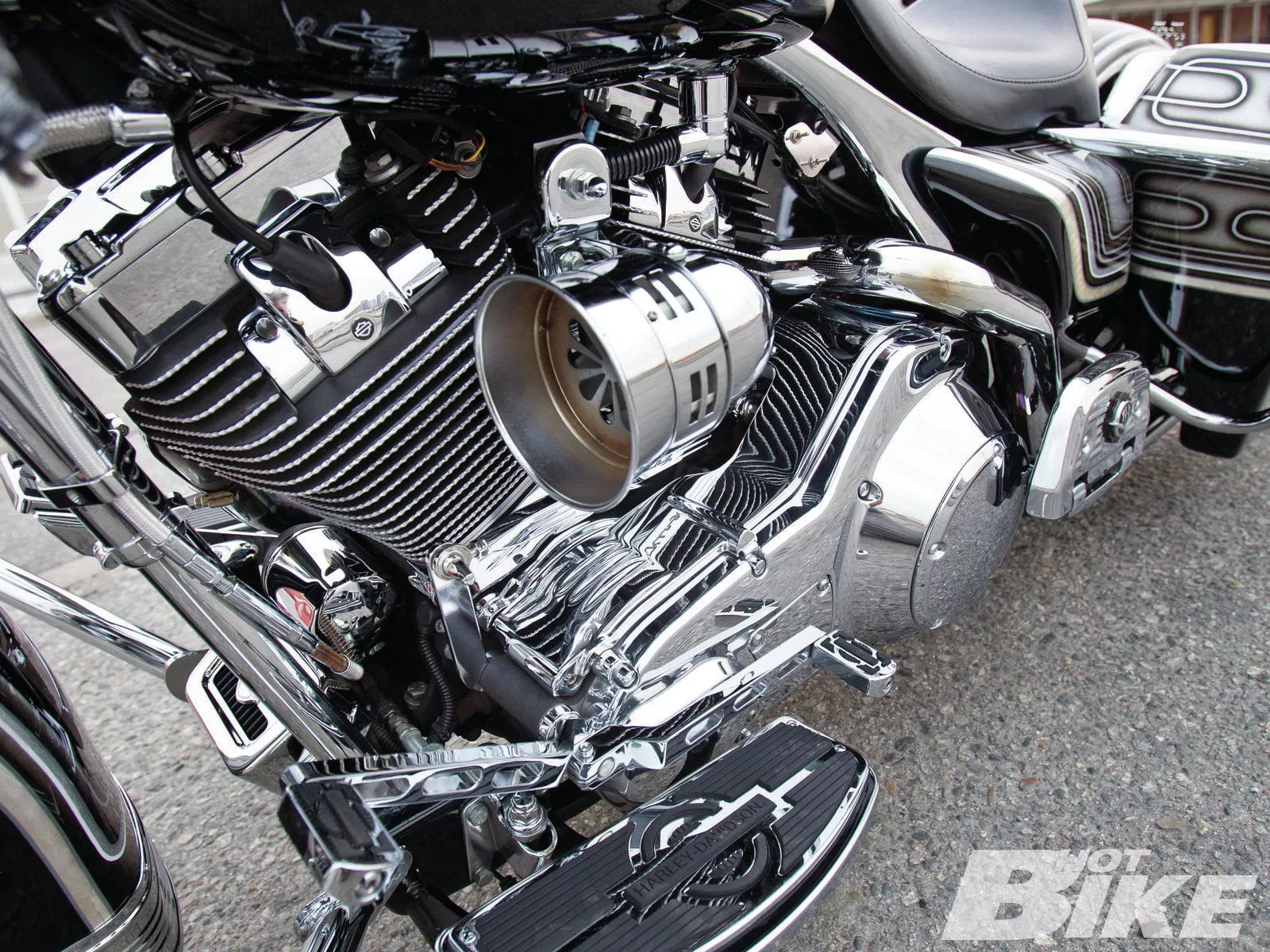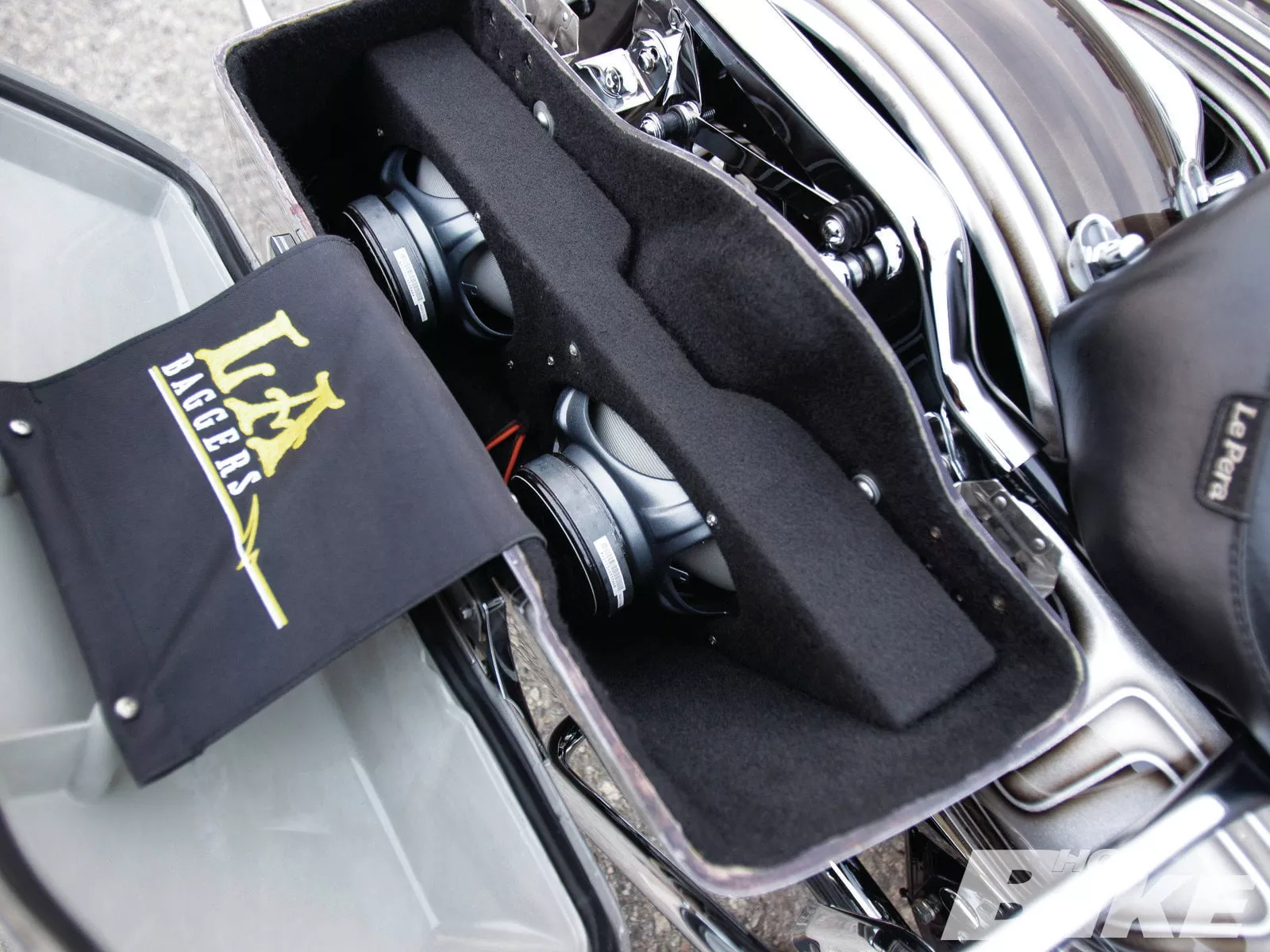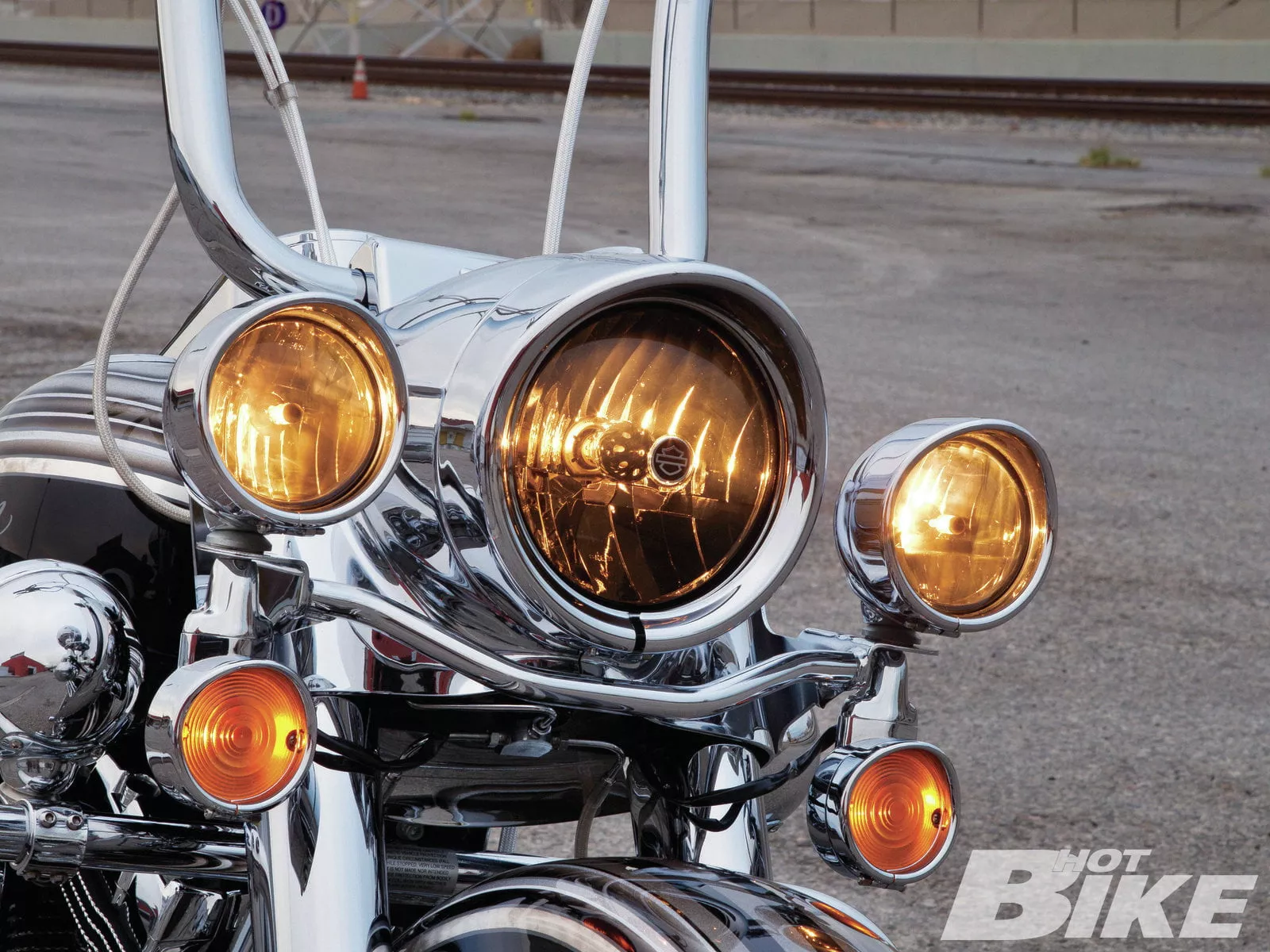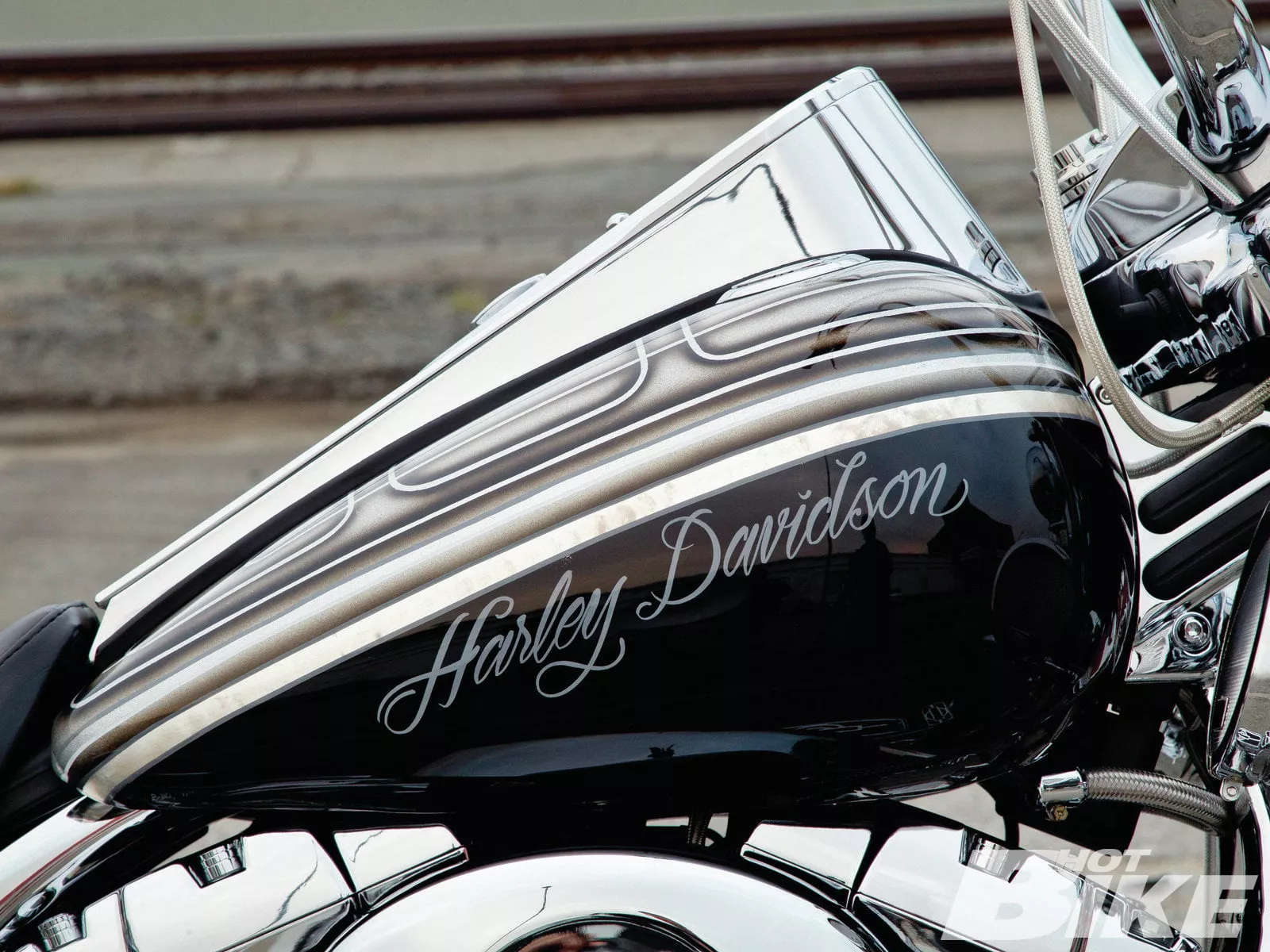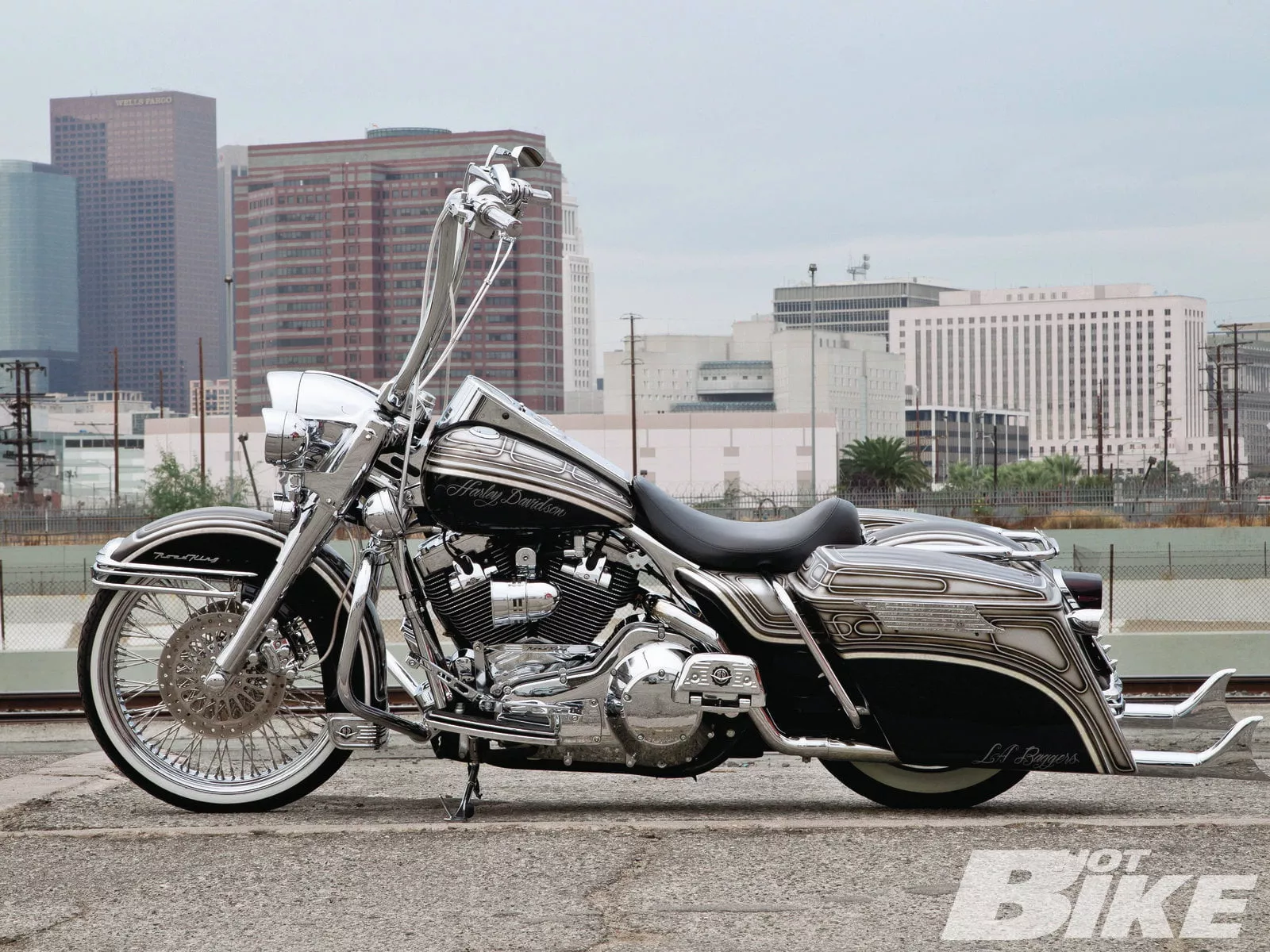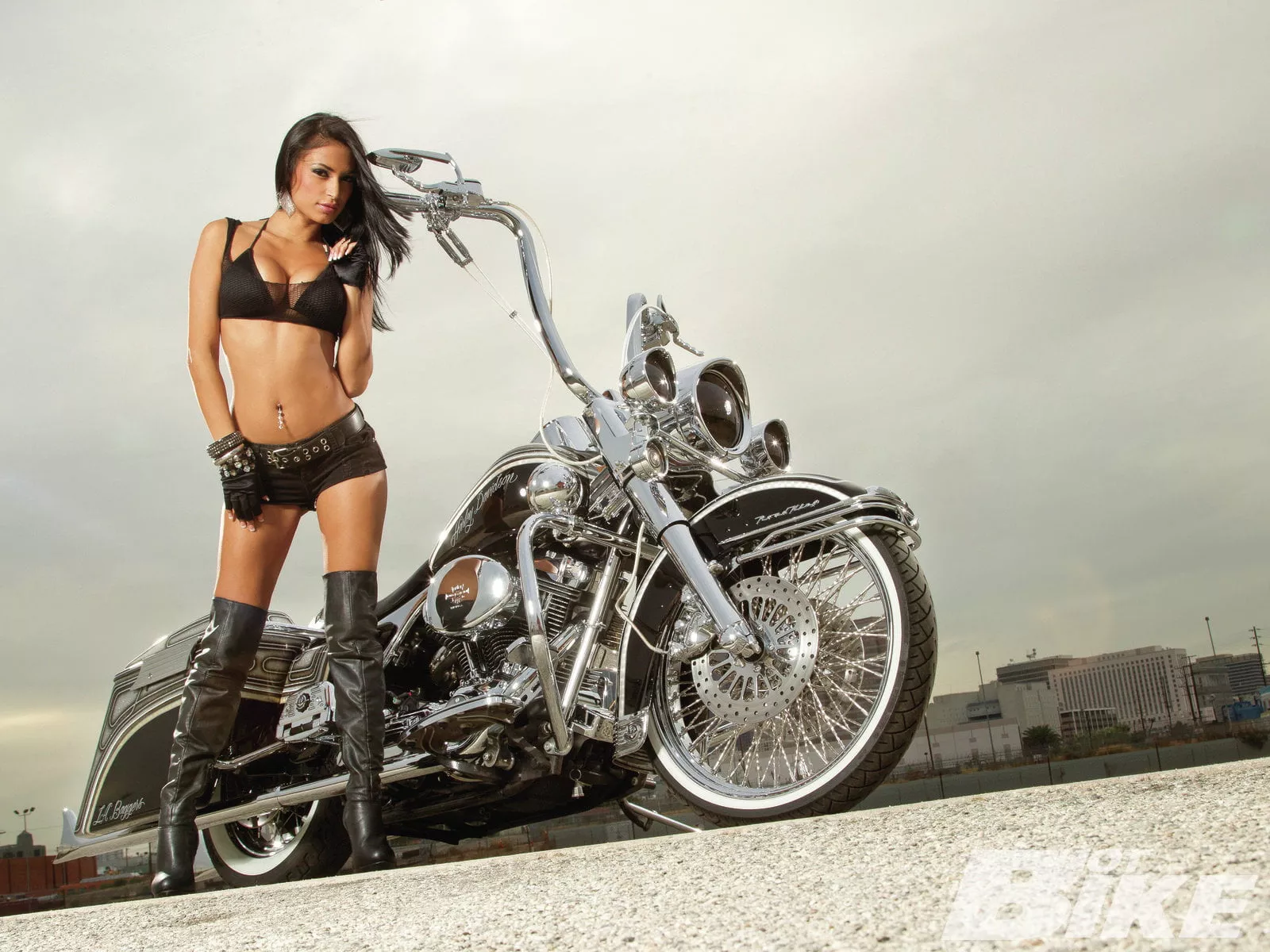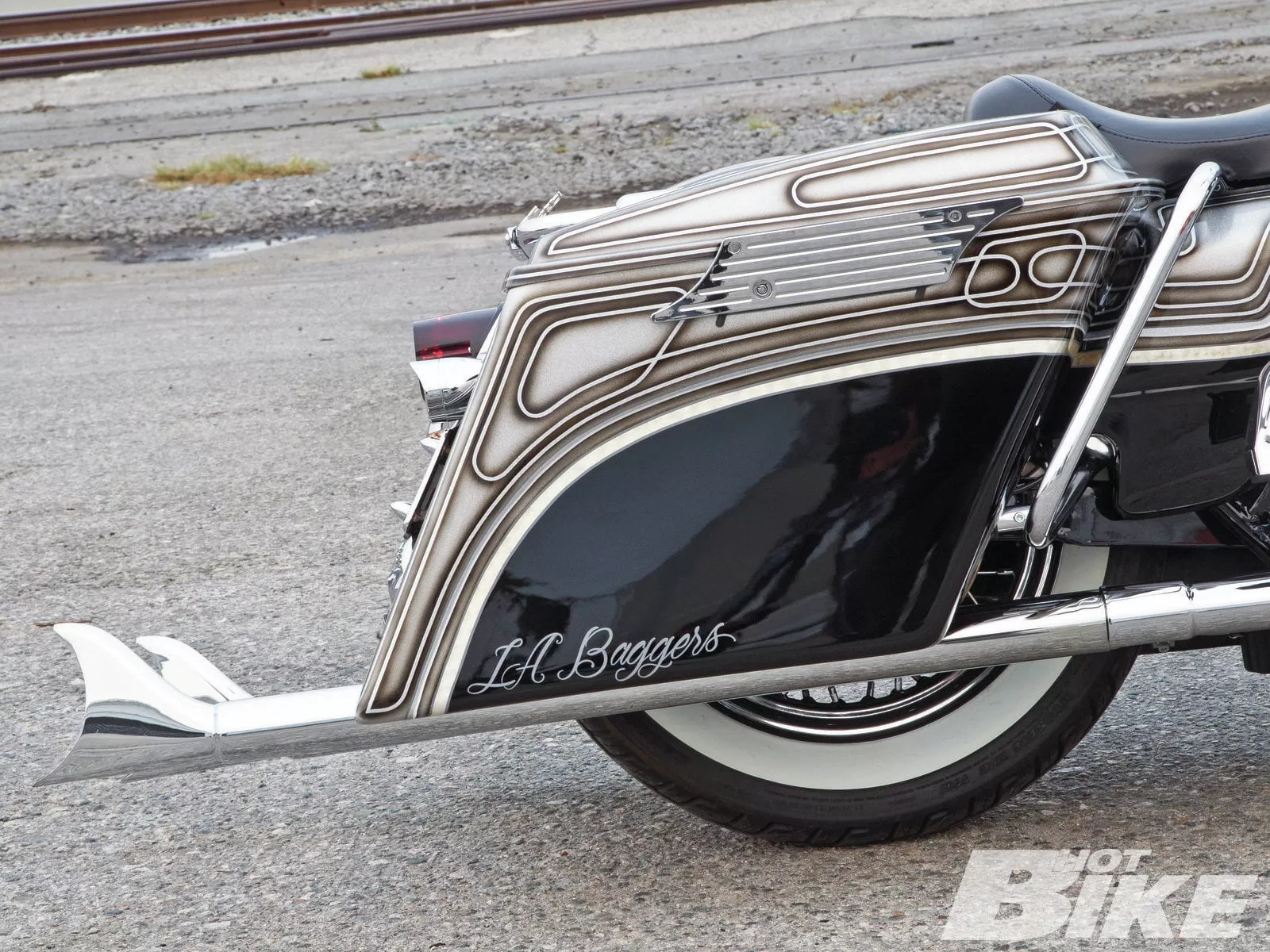 Model: Dania Estrada
The Lowrider style of motorcycles has been growing and evolving over the last decade. With flaked-out paint, front-to-back chrome, and an exhaust that goes "bllllaaaaapppp paaaapp paaapp paaaaap," there's no denying the appeal of a 21-inch wire wheel wrapped in a white wall rolling down the road.
Jason Luevanos' (of LA Baggers) 2006 Road King was bought on a whim, but is far from his first custom. "My first car was a '68 Camaro that I started building at 16. That's when I learned to turn wrenches. I've been riding since I was I kid and always wanted a Harley. Two years ago on New Year's Eve, I got a call from a buddy who was selling his bike that was almost new and pretty stock. I called my wife and told her, 'Hey I bought a bike.' I figured it was easier to ask for forgiveness than for permission."
It wasn't long before that custom twitch started to itch. The bike started out solid white, which presented itself with a peculiar problem. "I rode it for two weeks and everyone who saw me on the bike thought I was a cop because it was all white. So it wasn't long before I took it in to paint it solid black. That's when we started selling the long bags at LA Baggers. Turns out Harley sells a lot of black bikes and from it I got a lot of clients that wanted me to make their bikes look like mine. That was cool and flattering but I still wanted my own unique bike. That's what pushed me to paint it."
Often to achieve the best custom work it's better to leave it up to the artist and not be overbearing in direction. Putting his trust in Bondo from Eightball Rods and Choppers, Jason only had a few instructions. "I told him I wanted an old-school Lowrider look that you normally don't see. Bondo took it from there. When I first saw it I wasn't sure if I was going to like it or not. When you first see something like that with no shiny clear coat on, it's scary. Once they put the clear on, I still wasn't sure if I was going to like it. But once the actual bike came together, I loved it." Combining a little bit of new-school technology hidden underneath an old-school skin, Jason's Road King learns from the past while rewriting the future.
Specifications
| | |
| --- | --- |
| General | |
| Owner | Jason Luevanos |
| Shop | LA Baggers |
| Website | labaggers.com |
| Year/Make/Model | 2006 Harley Davidson Road King |
| Fabrication | Jason Luevanos and LA Baggers |
| | |
| --- | --- |
| Engine | |
| Year/Type/Size | 2006 H-D |
| Exhaust | Samson Fishtail 39-inch Cholo exhaust |
| | |
| --- | --- |
| Suspension | |
| Rear Shocks | Platinum Air Ride |
| Front | |
| Builder/Size | Landmark Bamboo 21-inch |
| Tire/Size | Metzler 21-inch |
| Rear | |
| Builder/Size | Landmark Bamboo 16-inch |
| Tire/Size | Metzler 21-inch |
| | |
| --- | --- |
| Wheels, Tires, and Brakes | |
| Colors | 2 tone silver and black with leaf by Bondo |
| Paint/Graphics | Bondo from 8 Ball Rods and Choppers |
| Plating/Polishing | Nachos, Santa Fe Springs, CA |
| | |
| --- | --- |
| Accessories | |
| Bags | LA Baggers extended long bags |
| Stereo | Advantage Audio with modified hand controls |