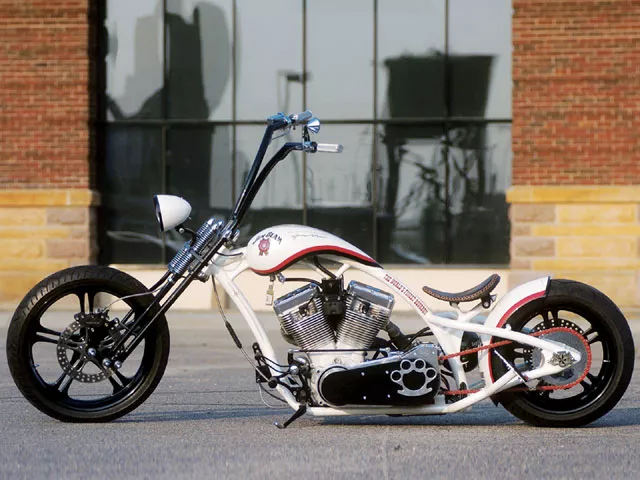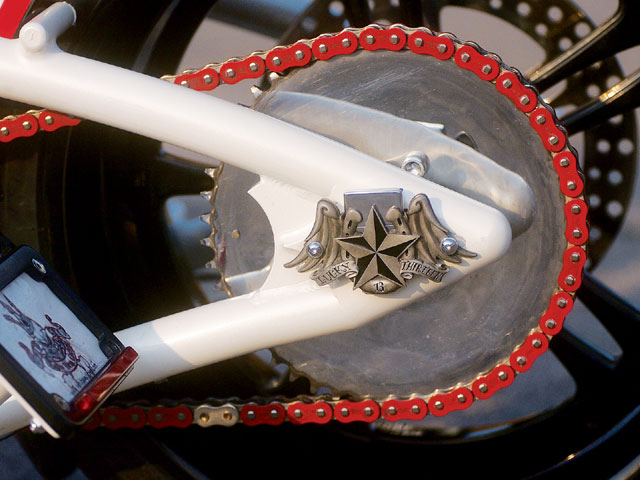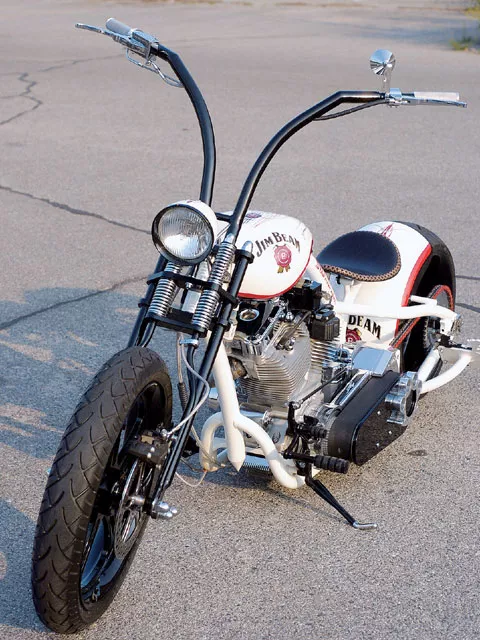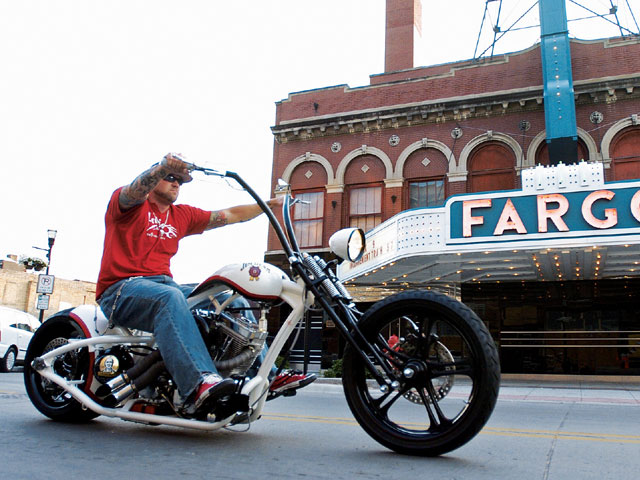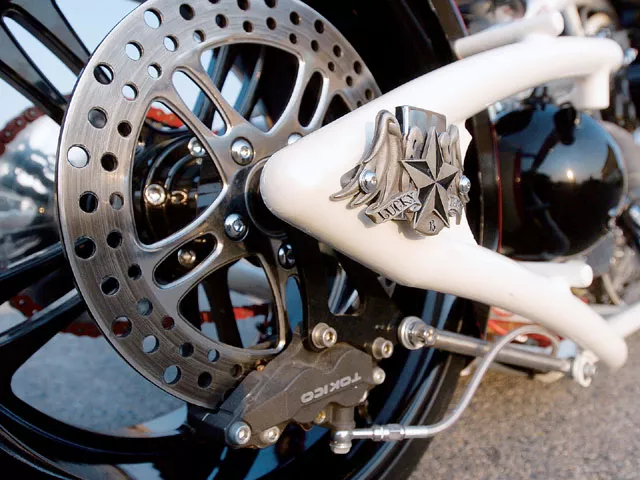 Special Forces vets can do some pretty amazing things, building all manner of good works among them. Usually this means clinics and schools in foreign countries, but a couple of proud Special Forces vets in Raeford, NC, opened Lefty Brothers Cycles (LBC) and created this chopper, the Jacob Beam Distiller Series Chopper, which happens to be the first in a series.
Rick "DZL" Landgraff of Motorsport-Mafia.com created the Beam Biker World Domination project, of which this bike is also the first part. The project calls for an annual one-off production bike to be built over the next seven years, each one honoring the rich history of Jim Beam Bourbon Distillers.
Izzy and Tommy, the vets behind LBC, saw this project as a chance to make a bike that hits a broad range of custom bike tastes. It was designed to be both old and new school, as you can see from the Springer frontend and 280mm backside.
They turned to Chassis Design of Florida for a rigid frame raked 40 degrees and stretched 4 inches out to give it some length. Inside the skeleton you'll find a 100-inch Ultima heart connected to a BDL primary and Accessories Unlimited six-speed transmission.
The bike rolls down the road on SMW wheels with Tokico/SMW brakes. Although they went fat out back, the guys at LBC kept the front tire to a much narrower 120mm.
When it came time for sheetmetal, they did a lot of that in-house. LBC created the Knuckle F'er primary cover, taillight, curved apes, and rear fender, but also radiused the tank tunnel to better flow with the curve of the backbone.
But while all of this makes for a great-looking ride, tribute bikes rely heavily on the paint job to get their message across, and this machine's no exception. Mike Graziano shot pearl white on the skin and bones, then handed it over to Brian Nordmark, who painted in the Beam logos and designs. He in turn gave it over to Jim Lewis Graphic Designs for pinstriping. One LBC seat later, the bike was ready to go on tour.
As for how the show tour went-well, it ended up with a raffle. Motorsport-Mafia.com raffled the bike off on November 11, 2006 (Veteran's Day), with the proceeds benefiting the El Zagal Shrine Charitable Organization. We haven't seen number two in this series yet, but if number one is any indicator, it should look pretty good.
| | |
| --- | --- |
| SPEC SHEET | |
| GENERAL | |
| OWNER | MOTORSPORT-MAFIA.COM |
| SHOP | DZL INC. |
| PHONE | (701) 281-6015 |
| WEBSITE | WWW.MOTORSPORTMAFIA.COM |
| YEAR/MAKE/MODEL | '06/JACOB BEAM DISTILLER SERIES/CHOPPER NUMBER 01 |
| FABRICATION | LEFTY BROTHERS CYCLES (LBC) |
| ASSEMBLY | LBC |
| BUILD TIME | THREE MONTHS |
| | |
| --- | --- |
| ENGINE | |
| YEAR/TYPE/SIZE | '06/ULTIMA/100CI |
| BUILDER | ULTIMA |
| CASES | ULTIMA |
| FLYWHEELS | ULTIMA |
| RODS | ULTIMA |
| PISTONS | ULTIMA |
| CYLINDERS | ULTIMA |
| HEADS | ULTIMA |
| VALVES | ULTIMA |
| ROCKERS | ULTIMA |
| ROCKER BOXES | ULTIMA |
| PUSHRODS | ULTIMA |
| PUSHROD TUBES | ULTIMA |
| CAM | ULTIMA |
| LIFTERS | ULTIMA |
| CARBURETOR | S&S; SUPER G |
| AIR CLEANER | S&S; |
| IGNITION | CRANE HI-4 |
| EXHAUST | WCC/LBC |
| | |
| --- | --- |
| TRANSMISSION | |
| YEAR/TYPE | '06/ACCESSORIES UNLIMITED |
| CASE | ACCESSORIES UNLIMITED |
| GEARS | SIX-SPEED |
| CLUTCH | BDL |
| PRIMARY DRIVE | BDL |
| | |
| --- | --- |
| FRAME | |
| YEAR/TYPE | '06/CHASSIS DESIGN OF FLORIDA RIGID |
| RAKE | 40 DEGREES |
| STRETCH | 4 INCHES OUT |
| | |
| --- | --- |
| SUSPENSION | |
| FRONT | PAUGHCO SPRINGER |
| LENGTH | STOCK |
| TRIPLE-TREES | PAUGHCO |
| REAR | |
| SWINGARM | N/A |
| SHOCKS | N/A |
| | |
| --- | --- |
| WHEELS, TIRES, AND BRAKES | |
| FRONT | |
| BUILDER/SIZE | SMW/21X13 |
| TIRE/SIZE | METZELER/120 |
| CALIPER | TOKICO MODIFIED BY FAB KEVIN |
| ROTOR | SMW |
| REAR | |
| BUILDER/SIZE | SMW/18X10 |
| TIRE/SIZE | METZELER/280 |
| CALIPER | TOKICO MODIFIED BY FAB KEVIN |
| ROTOR | SMW |
| | |
| --- | --- |
| FINISH/PAINT | |
| COLOR | PEARL WHITE |
| PAINTER | MIKE GAZIANO |
| GRAPHICS | BRIAN NORDMARK, DRIVEN CUSTOMS/ JIM LEWIS GRAPHIC DESIGNS |
| MOLDING | FAB KEVIN |
| | |
| --- | --- |
| ACCESSORIES | |
| FRONT FENDER | NONE |
| REAR FENDER | LEFTY BROTHERS CYCLES |
| GAS TANK/CAP | LBC, HOT MATCH |
| OIL TANK | LEFTY BROTHERS CYCLES |
| GAUGES | BICYCLE SPEEDO SET INTO SHIFT PEDAL |
| HANDLEBARS | IZZY AT LBC |
| MIRRORS | NONE |
| HAND CONTROLS | CUSTOM BILLET USA |
| FOOT CONTROLS | XOPRODOX |
| FOOTPEGS | XOPRODOX |
| HEADLIGHT | ONE WE FOUND? |
| TAILLIGHT | LBC |
| TURN SIGNALS | WHERE? |
| LICENSE MOUNT | LBC |
| SEAT | LBC/ROBERTI CUSTOM |