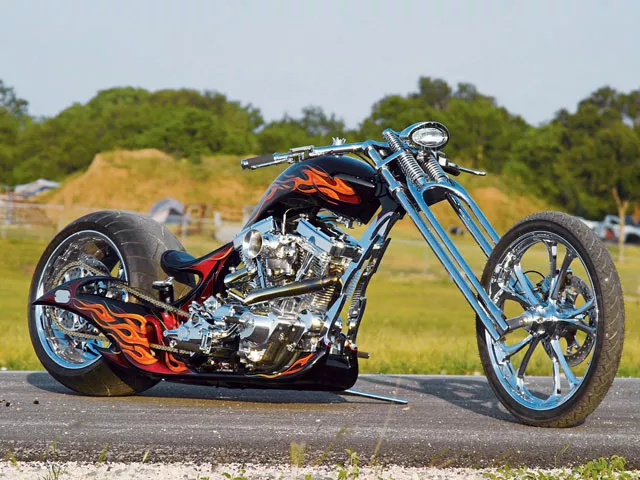 It's funny how events, movies, songs, TV shows, and so on from our childhood can plant themselves in the back of our memories for years, then pop up fresh in our minds as if we'd just experienced them yesterday. Take this chopper built by Joe Martin and his Martin Bros. crew, for example. "The inspiration for this bike came from memories I had of old cartoons with big burly guys riding these big choppers. It was like everything on those bikes was exaggerated-long, stretched-out frames with the frontend sticking way out there and monster wheels," Joe told us.
This bike wasn't built for a customer, nor was it built with some ridiculous 12-hour deadline for a competition. Instead, Joe designed and built this bike to his own specs for his own satisfaction. Joe said, "I like to try and bring at least one new bike whenever I go to major shows. And with the Republic of Texas (ROT) Rally in Austin only eight weeks away, I decided I would debut this bike there. I always try set some money aside so I can build at least three bikes a year that are my own personal projects, not projects I was paid to do. I give myself a budget for each bike and then hammer away. These projects allow me to build bikes I would want."
Sure, the customer projects are cool (and they pay the bills), but as any business owner will tell you, they can also be a pain. In the world of bike building, it never fails that toward the end of a project the customer will change his mind about something or see some new wheels in one of the magazines and want them on his bike. This constant flip-flopping of ideas can be a big turn-off for any custom builder. And that's why Joe enjoys building his personal projects the most-besides, it gives him the opportunity work out all of the ideas that pop into his head.
As with most custom bike builders, whenever Joe is working on one project, it never seems to fail that an idea for another project will materialize. And while it might take a few months to get around to it, that new idea won't leave his thoughts until it's pounded out in metal. "Once the design for this bike came to me, I just kept flashing back to those old cartoons I used to see. I wanted it to have an old-meets-new hot rod look, and once that decision was made, I knew I had to knock this bike out," said Joe.
This latest creation, dubbed "the Barbwire Hardtail" by the guys in the shop, may be an exaggeration in design, but it's no cartoon. This is the real thing: a stretched and raked-out hot rod chopper with plenty of round chrome real estate from Performance Machine at either end.
As with most of his projects, whether they're for himself or a customer, Joe and his team started by building a custom frame. With the intention of building a low, stretched hardtail with a dropped seating position, a frame jig was set up, and then the sparks began to fly. First, a long, arched backbone was created, and then it was joined together with the lower framerails. At the tail end of the backbone a lipped seat-pan area was grafted in place so it would sit suspended just above the oil bag and inches away from the 300mm Metzeler rear tire. Rather than just welding up a rear section that would "do the job," Joe decided to dress it up by giving it a razor-sharp barbed-wire look.
"My idea was to incorporate the oil tank into the rear of the bike so it would be out of sight. I also wanted to hide the brake caliper as much as possible, keeping the rear clean but still interesting," Joe stated. "Making it look good is the easy part. It's making it all work with the hidden axle covers and adjusters and everything else that's the hard part."
The only part of the frame that was still missing was the downtubes. And once again it was form over function, as Joe busted out posterboard and a pencil and traced out some jagged downtubes to match the rear of the bike. "The downtubes were probably the toughest part of the frame, because not only did it take some time to get the design just right, but then I had to send them out to get cut by a friend who has a water-jet machine. From there they had to go to polish, then to chrome. It was a bitch just sitting there staring at the frame in the jig and waiting for the downtubes to show up."
With about 40 hours of labor into the frame, it was finally time to get the chopper up and rolling. For that classic chopper look, Joe scored a 6-inch-over Springer frontend from Redneck Engineering, and once it was bolted to the 45-degree neck it really gave the bike the low, stretched look Joe was going for. Then Joe decided that not running any fenders would help make the 21-inch front and 18×10-inch rear wheels seem larger than they really are-reminiscent of that exaggerated look Joe saw in the cartoons of his childhood.
Hot rod looks need hot rod power, right? So Joe shoved a 113ci S&S; motor between the framerails, backed by an Unlimited six-speed trans and wrapped with a PM open belt drive-plenty of power to break the ol' 300 loose. "Once I had the driveline in place, I stepped back and noticed this funky void between the rear cylinder and transmission. It was like something was missing. So when it came to making the pipes, I decided fill the gap by wrapping the pipes though the hole and dumping them out at the back of the primary," said Joe.
As with all of Joe's bikes, the paint for this chop-a black base with some traditional-style hot rod flames-was sprayed by Joe himself. Laying the paint was a piece of cake, but the transition from paint to chrome on the downtubes took a little extra time and a delicate touch.
We caught up with Joe out at the ROT Rally, and the debut of the Barbwire Hardtail was quite a success. All weekend long the Martin Bros. booth was lined with people checking out the new ride and asking for autographs. When he wasn't hanging out with the crowd, Joe would sneak the bike out the back and hit the Austin streets. When we asked him how it rode, Joe replied, "It's great. I was worried about burning my legs on the pipes, but with the mid-controls my legs are clear of the pipes, and it's really comfortable. The 113 is really smooth; it's a great motor. The only bad thing I would say is that with no fenders, when you get caught in the rain it's a huge mess, especially at the rear; you get this massive rooster tail of slop running down your back."
When it comes to the design of his future projects, it sounds as if Joe is somewhat in a transition period. Sure, he has his own style that's recognized throughout the industry, but that may not necessarily be a good thing. The explosion of the custom motorcycle industry over the past decade has inspired everybody and their grandmother to become custom bike builders. Over the last few years we've seen that explosion backfire, resulting in a loss of originality and straight knocking-off of designs and parts.
"I'm trying to move on to something new," Joe told us. "I'm tired of looking at my stuff, and I'm really tired of looking at all the copycats. Some of the commercial stuff has taken the underground cool out of the industry, and I want to go back to that. One of my next projects is this Buell I'm working on-I'm really excited about it, and it's going to be badass!"
It sounds as if we could be seeing a different side of Joe's design ideas and some interesting projects rolling out of the Martin Bros. shop in the near future-definitely something to look forward to.
| | |
| --- | --- |
| SPEC SHEET | |
| OWNER | Joe Martin |
| SHOP | Martin Bros. |
| PHONE | (972) 709-2550 |
| WEBSITE | www.martinbrosbikes.com |
| YEAR/MAKE/MODEL | '06/Martin Bros./Barbwire Hardtail |
| FABRICATION | Martin Bros. |
| ASSEMBLY | Martin Bros. |
| BUILD TIME | Seven weeks |
| ENGINE | |
| YEAR/ TYPE/SIZE | '06/S&S;/113ci |
| BUILDER | S&S; |
| CASES | S&S; |
| FLYWHEELS | S&S; |
| RODS | S&S; |
| PISTONS | S&S; |
| CYLINDERS | S&S; |
| HEADS | S&S; |
| VALVES | S&S; |
| ROCKERS | S&S; |
| ROCKER BOXES | S&S; |
| PUSHRODS | S&S; |
| PUSHROD TUBES | S&S; |
| CAM | S&S; |
| LIFTERS | S&S; |
| CARBURETOR | S&S; |
| AIR CLEANER | Joker Machine |
| IGNITION | Crane |
| EXHAUST | Martin Bros. |
| TRANSMISSION | |
| YEAR/TYPE | '06/Unlimited six-speed |
| CASE | Unlimited |
| GEARS | Unlimited |
| CLUTCH | PM |
| PRIMARY DRIVE | PM |
| FRAME | |
| YEAR/TYPE | Martin Bros. |
| RAKE | 45 degrees |
| STRETCH | 2 inches out |
| SUSPENSION | |
| FRONT | Redneck Engineering |
| LENGTH | 6 inches over |
| TRIPLE-TREES | Redneck Engineering |
| WHEELS, TIRES, AND BRAKES | |
| FRONT | |
| BUILDER/SIZE | PM/21×2-1/2 |
| TIRE/SIZE | Metzeler/21×2.15 |
| CALIPER | HHI |
| ROTOR | PM |
| REAR | |
| BUILDER/SIZE | PM/18×10 |
| TIRE/SIZE | Metzeler/{{{300}}} |
| CALIPER | HHI |
| ROTOR | PM |
| FINISH/PAINT | |
| COLORS | Black/Candy Red |
| PAINTER | Joe Martin |
| GRAPHICS | Joe Martin |
| MOLDING | Sick {{{Jimmy}}} |
| PLATING/POLISHING | Advanced Plating |
| ACCESSORIES | |
| GAS TANK & CAP | Joe Martin/Westbury Hot Rods |
| OIL TANK | Joe Martin |
| HANDLEBARS | Joe Martin |
| RISERS | Built in |
| HAND CONTROLS | PM |
| FOOT CONTROLS | PM |
| FOOTPEGS | PM |
| HEADLIGHT | Kodlin |
| TAILLIGHT | Martin Bros. |
| LICENSE MOUNT | Joe Martin |
| SEAT | Joe Martin/Craig Ward |