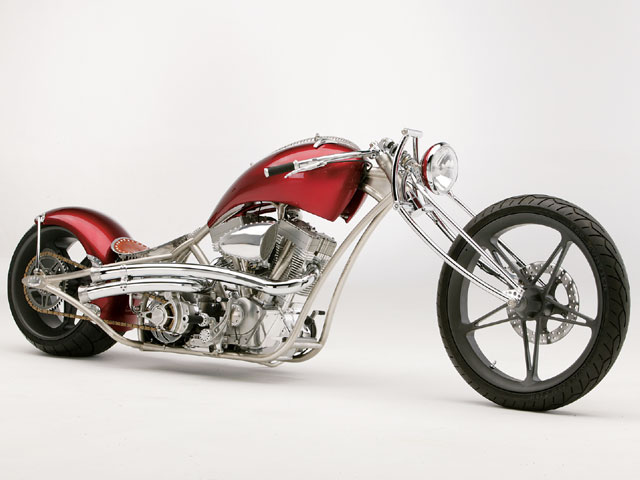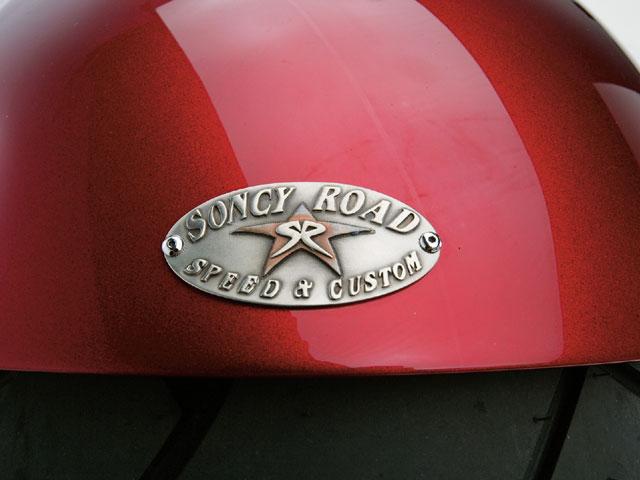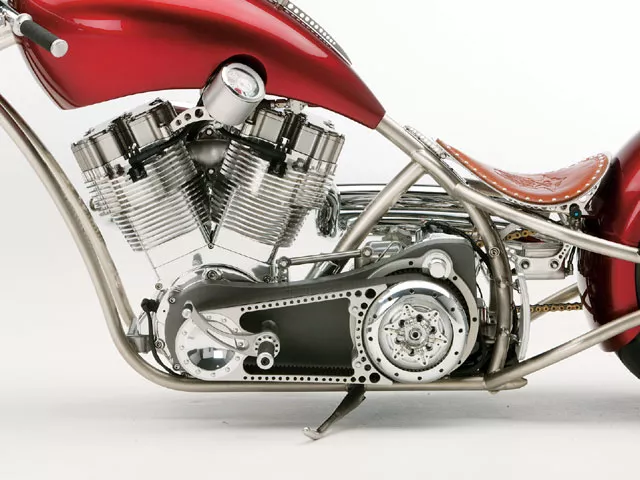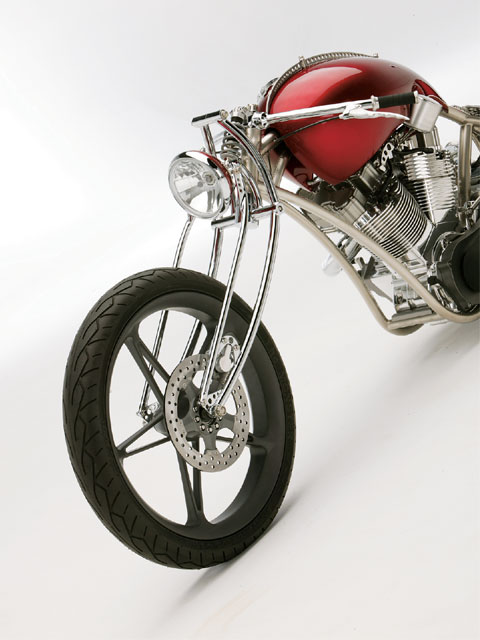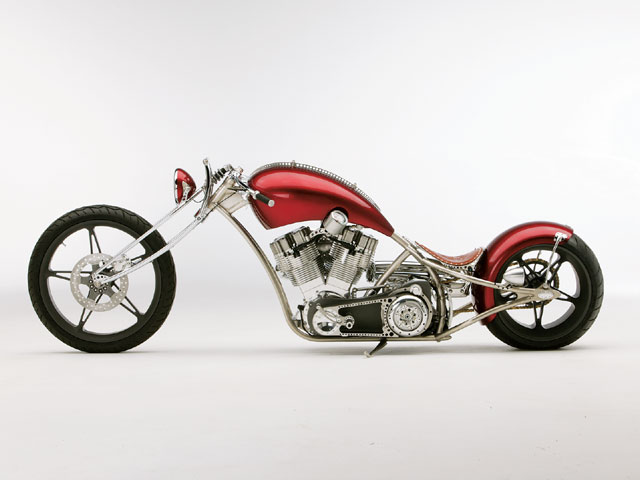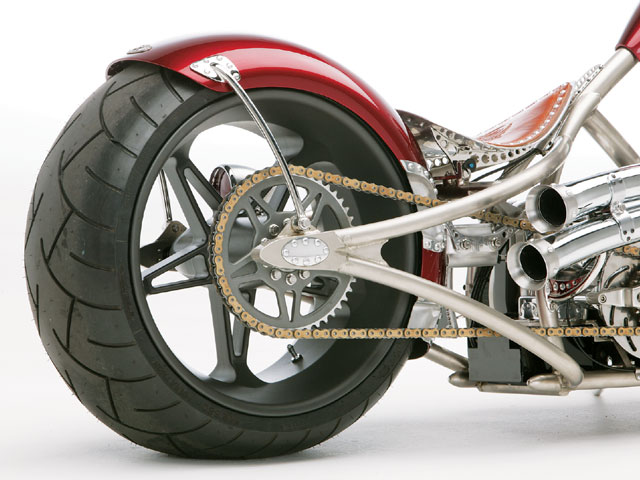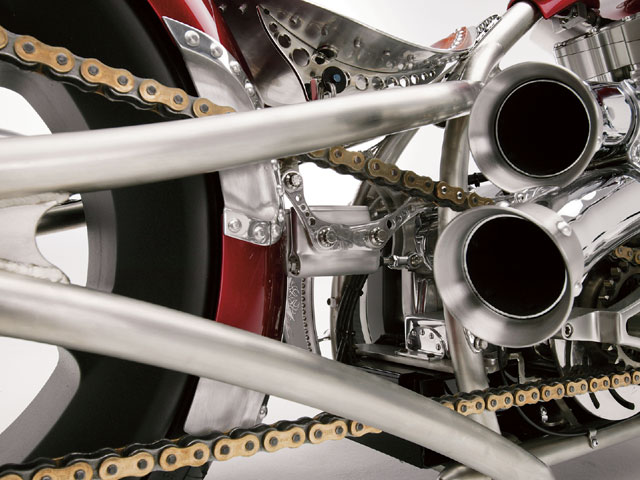 Some kids never do get the hang of that "color inside the lines" thing. While Mark Warrick, owner of Soncy Road Speed and Custom in Amarillo, TX, may have traded in his crayons for a torch and mallet long ago, it's pretty obvious he's had a long-standing issue with conformity.
After he was invited to participate in the 2005 HOT BIKE Artistry in Iron competition at the Las Vegas Bikefest, Mark got to chatting with his friend Jesse Jurrens, owner of Independent Cycle Company. Jesse, being a fan of Mark's work, immediately offered up one of his Hardlife frames as a foundation.
Since its introduction, the Hardlife frame has been a popular choice with high-end custom bike builders. While most of them turn into flowing customs where nary a fastener, wire, or cable has been left in view, Mark had an entirely different vision of what his finished bike could be.
"That was the whole idea behind this bike," he said. "I felt like taking things in a totally different direction from most of the other builders using Independent's frame and parts. We've done the bikes where everything is hidden, and they're just real sanitary. I wanted to keep a much more mechanical feel with this one."
Originally, the idea was to chop and cut the frame's backbone and downtubes, taking the neck up to a more traditional "chopper" elevation. "I told Jesse we were planning on cutting up the frame and changing the geometry," Mark said. "He just kept telling me to leave the frame alone and let people see what we could do with it."
Eventually Mark succumbed to the Independent impresario's lobbying, and while the frame's geometry would stay "off the shelf," the crew at Soncy Road was already hard at work creating a laundry list of one-off bits for the candy-apple-red showstopper. First on the list was some unique rolling stock, with plans for running a first-of-its kind 23-inch front wheel and tire combination.
"There were only 20 of those tires in existence at the time," Mark said. "So we got two of those first 20 prototype tires from Metzeler."
With a prototype tire comes the need for a one-of-a-kind wheel, and for this Mark turned back to the crew at Independent, who milled two monster blocks of solid 6061-T6 aluminum into the five-star spokes seen here, along with a matching brake caliper and rotor out front. From there, Mark upped the trick factor with a hand-built cantilever frontend designed for both form and function, even if the function took a little bit of re-engineering.
"It worked a little too well," Mark said. "The first time we set the bike down on the ground, the shock completely collapsed. It was just too much for the one shock we used."
A stiffer shock was installed, and Mark finally had things up and rolling. Next, he turned his attention to an equally unique drivetrain. A call was put in to Mike Garrison at Enginuity Motor Company, and plans were drawn up for a 120ci all-billet powerplant with split rocker boxes, Enginuity's signature rounded cylinders, and a unique set of anodized covers. Mark added a one-off air cleaner and exhaust to keep the air circulating efficiently.
Power finds it way to the rear wheel through Independent's proprietary open primary and a Baker six-speed RSD tranny, on which Mark bolted some whoa to his go with the addition of a ProFab trans brake.
The tins were next, and, with a modified Fat Katz rear fender in place, Mark got to work on the handmade tank. "I wanted a much rounder tank than had been used in the past," he said.
With that, a properly proportioned and suitably spherical tank was pounded to life in the Soncy Road shop before Mark added a unique aluminum backbone complete with vintage hot rod-style speed hole detailing. Drawing from the automotive side of his business, a '30s-era Ford replica headlight and taillight were ordered from Greening Auto Company to add to the bike's modernized vintage feel.
"We build some custom cars and hot rods in addition to all the collision repair business," Mark said. "We usually do three or four one-off bikes a year, so it all kind of blends back and forth for us. Even in the car stuff, we might pull something off a bike and incorporate it."
The monochromatic painting duties were handled in-house, as well as the minimalist seat. Coming down to the wire, Mark stuck with the mechanical feel of the bike through final assembly by using ARP 12-point fasteners thoughout.
Finally finished, the bike found itself on a rock star-style tour around the country after the Artistry in Iron show, with stops at SEMA and the AMD World Championships. Mark stood back, satisfied to have built a bike barely recognizable as "just another Hardlife."
Spec Sheet
| | |
| --- | --- |
| OWNER | MARK WARRICK |
| SHOP | SONCY ROAD SPEED AND CUSTOM |
| PHONE | (806) 352-0776 |
| WEBSITE | WWW.SONCYROAD.NET |
| YEAR/MAKE/MODEL | '06/SONCY ROAD/CUSTOM |
| FABRICATION | SONCY ROAD |
| ASSEMBLY | SONCY ROAD |
| BUILD TIME | THREE MONTHS |
| | |
| --- | --- |
| ENGINE | |
| YEAR/TYPE/SIZE | '06/EVO/120CI |
| BUILDER | ENGINUITY MOTOR COMPANY |
| CASES | ULTIMA |
| FLYWHEELS | ULTIMA |
| RODS | ULTIMA |
| PISTONS | ROSS |
| CYLINDERS | ENGINUITY |
| HEADS | ENGINUITY |
| VALVES | MANLEY |
| ROCKERS | JIMS |
| ROCKER BOXES | ENGINUITY |
| PUSHRODS | V-THUNDER |
| PUSHROD TUBES | COLONY |
| CAM | ANDREWS |
| LIFTERS | JIMS |
| CARBURETOR | S&S; |
| AIR CLEANER | SONCY ROAD |
| IGNITION | DAYTONA TWINTEC |
| EXHAUST | SONCY ROAD |
| | |
| --- | --- |
| TRANSMISSION | |
| YEAR/TYPE | '06/BAKER RSD |
| CASE | BAKER |
| GEARS | BAKER |
| CLUTCH | BARNETT |
| PRIMARY DRIVE | INDEPENDENT/SONCY ROAD |
| | |
| --- | --- |
| FRAME | |
| YEAR/TYPE | '06/INDEPENDENT HARDLIFE |
| RAKE | 42 DEGREES |
| STRETCH | 7 INCHES |
| | |
| --- | --- |
| SUSPENSION | |
| FRONT | SONCY ROAD SPRINGER |
| TRIPLE-TREES | N/A |
| | |
| --- | --- |
| WHEELS, TIRES, AND BRAKES | |
| FRONT | |
| BUILDER/SIZE | INDEPENDENT/23X3 |
| TIRE/SIZE | METZELER/23 |
| CALIPER | PERFORMANCE MACHINE |
| ROTOR | INDEPENDENT |
| REAR | |
| BUILDER/SIZE | INDEPENDENT/18X10 |
| TIRE/SIZE | METZELER/280 |
| CALIPER | JAYBRAKE |
| ROTOR | JAYBRAKE |
| | |
| --- | --- |
| FINISH/PAINT | |
| COLOR | CANDY-APPLE RED |
| PAINTER | SONCY ROAD |
| MOLDING | SONCY ROAD |
| | |
| --- | --- |
| ACCESSORIES | |
| REAR FENDER | FAT KATZ/SONCY ROAD |
| GAS TANK | SONCY ROAD |
| OIL TANK | INDEPENDENT |
| GAUGES | BONNEVILLE SPEED AND SUPPLY |
| HANDLEBARS | SONCY ROAD |
| HAND CONTROLS | PM/SONCY ROAD |
| FOOT CONTROLS | INDEPENDENT/SONCY ROAD |
| FOOTPEGS | INDEPENDENT |
| HEADLIGHT | GREENING AUTO COMPANY |
| TAILLIGHT | GREENING AUTO COMPANY |
| LICENSE MOUNT | SONCY ROAD |
| SEAT | SONCY ROAD |