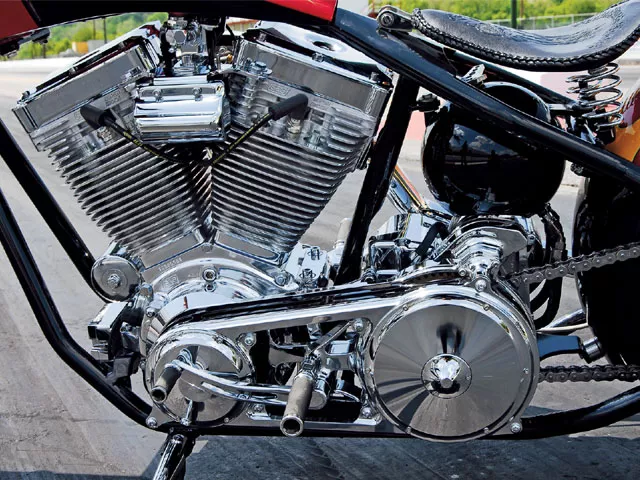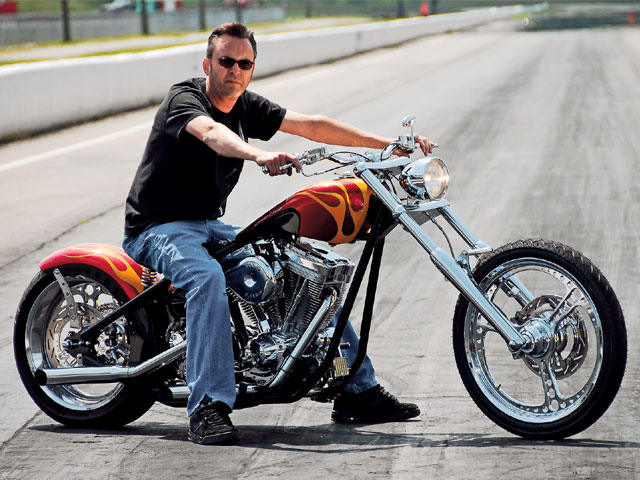 It's easy to get pigeonholed in an industry where a distinct visual style is the only real way to set yourself apart from the crowd. You build a few bikes with a cohesive look and a few common aesthetic cues, and pretty soon people think they know what to expect out of you next. Donny Loos and Jeff Cochran, partners in Cincinnati, OH-based SuckerPunch Sallys (SPS), have built their successful brand on classy back-to-basics bobbers that are long on old-school cool and decidedly short on high-end billet bits and pieces. That's what makes the shined-up beauty seen here (dubbed "Donny's Dragbike") a little surprising at first.
"Everybody who has seen it loves the bike, but it's just not a typical SuckerPunch bike," Donny explained. "If anyone hasn't liked it, they haven't said so to my face."
No flat black, no brushed aluminum-just a tight list of top-shelf aftermarket parts mated to a brighter-than-usual collection of SuckerPunch's proprietary pieces in a forbidden affair that started with only a pair of Arlen Ness's speed-hole-riddled Battastini billet wheels.
"I really liked the wheels when I saw them," Donny said. "I really had no idea when I bought them what I was going to do with them. I bought them mainly because I wanted to get a set before they got discontinued or something, and I couldn't get them anymore."
While the wheels gathered dust for the better part of a year, Donny began drawing up plans for a bike decidedly outside of the old-school bobber mold, but with enough touches to assure people it was still a SuckerPunch Sallys motorcycle.
He started with a modified proprietary SuckerPunch rigid frame with 3 inches of stretch in the backbone and 40 degrees of rake. A set of Harley-Davidson Deuce fork tubes bolted into Accutronix triple-trees kept things bouncing along nicely up front.
The coveted Ness rims were strung with a set of fresh Metzeler tires. A narrow 80-series spins out front, while a relatively modest 180-series is parked in back. Matching Ness brake rotors running with Performance Machine brake calipers round out the rolling stock.
When it came time to choose an engine, Donny decided the everyday reliability and performance of a 96-inch S&S; would fit the bill, and a SuckerPunch-modified Kraftech exhaust was fabricated to keep the spent gasses moving. Performance Machine again got the nod for its open-belt primary drive, which feeds into a Roadmax six-speed left-side-drive transmission.
A Russ Wernimont gas tank was fitted nice and low on the backbone to keep with the long, low profile Donny was looking for. The SuckerPunch parts bin was thoroughly raided as the bike started coming together, starting with a trademark H-Bomb oil bag. A SuckerPunch rear fender was shored up with a set of SuckerPunch speedhole struts to match the bike's billet wheels. Donny avoided the temptation to go with a seamless contoured seat and instead opted for a bobber-style sprung seat upholstered by Diamond Dave the Seat Cobbler.
SPS handlebars and risers were bolted to the triple-trees, and Performance Machine handled the hand and foot control duties. Lighting comes courtesy of a Ness headlight and a Fabricator Kevin "Double Shot" taillight/tag bracket.
Having already ventured that far toward the shinier side of things, Donny decided to push his comfort level one last time with a flashy metalflake flame paint job laid down by Brandon Armstrong of Armstrong Design.
With the last bolt tightened, Donny and Jeff stood back and admired the bike's long, lean silhouette, and it was Jeff who christened the new machine the first "SPS Dragster." A fitting name, considering that the bike now sits in the stable of NHRA PowerAde Top Fuel competitor and '06 Rookie of the Year JR Todd after the Skull Shine-sponsored driver saw the bike and decided he couldn't live without it.
Spec Sheet
| | |
| --- | --- |
| GENERAL | |
| OWNER | JR Todd |
| SHOP | SuckerPunch Sallys (SPS) |
| PHONE | (513) 353-1446 |
| WEBSITE | www.suckerpunchsallys.com |
| YEAR/MAKE/MODEL | '06/SPS/Dragbike |
| FABRICATION | Donny Loos |
| ASSEMBLY | Donny Loos |
| BUILD TIME | Six weeks |
| | |
| --- | --- |
| ENGINE | |
| YEAR/TYPE/SIZE | '06/Evo/96ci |
| BUILDER | S&S; |
| CASES | S&S; |
| FLYWHEELS | S&S; |
| RODS | S&S; |
| PISTONS | S&S; |
| CYLINDERS | S&S; |
| HEADS | S&S; |
| VALVES | S&S; |
| ROCKERS | S&S; |
| ROCKER BOXES | S&S; |
| PUSHRODS | S&S; |
| PUSHROD TUBES | S&S; |
| CAM | S&S; |
| LIFTERS | S&S; |
| CARBURETOR | S&S; |
| AIR CLEANER | S&S; |
| IGNITION | Crane |
| EXHAUST | Kraftech/SPS |
| | |
| --- | --- |
| TRANSMISSION | |
| YEAR/TYPE | '06/Roadmax six-speed |
| CASE | Roadmax |
| GEARS | Roadmax |
| CLUTCH | Performance Machine |
| PRIMARY DRIVE | Performance Machine |
| | |
| --- | --- |
| FRAME | |
| YEAR/TYPE | '06/SPS Rigid |
| RAKE | 40 degrees |
| STRETCH | 3 inches |
| | |
| --- | --- |
| SUSPENSION | |
| FRONT | H-D |
| TRIPLE-TREES | Accutronix |
| REAR | |
| SWINGARM | N/A |
| SHOCKS | N/A |
| | |
| --- | --- |
| WHEELS, TIRES, AND BRAKES | |
| FRONT | |
| BUILDER/SIZE | Ness/21×2.15 |
| TIRE/SIZE | Metzeler/{{{80}}}/{{{90}}}/21 |
| CALIPER(S) | Performance Machine |
| ROTOR | Ness |
| REAR | |
| BUILDER/SIZE | Ness/18×5.5 |
| TIRE/SIZE | Metzeler/180/55/18 |
| CALIPER | Performance Machine |
| ROTOR | Ness |
| | |
| --- | --- |
| FINISH/PAINT | |
| COLOR | House of Kolor Candy Apple Red |
| PAINTER | Armstrong Design |
| GRAPHICS | Brandon Armstrong |
| POWDERCOATING | Carrera Powder |
| CHROME PLATING | |
| AND POLISHING | Brown's Plating |
| | |
| --- | --- |
| ACCESSORIES | |
| FRONT FENDER | None |
| REAR FENDER | SPS |
| GAS TANK | Russ Wernimont |
| OIL TANK | SPS |
| HANDLEBARS | SPS |
| HAND CONTROLS | Performance Machine |
| FOOT CONTROLS | Performance Machine |
| FOOTPEGS | Performance Machine |
| HEADLIGHT | Ness |
| TAILLIGHT | Fab Kevin |
| LICENSE MOUNT | Fab Kevin |
| SEAT | SPS/Upholstered by Diamond Dave |