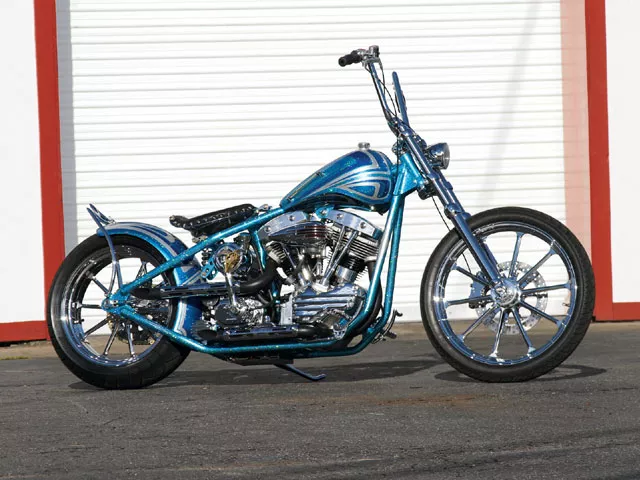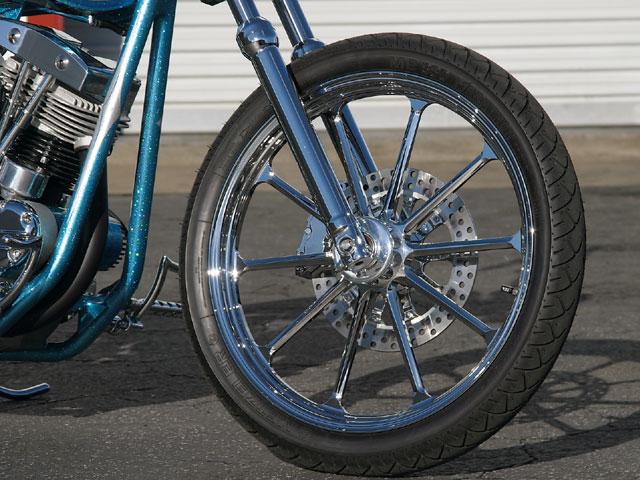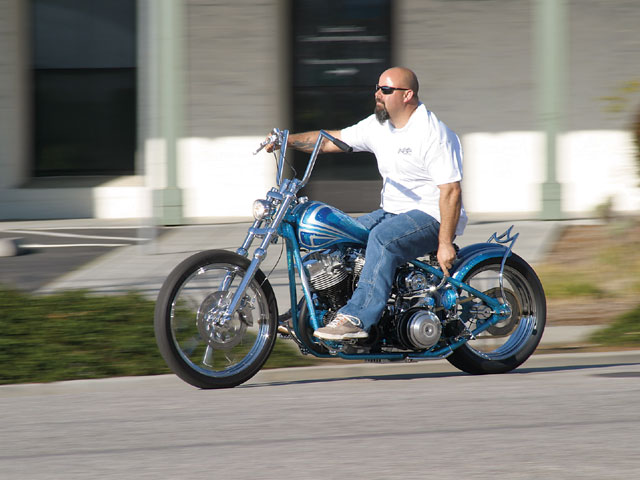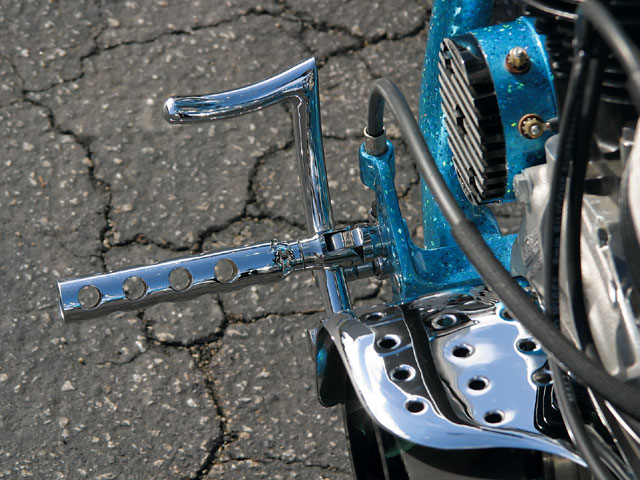 There's something incredible and wonderful about going to the beach. The sounds and smells, the atmosphere, the wind blowing against your face, the overall environment; everything about it contributes to the sensory overload that occurs. You know what I'm talking about, don't you? The sound of the ocean's waves hitting the coast, and people laughing and having fun. There's something about the beach that brings me back to my days as a child, days when things seemed cleaner-purer. If you've ever spent a day locked into a job, watching the clock and praying for the time to go faster, you know exactly what I'm talking about. We all use it: Something to remind us of better days, better times, something-anything that reminds us we're alive. Well, that's what I felt when I saw this bike. A beautifully created, 93ci generator Shovel that screams freedom, beauty, and beachfront California living. Welcome to the forte of Scott Long and his crew from Central Coast Cycles (CCC).
I called Scott so I could get the inside story on the origin of this bike firsthand, from the epitome of California living himself. Scott gave me the recipe to building a functional bike that rocks as much as it looks. "It's a complete team effort at the shop. I couldn't do any of this stuff without my team, and they are the best I could ever hope for. Each one of these guys deserves recognition because they are 100 percent committed to the task of building the best motorcycle possible. I especially wanted to send thanks to Darin, Harry, Ken, and Roddy; they are the best crew a guy could ask for."
The blue beauty you are witnessing on these pages has feng shui. You know-the art of making things flow together. It shows class in spades and has the moxie to back it up. The way everything flows from the hand controls all the way to the end of the fender suggests not only an artist at work, but a genuine craftsman. It wasn't built just for looks, though…it was built to ride!
"That's what we do here at Central Coast Cycles," Scott relayed to me over the phone. "We don't beat people over the head with a big stick. We design a bike with the purpose of drawing in their attention. Once they begin to look at it, that's when it really hits them. They can't stop because the longer they look, the more details they see." The devil's in the details, I guess.
This bike came together for a guy named Nathan Bradley, owner and operator of Nathan Bradley Plumbing Contractor Service. When he's not involved with building custom homes in California, Nathan and his wife are out riding, with Nathan on this bike and his wife on a rockabilly-styled Sportster.
Nathan had a bagger and his wife's Sportster serviced at Scott's shop before he decided to take the plunge and have Scott build him the bike of his dreams. Unfortunately, like most things, Nathan started with a different plot.
"You see, he started with a frame, wheels, an ornamental trinket, a taillight from Fab Kevin, and a bottle opener. He said this is all he had and he was looking for a low-budget build. After we talked more about what he truly wanted, he finally just threw his hands up and said, 'Go for it! Make something cool,'" Scott remembered. He didn't just make something cool; he made something that knocks the sparkle off a star and causes the devil himself to shade his eyes as he runs for cover.
"We had to ditch the frame because it wouldn't fit with the motor he wanted, and it didn't really fit the theme he wanted, either," Scott explained. "We try to take every piece and massage them to fit the bike, to enhance it in some way. We don't mess with stuff just for the sake of messing with it; we have a purpose in mind."
Not only did this bike knock the socks off of judges at a recent bike show, winning Editor's Choice, it also knocked the famed Bill Wall for a loop. He absolutely loved the bike and insisted on making the seat that would adorn it!
"Yeah, we definitely have to thank Bill. He really helped us out with that seat and it's as nice as it looks. He just did a killer job, but then again, he always does," Scott professed. He laughed as he recalled the phone call he received from Bill about the bike.
The bike's '06 S&S; 93ci Generator Shovel is connected to an eBay special five-speed transmission. The motor and tranny must work well together because Nathan puts his bikes to the test. "Nathan and his wife just returned from a Baja, Mexico run and his bike didn't miss a beat," recalled Scott. "Hey, that's what we build them for-riding. I wouldn't want to build something if it was just going to sit in a guy's living room and spin around so his friends could check it out. They're meant for riding, man." You really feel his passion for what he does when you talk with him about bikes.
"I just wanted to thank my guys in the shop; I couldn't do any of this without them. Also thanks to Bill Wall Leather for his help," Scott seemed to get irritated as he could not recall everybody he wanted to thank immediately. While he was very cordial and generous during the interview, I could tell he was busy. The shop is in demand, and as per usual for custom builders today, there's a show right around the corner and another bike needs to be finished.
| | |
| --- | --- |
| GENERAL | |
| OWNER | Nathan Bradley |
| SHOP | Central Coast Cycles |
| PHONE | (831)476-3901 |
| WEBSITE | www.centralcoastcycles.com |
| YEAR/MAKE/MODEL | '07 Central Coast Cycles "Bobber" |
| FABRICATION | The Guys-Darin, Scott, Ken, and Harry |
| ASSEMBLY | Scott, Ken, Harry, and Roddy |
| BUILD TIME | Ahhh…3-4 Months |
| | |
| --- | --- |
| ENGINE | |
| YEAR/ TYPE/SIZE | '06/S&S;/93ci |
| BUILDER | S&S; |
| CASES | S&S; |
| FLYWHEELS | S&S; |
| RODS | S&S; |
| PISTONS | S&S; |
| CYLINDERS | S&S; |
| HEADS | S&S; |
| VALVES | S&S; |
| ROCKERS | S&S; |
| ROCKER BOXES | S&S; |
| PUSHRODS | S&S; |
| PUSHROD TUBES | S&S; |
| CAMS | S&S; |
| LIFTERS | S&S; |
| CARBURETOR | S&S; |
| AIR CLEANER | Crime Scene Choppers |
| IGNITION | Dyna 2000 |
| EXHAUST | Central Coast Cycles Custom |
| | |
| --- | --- |
| TRANSMISSION | |
| YEAR/TYPE | Unknown (eBay) |
| CASE | Five-Speed Kicker |
| CLUTCH | Tech |
| PRIMARY DRIVE | Tech |
| | |
| --- | --- |
| FRAME | |
| YEAR/TYPE | '06/Kraft Tech |
| RAKE | 30 Degrees |
| STRETCH | None |
| | |
| --- | --- |
| SUSPENSION | |
| FRONT | H-D modified by CCC |
| LENGTH | |
| TRIPLE TREES | Modified H-D |
| REAR | None |
| | |
| --- | --- |
| **WHEELS, TIRES, AND BRAKES ** | |
| FRONT | |
| BUILDER/SIZE | PM/21×2.25 |
| TIRE/SIZE | Metzeler/21×2.15 |
| CALIPERS | PM |
| ROTORS | PM |
| REAR | |
| BUILDER/SIZE | PM/18x 5.5 |
| TIRE/SIZE | Metzeler/18×200 |
| CALIPERS | Exile |
| ROTORS | Exile |
| | |
| --- | --- |
| FINISH/PAINT | |
| COLORS | Blue, White, Silver, Rainbow, etc. |
| PAINTER | Emilio at Evil Wheels Body and Paint |
| GRAPHICS | Emilio |
| MOLDING | Evil Wheels |
| PLATING/POLISHING | Meclec/Polish-Santa Cruz Polishing |
| | |
| --- | --- |
| ACCESSORIES | |
| REAR FENDER | MGS Blank/CCC |
| FENDER STRUTS | CCC Custom Sissy Bar |
| GAS TANK∩ | CCC |
| OIL TANK | CCC Beer Keg |
| HANDLEBARS | CCC |
| RISERS | eBay |
| HAND CONTROLS | I.S.R. |
| FOOT CONTROLS | CCC |
| FOOTPEGS | CCC |
| HEADLIGHT | Custom Chrome |
| TAILLIGHT | Fab Kevin |
| LICENSE MOUNT | Fab Kevin |
| SEAT | CCC "Soft Shox"/Bill Wall Leather "Shark" |