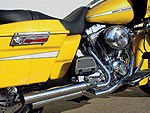 Easy Haulin'
Check out the new Lid Hauler from Ride Tek. The patented heavyweight padded material is weather-resistant and made from one-piece-construction fiberglass. The Lid Hauler fits '93-to-present H-D touring models with OEM fiberglass saddlebags.
For more information, contact Ride Tek at (480) 752-3556, or visit www.ridetek.com.
Bagger Pipes
The new '07 Bagger Pro Street pipes from Bassani just hit the market, and they're already flying off the shelves. Designed specifically for H-D baggers, these new pipes provide all of the necessary clearance. Available in slash-cut or straight-cut versions, the pipes are finished in chrome or optional black thermal coat.
For more information, contact Bassani at (866) 439-4287, or visit www.bassanipipes.com.
Pyromania
The new Pyro forks from Mean Street Products are made from solid billet aluminum and are inspired by the Devil himself. They are available in all sizes and finishes, and have triple-clamp rakes. The Pyro flame design can be incorporated into any Mean Street lower leg style.
For more information, contact Mean Street Products at (915) 592-6887, or visit www.meanstreetproducts.com.
Timeless Style
Check out the new watches from Hardcore Watches. Visions of lost souls and demonic henchmen populate the dials of all of the company's watches. Each timepiece's dial is crafted using three-dimensional sculpting and casting methods combined with lacquer finishes. These watches utilize surgical-grade stainless steel, along with top-grade leathers and other unique skins for straps.
For more information, contact Hardcore Watches at (213) 342-3199, or visit www.hardcorewatches.com.
Biker Patches
The folks at Biker Emblems have been handcrafting specialty biker emblems exclusively for motorcycle clubs across the nation. So if you're looking for cool patches to dress up your riding jacket, you can choose from leather, silk, reflective, and much more.
For more information, contact Biker Emblems at (800) 679-7909, or visit www.bikeremblems.com.
Beep Beep
Tired of being cut off? With this extremely loud Mini-Beast air horn from Pro Pad, you can warn off numbskull drivers before they run you off the road. With a 128-decibel blast from the dual trumpets, you won't have to worry about not being recognized. The Mini-Beast measures in at 5 inches wide, 6 inches high, and 4 inches deep.
For more information, contact Pro Pad at (800) 290-9784, or visit www.mini-beast.com.
Have A Seat
Looking to make your own custom seat pan? The Insta Pan seat pan kit from Stampede is now available and forms in about one hour, but allow two to three hours of working time from start to finish. Each kit includes the clay material, rolling pipe and rails, clear pattern material, fiberglass mat, protective tape, vinyl gloves, and complete instructions.
For more information, contact MC Advantages at (800) 726-9620, or visit www.MCAdvantages.com.
Fuel Up
The new fuel tanks from Matt Risley Innovation are designed to fit '01-and-later fuel-injected bikes. They're built using 16-gauge cold-rolled steel and are nickel-coated with a 4.6-gallon capacity. These tanks are made in two styles: conventional long and gut cut.
For more information, contact Matt Risley Innovation at (623) 434-8884, or visit www.mattrisleyinnovation.com.