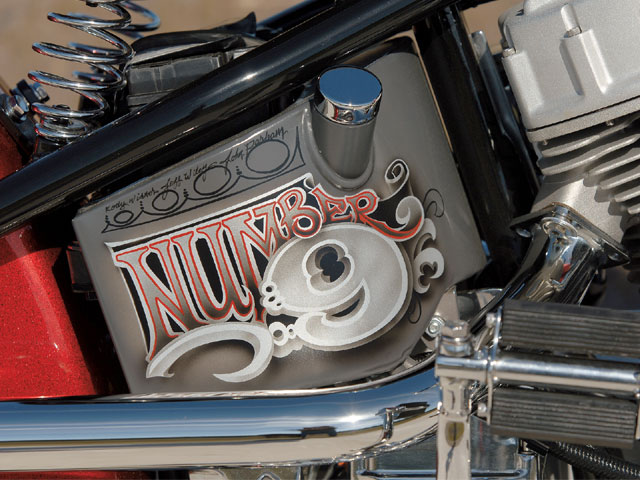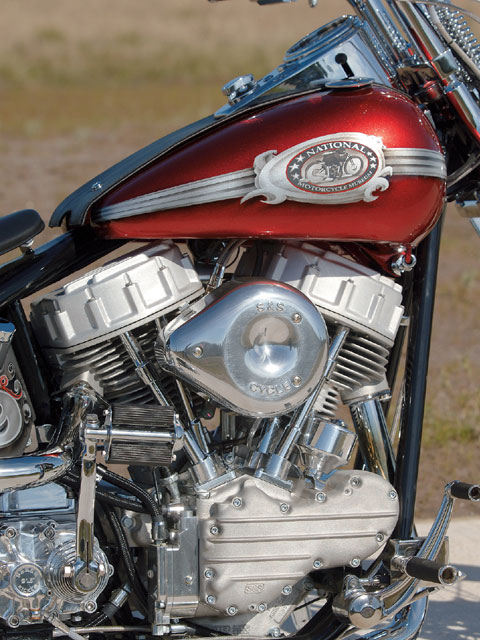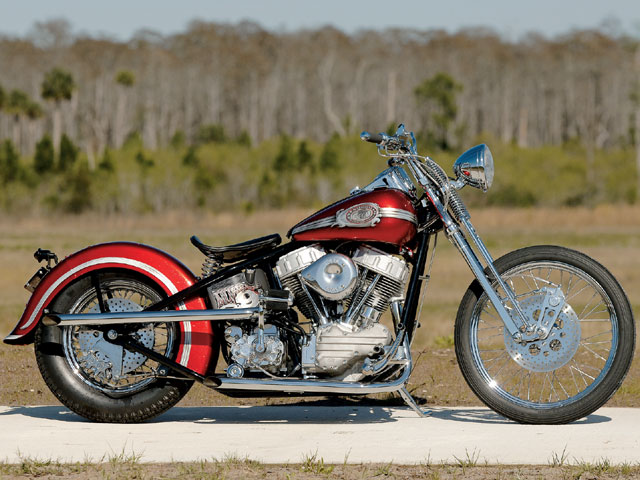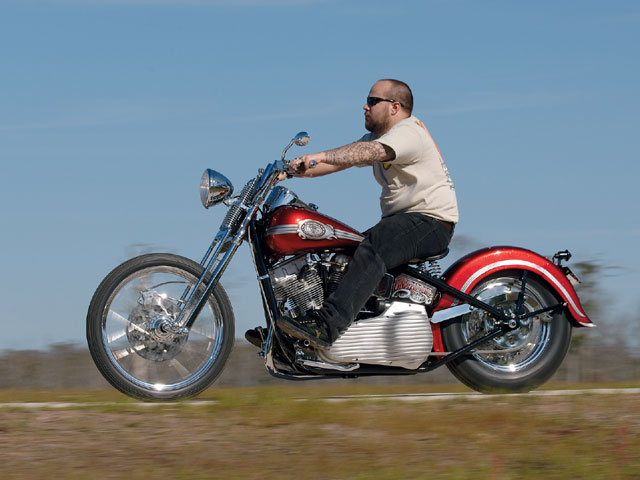 It was this time last year that J&P; Cycles built the Knuckle-powered, blue and white-scalloped motorcycle for the National Motorcycle Museum in Anamosa, Iowa. Just as we did with last year's build, the past two issues of HOT BIKE took you through the process of building this ground-up motorcycle, from mock-up, fabrication, and paint to final assembly. Again, as with last year's charity bike, many companies stepped up to help the museum by donating parts and countless hours to build a good-looking motorcycle that will be raffled off later this year, with the proceeds going to the museum.
As a result of donations and fundraisers such as this raffle, the National Motorcycle Museum has been able to create new exhibits, expand its collection of bikes to more than 200, and receive assistance with general operations. From vintage to collectible bikes, all things two-wheeled dating back to the early 20th century are housed in the museum. And it's not just the cool memorabilia and motorcycles, but the people who made a place in motorcycle history as well.
Jeff Carstensen, director of the National Motorcycle Museum, summed up this year's fundraiser by saying, "This is a great way for parts manufacturers from around the country to support the museum. They know year in and year out, J&P; Cycles will create one hot raffle bike for the museum and that the proceeds help continue to preserve the history of our sport." John Parham, owner of J&P; Cycles and president of the museum's board of directors, commented about the project by saying, "The support of the motorcycle industry again this year is wonderful. This bike has great styling and is truly a classic, incorporating today's technology along with safety. The finished product is the perfect mix of past and present."
With its cool looks paired with modern technology, here is this year's giveaway bike in its finished glory. Most of the motorcycle was designed and fabricated by J&P;'s Kody Wisner and Jeff Wiley. As with the work involved in this project, parts and accessories were sourced from various manufacturers. An S&S; 93ci Panhead motor with bead-blasted rocker boxes from Custom Cycle Engineering form the basis of this bike. Baker donated a six-speed transmission in a four-speed case complete with an operating kicker. Rivera-Primo was called upon for the driveline and clutch duties, and a Spyke starter helped get the motor spinning. Spent gases are handled by straight pipes from Paughco, creating a retro look that follows suit with the bike's theme.
The KraftTech rigid frame was dressed up with a 2-inch-under DNA Springer frontend holding one of the company's 40-spoke chrome wheels. Avon tires roll at both ends and are slowed by J&P; rotors and Performance Machine (PM) calipers. PM hand controls and cables for the hydraulic lines to the clutch and brake were also installed. To add some comfort on the road, Kody and Jeff added springs under the West Eagle solo seat. A nice touch is how the seat is covered in black leather and matches the dash insert above the set of 3.5-gallon flat-side Fat Bob fuel tanks donated by Tedd's V-Twin. The retro dash features a speedo/tach gauge from Dakota Digital.
In trying to keep this motorcycle nostalgic-looking yet technologically modern and safe, all the components blend together nicely to keep that balance. To further add some depth of character to this bike, Underground Studios' Scott Takes laid down candy red paint with silver graphics. You will notice on the side of the oil tank that it says number 9. This is the ninth National Motorcycle Museum raffle bike and the ninth S&S; P series panhead motor to be made. While the J&P; oil bag was treated to Underground's shop logo, each side of the gas tank received a National Motorcycle Museum logo to complete the bike.
The drawing for this custom Panhead is December 31, 2008. Enter today-you don't need to be present to win. All donations to the museum are tax-deductible. For more information on the museum and getting raffle tickets, visit www.nationalmcmuseum.org, or call (319) 462-3925. A link to the museum can also be found on J&P;'s website (www.jpcycles.com), and you can also call (888) 994-7677. The museum would like to thank everybody involved for their generous sponsorship of this year's raffle fundraiser motorcycle: J&P; Cycles, Performance Machine, S&S; Cycle, Baker Drivetrain, KraftTech, Rivera-Primo, Custom Chrome, Dakota Digital, Paughco, Tedd's V-Twin, Avon Tires, Spyke, DNA, Milwaukee Twins, Wire Plus, Tedd's V-Twin, Custom Cycle Engineering, MC Advantages, and, of course, HOT BIKE magazine.
Spec Sheet
| | |
| --- | --- |
| GENERAL | |
| BIKE OWNER | National Motorcycle Museum |
| | (but could be you) |
| SHOP NAME | J&P; Cycles |
| SHOP PHONE | (319) 462-3925 |
| SHOP WEBSITE | www.nationalmcmuseum.org |
| YEAR/MAKE/MODEL | '08/Custom Panhead |
| FABRICATION | Kody Wisner, Jeff Wiley |
| ASSEMBLY | Kody Wisner, Jeff Wiley |
| BUILD TIME | 45 days |
| | |
| --- | --- |
| ENGINE | |
| YEAR/MANUFACTURER | '08/S&S; |
| TYPE/SIZE | Panhead/93ci P series |
| BUILDER | S&S; |
| CASES | S&S; |
| CYLINDERS | S&S; |
| HEADS | S&S; |
| ROCKER BOXES | Custom Cycle Engineering |
| CARBURETOR/EFI | S&S; |
| AIR CLEANER | S&S; |
| EXHAUST | Paughco |
| | |
| --- | --- |
| TRANSMISSION | |
| YEAR/MANUFACTURER/TYPE | '08/Baker/ |
| | 6-into-4 |
| CASE | Baker |
| CLUTCH | Rivera-Primo |
| PRIMARY DRIVE | Rivera-Primo |
| | |
| --- | --- |
| FRAME | |
| MANUFACTURER FRONT | '08/KraftTech |
| RAKE | 30 degrees |
| STRETCH | None |
| | |
| --- | --- |
| SUSPENSION | |
| MANUFACTURER FRONT | DNA Springer |
| TRIPLE TREES | N/A |
| MANUFACTURER REAR | None |
| SWINGARM | None |
| | |
| --- | --- |
| WHEELS, TIRES, AND BRAKES | |
| MANUFACTURER FRONT/TYPE | DNA |
| SIZE-WIDTH/HEIGHT | 21x90x90 |
| TIRE/SIZE | Avon Speedmaster |
| CALIPER | Performance Machine |
| ROTOR | J&P; Cycles |
| MANUFACTURER REAR/TYPE | DNA |
| SIZE-WIDTH/HEIGHT | 16-inch |
| TIRE/SIZE | Avon Speedmaster |
| CALIPER | Performance Machine |
| ROTOR | J&P; Cycles |
| | |
| --- | --- |
| FINISH/PAINT | |
| COLOR | Candy Apple Red |
| PAINTER | Underground Art Studios |
| GRAPHICS | Underground Art Studios |
| PLATING/POLISHING | N/A |
| POWDERCOAT | N/A |
| | |
| --- | --- |
| ACCESSORIES | |
| FRONT FENDER | None |
| REAR FENDER | J&P; Cycles |
| FENDER STRUTS | J&P; Cycles, part of the |
| | rear fender |
| GAS TANK & CAP | Tedd's V-Twin |
| OIL TANK | J&P; Cycles |
| DASH | J&P; Cycles/Mary Ann Parker |
| GAUGES | {{{Dakota}}} Digital |
| HANDLEBARS | J&P; Cycles |
| RISERS | J&P; Cycles |
| MIRRORS | J&P; Cycles |
| HAND CONTROLS | Performance Machine |
| FOOT CONTROLS | Performance Machine |
| FOOTPEGS | Performance Machine |
| HEADLIGHT | J&P; Cycles |
| TAILLIGHT | Custom Chrome |
| TURN SIGNALS | None |
| LICENSE MOUNT | Custom Chrome |
| SEAT | West {{{Eagle}}} |
| ELECTRICAL | Wire Plus |
| STARTER | Spyke |