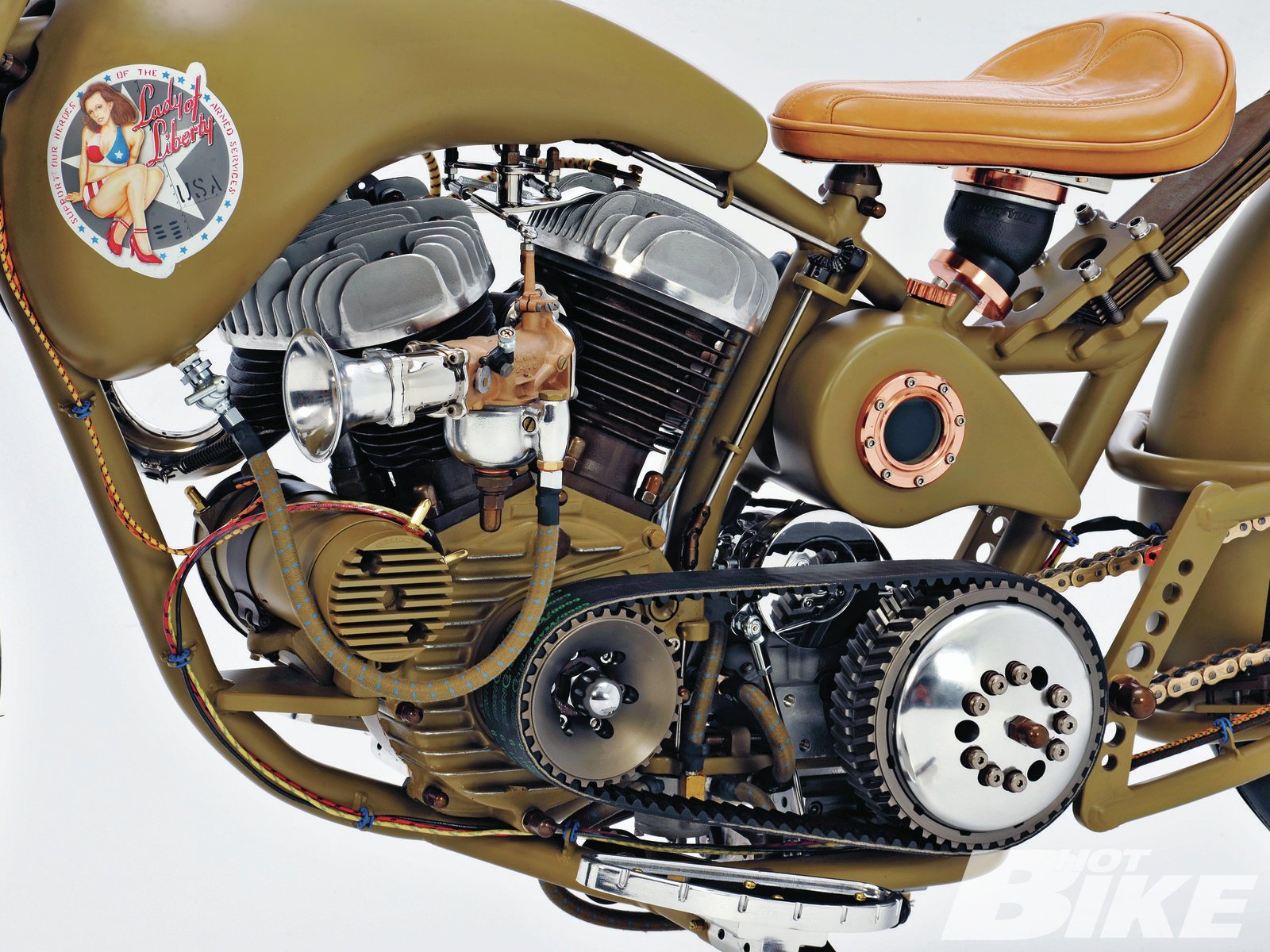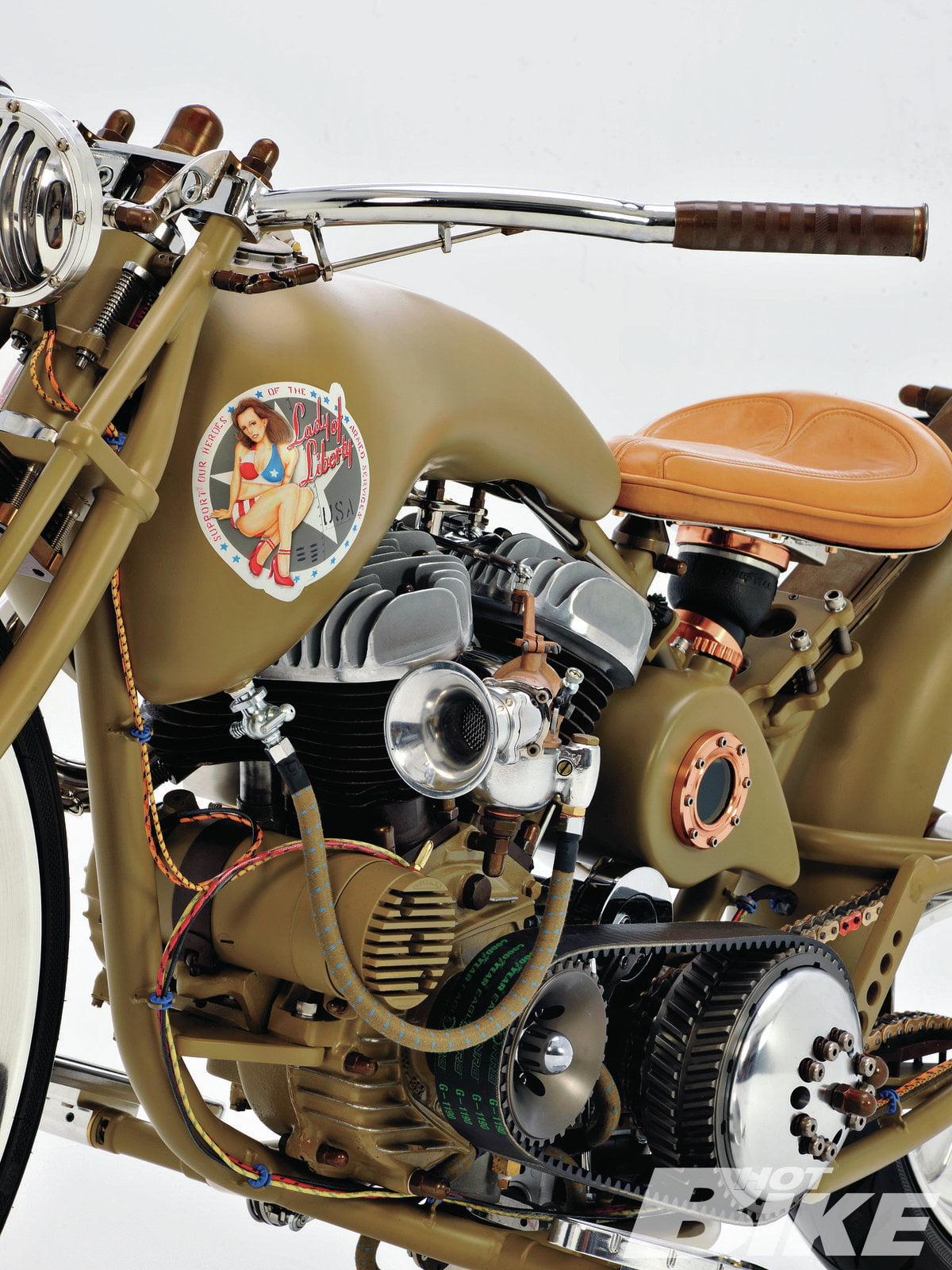 In 1886, the United States was given a gift from the country of France in the form of 315-foot copper statue. One hundred years later, the Statue of Liberty was restored to its former glory and given new life using modern methods and materials. Dale McMahan of Camel Toe Choppers in Wheatfield, Indiana, too revived a piece of history in 2011 with the building of his Lady Liberty Harley-Davidson using a fusion of old craftsmanship combined with modern CNC parts.
Upon initial glance, the Lady Liberty appears to be a well taken care of survivor from the days of wars past. It's only with closer inspection of the 23-inch Xtreme Machine wheels, custom LED taillights, and air ride under the seat that the truth comes out to something truly special. Dale explained the reasoning behind the mix and match of new and old: "I attempted to make a custom that is unique looking and that incorporates features not found on any other bikes. I feel it goes way beyond what most custom bikes have incorporated in them." Upon closer inspection of the photos, Dale's words begin to ring clearer. "The bike has no control cables at all. All the functions are controlled by direct linkages. The floorboards act as the rear brake and the shift linkage. The bike has front and rear leaf springs and an air bag under the seat. All the hoses and wires are custom braided for that vintage look." But Lady Liberty goes well beyond cosmetic homages to the past. Dale and the crew at Camel Toe are not strangers to fabricating parts as needed. "The sheetmetal, tanks, and fenders are all hand-formed and include view windows for level monitoring. Even the exhaust and intake manifolds are hand-formed from stainless steel."
But inside the belly of the beast, its all old-school cool sitting atop the motor mounts. Dale explains, "The motor is a 1945 WLA 45ci. It was destined to be a replacement for a war bike but was never used. In fact this motor has never been started." In the final homage to timeframe fusion, the motor is mated with a Revtech five-speed with an Evil Engineering open primary.
So like the long, green lady that welcomes immigrants to our country, Camel Toe Choppers proves that was once old can be made new again. On a complete side note, I can't stop snickering at the name of the company.
Specifications
Owner | Dale McMahan
Shop | ** Camel Toe Choppers
**Year/Make/Model | 2011/ H-D/ Lady Liberty Harley-Davidson
Fabrication | ** Camel Toe Choppers
**Build Time | One year
Engine
Builder | H-D
Year/Type/Size | 1945/WLA/45cu
Air Cleaner | Camel Toe Choppers
Exhaust | Camel Toe Choppers
Transmission
Year/Type | 2011 Revtech Hydraulic Sleeve
Gears | Five-speed
Primary Drive | Open Primary by Evil Engineering
Frame
Year/Type | 2011 Single Down Tube
Rake | 38 degrees
Stretch | 0 degrees
Suspension | Paughco Leaf
Wheels, Tires, and Brakes
Front
**
**Builder/Size | Xtreme Machine 23-inch
Tire/Size | Avon/23×3.00
Rear
**
**Builder/Size | Xtreme Machine 23-inch
Tire/Size | Avon/23×3.00
Rotor | Sproter
Finish/Paint
Manufacturer | Water Based PPG
Colors | Kacky color special blend O.D.
Painter | Camel Toe Choppers
Graphics | Wayne Fuller
Accessories
Front Fender | Camel Toe Choppers
Rear Fender | Camel Toe Choppers
Gas Tank | Hand formed by Camel Toe Choppers
Handlebars | Camel Toe Choppers
Cables | Controlled by direct linkages
Grips | Camel Toe Choppers
Hand Controls/Switches | Internal
Floorboards | Camel Toe Choppers
Headlight | Aluminum machined by Camel Toe Choppers
Taillight | Aluminum machined by Camel Toe Choppers
Seat | Camel Toe Choppers