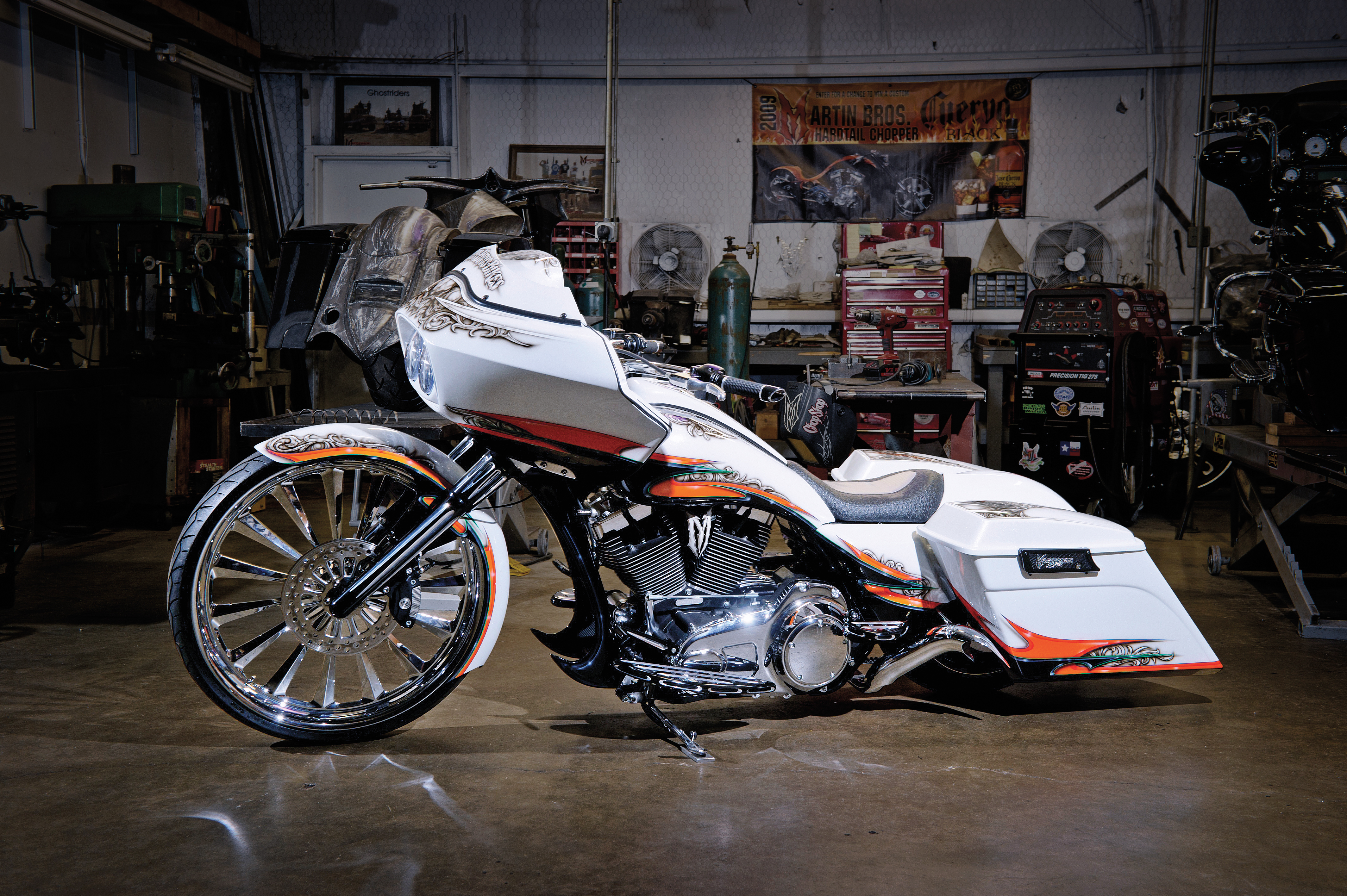 The crew at Martin Brothers (MB) are certainly no strangers to the custom game and not only do they have a huge resume of motorcycles to brag about, but several cars, trucks, and boats as well. As their fleet of one-off show winners grows, with each new build there is always the drive to outdo the last and move the notch up the post just a little higher. While there are no oceans near Austin, MB has definitely managed to bag a white whale with this 2011 H-D Road Glide.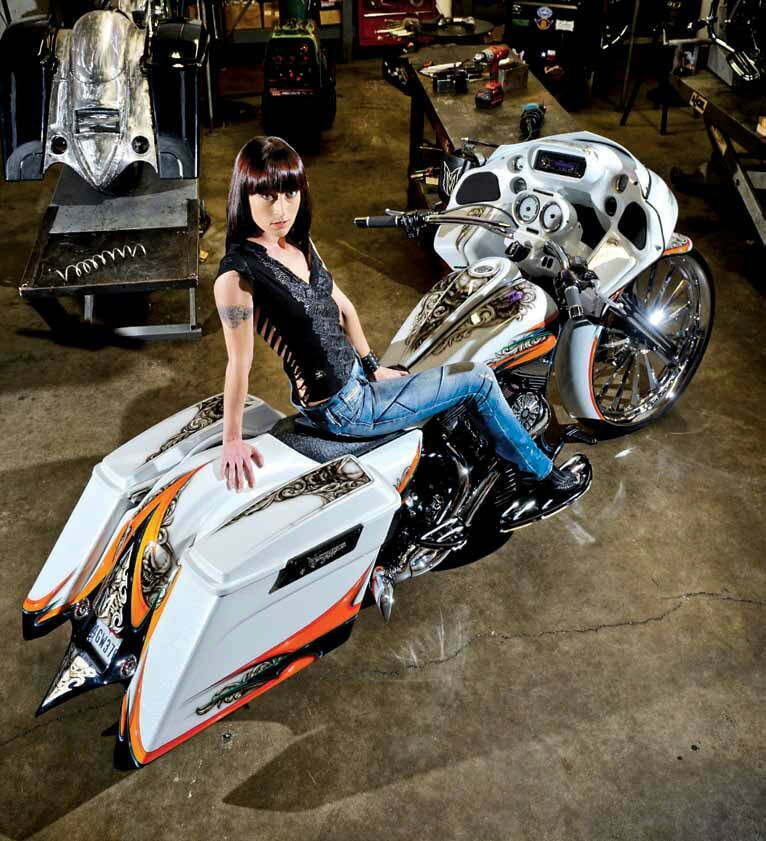 This custom Road Glide is the latest two-wheeled rolling art built for a very special person. "This bike was built for Mark Gray. Mark is a loyal customer of mine and I've done many projects for him including cars and boats. Mark is the co-founder of the Lone Star Rally in Galveston, Texas. He is a colorful, fastpaced guy that likes to play as hard as he works," explained Joe Martin. "Mark wanted something wild to ride for his upcoming rally; something he could be comfortable on."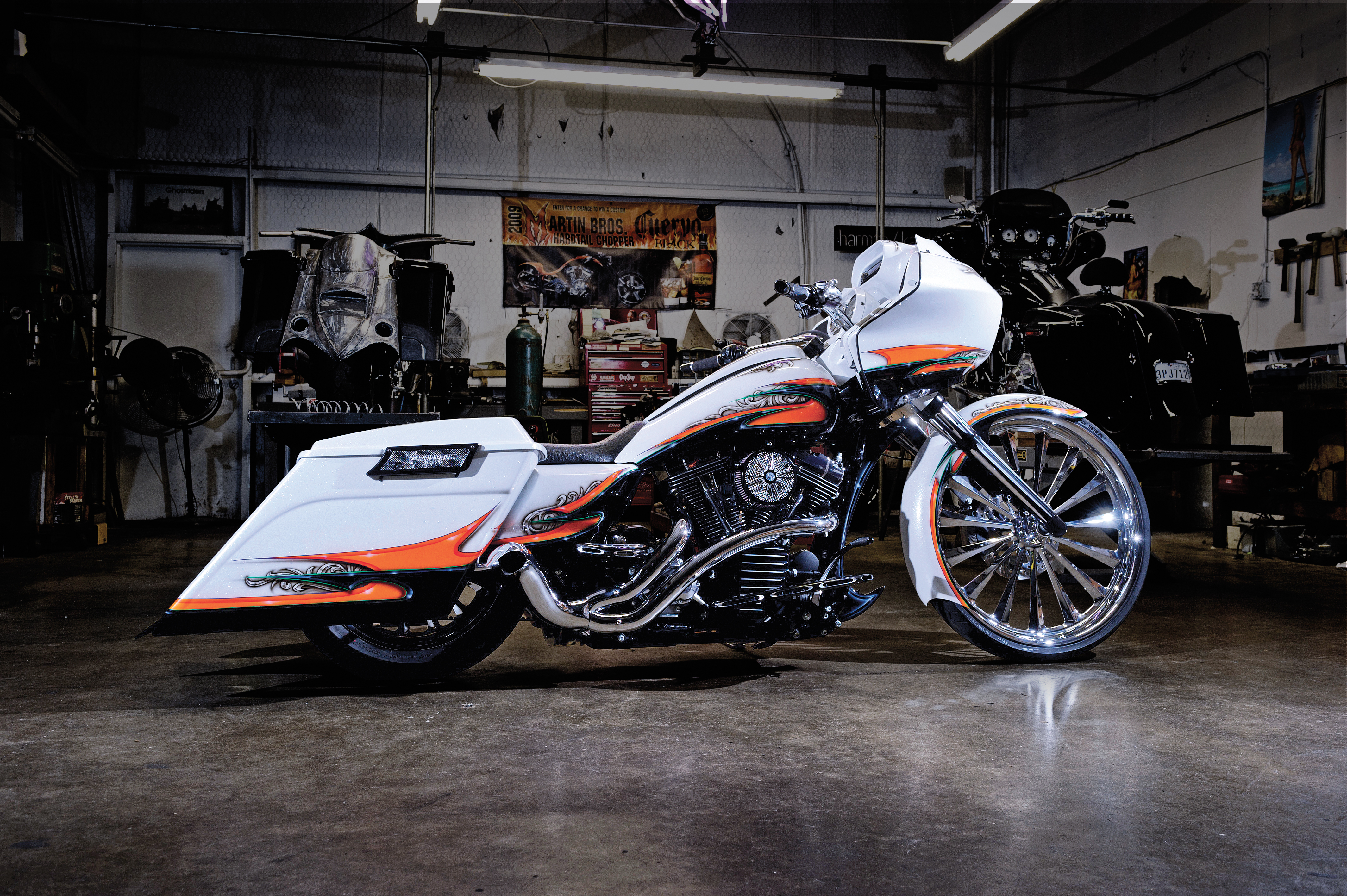 The glue gun and plastic cutters were left behind for this build, instead opting for some one-off sheetmetal to add some curves to the bike. "The pipes and the sheetmetal are all done in Martin Bros fashion. I didn't want to go with the typical snap-over rear fiberglass fender and glue-on tank sides," explained John. The rest of the bike was outfitted with all the latest bits of cool including a Klock Werks dash, stretched bags, custom Kenwood stereo with Focal amplifiers and speakers, and a Martin Bros custom seat sitting smack dab at the controls.
While black is the usual color of choice, MB wanted to do something a little bit different. "Mark mentioned that he wanted to go with a vintage Harley factory color scheme that is mainly off-white, orange, and black. We decided to go with a more flashy diamond ice flake over Lexus white." While the color combo is far from new, they managed to give the Road Glide a fresh look that is nothing short of modern art.
When the paint dried and dust settled, Mark got a colorful custom to match his colorful personality. But building a bike for one of the biggest bike rallies is no task to be taken lightly. I mean, only hundreds of thousands of people will see it anyway right? "We build something for him each year. His next bike is already on the frame table for the 2013 rally!" We can't wait to see what's going to roll into the rally next.