Growing up, my grandfather owned a 1929 JDH that he ordered from the factory—all white with gold stripes. At the time it represented the holy grail of motorcycles for me.
A couple years ago my youngest brother passed away, and I had built him an FL-style bike out of a 1979 FX I picked up from another buddy, Dave Perewitz. About 30 years ago my buddy Lou Trachtenberg, the founder of STD, was working on alternator/generator cases. I bought a setup for an EVO top end, and he gave me a setup for a Shovel top end. So with all the parts I had been saving for the past 30 years I now had a frame, the top end, and crank assembly and could begin this tribute project to my granddaddy's 1929 JDH.
My buddy Kyle Shorey was an Invited Builder to the 2016 Hot Bike Tour. One night when we were hanging around in my barn sippin' bourbon and benchracing, he asked if he could build the tribute bike for me. I said, "Hell yes, but it has to be white and it has to have skirted fenders." Also, all my grandpa's vehicles, bikes, and trucks had "My Pal" painted somewhere, but the rest I left up to him.
I knew it would be a nicer build with Kyle running the show. I didn't realize I was going to need a springer (thanks to John Studko from Mid-USA) rather than the Ceriani front end I had. Also, it was going to need a polished Baker four-speed rather than the rotary four-speed and new chrome Progressive 430s instead of my old FL covered shocks. The engine had to be flawless, so the STD cases and all the accumulated engine parts went to B&B Racing (thank you, Billy) for fin repair, polishing, and assembly.
Over the course of the next nine months all the parts were reworked, cleaned, polished, and inventoried. Then, as it usually happens, we realized the Hot Bike Tour was less than two months away. I don't know how he did it, but six weeks later and the day before we had to hit the road the bike was done. When it was finished I had no complaints, just tons of gratitude for the outstanding build.
We headed out to tackle the Blue Ridge Parkway with only 4 miles on the bike. I am here to tell you Mr. Shorey builds a solid bike you can run hard. We rode about 800 miles through the Blue Ridge, including the Tail of the Dragon, and the bike ran strong and handled great.
As a tribute this bike goes above and beyond paying homage to family, friends, Harley-Davidson, and the custom culture we all live in. My personal thanks to Jeff Holt for inviting me this year. I had the best time and can't wait to see all my friends on next year's Hot Bike Tour.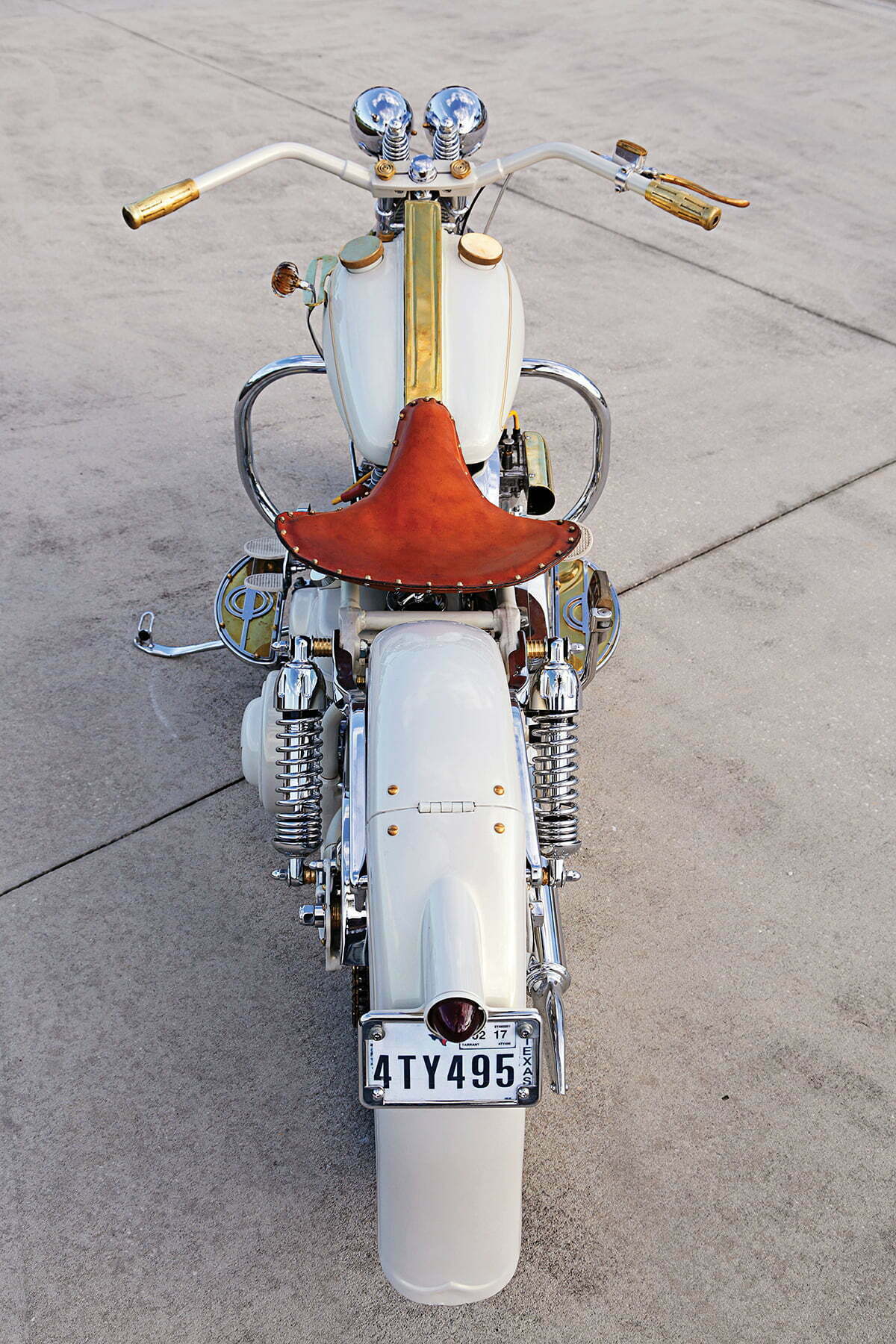 | Specifications | |
| --- | --- |
| General | |
| Owner | Bob Kay |
| Builder | Speed Foundry of Texas/Kyle Shorey |
| Year/Make/Model | 1979/Harley-Davidson/FX |
| Fabrication | Kyle Shorey |
| Build Time | 6 weeks |
| Engine | |
| Type/Size | Gennie Shovel, kick only, with Morris G5 magneto/80 in. |
| Builder | B&B Racing |
| Cases | H-D |
| Cylinders | H-D |
| Heads | H-D |
| Rocker Boxes | H-D |
| Cams | Andrews |
| Oil Cooler | Front engine guard plumbed to serve as oil cooler |
| Exhaust | Speed Foundry of Texas |
| Air Cleaner | Paughco |
| Transmission | |
| Type | Baker 4-speed |
| Clutch | Rivera Primo |
| Primary | Rivera Primo |
| Frame | |
| Year/Type | 1979/FX |
| Rake/Stretch | Stock |
| Suspension | |
| Front End | Mid-USA Classic Springer |
| Rear Shocks | Progressive 430 Series |
| Swingarm | '58 courtesy of Donny Loos |
| Wheels/Tires/Brakes | |
| Front | |
| Builder/Size | Ride Wright/19-in. 60-spoke |
| Tire Size | 110/90-19 |
| Calipers/Rotors | Hawg Halters |
| Rear | |
| Builder/Size | Ride Wright/18-in. 60-spoke |
| Tire size | 120/80-19 |
| Calipers | Hawg Halters |
| Rotor/Sprocket | Hawg Halters Sprotor |
| Finish/Paint | |
| Colors | Birch White and Gold Pearl in Clear with Gold Leaf Striping |
| Painter | JVP |
| Plating | Meclec |
| Accessories | |
| Front fender | Speed Foundry of Texas, narrowed |
| Rear fender | Speed Foundry of Texas, narrowed and stretched |
| Head Lights | Twin headlights just like '29 JDs |
| Gas Tank | Speed Foundry of Texas, narrowed |
| Dash | Speed Foundry of Texas |
| Handlebars | Speed Foundry of Texas |
| Hand controls | Kustom Tech |
| Foot Controls | Modified H-D |
| Floorboards | Speed Foundry of Texas |
| Headlights | J&P |
| Taillight/license mount | 1939/Harley |
| Seat | Speed Foundry of Texas |