Flat track looks easy—turn left, gas, repeat—but it's not; ask anyone who's ever done it successfully. American Flat Track Twins podium finisher Johnny Lewis makes a living teaching everyone from rank amateurs to professional roadracers how to ride a dirt bike, its front brake hijacked and suspension travel reduced by half, on hard-packed dirt while wearing a steel shoe as smooth as a racing slick. But before you whip out your credit card and order your own "hotshoe," here are three things you should know.
1. Body position — Lewis calls it "crack on crack," that is, one butt cheek glued to each side of the upper edge of the seat. "Riding on the street," he says, "you sit in the center of the motorcycle. You do the same thing on a flat-track bike, but you don't lean in with the bike; you stay put. It's about balance, not relying on the tires to hold you in place."
Whether you're a street rider, a pro motocrosser, or a champion roadracer, Lewis treats everyone who signs up for his school, 10 Training, the same way. "I don't care if you rode a 450 on dirt your whole life," he says, "I'm going to put you on a minibike. If you can build repeatable habits at 3 mph, the transition to a bigger bike and a larger track is a lot easier."
---
---
2. Slow down to go fast — "It took me forever to understand 'slow down to go fast,' " Lewis admits. "It just did not make sense to me. But it's the same thing for any professional athlete: The more you can slow down your mind, the better you're going to be. At the amateur level, you're going feet, feet, feet. At the pro level, it's inch, inch, inch.
"You are never going to make up a lot of time quickly. It happens lap after lap, day after day. When I really see results at my schools, it's after three days of riding. The students are worn out, so they're not trying to ride super hard. They're just trying to get into the flow of things, and they start to put the techniques together."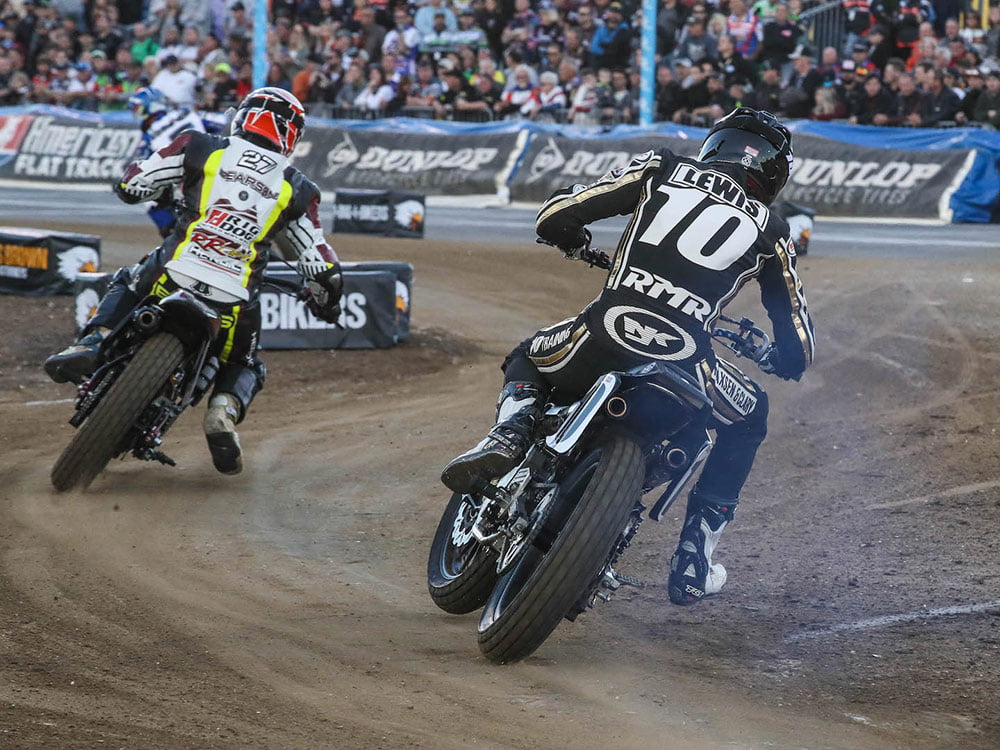 3. A steel shoe is not a ski — Everybody who puts on a steel shoe for the first time goes through the same experience, Lewis notes. "Guys say, 'I'm gonna plant this thing,' and they fall. Or they walk on asphalt for the first time and they slip and almost fall. If you go into a corner and put all your weight on the shoe, it's going to do the same thing: slide out.
"The shoe is there to balance you, not to save you. It can save you at times, but it's really just there for balance. I have a really cool video from the Springfield Mile. I'm coming into the corner sideways, my left leg is out but if you watch my shoe, it just skims the track for probably a foot. I was balancing and loading the motorcycle."