The innovators of design and technology in motorcycling and automotive are eagerly gearing up for the 30th Annual Donnie Smith Bike and Car Show presented by Dennis Kirk. The event is attracting an ever-growing number of builders, customizers and businesses seeking to connect with bike and car enthusiasts. The broad range of experts at the show offer visitors a unique experience to learn from specialists, see the latest innovations, shop, hunt through the parts extravaganza and win prizes. The new Tattoo Expo and Contest can also be found at the 225,000 sq. ft. show. The event will take place at the St. Paul RiverCentre in St. Paul, Minn., 9 a.m. to 7 p.m. Saturday, March 25 and 10 a.m. to 5 p.m. Sunday, March 26, 2017.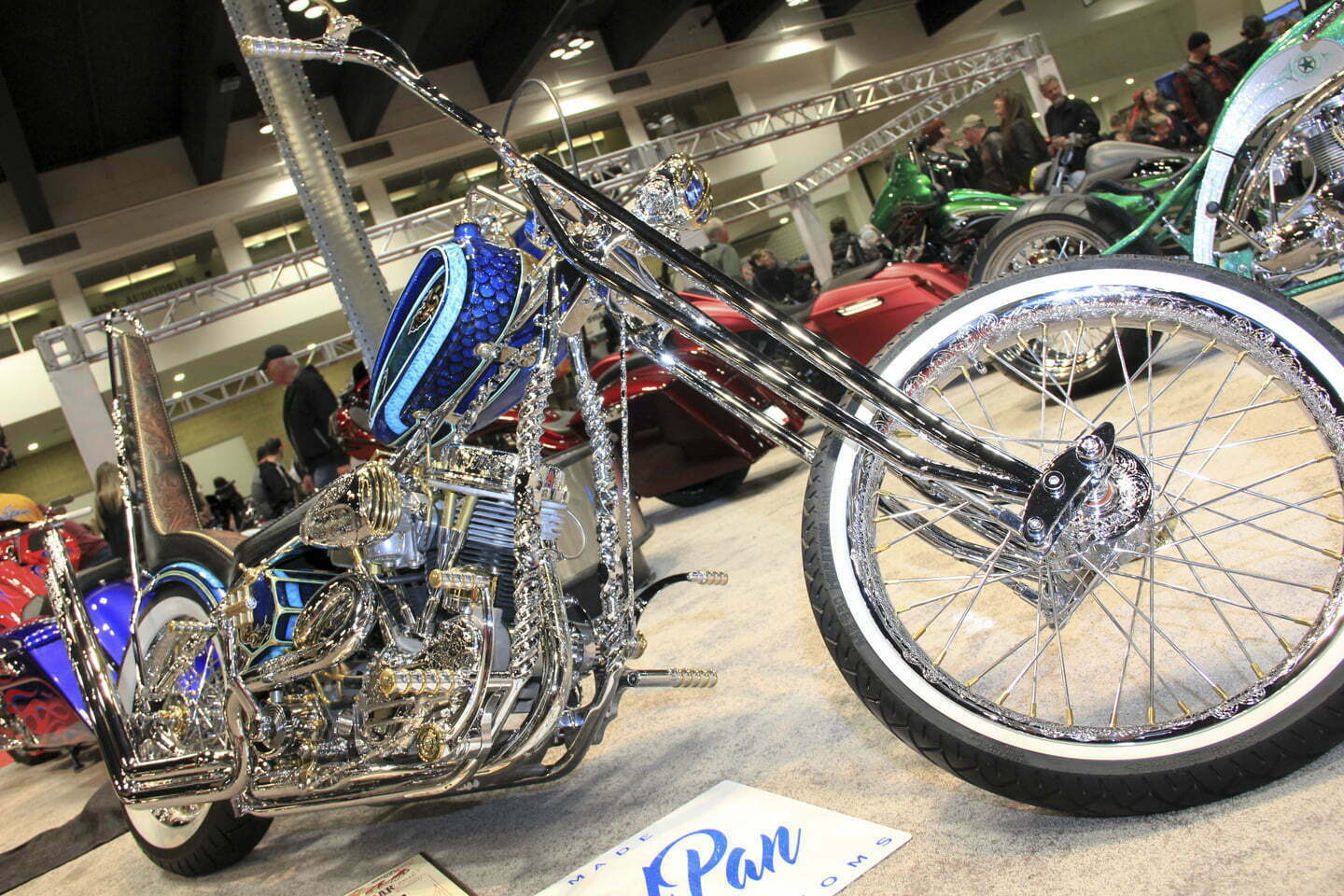 Show spotlights
Dennis Kirk has been supporting the show and motorcycling for many years. Representatives will be on hand at the show to answer questions and offer a spin on the prize wheel. More information about their annual Patriot Ride, benefitting Minnesota's active and veteran military and law enforcement organizations will be available at their booth.
The Kennedy High School Chopper Class will be presenting their student-built bikes, an S&S knuckle powered chopper and a dual carb ironhead drag bike. Sponsored solely through donations, Kevin Baas and his high school class are a central attraction at the Donnie Smith Bike Show. Baas and his student mentoring program have inspired like-minded projects across the country, providing young people with the skills and relationships to foster potential careers.
Giveaways for the kids, door prizes and personal technical service will be offered at the Lucas Oil main floor booth. Attendees can meet Lucas poster model Paige to get an autographed show poster and see the Lucas Oil Drag Car on display in the Custom Car Show arena. Lucas motorcycle racer Brett Weiss will be waiting to meet fans at JR's Contraptions booth.
As the official motorcycle tire of the 2017 Donnie Smith Show, Metzeler invites all to the Metzeler Custom Lounge, a gathering place for moto-celebrities, builders and attendees from around the Midwest. Here guests will have the opportunity to meet Pat Patterson of Led Sled Customs and Mike and Pete Muller of Federal Moto and see Metzeler-equipped customs.
Riders expecting to put some miles on their bikes this year may want to visit with Russ Brown Motorcycle Attorneys and sign up for BAM, Breakdown Assistance for Motorcyclists, a free nationwide volunteer program of over 2,000,000 riders helping riders everywhere in the U.S.
Register to win a customized Indian Scout Sixty
The Largest Music Festival in MotorcyclingTM, The Sturgis Buffalo Chip®, will be offering a chance to win one of two hooligan-style Indian Scout Sixty motorcycles in its Moto Stampede Give Away. The twin bikes have been customized by celebrity builders and racers, Roland Sands and Carey Hart, and will be tested at the Chip in the RSD Super Hooligan Races on Wednesday, Aug. 9 before being given away on the venue's main stage. Representatives of the Buffalo Chip will be available to answer questions about its nine-day motorcycle and music festival and assist with sweepstakes registration. Guests may later meet builders and industry leaders at the Buffalo Chip's "Twin City Takeover" at the Eagle Street Grill, located across the street from the St. Paul RiverCentre, on Saturday, March 25 at 9 p.m.
Custom Motorcycles Unveiled
The sleek, industrial appearance of the 2017 Rock, Rumble & Rebellion bike Kuryakyn designed for the Sturgis Buffalo Chip® will be unveiled at the main floor stage on Saturday, March 25 at 11 a.m. Kuryakyn is debuting select pieces from their all-new Riot and Mesh Collections on this bike. Powered by Crusher exhaust and the freshly reimagined Hypercharger ES, the 2017 Harley-Davidson Street Glide will be up for sale as it makes its way across the country, appearing at various events before meeting up with its new owner at the Buffalo Chip in August.
The Buffalo Chip's Legends Ride, the premier celebrity charity ride in motorcycling, celebrates a decade of supporting worthy causes in 2017. In honor of this milestone, S&S Cycle, Inc. will debut a performance-styled Harley-Davidson Dyna Low Rider custom that will be auctioned in Deadwood, SD on Aug. 7. The bike will be unveiled at the Buffalo Chip's Legends Ride booth on Saturday, March 25 at 12:15 p.m.
More information can be found at DonnieSmithBikeShow.com.
TICKETS
Tickets for the Donnie Smith Bike & Car Show are on sale at the RiverCentre Box Office, all Ticketmaster locations, charge by phone at 800-745-3000 or online at Ticketmaster. Children under the age of 12 are admitted free.