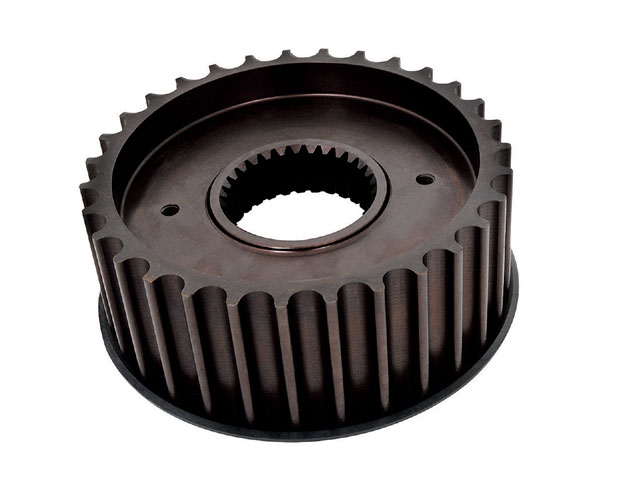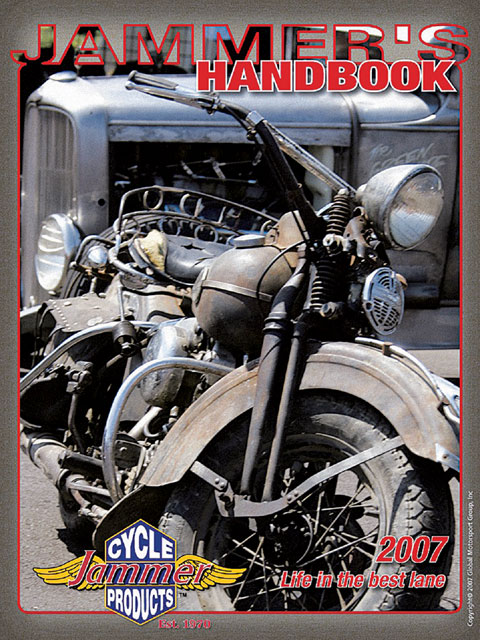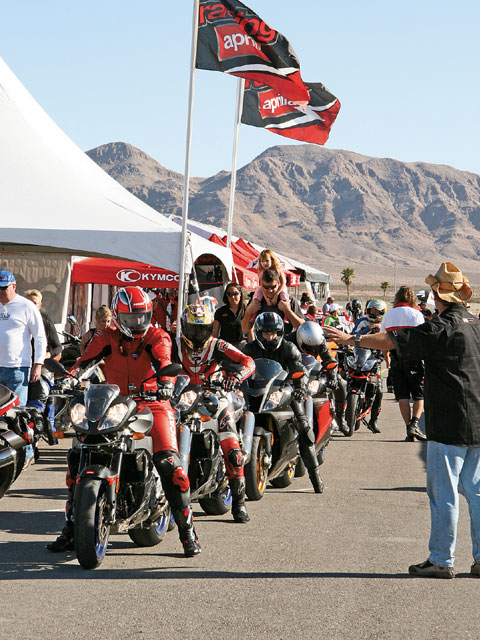 No More Lugging
Want to be able to use Sixth gear on your '07 Harley-Davidson without attracting the attention of The Man? How about more torque through all the gears? Baker Drivetrain's 30- or 31-tooth transmission pulleys ($203) effectively "gear down" your ride to optimize performance. First, you'll get more torque and power from the take-off gears. This remedies the common criticism of the new bikes being a little sluggish off the line for some riders. Second, you can utilize the Sixth gear at a slower, more reasonable highway speed for a more comfortable rpm.
The nitty gritty:
Increased Rear Wheel Torque (30T- 7% increase 31T- 3% increase)
Cruising RPM Sixth gear (75MPH) 30T @ 2830 / 31T @ 2756
No more lugging the motor in Sixth gear at lower cruising speeds (60-70 MPH)
Each pulley requires the use of a 1-tooth shorter belt (H-D 40056-07) and a 2-1/2-inch pulley nut socket available from Baker Drivetrain. For additional information, call Baker Drivetrain at (877) 640-2004 or www.bakerdrivetrain.com.
Get S&S; to Stroke Your Victory
The motor wizards at Wisconsin's S&S; Cycle are now offering Victory owners installation of their Hot Set Up stroker kit that increases displacement to 106ci. Components are available for all '03 and later Freedom motors, including both the 92 and 100ci varieties.
This new service to authorized Victory dealers will give them the option of having professionals at S&S; install the upgrade to accommodate the high performance needs of Victory owners. According to S&S;, horsepower jumps 40-percent while turning a 13 second bike into an 11 second 1/2-mile burner. Stay tuned, as we're about to install one of these kits. or more information, see your local Victory dealer.
Got Old Iron?
Since 1970, way before the old school fad of today, Jammer Cycle Products and the Jammer's Handbook has been the bible for everything old iron.
Writing another chapter in the "Old School" Bible, the 2007 168-page Jammer's Handbook features over 2,100 retro-style goodies, and has something for just about everybody who loves Old School Cool. Whether you're looking to build a ground-up rigid Pan, breathe new life into an old swingarm Shovel, or just pimp out your late model ride, the new Handbook has it all.
Products found in the Jammer's Handbook are distributed exclusively by Custom Chrome and are available through all Custom Chrome Dealers worldwide. To locate a dealer in your area contact them at (800) 597-6467 or their website at www.jammerclub.com.
Hines Puts Harley-Davidson Atop Podium
Andrew Hines recorded his first season/ninth career victory on his Screamin' Eagle/Vance & Hines Harley-Davidson V-Rod at Joliet, IL's, Route 66 Raceway. It was the first for Hines at the track in two previous final round appearances. Because of its proximity to the H-D headquarters in Milwaukee, Route 66 Raceway attracts a crowd filled with large numbers of H-D employees.
The 24-year-old Hines qualified in the No. 1 position with a track record E.T. of 6.921 at 193.65. It was his first top qualifying award of the season and 20th of his career. In the final round of the Torco Racing Fuels Route 66 NHRA Nationals, Hines beat Matt Smith and the Torco Racing Buell. Hines turned in a 6.959-second pass at 192.11 mph on the V-Rod to earn the win over Smith's 7.014 at 187.18.
"This is my favorite track by far, and it was awful losing it the way I did a few years ago," Hines said. "My team made it possible because they gave me such a great bike and I was calm and confident about riding it."
The team had struggled slightly prior to this weekend, leaving Hines in ninth place of the standings. Hines' best performance of the season had previously been a second round appearance at Atlanta and St. Louis. The Screamin' Eagle squad practically camped at O'Reilly Raceway Park in Indianapolis and made more than 40 test passes in hopes of making improvements. The win moved Andrew up five spots in the standings to fourth place overall.
Visit www.harley-davidson.com or NHRA.com for more information.
Like Heaven with Bikes Too
In its sixth year, Femmoto-a track day and motorcycle demo event that celebrates female riders-is going to be larger than ever. With a full schedule of demos on the Las Vegas Motor Speedway track, a dirtbike school, street demos, vendors, and a party Saturday night, Las Vegas will be the hot spot on October 5-7th.
Harley-Davidson is the newest brand to participate at Femmoto. Offering street demos on a variety of Big Twin and Sportster motorcycles, the Motor Company will also host demos on the track for the performance-oriented VRSC models. Buell will offer street and track demos to expand riding opportunities on their Ulysses, Lightning, Firebolt, and Blast models. "Buell and Harley-Davidson have motorcycles that appeal to a wide variety of female riders," says Harley-Davidson Communications Manager Leslie Prevish.
For the first time at Femmoto, men will have a chance to take to the track as well. Friday features a traditional track day designated as the "Femmoto Couples day." With so many sportbike-oriented couples attending the event in years past, adding in a bonus track day was an obvious solution to create the ultimate motorcycle event for couples. The Friday "Femmoto Couples day" is reserved first for female attendees and their significant others on their own machines. Even if you're not part of a riding couple, come out anyway, as nothing is hotter than hundreds of women wearing leather racesuits and riding bikes.
Event sponsors include Aprilia, Buell, Ducati, Joe Rocket, Harley-Davidson, Hein Geircke's G-Line, Icon, Kawasaki , KYMCO, Michelin, Parts Unlimited, Red Bull, Repsol and Scorpion. Every year Femmoto has sold out early, so log on to www.Femmoto.com now.