Motorcycles are tools for many things: transportation, adventure, having fun, and sometimes even creating unity in life. The latter is the case with Southern California native Andrew Huerta. Since birth he was immersed in the SoCal motorcycle and car culture. While growing up, Andrew remembers being mesmerized by his uncle Danny and his '58 Panhead when they came to visit.
Danny was in the motorcycle industry and was always chatting up bikes with a young and curious Andrew. Attending car- and bike-oriented events was a staple in Andrew's upbringing and planted some seeds for things to come later in life. Being Latino and growing up in neighborhoods with strong Latin culture meant the style and passion they poured into their custom vehicles rubbed off on Andrew in a big way. In this culture, custom two- and four-wheel vehicles are like family.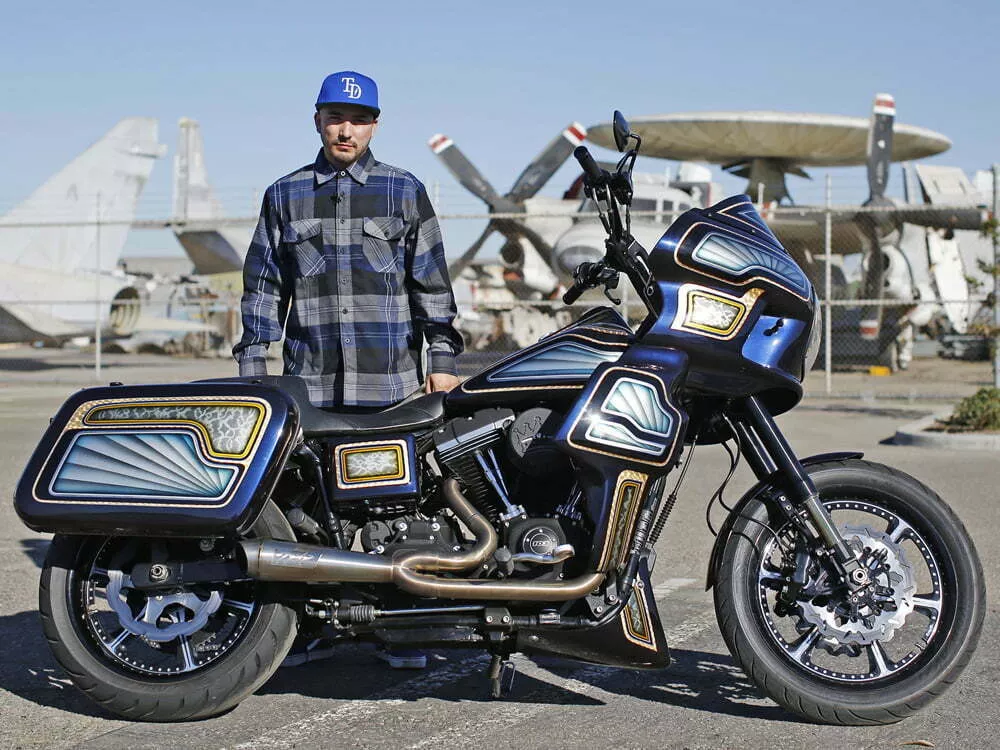 Andrew would get his start on motorcycling as a six-year-old on an XR70 dirt bike. That is when he really caught the bug that two-wheel lifers can never shake off. Fast-forward to Andrew's early adult years and he was looking for a streetbike to commute to his two jobs and local college courses. That is when images of his uncle's Panhead flickered into his head. There was no question he was going to get a Harley-Davidson. His dad drove him down to the local Harley dealer, and Andrew was ready to purchase a Sportster that had caught his eye and was within his budget—until he received a phone call from his mom, who was all choked up and tearfully proclaiming that she would never speak to him again if he bought that motorcycle. The dirt bikes he had grown up on were no problem, but riding on the street was another deal. He decided that was not the day to get a street-going bike. He would get another one in the very near future after his mom calmed down.
A bit later his dad fell ill and subsequently passed away. Andrew's best friend, hero, and life counselor was gone and left him feeling quite empty. That void was made even bigger when none of his friends showed up to his dad's funeral. Andrew tried to fill the desolation with fast cars and getting into a bit of trouble. After tiring of both he decided he needed to finally get that Harley-Davidson and see if that would cure his discontent. He was sure of it.
A used Sportster was acquired and immediately ridden nonstop all over the lower half of California. That is when life began making sense for Andrew and gave him some contentedness. Having a dirt bike background meant Andrew would eventually gravitate toward some stunt style of riding. While thrashing his Sportster, things would break and he would fix them. This would serve as a solid base for working on and customizing V-twins. It was after beating up a few bikes that Andrew desired to build a bike that would honor his dad. He thought back on his dad's prized vehicles and how they were always a certain shade of blue. Andrew decided that would be the main color incorporated into this bike build. Also stemming from his roots were the flake and panel paint, reminiscent of the car and bike shows he would frequent with his family.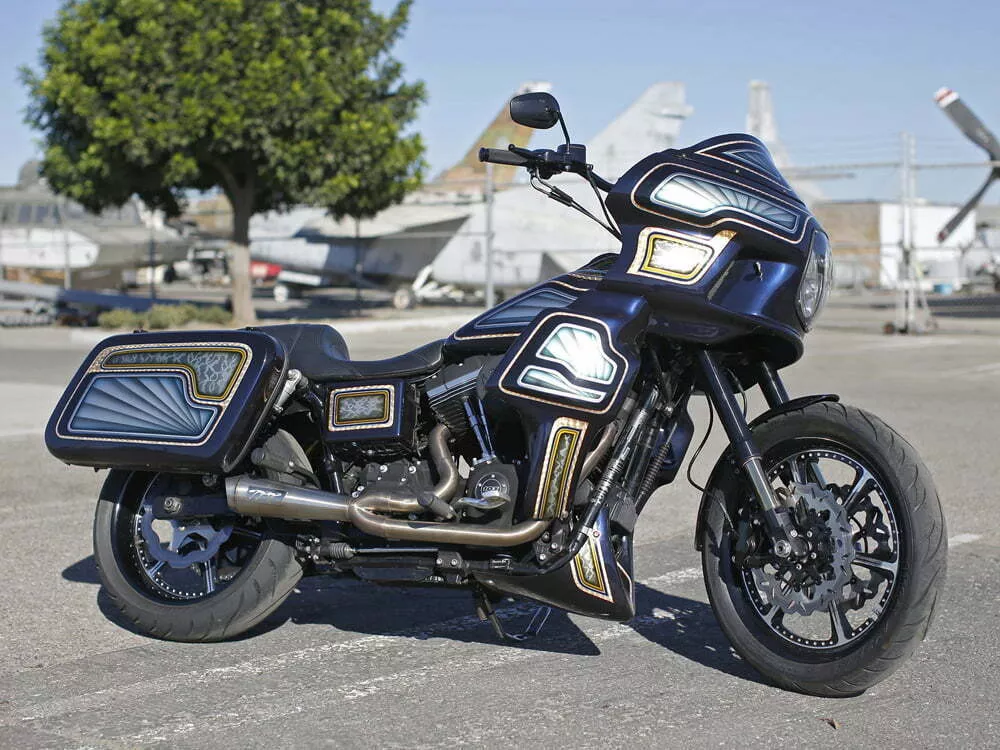 A Street Bob was sourced from an H-D dealer, and the process began with the help of some great people Andrew had befriended within the V-twin community. The end result was an amazing tribute to his father that turns heads wherever it is ridden. This is just the beginning for Andrew, as all of this has given him some much-needed harmony in life and some big ideas for future builds.