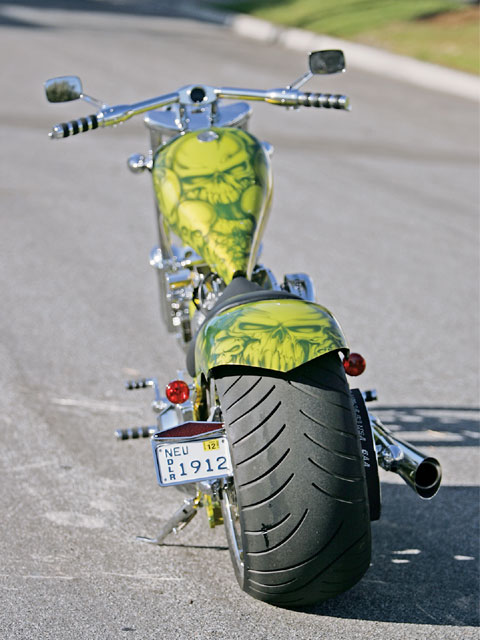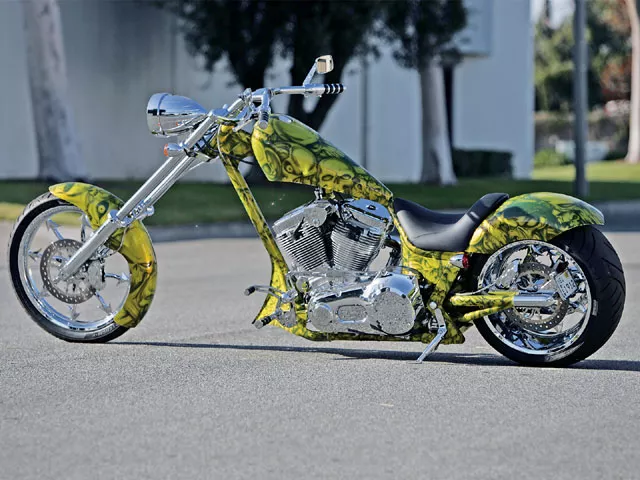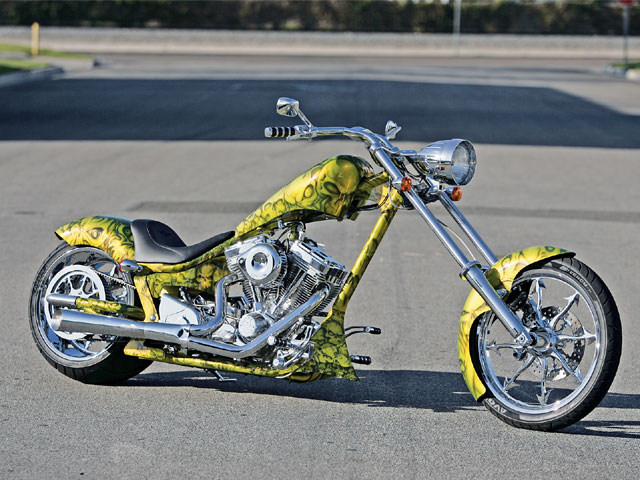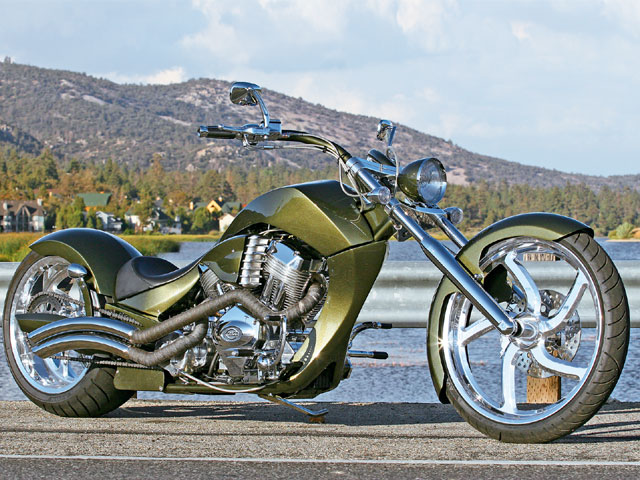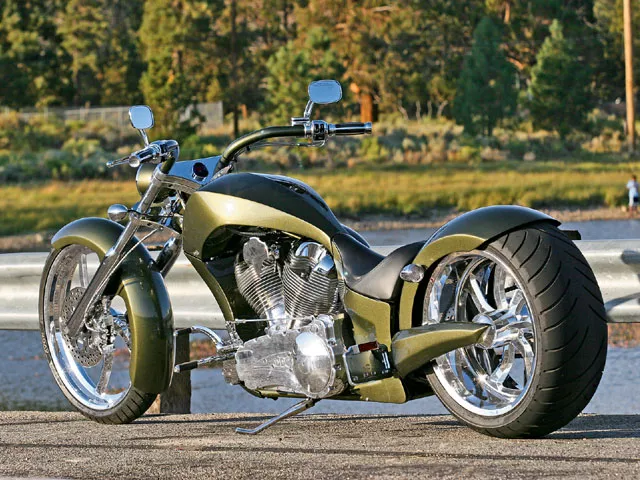 American Performance Cycles APC High Roller 300In 1992 American Performance Cycles (APC) began as a retail aftermarket motorcycle shop called Arizona Performance Cycles in Bullhead City, Arizona. APC specialized in used Harley-Davidson sales, repairs, and housed a wide range of aftermarket and original equipment Harley-Davidson parts.
As a result APC started designing and building custom V-Twin motorcycles from scratch. As APC began these new creations, more and more customers sought them out to have their dream bike built. In late 1996, APC began offering a full line of bikes in different styles and price ranges. The bike before you is called the High Roller 300, and features a 117ci S&S; motor, RSD Baker six-speed transmission, and 300mm rear tire with Hawg Halters brakes in the front and rear. Additional features to note are the Climax Stealth Bars with matching grips, a custom seat, and a custom paint job. For finishing touches, this bike is all chromed out from top to bottom. There are four models to choose from with six different styles of each.
| | |
| --- | --- |
| SPECS: APC High Roller 300 | |
| COMPANY | American Performance Cycles |
| PHONE | (702) 314-5272 |
| WEBSITE | www.apccycles.com |
| MODEL | 300 High Roller |
| WHEELBASE | 84 inches |
| SEAT HEIGHT | 25 inches |
| DRY WEIGHT | 660 lbs |
| ENGINE/DISPLACEMENT | S&S; 117ci |
| CARB | S&S; Super E |
| PRIMARY | Harley-Davidson Chain |
| TRANSMISSION | Baker Six-speed RSD Close Ratio |
| FRAME | Pahen Cycle |
| RAKE | 38-degree rake |
| STRETCH | 4-inch stretch w/7-inch stretch on downtubes |
| FRONT WHEEL/TIRE | 120x90x21/Avon |
| REAR WHEEL/TIRE | 300×35 VR18/Avon |
| PRICE AS SHOWN | MSRP $33,995 |
Big Bear Choppers The ParadoxIt's a paradox to think that a highly artful motorcycle can perform so well while being comfortable and reliable. It's usually a contradiction in the motorcycle world. At Big Bear Choppers in Big Bear Lake, CA, they do not believe in compromising. And the bike before you is no exception.
"We call it Paradox," the company said. It's the first production motorcycle to roll out with the new large diameter wheels: a 23-inch front and a 20-inch rear. The Paradox holds an innovative dimensionally molded downtube cover that not only completes the motorcycle's front aesthetic lines, but also acts to hide the less desirable clutch cable. The oil tank is the signature large capacity unit, but features unique concave molding design work. Both front and rear fenders feature a subtle and elegant ridge that fades away at the halfway point.
The Paradox's exclusive swingarm design comes with an inventive stylistic cover, hiding the tubular frame structure, axle adjusters, and brake line. The bike is powered by the famous 100ci smooth with an EFI option, or the new 114ci S&S; X-Wedge EFI engine.
| | |
| --- | --- |
| SPECS: BBC The Paradox | |
| COMPANY | Big Bear Choppers |
| PHONE | (909) 878-4340 |
| WEBSITE | www.bigbearchoppers.com |
| MODEL | 2008 Paradox |
| WHEELBASE | 88 inches |
| LENGTH | 113 inches |
| SEAT HEIGHT | 19 inches |
| DRY WEIGHT | 650 lbs |
| ENGINE/DISPLACEMENT | S&S;/114ci X-Wedge EFI |
| PRIMARY | BBC Proprietary Drive |
| TRANSMISSION | Baker RSD 6-Speed |
| FRAME | BBC Paradox |
| RAKE | 44 degrees, + 6-degree trees |
| STRETCH | 3-inch backbone, 4-inch mid section |
| FRONT WHEEL/TIRE | BBC/23 Avon 130mm |
| REAR WHEEL/TIRE | BBC/20 Avon 300mm |
| PRICE AS SHOWN | $33,{{{900}}} |