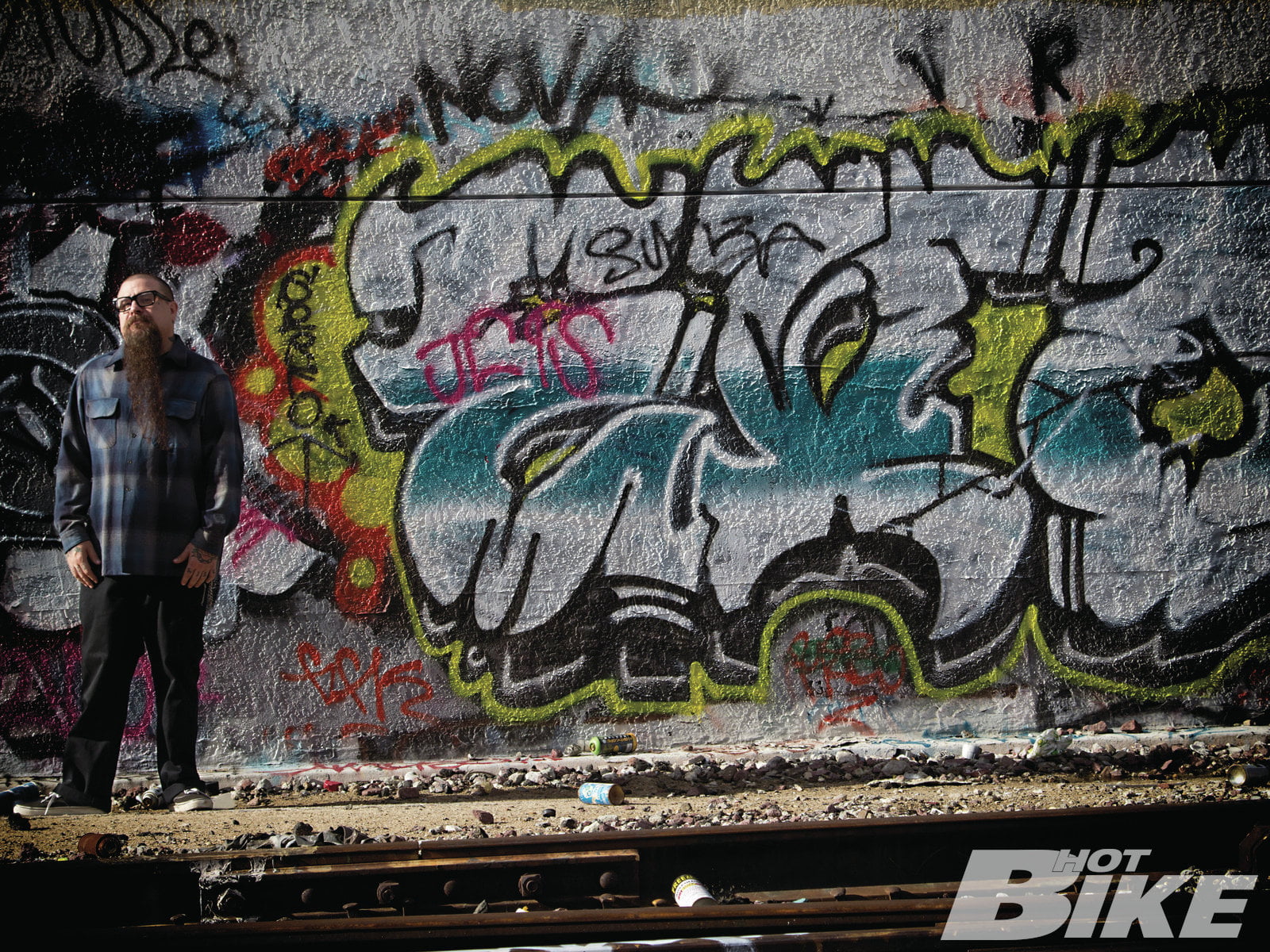 Welcome to the revved-up, revamped, and re-launched Hot Bike magazine. Code-named HB 2.0, we have been working on this overdue overhaul for close to two years now.
Yes, magazines are always evolving since they are a refection of what's going on in the world, but after being around for 40 some-odd years, things can get a bit stale and Hot Bike has now undergone an evolutionary change. Sure, there is a new logo and the magazine layout looks different, but what you may see as not too big of a deal was actually quite the undertaking. We are not just simply putting lipstick on the same old hog, we have gutted it, and re-built it from the ground up with a big-inch stroked motor, gobs of chrome, and some killer custom paint from tip-to-tail.
To do this was an uphill battle from the start, but we did it for all the right reasons. First we had to cut through all of the corporate red tape with the "If it ain't broke don't fix it," mentality of those who were of the mindset that just because Hot Bike was doing well in this economy that it wasn't really suitable for a major hop-up. After many closed-door meetings and basically fighting tooth and nail, I got the go-ahead from the company bigwigs to make a change.
We then got on our bikes and pounded the pavement conversing with a vast amount of our readers from all over the country to see what they really wanted in a magazine. With that knowledge gained, we took a long and hard look at what needed to be upgraded and have boiled it down to a very concise "past meets present" type of publication that shows within it the complete American-born-and-built motorcycle spectrum, from down and dirty daily ridden bikes with flare, to ground-up custom builds with killer painting and blinged-out wheels. In short, we are packing this magazine with what YOU want.
In the months it took to re-tool this magazine we also had to convince our puritanical readers that even though we have pumped up the magazine with a few good-looking girls, we would not be turning it into a two-wheeled Hustler magazine. Then we had to persuade a whole other group of readers to understand that this is not the '90s and that $150,000 un-ridable motorcycles with 300 rear tires and tie-dye paintjobs are very luke-warm and extremely far from what's hot these days.
We all can agree that in the scheme of custom motorcycles the times have definitely changed and there is a whole new world of bikes, builders, and babes out there that the masses of riders, bikers, cyclists, Harlistas, or whatever you the reader want to be classified as desires to see. Sure, we will still be featuring bikes and biographies from many of our old friends, but we are adding into the mix updated rides, tech, events, and features that are more relevant to people who really ride and enjoy American-made motorcycles.
Whether you are flipping through this magazine's print pages, its iPad app, or online entity, we know you want only the best and most interesting content that your hard earned money can buy. We also are cognizant of the fact that the new bikes and other stories we are featuring better grab your attention and pique your interest like never before. In the fast-moving world of website hits and Facebook likes, we want you to know that the best of the old Hot Bike you have come to love over the past four decades is alive and well, but we have cut the crap and are delivering to you the unadulterated V-twin motorcycling lifestyle like we have never before.
Yes, we as editors are very tuned into the fact that everybody has their own set of feelings on what style of bikes, parts, and women they prefer and what exists as "hot" is completely in the eye of the beholder. With that being said, we know the essence of what you enjoy and respect in a magazine and that is what we are presenting to you monthly with the new and improved Hot Bike. Just flip though these pages and be assured that you'll be getting an eyeful of excitement and a mind full of knowledge that will keep you coming back month after month. I guarantee it.
"We are not just simply putting lipstick on the same old hog, we have gutted it, and re-built it from the ground up"
Jeff G. Holt
Editor In Chief
[email protected]