I have a big, fat size 7-1/2 head and always end up wearing a XL helmet. I've worn everything from the most expensive helmets money can buy to the ones that barely pass DOT. I've learned it's not the cost of the helmet that makes a difference in comfort, it's the construction. The Signet-X is specifically designed to fit a long-oval head, and I fell in love with it from the initial time I slipped it on. With almost a slunk-like feeling, I knew immediately that it had made its way to the front of the line of all my other helmets.
The initial road test for the Signet-X involved heading out to Laughlin, Nevada, from Long Beach, California for roughly a 600-mile round trip through city, highway, and two-lane desert roads. For starters, the helmet is extremely quiet with the shield down and all the vents closed. This was instantly apparent, as I could hear the music coming from my 2017 Indian Limited stereo clear enough to understand the lyrics when typically all you hear is Charlie Brown teacher noises. When the temperature went up, all it took were a few brushes with a gloved hand while going 60-plus mph to figure out how to open and close the vents. I've had helmets that cooled my head better, but with increased air comes increased noise. The Signet-X is a "Goldilocks" amount of flow that was just about right.
Graphics on the Signet-X line vary from solid colors, Super-Joe racer dude, to this El Craneo Blue Frost model featuring traditional Dia de los Muertos sugar skulls. I have a traditional skull tattooed on my wrist from about six years ago, and the graphic matched almost identically.
At $829.95 it's an expensive lid for sure. But if there's one place you shouldn't sacrifice money for safety, it's your head. The Arai line is at the top of the food chain when it comes to quality, and with proper care this helmet should last for years.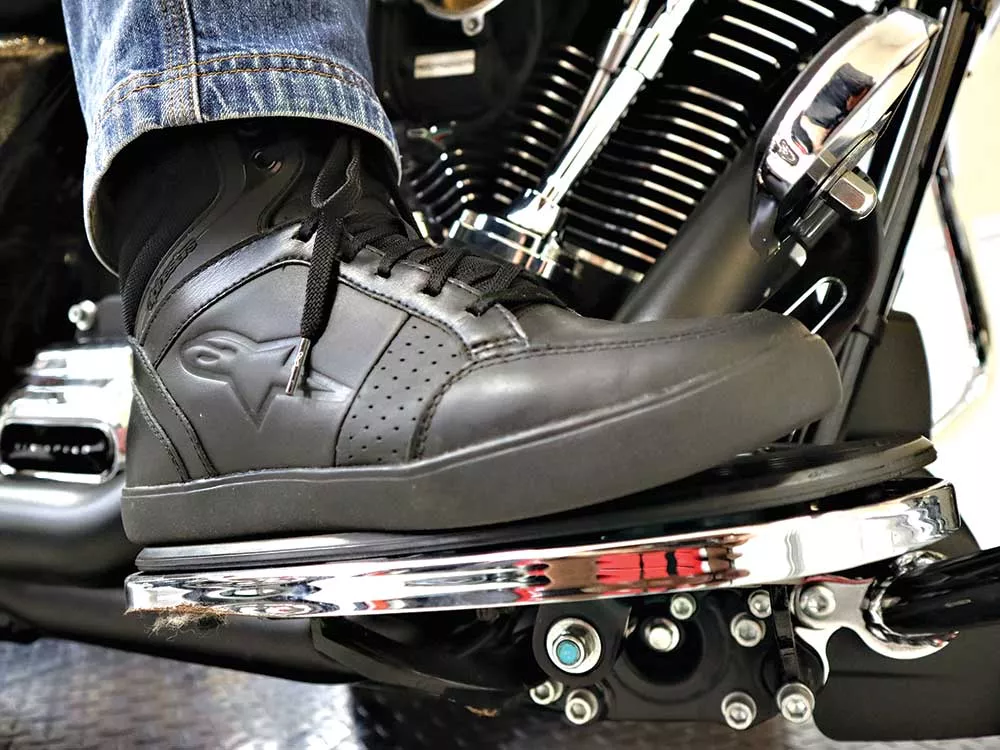 The Alpinestars J-8 doesn't claim to be a riding boot. If you want the ultimate in foot protection, Alpinestars protects the feet of MotoGP riders who crash at 200 mph. What I love the J-8 for is everyday riding back and forth to work or for quick trips around town. It's more about when I get off the bike that I want something that is comfortable and doesn't have me looking like a cyborg ready for battle.
The J-8 is a breathable riding shoe that keeps your laces from going haywire, is perforated for cool piggies, and has an internal toe box and heel counter reinforcement. The previous version was only available in loud colors that had most people saying, "Next!" These all-black versions are as cool as night, and if you don't want some added flair you can get them with optional brown or red accents.
I put more than 5,000 miles on the previous versions, and I'm confident the J-8s will spread the $159.95 price of admission over several rides. If you're looking for something better than sneakers but more comfortable than a boot, the Alpinestars J-8 might be the Cinderella you've been looking for.