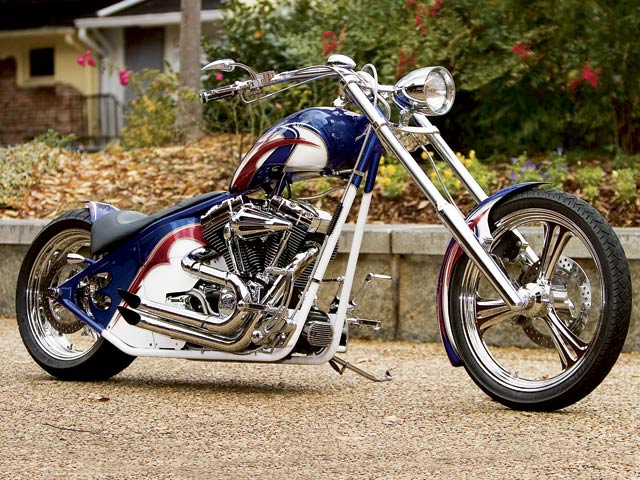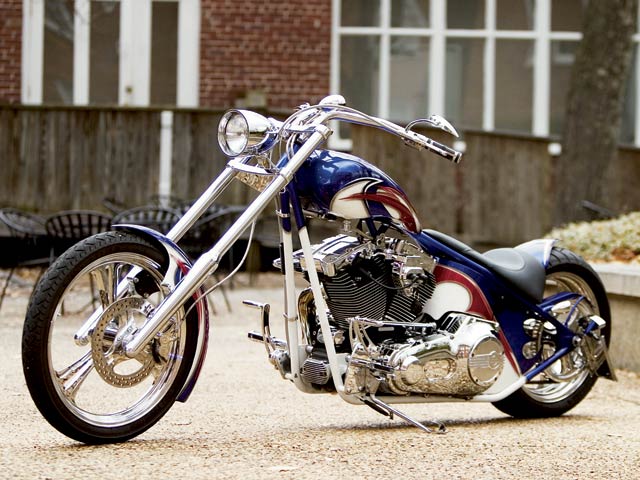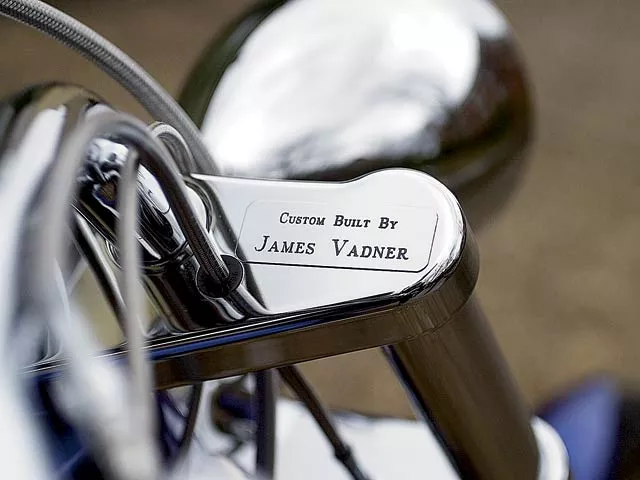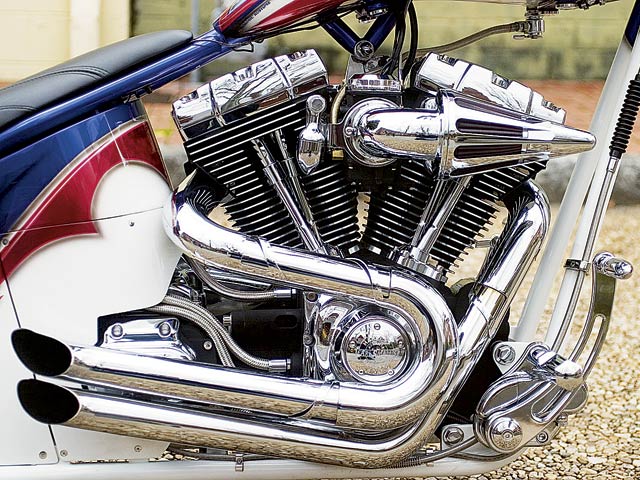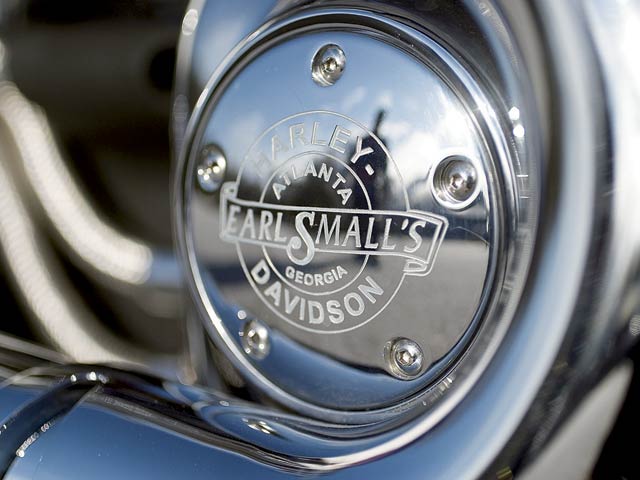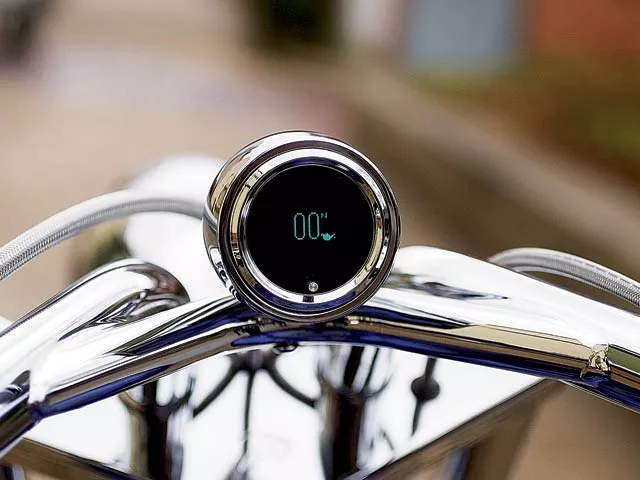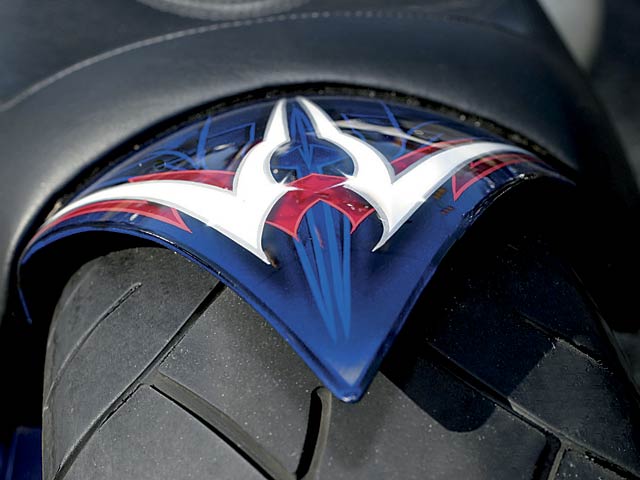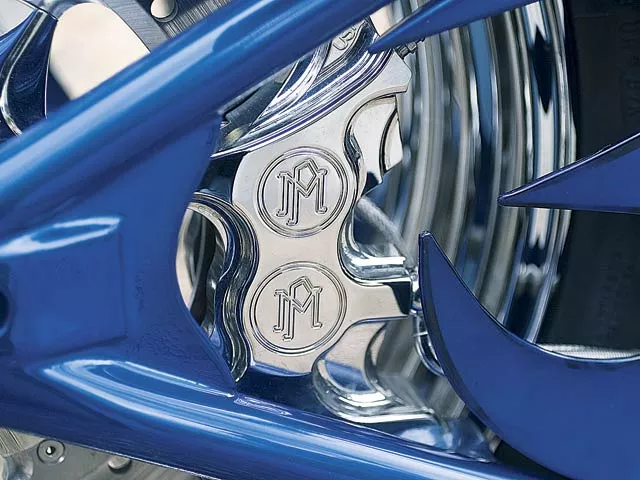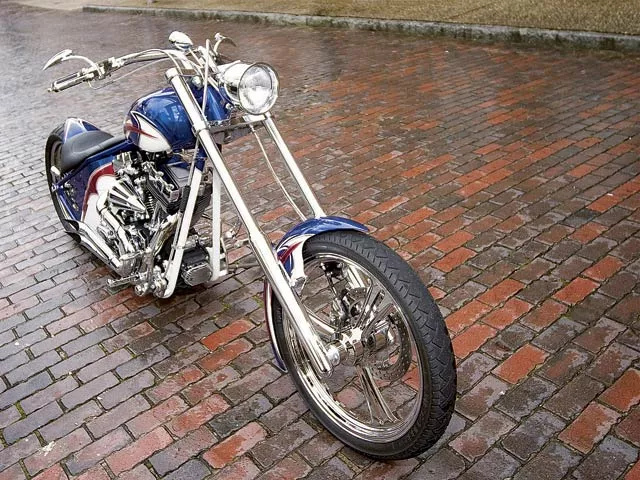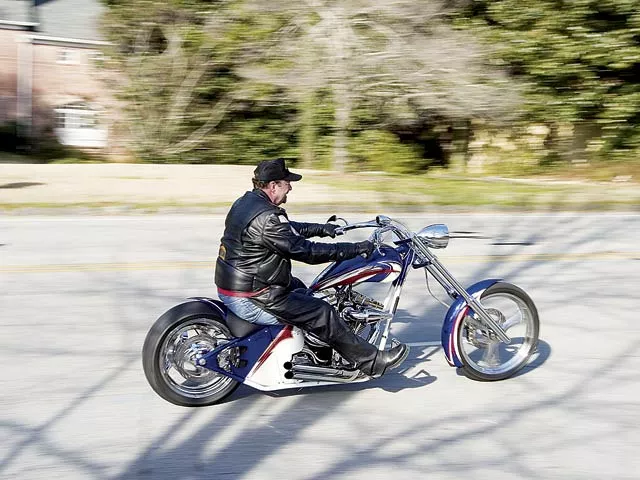 We have several auspicious goals at HOT BIKE. We want to deliver the hottest personalities and bikes in the country to our readers. In the process, we hope to give riders and builders the credit they deserve. Not all the cover brothers and sisters will spring from Biker Build-offs or manufacturers' ranks. As a prime example, we discovered Kimmer, or Kim Peterson, purely by accident.
A CD danced onto my desk from Earl Small's Harley-Davidson in Marietta, Georgia, containing a number of candy-apple red stretched Softail shots. We just recently featured a similar bike, but the photographic quality caught my eye, so I called Stephen Moore. That's when the story unfolded. Earl Small has a shop foreman, James Vadner, who enjoys building ground-up customs twice a year. He once owned a shop for a span of five years called Chrome Thunder. Earl recognized the drive, and since James was a decade-old employee, he offered him the freedom. That's where the bikes came from. We talked further and I asked if one bike stood out from the pack. That's when Steve pointed out a red, white, and blue Twin Cam rigid and the owner, Kimmer, the number-two talk show DJ in the Georgia region.
That's only the beginning of this story. Kimmer, 58, is an ex-Marine with a heart as big as the state. In conjunction with Earl Small's H-D, he heads up and handles the publicity for the annual Toys for Tots Run in Atlanta. Kimmer is the largest single donor in the United States with over $250,000 donated in his name. A rebellious conservative and comedic talk show wild man, Kimmer and his crew comedian, Jim Gossett, create an annual CD and sell it year round. "All the proceeds go to charity," Kimmer said. "I don't keep a dime."
They created their eighth CD this year in conjunction with the Tots run, but that's not the end of his devotion towards his community and service men and women. He also hosts an Annual USO run and created a coin to promote the event. On one side it reads: "Home of the free because of the brave." Thousands have been sold and distributed to promote the annual run.
But there's more. When the Iraq war kicked off, to support the troops right out of the box, he created "Give War a Chance" ballcaps and T-shirts. Okay, so they're wild… what the hell? But here's the icing on the cake: He receives thousands of emails daily through his website Kimmershow.com, and one staff member is assigned to scroll through them. They came across an email from Missy, in August of '04, requesting he send her Iraq-stationed husband a note: "Tell him we're praying for him," she said.
A veteran, Kimmer wrote back and asked, "What do they need?"
He was surprised to learn that the troops wanted balloon launchers, wrist slingshots, books, and other stuff that reminded them of home. He bought a batch of stuff and alerted his listeners. Earl Small again stepped up to the plate to become the collection center for contributions, and the humanitarian floodgates opened wide. Folks sent CDs, books, the balloon launchers, and girl's stuff, overloading the warehouse with 21,000 pounds, or over 10.5 tons, of toys and goods.
"I wanted to fly over with Missy to deliver the goods," Kimmer said. "But security demands prevented it. We couldn't even address the boxes to 'any soldier.' It all had to be directed."
Fortunately, one of his hundreds of thousands of listeners stepped forward to help. Rolltime Fulfillment took on the task of inventory and packing for free. A sizeable obstacle still held up the shipment: $16,000 in postage. He created the Kimmer Corps and the money rolled in, in the form of $1, $5, $10, and $20 donations, but the time before Christmas was passing quickly.
Kimmer mentioned his efforts daily on his four-hour 3 to 7 p.m. drive-time talk show, and the donations spilled in until each and every box was packed, labeled, and shipped. It's no wonder the ex-Marine, with the Rush Limbaugh satire-style, the comedy crew, and daily rebel-rousing slugfest radio show, AM 640 WGST, is number two on the air for the entire state. This is his fourteenth year in Atlanta, and he's been a radio journalist since '65 with a bachelor's degree from Arizona State and a master's from Michigan.
It's no wonder when his itch for a traditional classic chopper began to burn, he visited James Vadner and Earl Small's. Their minds met on the concept of a paneled-enhanced classic Atlas rigid with a red, white, and blue, Marine-related theme.
"It was the only Twin Cam B motor rigid available at the time," James said.
The panels allowed him to hide the electrics and the balanced motor cut vibration. James boxed in the neck area and extended the tank. He fabricated the tubes for the turn signals, then machined the top motormount, brackets, and license plate.
"I like to fabricate and build a custom that will hang as well as a stock bike," James said. "The Twin Cam creates a simple, completely aligned driveline. I only had to dial in the rear belt."
There you have it. Style, concern, community, and comedy all based around custom bikes. We're not all wild hellions… at least the Atlanta crew isn't.
| | |
| --- | --- |
| SPEC SHEET | |
| GENERAL | |
| OWNER | KIM "THE KIMMER" PETERSON |
| YEAR/MAKE | '04/CUSTOM |
| FABRICATION | EARL SMALL'S H-D-JAMES VADNER |
| ASSEMBLY | EARL SMALL'S H-D-JAMES VADNER |
| BUILD TIME | THREE MONTHS |
| | |
| ENGINE | |
| SIZE/TYPE | 88ci/H-D TC B |
| CASES | Black Wrinkle |
| FLYWHEELS | STOCK H-D |
| RODS | STOCK H-D |
| PISTONS | STOCK H-D |
| CYLINDERS | STOCK H-D |
| HEADS | STOCK H-D |
| CAM | STOCK H-D |
| CARB | H-D CV – DYNAJET KIT |
| IGNITION | H-D MODULE – CRANE COIL |
| PIPES | PAUL YAFFE |
| | |
| TRANSMISSION | |
| YEAR/TYPE | '04/H-D FIVE-SPEED |
| CASE | Black Wrinkle |
| GEARS | H-D |
| CLUTCH | H-D |
| PRIMARY DRIVE | Enclosed chain |
| | |
| FRAME/SUSPENSION | |
| YEAR/TYPE | '04/ATLAS RIGID |
| RAKE | 40 DEGREES |
| STRETCH | 2 OUT, 4 UP |
| SWINGARM | NONE |
| REAR SUSPENSION | RIGID |
| FORKS | PERSE WIDE GLIDE |
| TRIPLE-TREES | PERSE 5-DEGREE RAKE |
| EXTENSION | 8 OVER |
| | |
| WHEELS/TIRES/BRAKES | |
| WHEELS | |
| FRONT: | PM 21-INCH |
| REAR: | PM 18-INCH |
| TIRES | |
| FRONT: | AVON |
| REAR: | AVON {{{200}}} |
| BRAKES | |
| FRONT: | PM FOUR-PISTON |
| REAR: | PM FOUR-PISTON |
| | |
| FINISH | |
| PAINTER | MAD MIC KUSTOMZ |
| COLOR | HOUSE OF kOLOR RED, WHITE, AND BLUE |
| GRAPHICS | MAD MIC KUSTOMZ |
| | |
| ACCESSORIES | |
| BARS | ARLEN NESS |
| RISERS | ARLEN NESS |
| HAND CONTROLS | PM |
| HEADLIGHT | H-D |
| TAILLIGHT | NESS – MODIFIED |
| GAUGES | DAKOTA DIGITAL |
| ELECTRICAL | H-D – MODIFIED |
| FUEL TANK | INDEPENDENT GAS TANK -MODIFIED |
| OIL TANK | ATLAS – MODIFIED |
| FRONT FENDER | PAUL YAFFE – MODIFIED |
| REAR FENDER | JAMES VADNER |
| FENDER STRUTS | JAMES VADNER |
| FRAME PANELS | JAMES VADNER |
| PEGS | PERSE |
| FOOT CONTROLS | ARLEN NESS |
| SEAT PAN | JAMES VADNER |
| SEAT COVER | DANNY GRAY |