There's nothing better about working for Hot Bike than when I run into someone and they say, "Hey, did you see that really cool [insert model of bike]?" To which I say, "Which one?" Then they say, "The black one."
Having a solid black bike while wearing a black leather vest, jeans, and a half-helmet is the perfect combination for those who want to disappear in the crowd at any Harley event or rally. Not that there's anything wrong with black bikes or clothing, but it doesn't give much help to showcase one's individuality.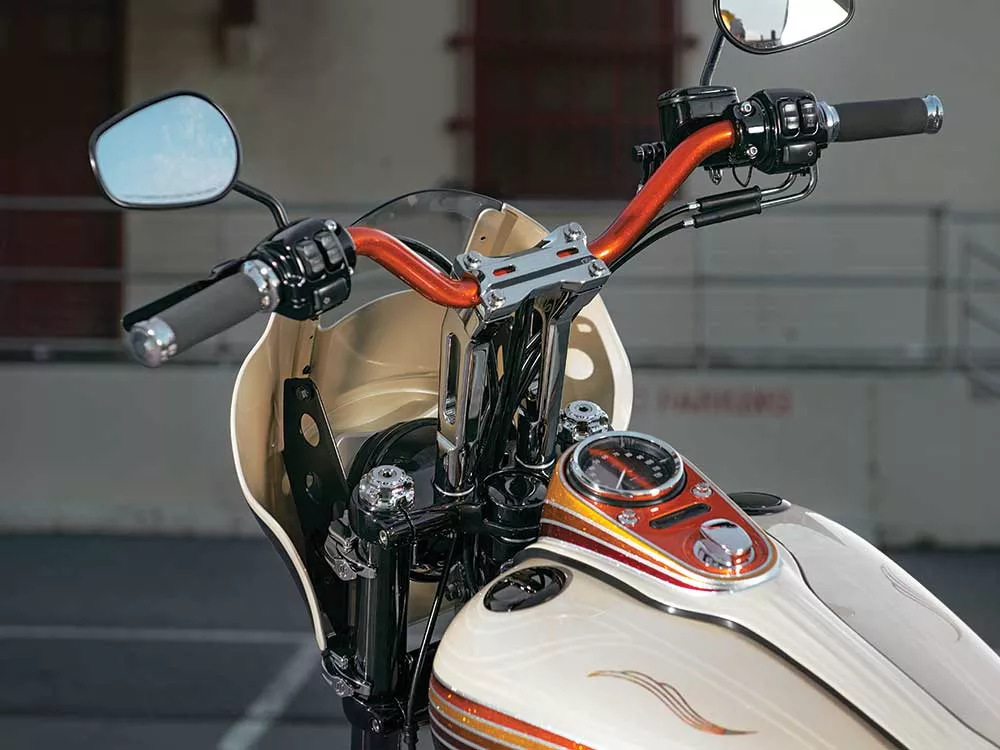 We've praised the workmanship that comes out of Big Al's Cycles in Petaluma, California, on several past features. Al Raposo is one of those guys who continues to pump out some amazing machines, each worthy of its own feature.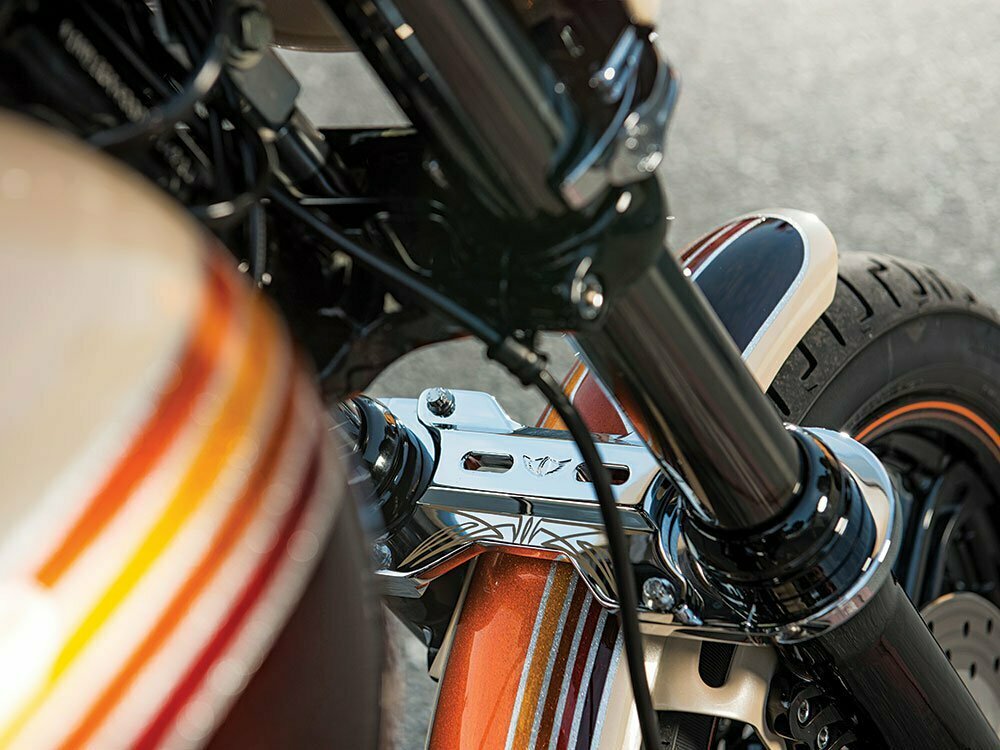 From there Al took over. First thing first, the 103-inch motor was sent over to Engine Dynamics (EDCO) to get freshened up with the good stuff from top to bottom. Then the 58mm S&S Throttle Body was mated with a Big Al's air cleaner finally huffing out into a 2-into-1 Thunderheader exhaust. A Rivera Pro Clutch helps push the power to the pavement via a Big Al's chain drive turning powdercoated H-D wheels. Power is nothing without control, and this elephant was made into an antelope thanks to the help of Works Performance.

With the old-school patterned paint jobs nearing the end of the lifecycle, Schultz came up with this retro surfer, 1980s OP clothing type of look based on a Chevy truck that Tim had seen. The result is clean, simple, and classy, and my guess is you'll be seeing copies of this appearing on the next generation of custom Dynas.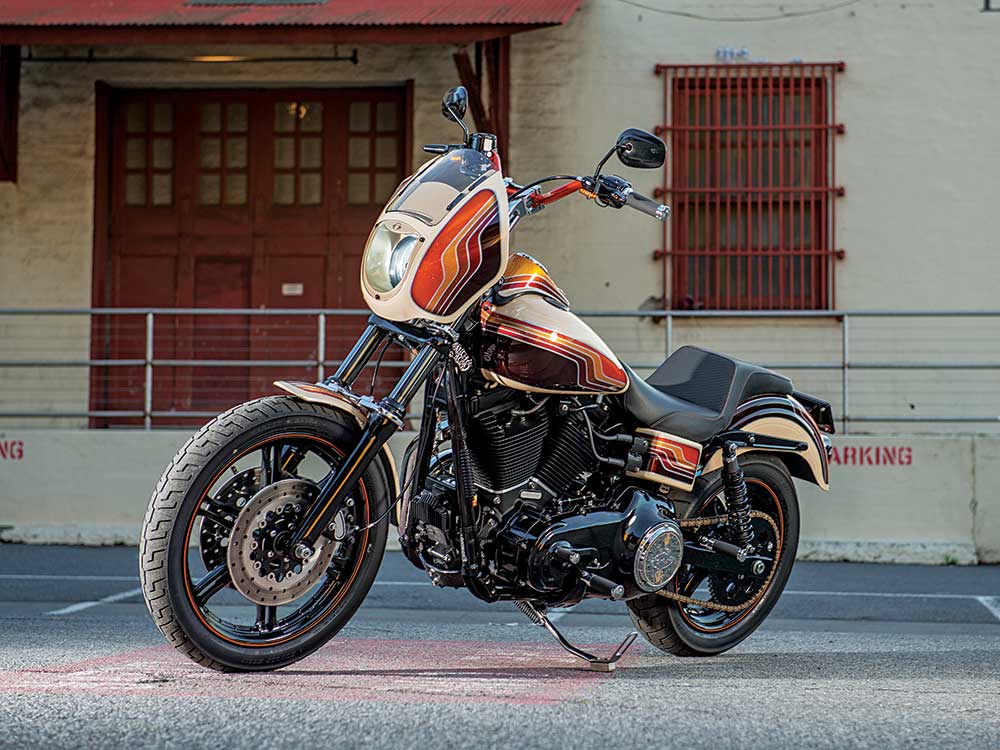 | Specifications | |
| --- | --- |
| General | |
| Owner: | Tim McCreedy |
| Shop: | Big Al's Cycles |
| Shop Phone: | (707) 586-2700 |
| Website: | bigalscycles.com |
| Year/Make/Model: | 2013/Harley-Davidson/Dyna |
| Fabrication: | Big Al's Cycles |
| Build Time: | 90 days |
| Engine | |
| Year/Type/Size: | 2013/H-D/103 in. |
| Builder: | Big Al's Cycles |
| Cases: | H-D |
| Cylinders: | EDCO Petaluma |
| Heads: | EDCO Petaluma |
| Rocker Boxes: | EDCO Petaluma |
| Cams: | Sharktooth grind |
| Throttle Body: | 58mm S&S |
| Air Cleaner: | Big Al's Cycles |
| EFI Controller: | TTS |
| Exhaust: | Thunderheader |
| Transmission | |
| Year/Type: | 6-speed |
| Gears: | H-D |
| Clutch: | Rivera Pro Clutch |
| Primary Drive: | Wet |
| Frame | |
| Year/Type: | 2013/H-D |
| Rake/Stretch: | Stock |
| Suspension | |
| Front End: | H-D |
| Length: | OEM |
| Triple Trees: | H-D |
| Swingarm: | H-D |
| Rear Shocks: | Works Performance |
| Wheels, Tires, and Brakes | |
| Front | |
| Builder/Size: | H-D/19 in. |
| Tire/Size: | Dunlop/19 in. |
| Calipers: | H-D |
| Rotors: | H-D |
| Rear | |
| Builder/Size: | H-D/16 in. |
| Tire/Size: | Dunlop/16 in. |
| Caliper: | H-D |
| Rotor | H-D |
| Chain Driven: | Big Al's Cycles |
| Finish/Paint | |
| Manufacturer: | House of Kolor |
| Colors: | Butternut Cream/Chevy truck style |
| Paint/Graphics: | Schultz Designs |
| Plating/Polishing: | Meclac |
| Powdercoating: | RS Performance |
| Accessories | |
| Front Fender: | H-D |
| Rear Fender: | H-D |
| Gas Tank: | H-D |
| Dash: | H-D |
| Gauges: | H-D |
| Handlebars: | Big Al's Cycles Buddy Low Bar |
| Grips: | PM |
| Mirrors: | H-D |
| Hand Controls: | H-D |
| Foot Controls: | H-D |
| Headlight: | H-D |
| Taillight: | Smoked |
| Seat: | Big Al's Gripper |
| Stereo: | iPhone |