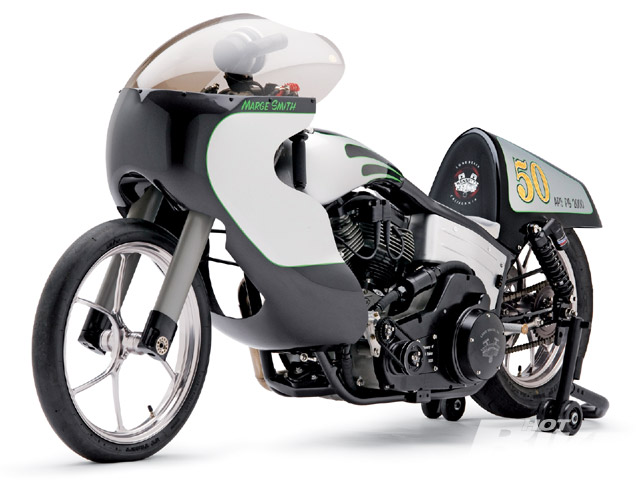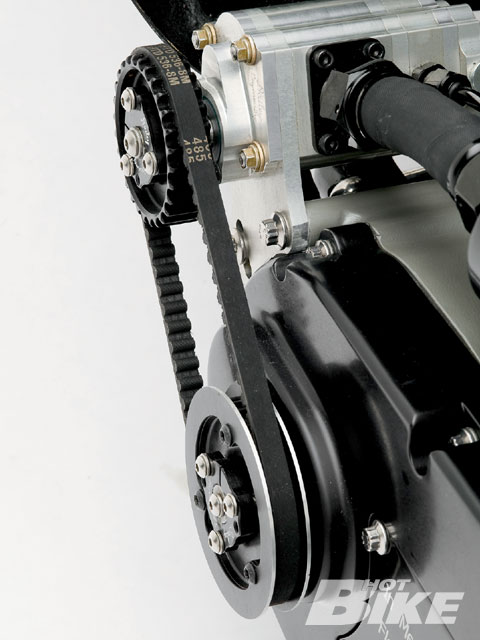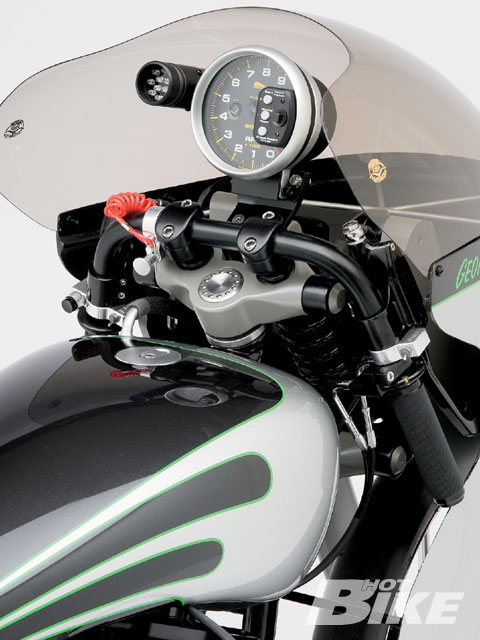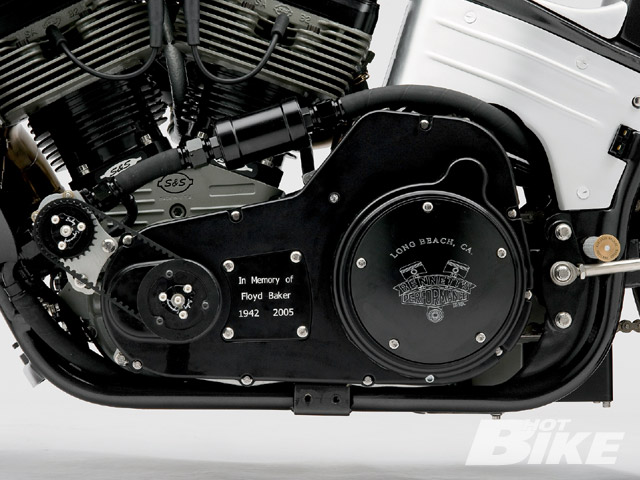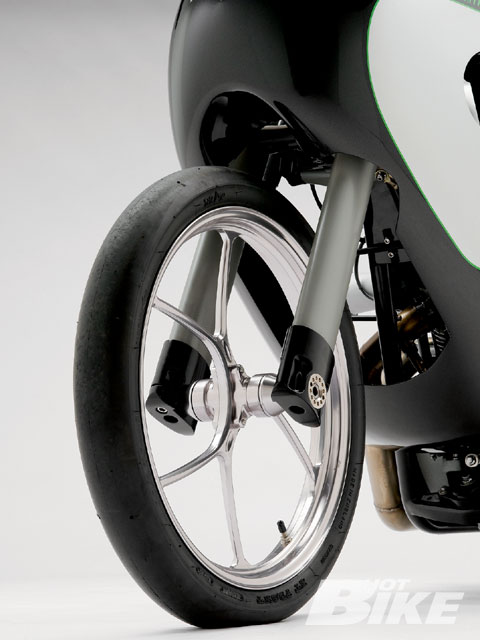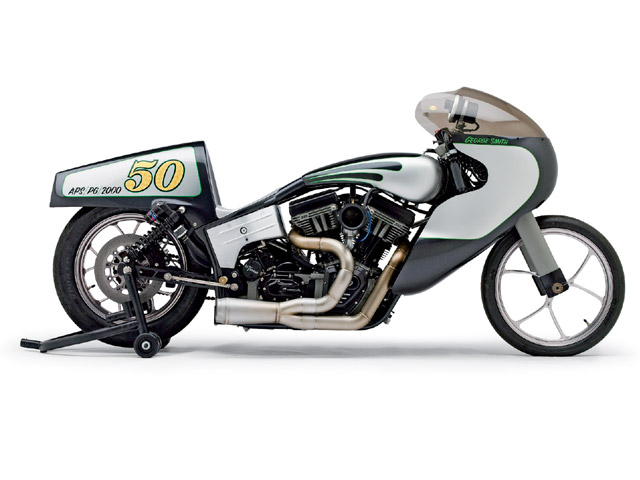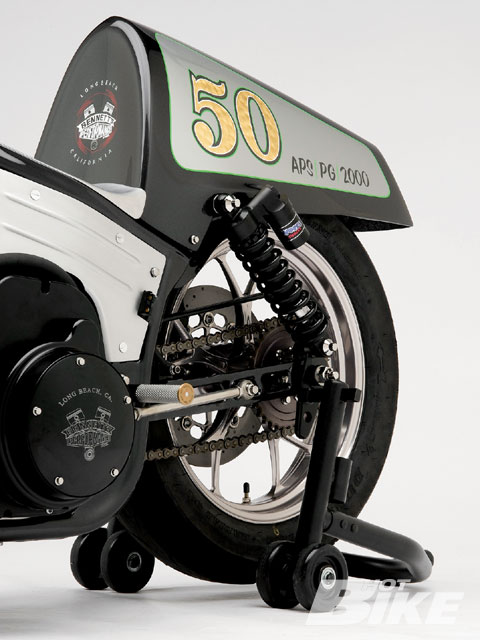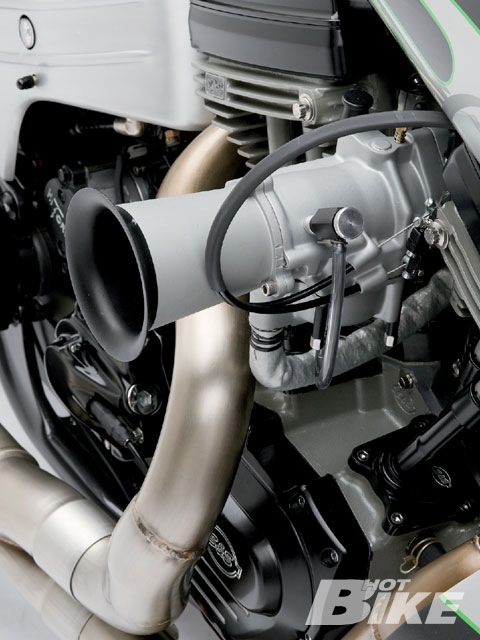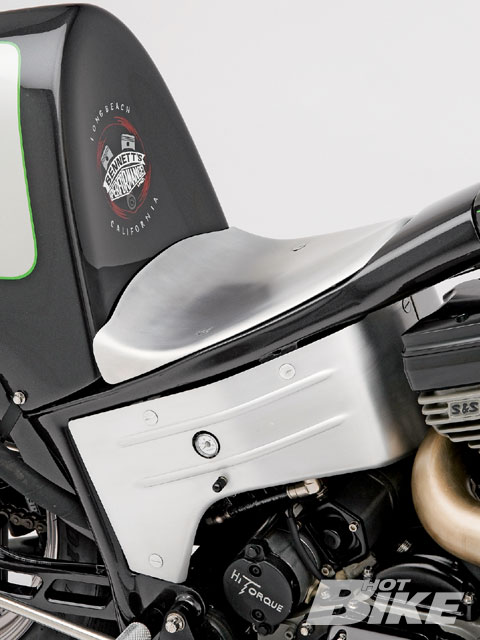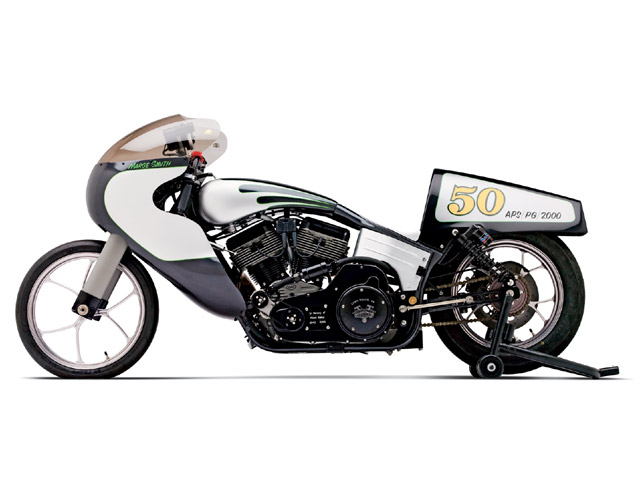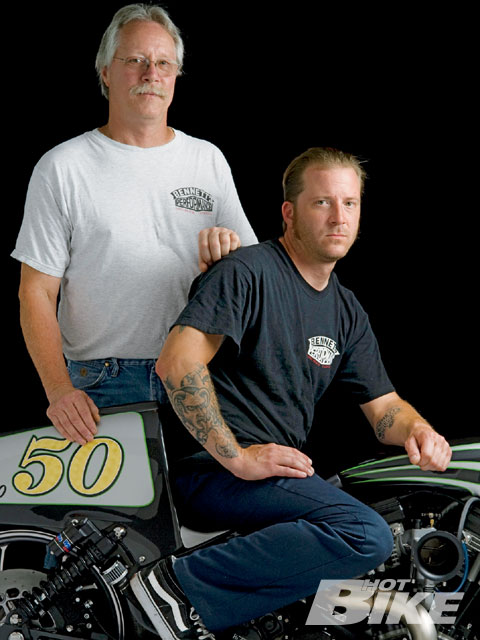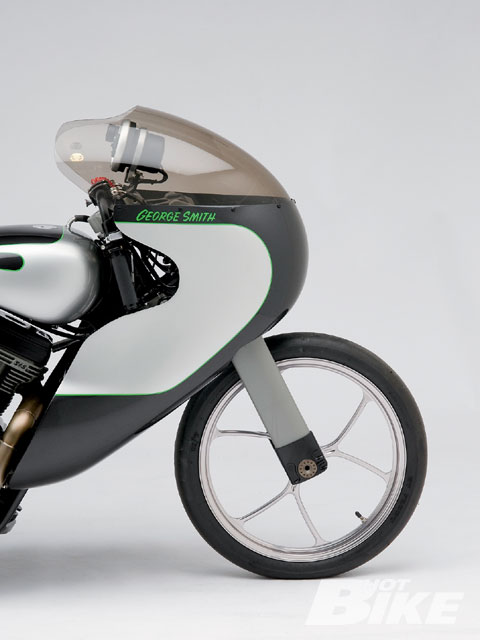 Bennett's PerformanceWe all know that with the right timing good things can come our way. Case in point: S&S; Cycle in LaCrosse, Wisconsin, was celebrating its 50th anniversary in business and wanted to find a way to show off years of service. S&S; came up with an idea to have 50 builders from around the world build a bike using one of its engine platforms. Each builder would utilize an S&S; engine and build a bike that fit them (their shop) and their style. So when the call came in to Bob and Eric of Bennett's Performance in Signal Hill, California, they were a bit shocked. Not because they were picked to be part of the 50th anniversary, they use and like the S&S; line of parts and motors, but they build performance motors and not too many bikes. Never the less, timing is everything, especially in racing.
That phone call I was talking about was from Communications Manager Howard Kelly of S&S; Cycle. Howard was inquiring as to whether or not Bennett's Performance would be interested in being one of the 50 builders for the S&S; Cycle 50th anniversary celebration. Howard went on to say that top bike builders from around the world would be participating.
Bob's first response was "Why call us, you know we don't build bikes?" Howard responded by saying " I know, but Bennett's Performance has a reputation for building fast and reliable engines, so why don't you think about building a bike that represents what you do so well."
Bob told Howard that he would think about it and talk it over with his son and business partner, Eric. After much discussion between Bob and Eric a decision was made: They decided to build another Bonneville land-speed bike in the 2000cc class. They already hold three land-speed records in the 1650cc pushrod gas class at Bonneville in both AMA and STCA sanctioned events, so it only seemed logical that if they were going to build a bike, why not build something that not only represents S&S; history, but could also be used for something they enjoy doing.
The next step was choosing an S&S; engine. They decided on the 126ci TCSA engine, which is 2065 cc, too large for the 2000cc class; the solution, de-stroke it with a 4-inch crank. This along with the 4.375 bore makes the engine 120.26 ci or 1970 cc, which places the bike in the top part of the 2000cc class.
To cut expenses Bennett's used an existing Kenny Boyce Pro Street chassis that was from a custom bike Bob had built in 1998 and had been collecting dust for a few years. A Chopper Guys billet steel swingarm was added not only for good looks but also for the added weight it offers. If the engine made the horsepower, they were expecting the extra weight would be required to help prevent wheel spin on the salt at top speed.
Next came the front fork assembly and suspension. After some research an RMD billet airfoil-style Girder fork assembly was chosen for the front. The forks are shaped like an airplane wing, which helps the bike cut through the air with less drag. Work's Performance provided the shock package for the rear. To make the chassis a roller, Performance Machine was contacted; they provided the 18-inch rear and 17-inch front wheels, rear brake caliper, master cylinders for the brakes and hydraulic clutch as well as the hand controls. Lyndall Racing Brakes sent out its Apex Performance rear brake rotor and a set of its Gold Plus brake pads for the added stopping power required to slow things down from the 200 mph mark the Bennetts were expecting to hit. A Dunlop ZR rated 18-inch rear and Mickey Thompson 17-inch front tires were fitted to the wheels then shipped to Nate Jone's tire service to have half the tread shaved off, the wheels balanced and filled with nitrogen. "Shaving the tires increases the speed rating of the tire by 50 mph and the nitrogen is dryer than air and doesn't expand or create more tire pressure as the heat of the tire increases," Bob said.
Next, they needed some body work for streamlining so they called Kent Richie of Air Tech in Vista, California, and told him about the project and how they wanted to streamline the bike and yet show off as much of the engine and driveline as possible for the S&S; anniversary bike show. Kent said he could help with that, but he would need to see the bike as a roller to get some ideas and match the bodywork to fit what they were developing.
The Bennetts were pleasantly surprised when they arrived at Air Tech, not only to see the facility, but the hundreds of plugs and molds they had available to choose from. Kent took some measurements, walked into his shop and came out with a Can-Am fairing that they could cut and modify and eventually use on the bike. Kent then measured the seat and tail section area and showed Bob a mold he thought would work with little modifications to the bike. With the rolling chassis well on its way, Eric and Bob needed to get back to set up the drivetrain.
As mentioned prior, the engine is an S&S; 126ci TCSA engine available through G2 Motor Sports/Star Racing in Americus, Georgia. The Bennetts purchased a 4-inch stroke flywheel assembly from G2 with the pinion and sprocket shafts pressed and welded in place for added strength, then had 4 3/8 inch bore iron cylinders made to their specifications by Axtell Sales. To get the compression ratio of 16.1:1 they were looking for, a call to Victory Valves was placed and they had titanium valves made with flat valve faces to not only give them a much lighter valve train but also decrease the cylinder head volume by 8cc in each head. Next, Terry Stewart of Shaker Products who represents CP pistons took down all the critical information he needed, and picked up the cylinder heads to have them colorized, a process used to reverse engineer the piston dome and valve relief. Terry came back four weeks later with the finished product. End result, 16.1:1 static compression.
The heads were taken next door to Branch/O'Keefe Cylinder Heads where John O'Keefe removed the iron valve guides, ported and polished the heads, installed new bronze valve guides and new titanium valves. The heads were flow tested at 12 inches of water and flowed over 213 CFM at .800 valve lift.
Knowing the cylinder head flow rate, they had Cycle Rama grind some cams. With the combination of cam lift and rocker arm ratio, they ended up with .805 lift on the intake and .760 lift on the exhaust. This along with everything together the Bennetts figured the bike should hit and surpass their expectation of 200 mph.
Once the bike was all done and before it would ever see any salt it made its way to LaCrosse, Wisconsin. First to be part of the top 50 world-class builder show then judged in the T-Series class. The Bennetts took home First place bragging rights for their class. The bike was well received and as the bike came off the truck, Howard had said "This was exactly what we expected to see from you guys, hope it's as fast as it looks."
Once the bike did get out to the salt, on the first few passes the bike was running great, but there was a small wobble in the bars at around 157 mph, so to play it safe Eric backed off and pitted the bike. By the time this hits newsstands, the Bennetts will have the bike fixed and back out in the salt hoping to hit the 200mph mark.
Special Thanks To: Gard Hollinger, LA County Chop Rods, Mike "Fancy Pants" Hardin, Mark "Semericle" Etheridge, WPC Treatments, Performance Machine.
| | |
| --- | --- |
| SPEC SHEET | |
| BIKE OWNER | Bennett's Performance Inc. |
| SHOP NAME | Bennett's Performance Inc. |
| SHOP PHONE | (562) 498-1819 |
| SHOP WEBSITE | bennettsperformanceinc.com |
| YEAR/MAKE/MODEL | '08 /SPC/Race Bike |
| FABRICATION | Bennett's Performance Inc. |
| ASSEMBLY | Bennett's Performance Inc. |
| BUILD TIME | 8 months |
| | |
| --- | --- |
| ENGINE | |
| MANUFACTURER | S&S; |
| YEAR | G2/'08 |
| TYPE/SIZE | Twin Cam/120ci |
| BUILDER | Bennett's Performance Inc. |
| CASES | S&S; |
| CYLINDERS | Bennett's Performance Inc. /Axtell Sales |
| HEADS | S&S; B2 |
| ROCKER BOXES | S&S; |
| CARBURETOR/EFI | S&S; Bored Super D |
| AIR CLEANER | None |
| EXHAUST | Burns Stainless /Bennett's Performance Inc. |
| | |
| --- | --- |
| TRANSMISSION | |
| YEAR/MANUFACTURER/TYPE | '05 / H-DSix Speed |
| CASE | H-D |
| CLUTCH | Rivera Primo Pro Clutch with Lock up |
| PRIMARY DRIVE | Evolution Industries |
| | |
| --- | --- |
| FRAME | |
| YEAR/MANUFACTURER | Kenny BoycePro Street / Dr. John |
| RAKE | 36 degrees |
| STRETCH | 2-Inch |
| | |
| --- | --- |
| SUSPENSION | |
| MANUFACTURER FRONT | RMD Billet /Works Performance Shock |
| LENGTH | Stock |
| TRIPLE TREES | RMD Billet |
| MANUFACTURER REAR | Works Performance |
| SWINGARM | Chopper Guys |
| | |
| --- | --- |
| WHEELS, TIRES, AND BRAKES | |
| MANUFACTURER FRONT/TYPE | Performance Machine |
| SIZE-WIDTH/HEIGHT | 18×3 |
| TIRE/SIZE | Mickey Thompson |
| MANUFACTURER REAR/TYPE | Performance Machine |
| SIZE-WIDTH/HEIGHT | 17×4.25 |
| TIRE/SIZE | Dunlop 140/{{{80}}}/17 |
| CALIPER | Performance Machine |
| ROTOR | Lyndall Racing Brakes |
| | |
| --- | --- |
| FINISH/PAINT | |
| COLOR | Mercedes Metallic Gray / Silver |
| PAINTER | Jon's Body Shop, Long Beach Ca. |
| GRAPHICS | Bob Iverson / Dan Harvil |
| ANODIZING | Danco |
| POWDERCOAT | Specialized Coatings |
| | |
| --- | --- |
| ACCESSORIES | |
| REAR TAIL SECTION | Air Tech |
| FRONT FARING | Air Tech |
| GAS TANK∩ | Fat Katz |
| OIL TANK | H-D |
| HARDWARE/FASTNERS | ARP |
| GAUGES | Autometer |
| HANDLEBARS | Sante Fe Bending |
| RISERS | Todd's Cycle |
| HAND CONTROLS | Performance Machine |
| FOOT CONTROLS | Pingel Air Shift |
| FOOTPEGS | Kelly McKernan |
| SEAT | LA County Chop Rods |