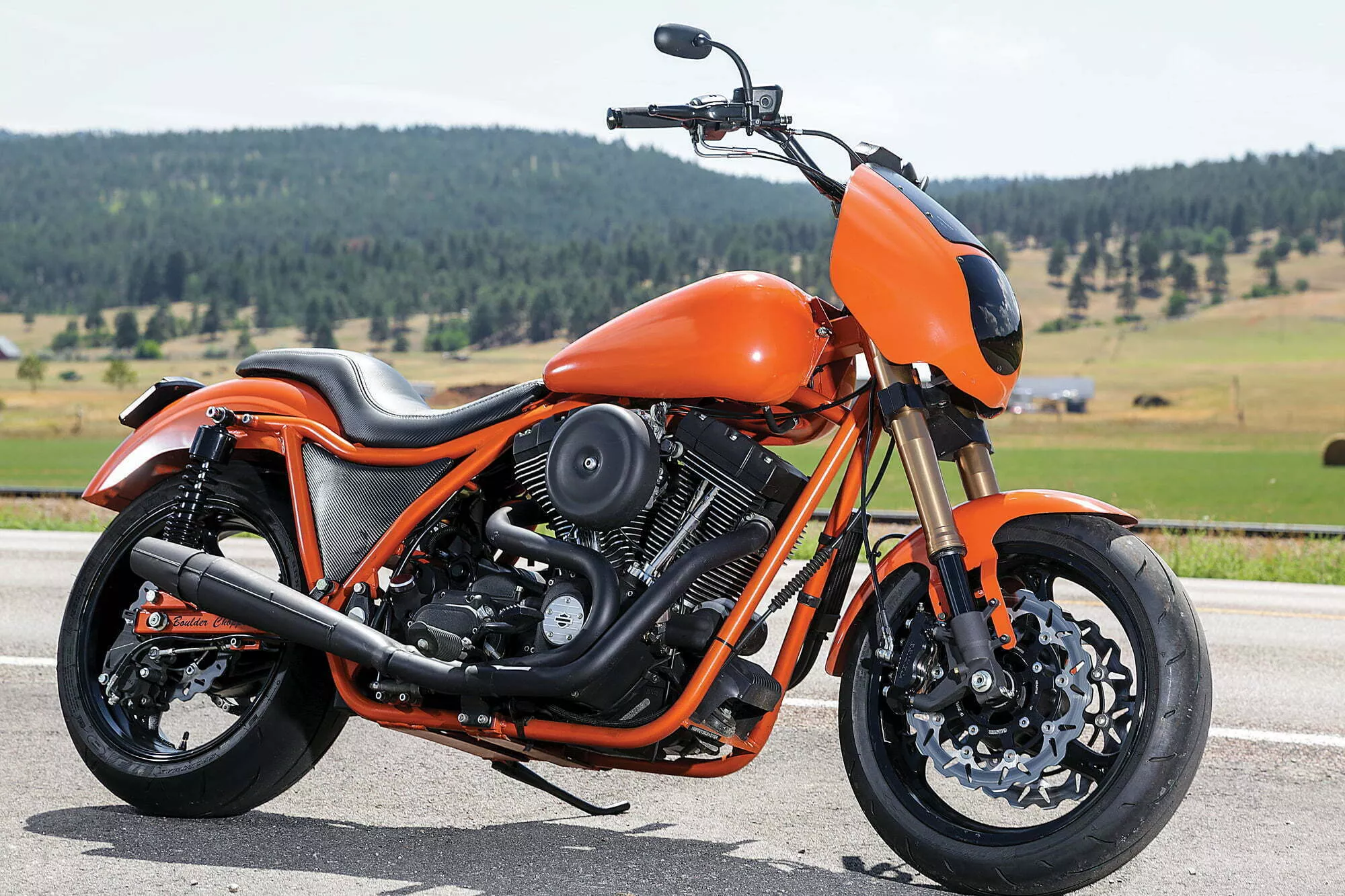 Hot Bike: This bike doesn't look like any we have seen.
Where did the frame come from?
**Boulder Choppers: **It started out that I wanted to build my own FXR frame. After reverse engineering a stock frame and figuring it out, I was able to build it.
HB: What about the rest of the drivetrain?
BC: I decided to see what else I had in the shop to build off the new frame with. Luckily, sitting in the shop was a 2000 FLH that was having EFI problems. I said to myself, "Self! Take that piece apart and use that on the FXR then part out the rest to fund it!"
HB: Those forks and wheels don't look H-D. Where did they come from?
BC: I've always been a fan of performance Japanese bikes, so I decided to incorporate some of that into the bike. I got my hands on a stock Suzuki Hayabusa. From that bike I used the front end, wheels, and calipers. I fabricated 1-1/2-inch trees to fit the Hayabusa front end to the FXR frame.
HB: How did you get the rear to work?
BC:** I took the stock Hayabusa axle and cut it to 10-3/4 inches to fit inside the swingarm. Then I honed it out to 3/4-inch to fit a stock Harley axle.
**
HB: What about the bodywork?
BC: I searched around the shop to see what old stock tins I had lying around. I started modding them to fit the FXR frame. When it came to the paint, I went with Orange (Genesis 9:13). That's one color of that I don't have a bike with yet.
HB: **Great-looking bike. Anything else?
**BC: Now that it's all finished, we name every bike we build. This one is named "Sinbad" after my sister-in-law who passed away from cancer. Her real name was Cynthia Cummings. HB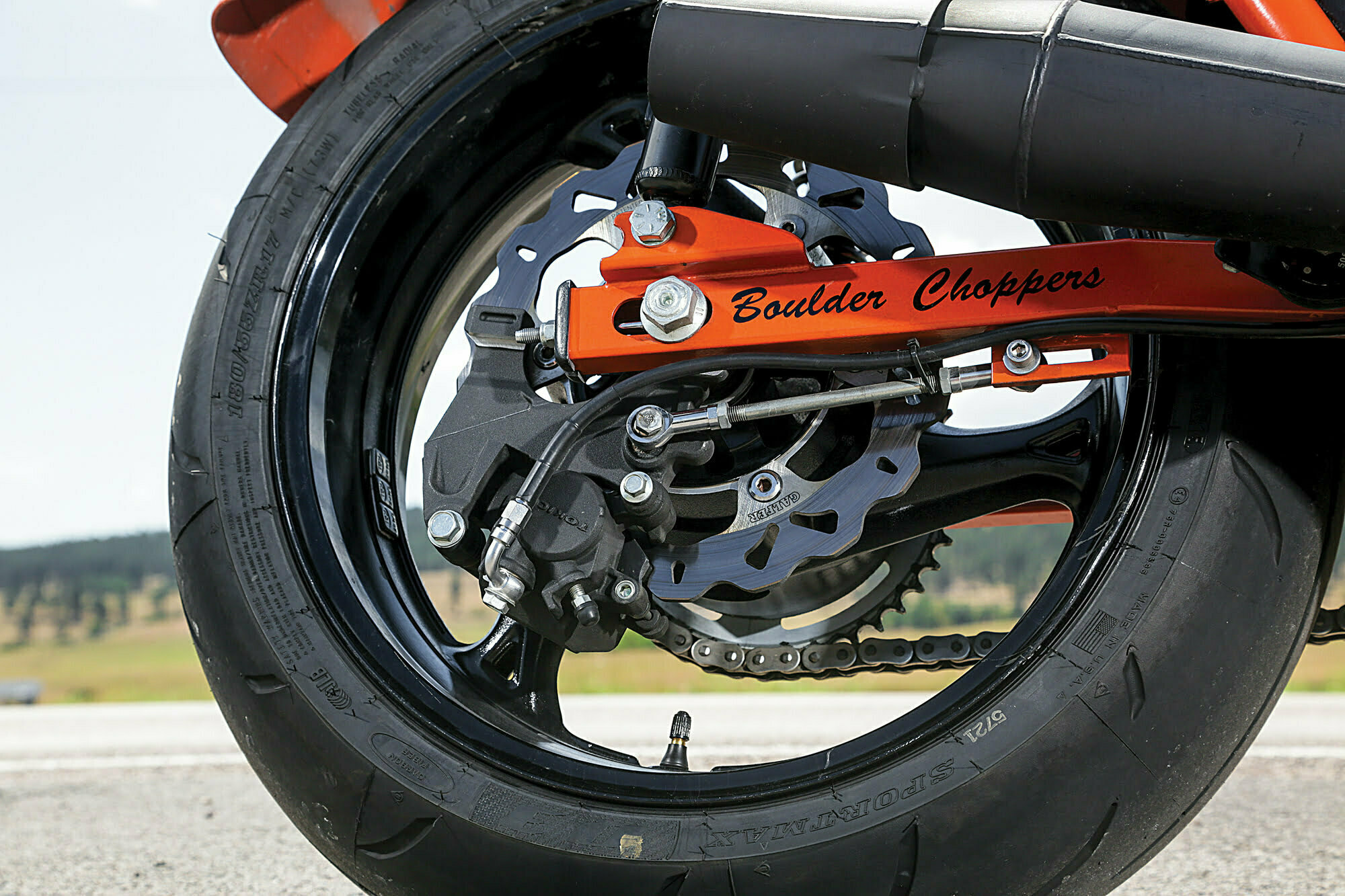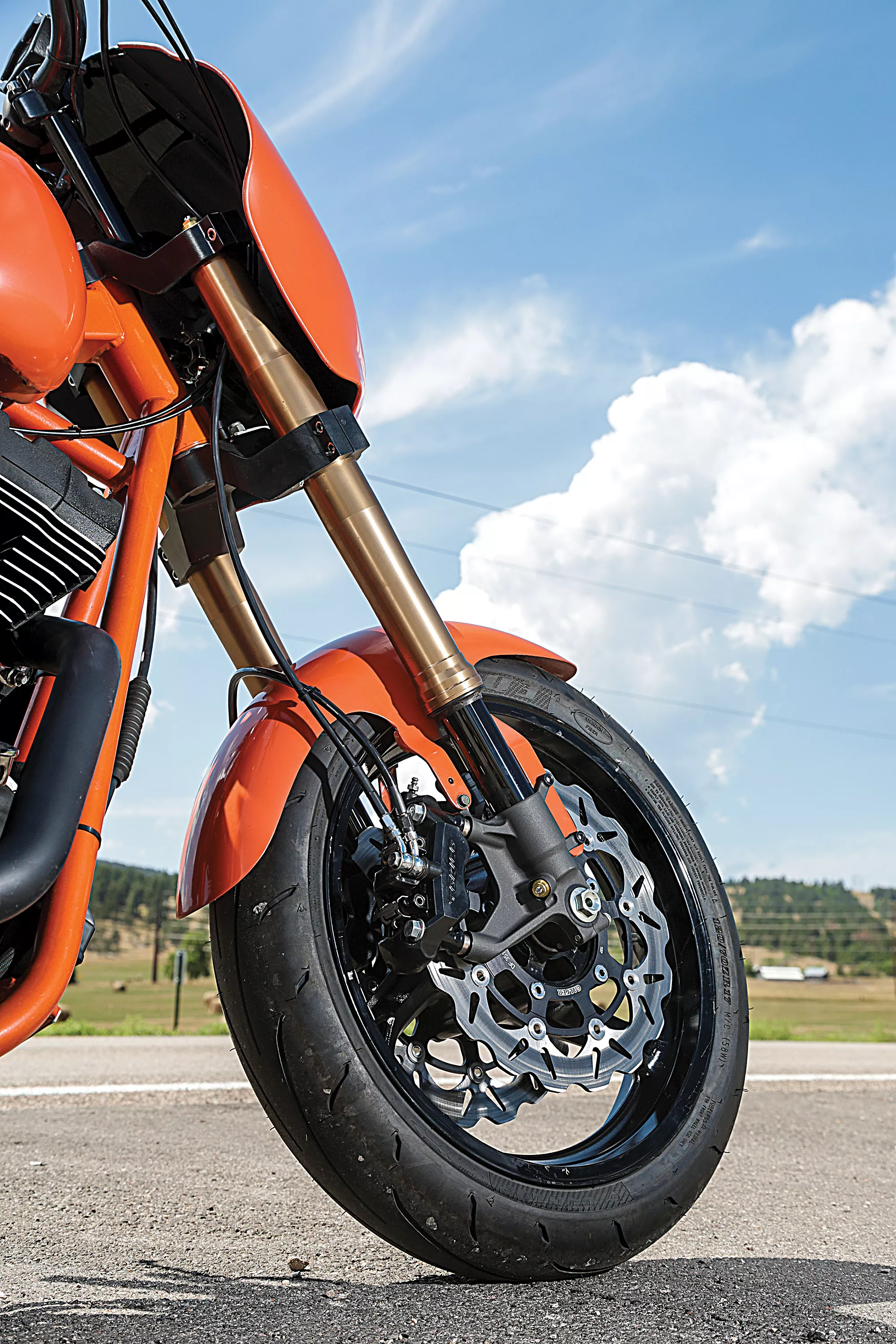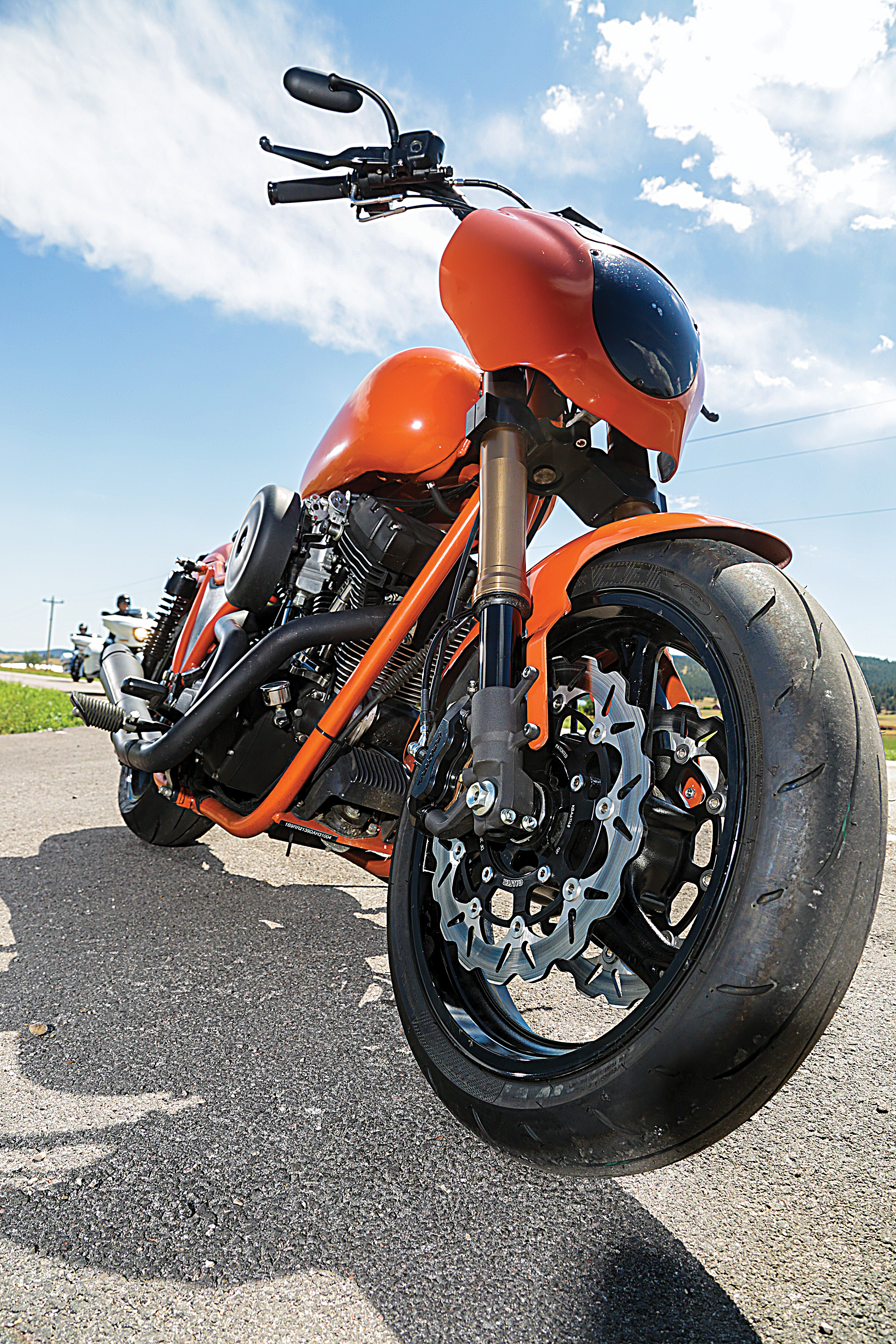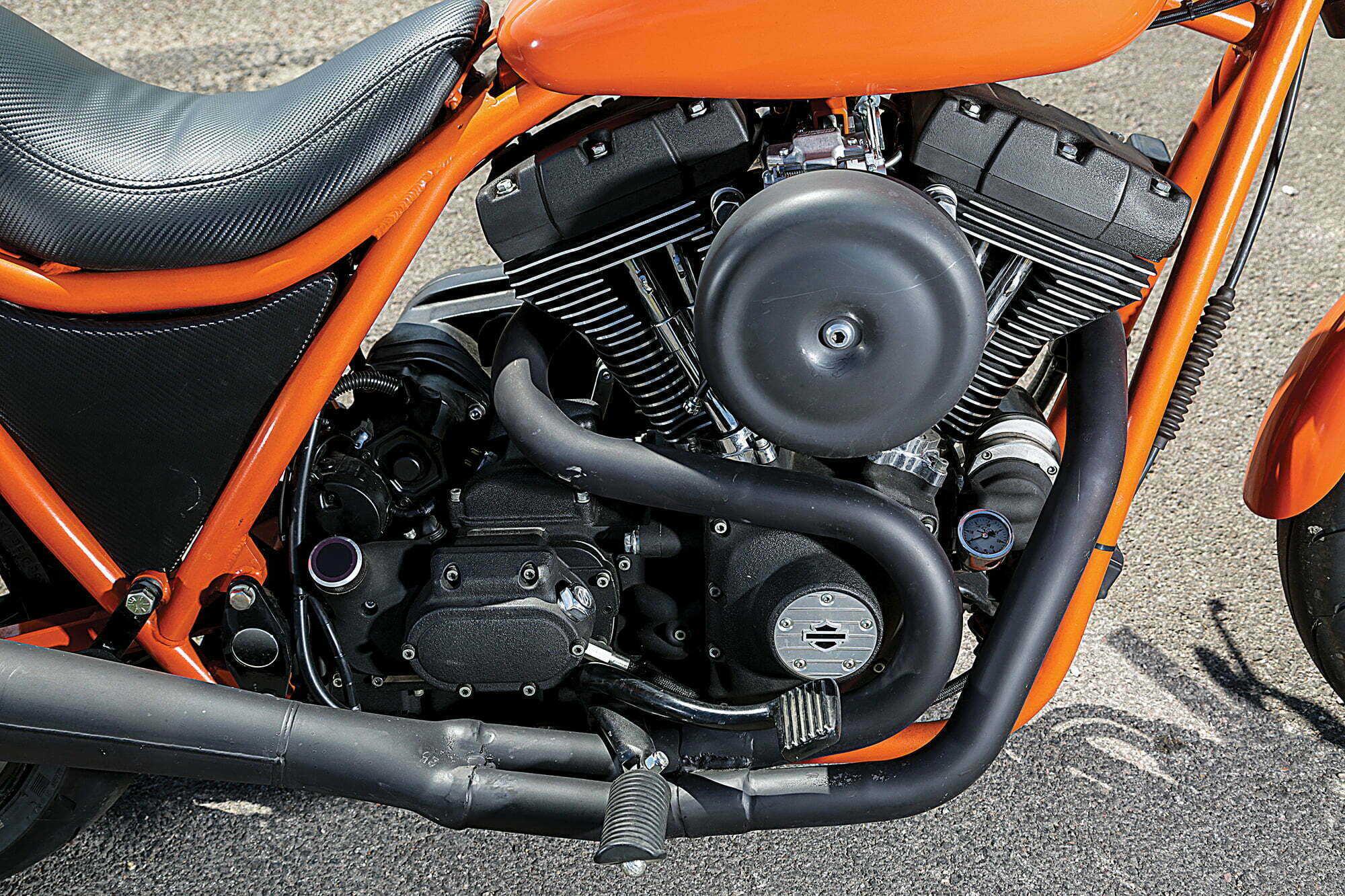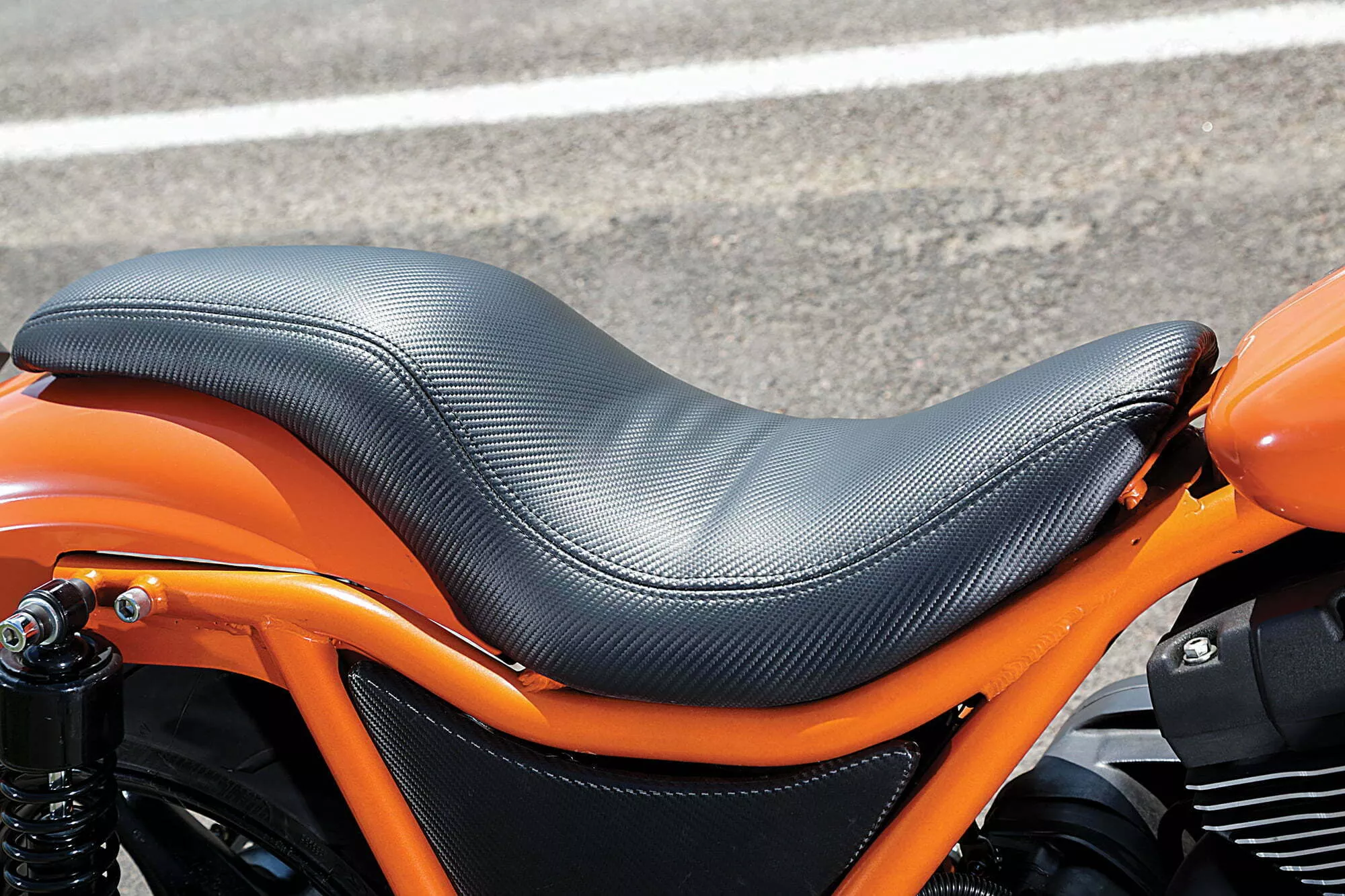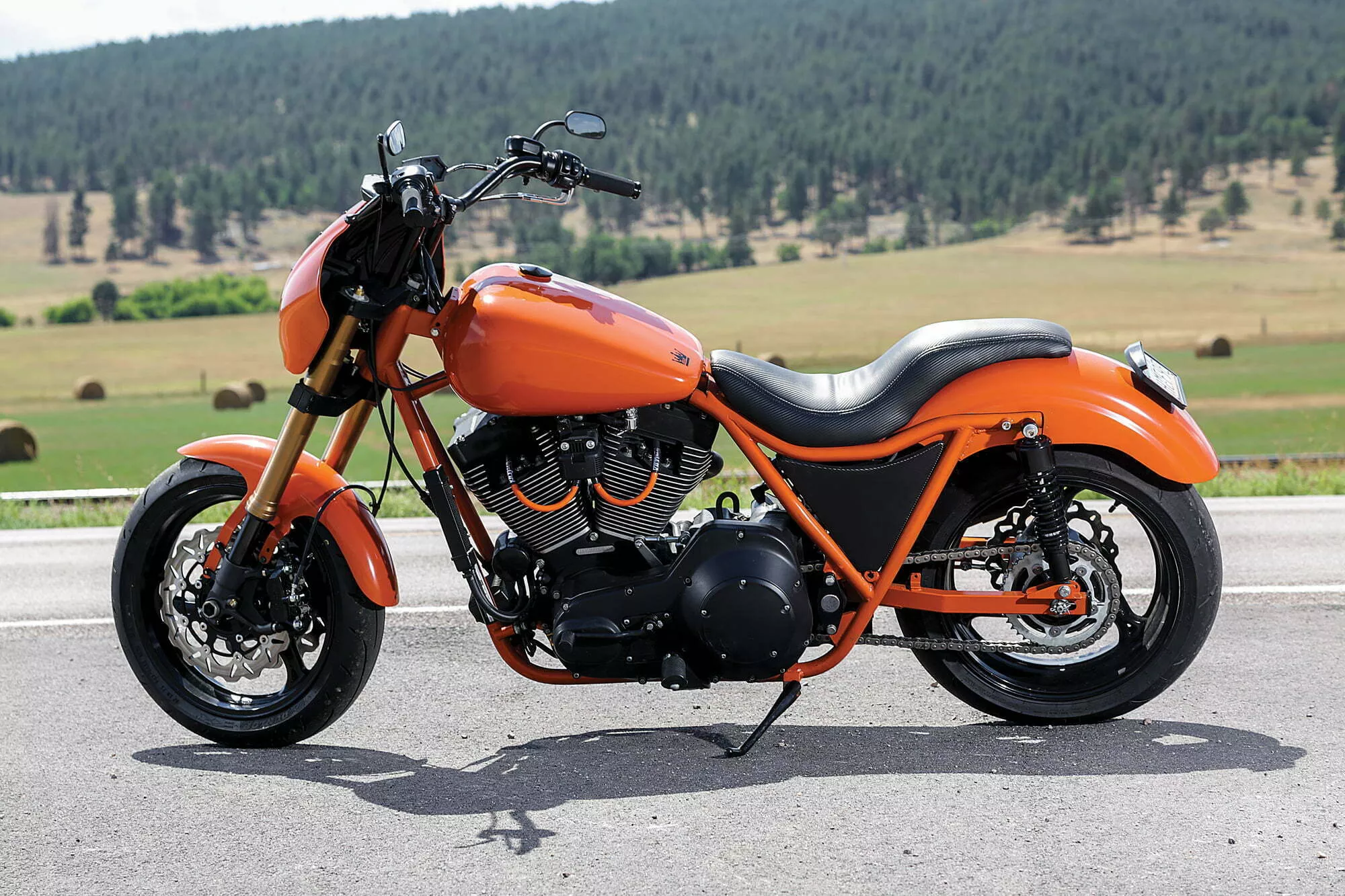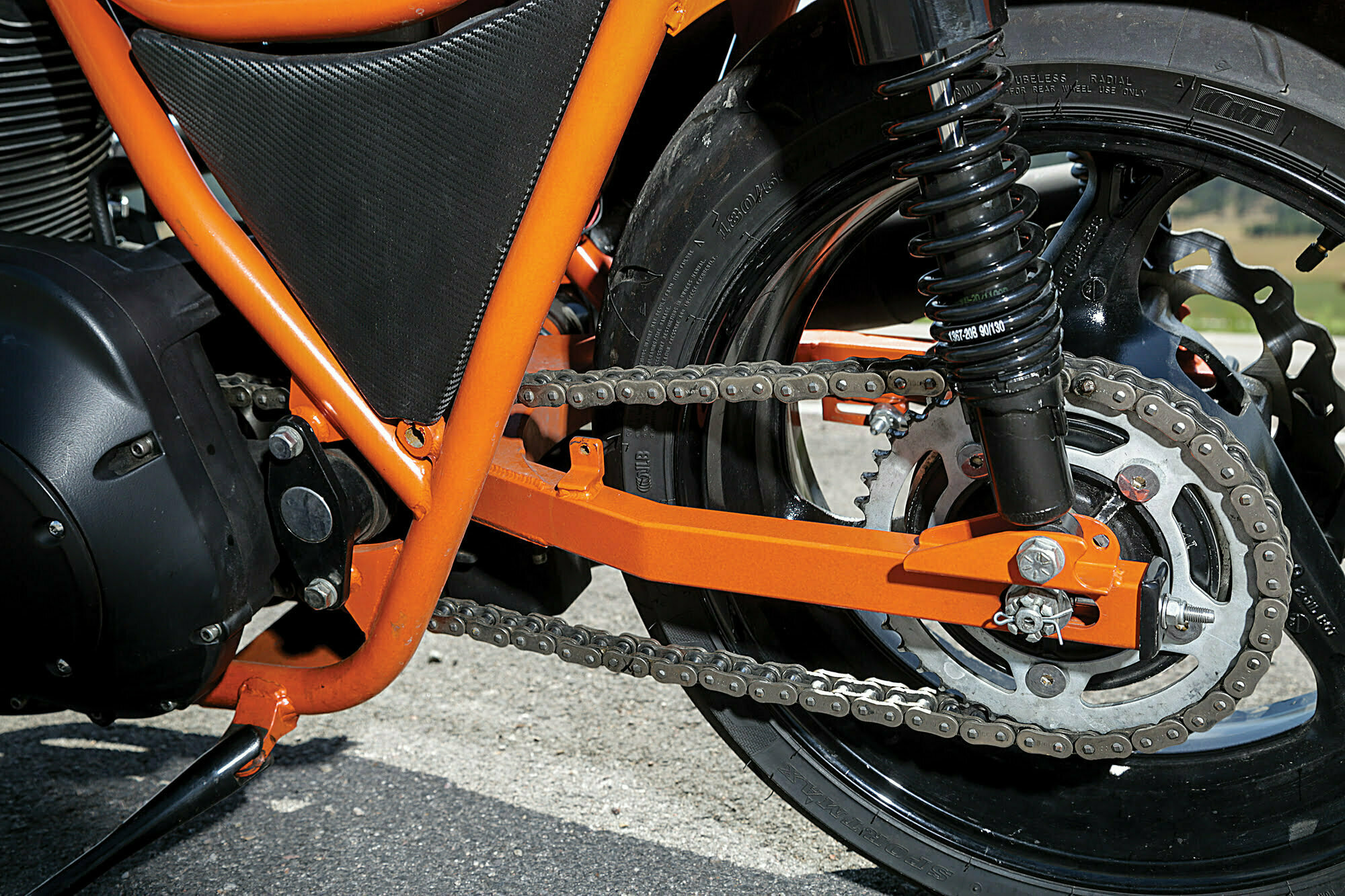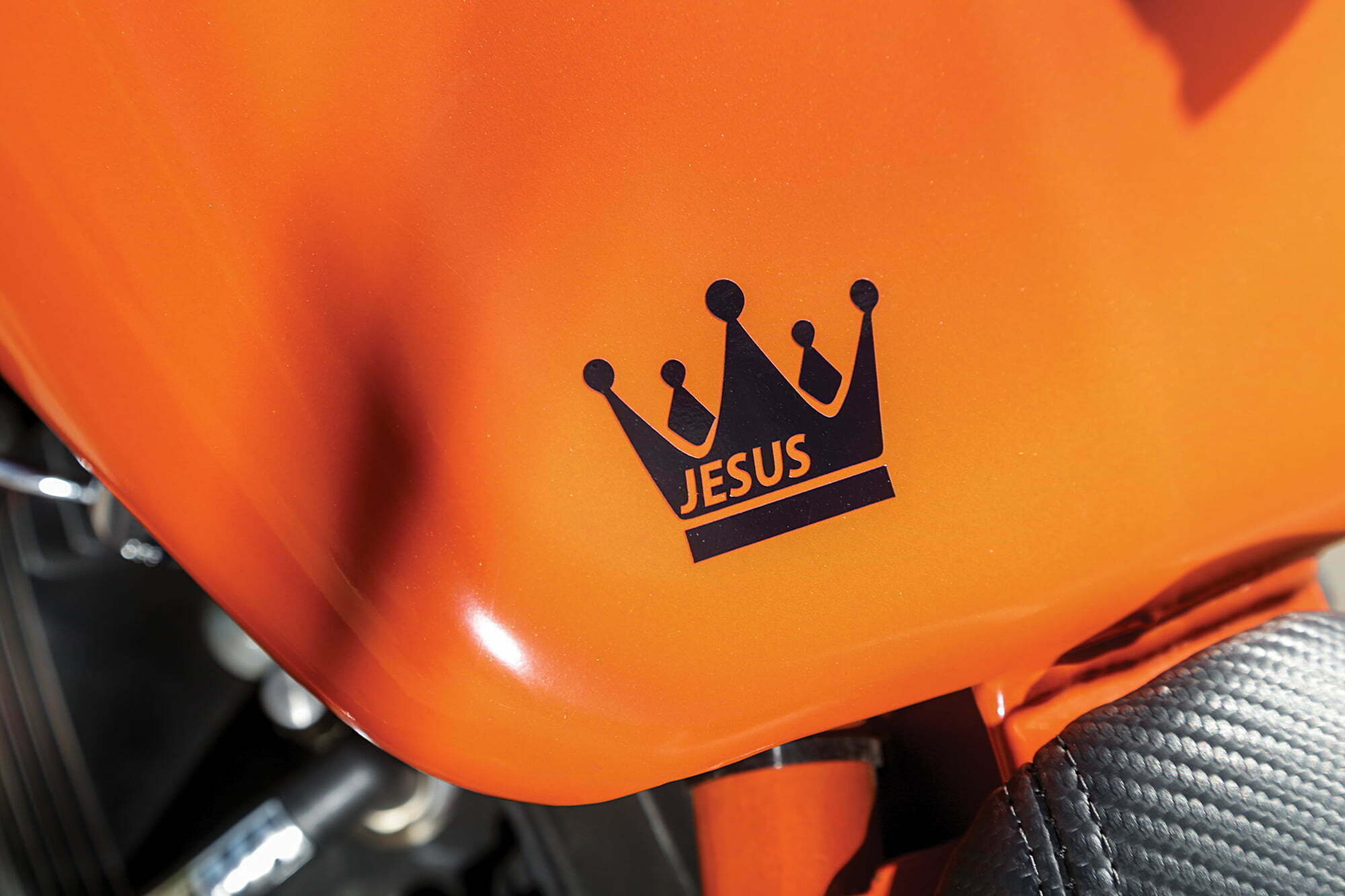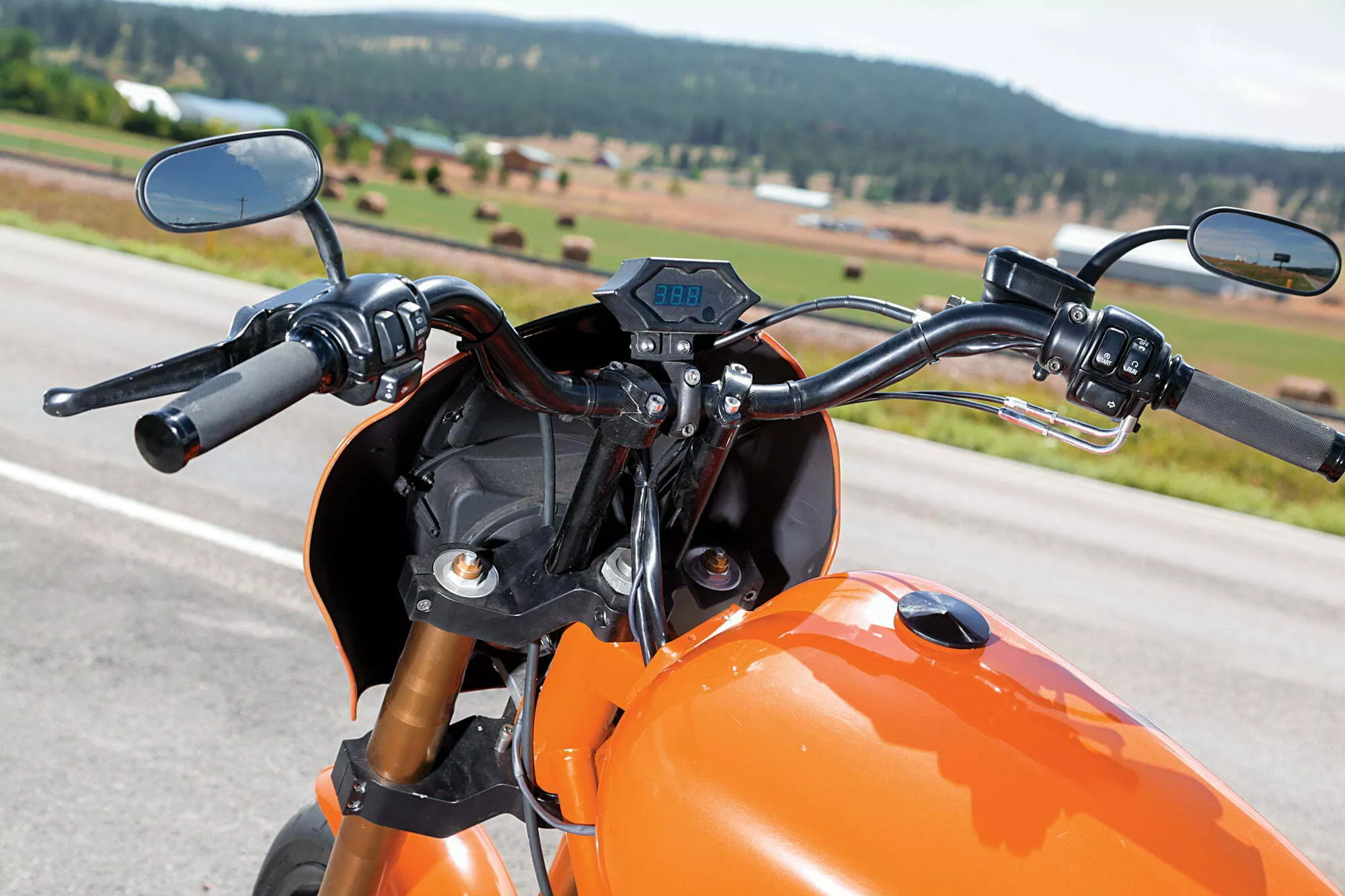 | Specifications | |
| --- | --- |
| Owner | Kenny Piefer |
| Shop | Boulder Choppers |
| Shop Phone | (702) 558-2242 |
| Website | boulderchoppers.com |
| Year/Make/Model | 2013/Harley-Davidson/FXR-BC |
| Fabrication | Boulder Choppers FXR frame |
| Build Time | 60 days |
| Engine | |
| Year/Type/Size | 2000/H-D/1550 |
| Builder | Kenny Piefer |
| Cases | H-D |
| Cylinders | 95 in. |
| Heads | Ported and polished |
| Rocker Boxes | Black H-D |
| Cams | 585 S&S carburetor 48 Mikuni |
| Air Cleaner | Big Sucker |
| Exhaust | Thunder Header |
| Transmission | |
| Year/Type | 2000/H-D |
| Gears | 5-speed |
| Clutch | Barnett |
| Primary | Drive H-D |
| Frame | |
| Year/Type | 2013/Boulder Choppers |
| Rake/Stretch | Stock |
| Suspension | |
| Front End | 2012/Suzuki Hayabusa |
| Length | Stock |
| Triple Trees | Boulder Choppers |
| Swingarm | Boulder Choppers |
| Rear Shocks | 13-in. Progressive |
| Wheels, Tires, and Brakes | |
| Front | |
| Builder/Size | Hayabusa/17 in. |
| Tire/Size | 17 x 130 |
| Calipers | Hayabusa |
| Rotors | Galfer |
| Rear | |
| Builder/Size | Hayabusa/17 x 6 in. |
| Tire/Size | 17 x 190 |
| Caliper | Hayabusa |
| Rotor | Galfer |
| Finish/Paint | |
| Colors | Orange |
| Paint/Graphics | Darrin Guidi |
| Powdercoating | AR Ornamental Iron |
| Accessories | |
| Front Fender | Boulder Choppers |
| Rear Fender | Boulder Choppers |
| Gas Tank | FXR Low Rider |
| Gauges | Wire Plus |
| Handlebars | Super Bars |
| Grips | Performance Machine |
| Mirrors | H-D |
| Hand Controls | H-D |
| Foot Controls | FXD |
| Headlight | 5-3/4 in. |
| Taillight | Red |
| License Mount | Boulder Choppers |
| Seat | Boulder Choppers |