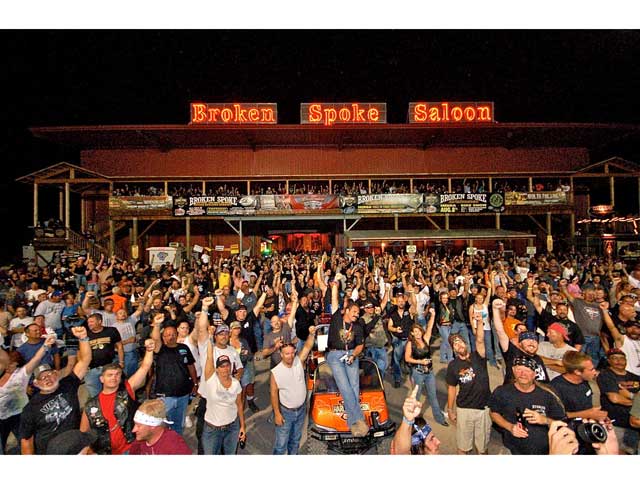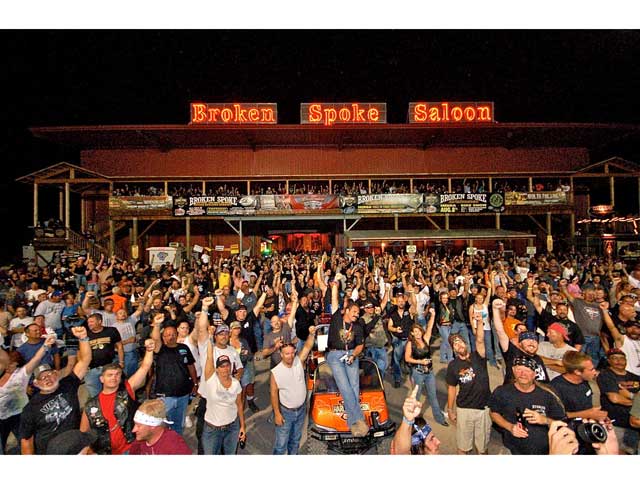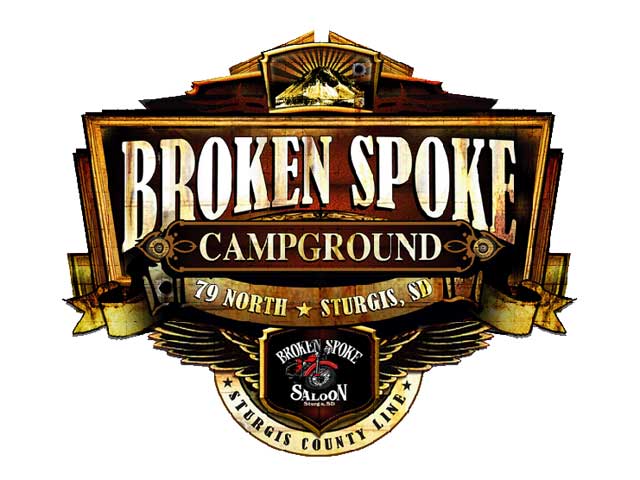 (Sturgis, SD — July 11, 2011) The Broken Spoke Saloon has announced the full 2011 concert line-up for the Broken Spoke Campground for their three stages during the legendary Sturgis Motorcycle Rally. Top national entertainment will feature the Little River Band (August 7), .38 Special (August 8), Foghat (August 9) and Firehouse (August 10), all on the Outdoor Concert Stage.
In addition to the action on the Outdoor Concert Stage, the Broken Spoke Campground will be providing entertainment throughout the entire rally by artists including Jasmine Cain, Laura Lynn & Lucas Hoge, Farrell Webber Band and tribute bands Houses of the Holy (Led Zeppelin), Seven Bridges Road (The Eagles), Last Child (Aerosmith), Paradise City (Guns 'n Roses) and many more. A full schedule of concerts and events can be found at: www.BrokenSpokeCampground.com. The Broken Spoke Campground is located on Highway 79 North, just past Bear Butte State Park in Sturgis, South Dakota. Cost for the headline entertainment at the Broken Spoke Campground is FREE for campers and $10.00 admission after 6:00 p.m. for non-campers.
The Broken Spoke Campground is wall-to-wall entertainment for the entire 71st Annual Sturgis Motorcycle Rally. Not only does the Broken Spoke Campground have the very nicest camping and amenities in all of Sturgis, but it give campers and guests festivities such as the World's Biggest Biker Pool with Hot Tubs & Tiki Bar, the IMBBA Bike Show and Hall of Fame Awards, daily shows from America's Original Wall of Death, a Free Spoke to Spoke Shuttle, the Wall That Heals Replica Vietnam Veterans Wall, daily Tattoo contests, Beach Party Happy Hour at 4pm, the Spoke After Dark dance club, on-site General Store including free Wi-fi and all the items campers need, plus much more!
The Broken Spoke Campground has also announced that it will not raise its prices if you pre-book your Sturgis reservation. Campers reserving prior to July 31st will pay a low $119/person plus tax. RV spots and private air-conditioned cabins are also still available. Call toll-free at 8-SPOKE-ON-79 (877-653-6679) or book online today at www.BrokenSpokeCampground.com!
**About the Broken Spoke Saloon: **
The Broken Spoke Saloon is the world's biggest biker bar, with locations across the country. The Broken Spoke Saloon location in the beautiful lakes region of Laconia, New Hampshire, with live music and a full bar & restaurant, is open until November 1st.
Visit BrokenSpoke.com for more information.
**www.brokenspokecampground.com **
Broken Spoke Saloon & Campground
2011 Entertainment Calendar
Broken Spoke Campground on 79 North, Sturgis
Open: August 1 – 14, 2011
_Monday, August 1st _
9am-12midnight: World's Biggest Biker Pool with Hot Tubs & Tiki Bar
_Tuesday, August 2nd _
9am-12midnight: World's Biggest Biker Pool with Hot Tubs & Tiki Bar
_Wednesday, August 3rd _
9am-12midnight: World's Biggest Biker Pool with Hot Tubs & Tiki Bar Shows all day: Americas' Original Extreme Motorcycle Thrillshow, The Wall of Death
Thursday, August 4th
9am-12midnight: World's Biggest Biker Pool with Hot Tubs & Tiki Bar
Shows all day: Americas' Original Extreme Motorcycle Thrillshow, The Wall of Death
4pm-6pm: Broken Spoke Beach Party ($4 Big Beach Cocktails at the Pool)
Friday, August 5th
6:30-10am: Bloody Mary Biker Buffet Breakfast ($9.99 incl. Bloody Mary!)
Shows all day: Americas' Original Extreme Motorcycle Thrillshow, The Wall of Death
9am-12midnight: World's Biggest Biker Pool with Hot Tubs & Tiki Bar
12noon-9pm: Legends Gallery at the Broken Spoke Saloon
12noon-3:30pm: Eclipse Unplugged (inside the Broken Spoke Saloon)
4:00pm-7:30pm: Jammer (inside the Broken Spoke Saloon)
4pm-6pm: Broken Spoke Beach Party ($4 Big Beach Cocktails at the Pool)
8:30pm-12mid: Laura Lynn & Lucas Hoge (inside the Broken Spoke Saloon)
12mid-1:45am: Broken Spoke After Dark night club
Saturday, August 6th
6:30-10am: Bloody Mary Biker Buffet Breakfast ($9.99 incl. Bloody Mary!)
Shows all day: Americas' Original Extreme Motorcycle Thrillshow, The Wall of Death
9am-12midnight: World's Biggest Biker Pool with Hot Tubs & Tiki Bar
12noon-9pm: Legends Gallery at the Broken Spoke Saloon
12noon-3:30pm: Jammer (inside the Broken Spoke Saloon)
1pm-6pm: Laura Lynn & Lucas Hoge Live at the Broken Spoke Pool & Tiki Bar
1pm: Vietnam Veterans Memorial Wall Opening Ceremonies
3:30pm: Traveling Tattoo Company Tattoo Contest (Prizes: trophy & $50 tattoo gift certificate!)
4pm-6pm: Broken Spoke Beach Party ($4 Big Beach Cocktails at the Pool)
8:30pm-10pm: Farrell Webber Band (inside the Broken Spoke Saloon)
10:30pm-12mid: Houses of the Holy (inside the Broken Spoke Saloon)
12mid-1:45am: Broken Spoke After Dark night club
_Sunday, August 7th _
6:30-10am: Bloody Mary Biker Buffet Breakfast ($9.99 incl. Bloody Mary!)
Vietnam Veterans Memorial Wall (open 24 hours)
Shows all day: Americas' Original Extreme Motorcycle Thrillshow, The Wall of Death
9am-12midnight: World's Biggest Biker Pool with Hot Tubs & Tiki Bar
12noon-9pm: Legends Gallery at the Broken Spoke Saloon
12noon-3:30pm: Jammer (inside the Broken Spoke Saloon)
1pm-6pm: Laura Lynn & Lucas Hoge Live at the Broken Spoke Pool & Tiki Bar
3:30pm: _Traveling Tattoo Company_ Tattoo Contest (Prizes: trophy & $50 tattoo gift certificate!)
4pm-6pm: Broken Spoke Beach Party ($4 Big Beach Cocktails at the Pool)
4pm-8pm: Ryan Rolando (inside the Broken Spoke Saloon)
10:30pm: Little River Band (Outdoor concert stage – $10 for non-campers)
12mid-1:45am: Broken Spoke After Dark night club
_Monday, August 8th _
6:30-10am: Bloody Mary Biker Buffet Breakfast ($9.99 incl. Bloody Mary!)
Vietnam Veterans Memorial Wall (open 24 hours)
Shows all day: Americas' Original Extreme Motorcycle Thrillshow, The Wall of Death
9am-12midnight: World's Biggest Biker Pool with Hot Tubs & Tiki Bar
12noon-9pm: Legends Gallery at the Broken Spoke Saloon
12noon-3:30pm: Eclipse Unplugged (inside the Broken Spoke Saloon)
1pm-6pm: Laura Lynn & Lucas Hoge Live at the Broken Spoke Pool & Tiki Bar
3:30pm: _Traveling Tattoo Company _Tattoo Contest **(Prizes: trophy & $50 tattoo gift certificate!)
4pm-6pm: Broken Spoke Beach Party ($4 Big Beach Cocktails at the Pool)
5:30pm-8pm: Slow Clap (inside the Broken Spoke Saloon)
8pm-9:30pm: **Seven Bridges Road (Eagles Cover Band – on the Outdoor Concert Stage)
10:30pm: .38 Special (Outdoor concert stage – $10 for non-campers)
12mid-1:45am: Broken Spoke After Dark night club
Tuesday, August 9th
6:30-10am: Bloody Mary Biker Buffet Breakfast ($9.99 incl. Bloody Mary!)
Vietnam Veterans Memorial Wall (open 24 hours)
Shows all day: Americas' Original Extreme Motorcycle Thrillshow, The Wall of Death
10am – 2pm: IMBBA Bike Show Registration
9am-12midnight: World's Biggest Biker Pool with Hot Tubs & Tiki Bar
1pm-6pm: Laura Lynn & Lucas Hoge Live at the Broken Spoke Pool & Tiki Bar
3:30pm: _Traveling Tattoo Company_ Tattoo Contest (At the Pool – Prizes: trophy & $50 tattoo gift certificate!)
4pm: IMBBA Awards & Hall of Fame Ceremony
4pm-6pm: Broken Spoke Beach Party ($4 Big Beach Cocktails at the Pool)
5:30pm-8pm: Slow Clap (inside the Broken Spoke Saloon)
8pm – 9:30pm: Last Child (Aerosmith tribute – on the Outdoor Concert Stage)
10:30pm: Foghat (Outdoor concert stage – $10 for non-campers)
12mid-1:45am: Broken Spoke After Dark night club
Wednesday, August 10th
6:30-10am: Bloody Mary Biker Buffet Breakfast ($9.99 incl. Bloody Mary!)
Vietnam Veterans Memorial Wall (open 24 hours)
Shows all day: Americas' Original Extreme Motorcycle Thrillshow, The Wall of Death
9am-12midnight: World's Biggest Biker Pool with Hot Tubs & Tiki Bar
12noon-9pm: Legends Gallery at the Broken Spoke Saloon
12noon-3:30pm: Slow Clap (inside the Broken Spoke Saloon)
1pm-6pm: Laura Lynn & Lucas Hoge Live at the Broken Spoke Pool & Tiki Bar
3:30pm: _Traveling Tattoo Company _Tattoo Contest (Prizes: trophy & $50 tattoo gift certificate!)
4pm-8pm: Big Engine (inside the Broken Spoke Saloon)
4pm-6pm: Broken Spoke Beach Party ($4 Big Beach Cocktails at the Pool)
8pm-9:30pm: Paradise City (Guns 'n Roses tribute – on the Outdoor Concert Stage)
10:30pm: Firehouse (Outdoor Concert Stage – $10 for non-campers)
12mid-1:45am: Broken Spoke After Dark night club
Thursday, August 11th
6:30-10am: Bloody Mary Biker Buffet Breakfast ($9.99 incl. Bloody Mary & tax!)
Vietnam Veterans Memorial Wall (open 24 hours)
Shows all day: Americas' Original Extreme Motorcycle Thrillshow, The Wall of Death
9am-12midnight: World's Biggest Biker Pool with Hot Tubs & Tiki Bar
12noon-9pm: Legends Gallery at the Broken Spoke Saloon
12noon-3:30pm: Slow Clap (inside the Broken Spoke Saloon)
1pm-6pm: Laura Lynn & Lucas Hoge Live at the Broken Spoke Pool & Tiki Bar
1pm – 12mid: Ladies' Day at the Broken Spoke: Drink Specials, Fashion Show & more!
3:30pm: Traveling Tattoo Company Tattoo Contest (Prizes: trophy & $50 tattoo gift certificate!)
4pm-6pm: Broken Spoke Beach Party ($4 Big Beach Cocktails at the Pool)
4pm-8pm: Big Engine (inside the Broken Spoke Saloon)
8:30pm-12mid: Jasmine Cain (inside the Broken Spoke Saloon)
12mid-1:45am: Broken Spoke After Dark night club
Friday, August 12th
6:30-10am: Bloody Mary Biker Buffet Breakfast ($9.99 incl. Bloody Mary!)
Vietnam Veterans Memorial Wall (open 24 hours)
Shows all day: Americas' Original Extreme Motorcycle Thrillshow, The Wall of Death
9am-12midnight: World's Biggest Biker Pool with Hot Tubs & Tiki Bar
12noon-9pm: Legends Gallery at the Broken Spoke Saloon
12noon-3:30pm: Joe Santana (inside the Broken Spoke Saloon)
1pm: Laura Lynn & Lucas Hoge Live at the Broken Spoke Pool & Tiki Bar
4pm-5:30pm: Silver Bullet (Bob Seger tribute band – inside the Broken Spoke Saloon)