My buddy Jerro bought himself a beat-up Harley-Davidson Panhead that ran okay but was poorly built. After a few weeks, I asked him if he would let me change it up. Believe it or not, after a few more weeks he let me do it. And the best part is with this build I got to do what I wanted to make a classic-looking '60s chopper.
The parts for this build came mostly from friends and swap meets. The shotgun barrel shifter came from my good friend Turkey Stopnik and was the perfect addition to the bike.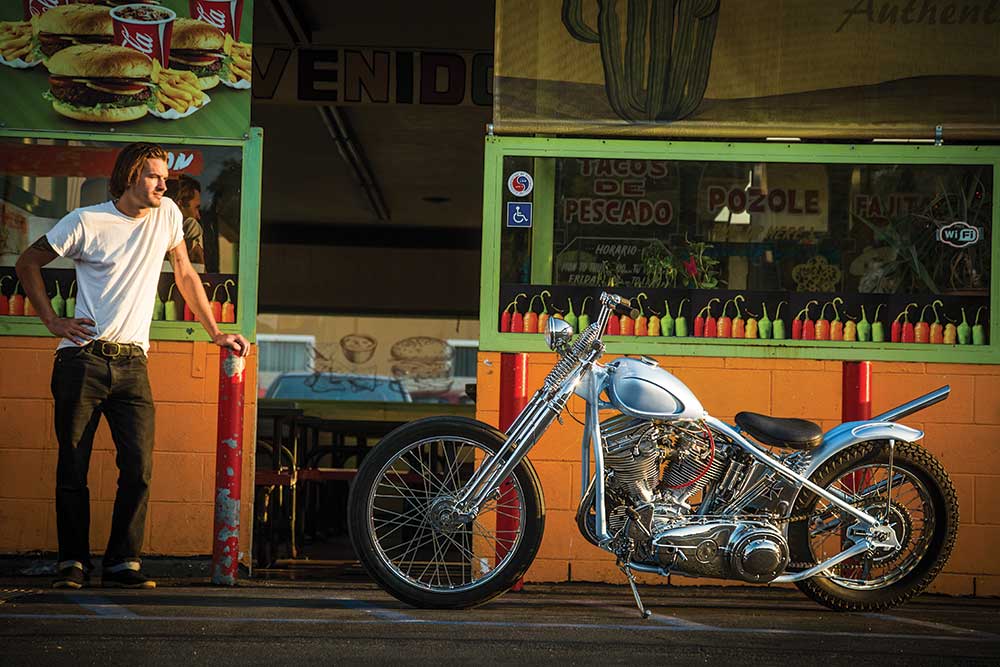 Although it was a lot of hard work at times, I really had a lot of fun doing it. I am very thankful that Mark Drews made the tank and fender look the way they do. My buddy Mark Choiniere, a.k.a. Paint By Chaka, did an amazing job with the paint and bodywork. I wanted a particular color I saw on an early Ford GT40 race car, and that's kind of where I got the whole look of the bike from by the time I was finished.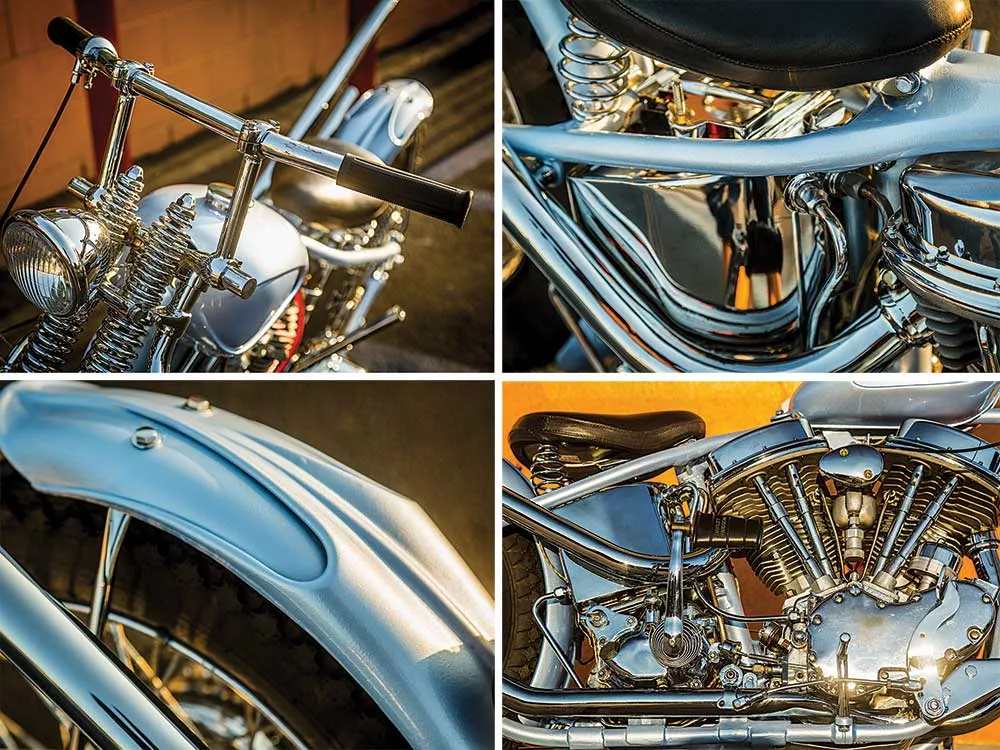 I really think the bike came out mimicking the looks of Ford's '60s Ferrari beater with the scoops Drews put on the tins and then with the color Chaka laid down.
To tell you the truth I wish this machine was my own, but I am very happy I got to do this for a good friend and that he is so happy with it. That's what this bike-building shit is all about, I guess. I didn't really have a whole lot of space to work on this thing and really wasn't sure how it would look when I got it out of the tiny room when it was done. We drank enough beers to bury the bike while I was working on it, so on the next bike I'm going to have to find a beer sponsor. Thank you to all my friends who were there for me and helped me out with this one.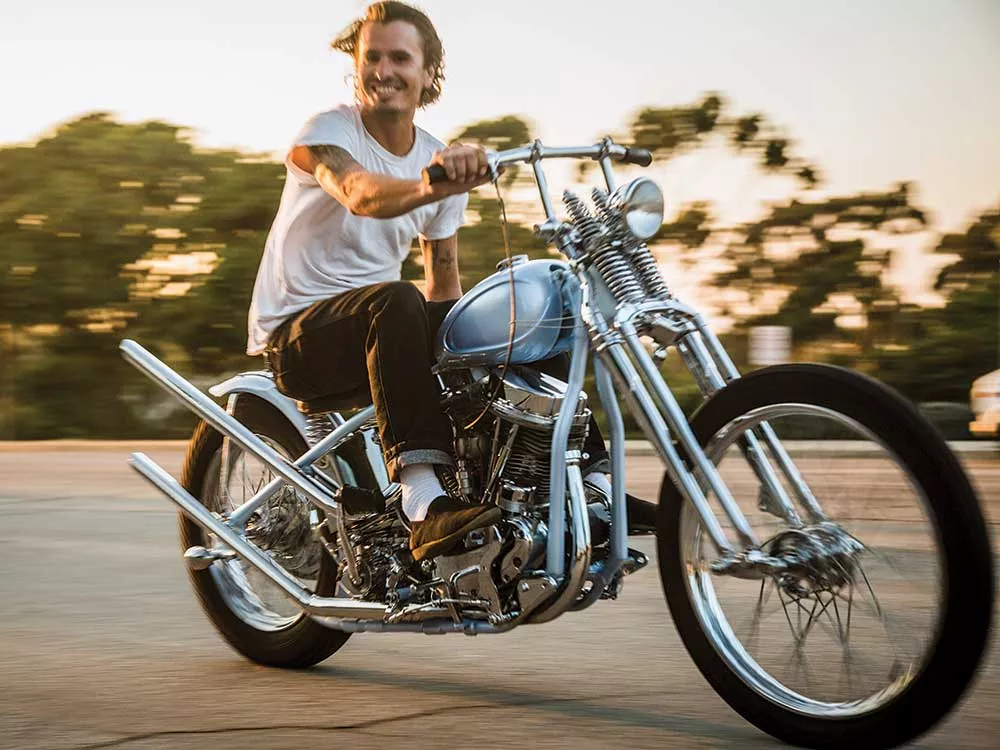 "I really think the bike came out mimicking the looks of Ford's '60s Ferrari beater with the scoops Drews put on the tins and then with the color Chaka laid down."
Specifications
| | |
| --- | --- |
| General | |
| Owner | Jerro |
| Year/Make/Model | 1964/Harley-Davidson/FL |
| Fabrication | Chris Mumma/Mark Drews |
| Build Time | 8 months |
| Engine | |
| Year/Type/Size | 1964/H-D Panhead/74ci |
| Builder | Chris Mumma |
| Cases | H-D |
| Cylinders | H-D |
| Heads | H-D outside oiler |
| Rocker Boxes | H-D |
| Cam | H-D |
| Carburetor | Linkert M74 |
| Air Cleaner | Bird Deflector |
| Exhaust | Custom upsweep |
| Transmission | |
| Year/Type | 1964/4-speed ratchet top |
| Gears | H-D |
| Clutch | Harley 3 finger |
| Primary Drive | BDL |
| Frame | |
| Year/Type | 1948/H-D |
| Rake/Stretch | Stock |
| Suspension | |
| Front End | H-D |
| Length | 4-over stock |
| Wheels, Tires, and Brakes | |
| Front | |
| Builder/Size | H-D/21 x 2.5 |
| Tire/Size | Avon/21 x 2.75 |
| Rear | |
| Builder/Size | H-D/18 x 3.0 |
| Tire/Size | Avon/18 x 5 |
| Drum | H-D |
| Finish & Paint | |
| Manufacturer | House Of Kolor |
| Colors | Ford 40 |
| Paint | Mark Choiniere, a.k.a. Paint By Chaka |
| Accessories | |
| Rear Fender | Wassel customized by Mark Drews |
| Gas Tank | Wassel customized by Mark Drews |
| Grips | Swap meet |
| Pegs | Chris Mumma |
| Headlight | Swap meet |
| Taillight | Swap meet |
| License Mount | Custom |
| Seat | River Seat Company |