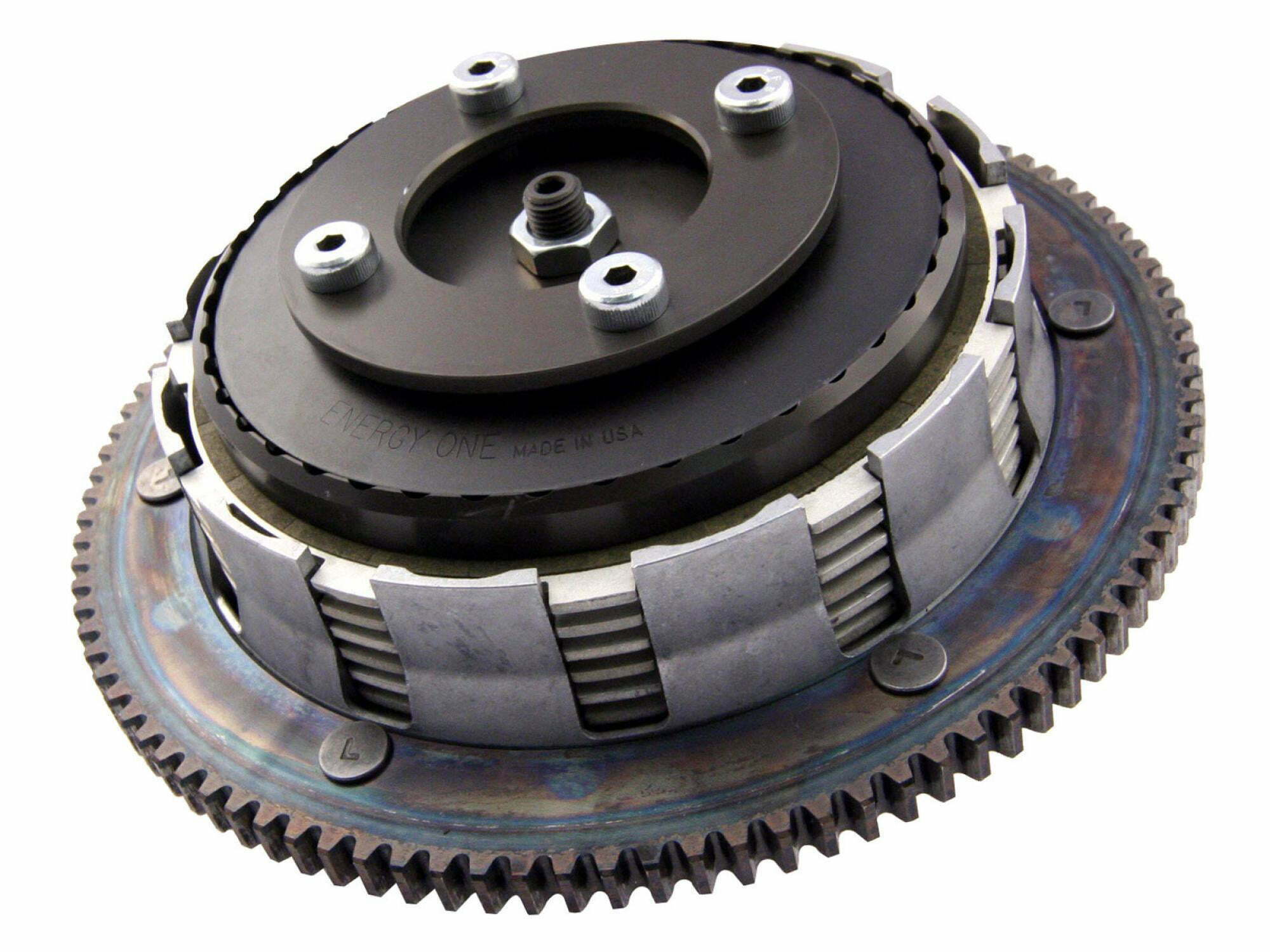 Pumping up a Harley's horsepower usually gets the attention, understandably so. It's the sexy stuff. But when all that newfound power isn't reliably getting where it belongs, the rear wheel, all the big-bore kits, cams, pipes, and everything else in the catalog won't mean much. A high-performance Harley needs an equally high-performance clutch as part of the picture, something doubly true when we're talking bagger bikes packed heavy and ridden two-up.
The team at Speed's Performance Plus has addressed all this—big power and the clutches to match—for decades and have plenty to say about both. Right now, though, we'll just listen as they talk clutches, that vital connection between the engine and the road. "Many street-performance riders," SPP's Jason Hanson begins, "will likely get what they need with a stronger diaphragm spring and a simple switch to better friction plates and steels."
Replacement diaphragm springs, significantly stronger than the OE Harley piece, coupled with upgraded frictions and steels can usually handle the output of a street-ridden and mildly modified machine. Bagger bikes included. The feel at the lever won't change much either, and the cost, which basically becomes a routine maintenance job, won't break the bank. The guys at Speed's keep these extra-plate/strong-spring setups with them all the time and install plenty. Factor in a new primary gasket, some fresh lube, and about an hour's worth of labor and you're done.
The upgrade story doesn't end there though. Big power can call for a big clutch, completely replacing that OE hub, basket, plates, the works, and there are plenty of choices, performance/racing clutches like the ones from Baker, Barnett, S&S, BDL, and Rivera-Primo to name just a few. "And lately the Harley clutches from Rekluse have really caught on," Jason says. "Especially their EXP 3.0, a centrifugally driven clutch package with a difference." And when he says difference he isn't kidding.
Rekluse, an Idaho company in the H-D performance clutch business for more than a decade, offers a traditional manual clutch, the 15-plate TorqDrive, and that centrifugally driven EXP 3.0 Jason mentioned "And when riders see what that thing can do," he says, "they can hardly believe their eyes." Ever see a hot-rod Harley with a performance-tuned automatic transmission? The Rekluse EXP 3.0 isn't that, but it's darn close. This is a clutch setup unlike anything else available. Besides the Rekluse claims of it being able to handle up to 150 hp and reliably last for 50,000 to 75,000 miles, it's the EXP 3.0's almost hands-off operation that gets the eyebrows raised. While able to operate as a conventional clutch—as in pull in the lever, make the shifts, and release—with an EXP you can also pull in the lever, snick that trans into first, release the lever and—nothing. The bike doesn't move until you twist the throttle. That centrifugally driven EXP then does its thing, hooking up, and away you go. And the faster it spins as the rpm rise the harder it grabs for real slip-free operation. Add in some practice and a little finesse you can forget about touching that lever altogether, clutch-less shifting. Like Jason said, it's a clutch with a difference.
"And think about that for a minute," he goes on. "Besides being able to handle just about any amount of horsepower put to it, with that Rekluse EXP there's no more holding a clutch in at a stoplight or feathering one in slow, heavy traffic like Daytona or Sturgis. With this setup you just leave the bike in gear, hands off the clutch lever, and move when you want to using only the throttle." The guys at Rekluse take it even farther. For in-town riding, they say, stoplight-to-stoplight, second-gear starts are the way to go. All day long. And while they recommend new EXP riders use the clutch lever normally once things get rolling, shifting into second, third, fourth, and so on, with some practice and the right feel you can forget about touching the clutch lever altogether, up-shifts and down. Interesting, no?
Horsepower might be the sexy stuff. A clutch maybe not so much. Or is it? With stuff like those multi-disc setups around, all the lock-ups and most certainly that Rekluse EXP 3.0 there's plenty of wow factor available in that all-important connection between the engine and the road. Stop in at the Speed's Performance shop next time they're in the area. Let them show you it all.
Source:
Speed's Performance Plus
speedsperformanceplus.com
(605) 695-1401 – MN
(605) 695-2272 – SD
---
Get the all the latest issue of Hot Bike magazine! Subscribe directly from us.