When Harley-Davidson gave certain industry folk the all-new Softail last year, it knew full well that, as a trade-off, it would also be giving each of them a leg up over their aftermarket-parts competition on new-product R&D. Ten or so years ago, that might've been a bigger deal. These days, however, the major dealerships have products from those aforementioned folks for sale right next to their genuine H-D motor and accessory parts.
But at the end of the day, we all know whose parts Harley-Davidson prefers selling: genuine H-D. And this is where Heath Pinter entered the picture back when the crates began to drop. Heath's a skilled bike builder, but his riding skills—whether it's in the dirt, the park, or the local secret spot—are out of this world.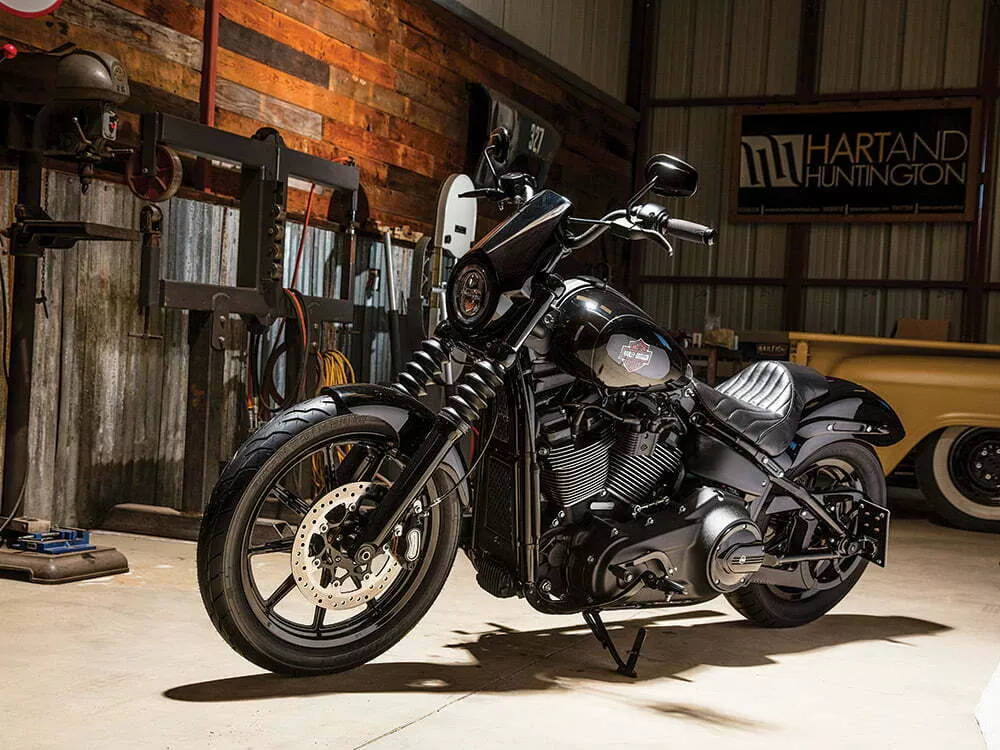 The freestyle BMX world, that is. When it comes to motorized bikes, on the other hand, he's spent more time twisting throttles than turning wrenches on them (usually because his tools are busy getting turned on one of his Model A Fords, early Chevy pickups, etc.). But Heath's got an eye for style and had been itching to apply some of his ideas to the new Harley Softail platform—using much of The Motor Company's own bolt-on offerings (massaged a bit) rather than custom fabricate parts on his own. And Harley agreed.
Heath's vision with his 2018 Street Bob wasn't to create something entirely different from what it started out as, but rather, a moderately and tastefully customized bike—an attainable inspiration for potential new buyers who want to "roll their own"…right off the showroom floor. Here's how he describes it: "My strongest influence in building this new bike was to simply follow the lines the design team already put in place. By using Harley-Davidson's intuitive website to initially choose parts that are engineered to fit the new Street Bob, a new customer can take advantage of H-D's ability to roll genuine motor and accessory parts and installation into the financing, giving the buyer the flexibility to create a custom motorcycle within their budget—and the peace of mind that comes with the manufacturer's warranty."

As you'll see, Heath took that concept a step further, putting his own personal touch in some areas to complement the off-the-shelf add-ons.
But in doing so, he kept the modifications within the parameters of the average hands-on enthusiast's capabilities. Well, mostly. While the instrumentation-inclusive sheet-metal fairing is a little higher on the difficulty meter, it's a design element that offers visual and functional benefits (it, along with the updated front fender, was painted by Hillview Customs; the tank was redone by AirTrix). And his subtle dash is just bitchin'. The various components used from the Defiance line of H-D parts do just what they were intended to do: get bolted on and enhance the nearly blacked-out chassis controls and M-8 power plant, which was delivered in 107-inch factory form to Quaid Harley-Davidson but left with a 114-inch warranty-retaining Screaming Eagle Stage IV kit, among other things.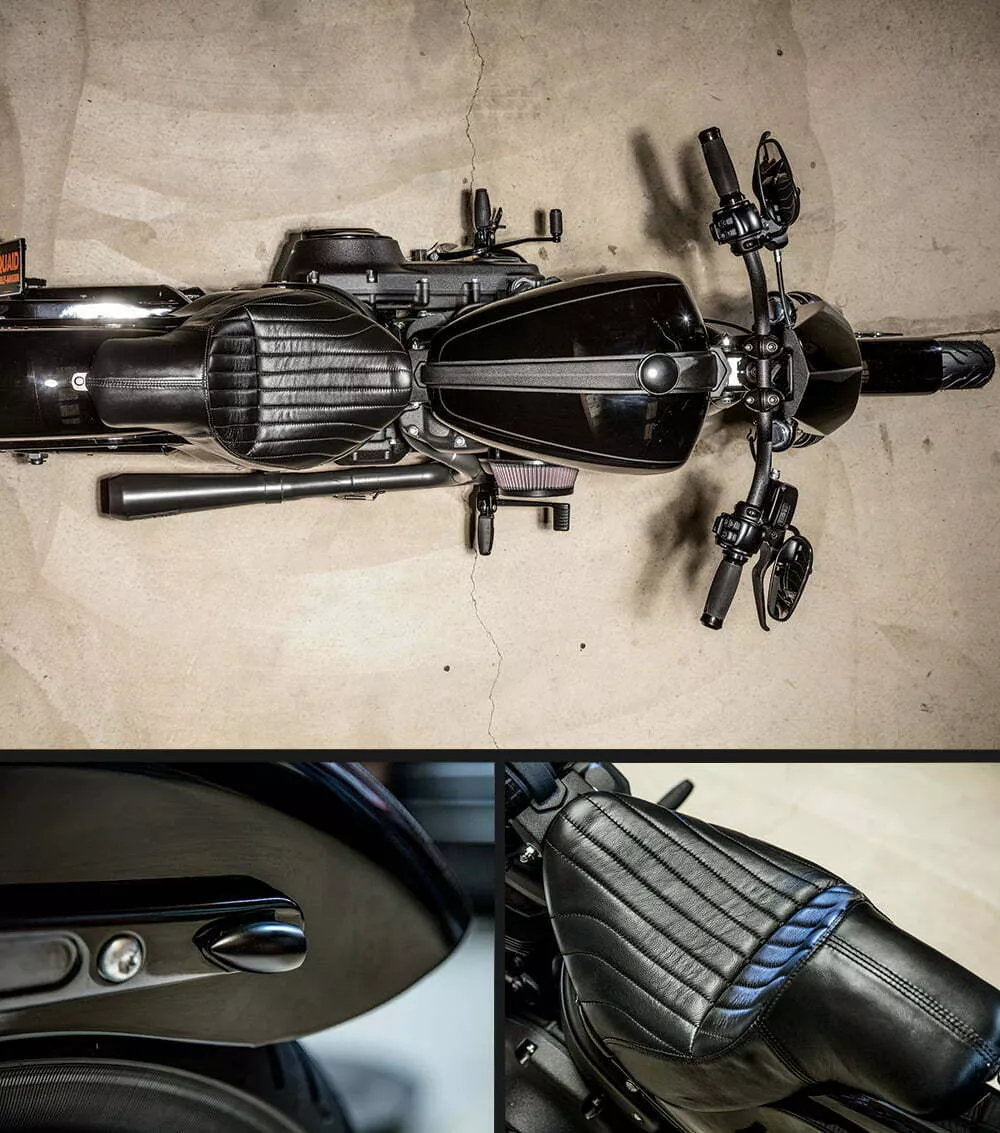 Heath capped off the larger 64 mm throttle body with an S-E Extreme Flow breather (finished off with a custom mesh outer), but in lieu of the dual H-D Street Cannon exhaust upgrade, he opted for a Fab28 Industries 2-into-1 in black Cerakote. Additionally, he utilized Biltwell's Tracker bars mounted off Gordo risers, Klock Werks' Top Hat front fender, and rear lighting components from Rizoma. Finally, although not items you'll likely ever get an up-sell pitch on, the seat as well as the wheels are genuine H-D. However, Heath thinned and stretched out the stock Street Bob solo (recovered in pattern-matched leather by his friend Joe) and back-dated the rolling stock with a set of enlarged-bearing nine-spokes from the defunct Dyna.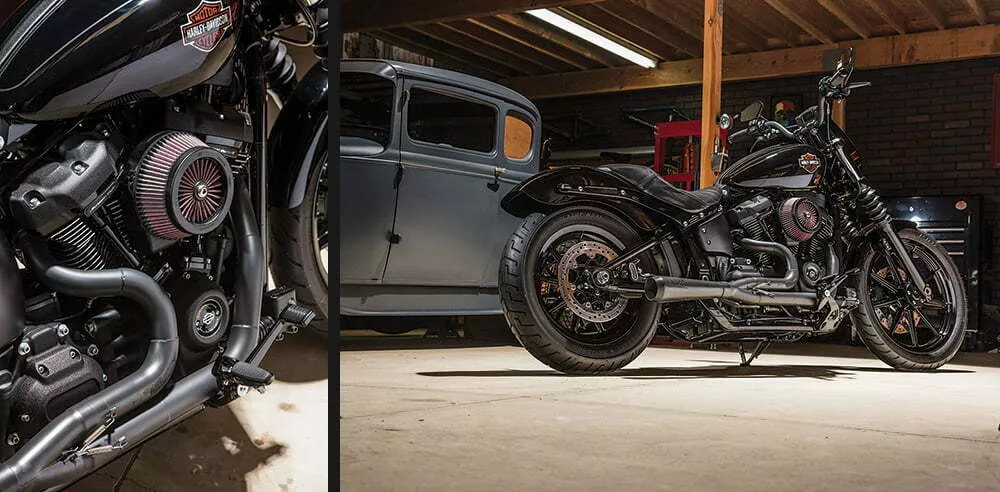 I admire and appreciate one-off design concepts as much—if not more—than the next guy. But sometimes you need more than just inspiration to get your motor runnin', and that's just what Heath Pinter accomplished with his 2018 Street Bob: a customized Harley for the average man who wants it on a payment plan!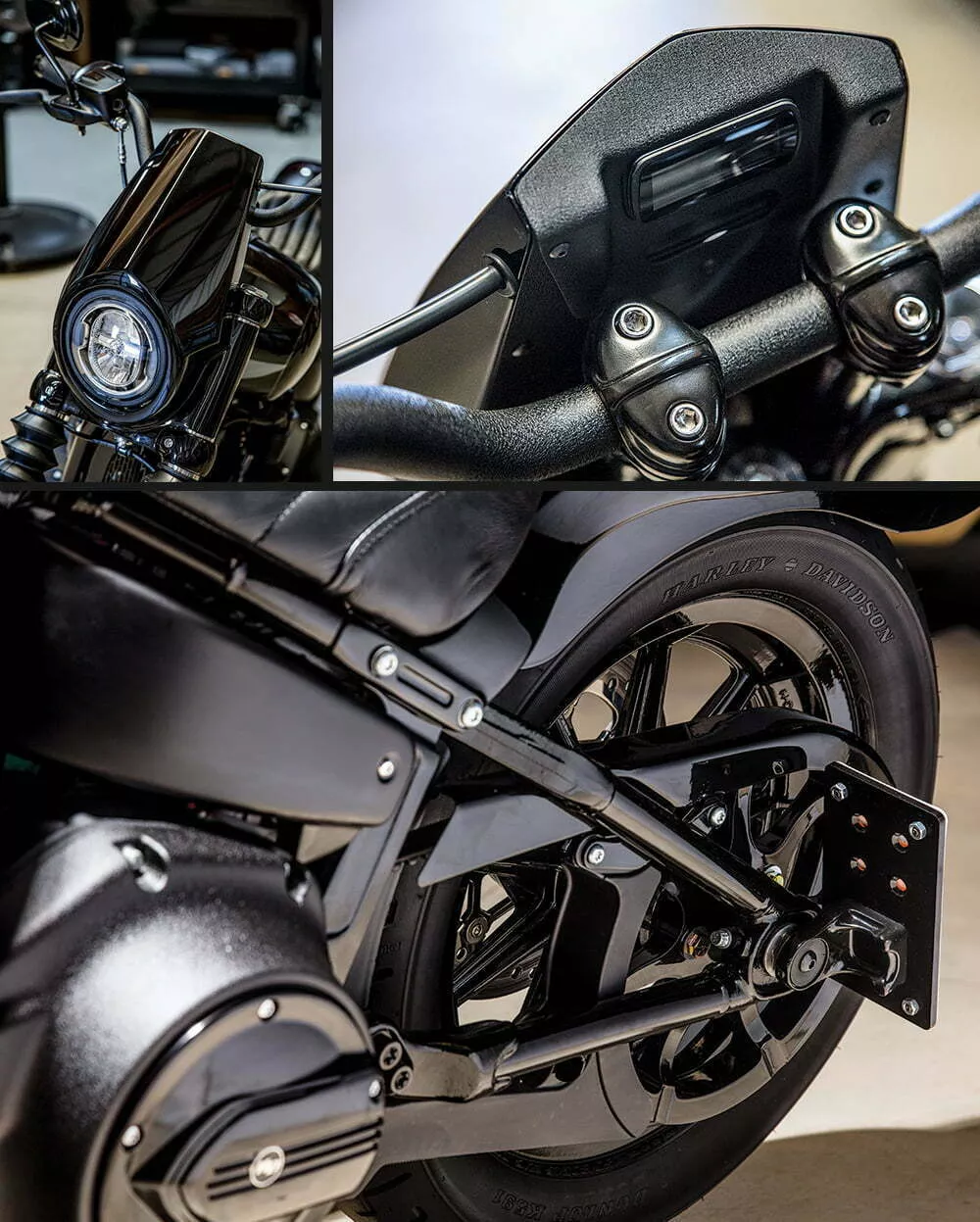 Specifications
| | |
| --- | --- |
| General | |
| Owner | Heath Pinter |
| Year/Make/Model | 2018 Harley-Davidson Street Bob |
| Fabrication | Heath Pinter. Hand-shaped sheet-metal fairing; sheet-metal dash details; sheet-metal/mesh oil cooler and horn cover. |
| Build Time | Two weeks |
| Engine | |
| Year/Type/Size | M-8 114 Screamin' Eagle Stage IV |
| Builder | Quaid Harley-Davidson |
| Cases | Stock |
| Cylinders | Screamin' Eagle 4.075-inch |
| Heads | Screamin' Eagle CNC-ported, with performance valve springs |
| Rocker Boxes | Stock |
| Cams | Screamin' Eagle SE8-515 |
| Throttle Body | Screamin' Eagle 64 mm |
| Air Cleaner | Screamin' Eagle extreme-flow air cleaner, K&N filter |
| EFI controller | Stock |
| Exhaust | Fab 28 Stainless, black Cerakote |
| Transmission | |
| Year/Type | Stock |
| Gears | Stock |
| Clutch | Stock |
| Primary Drive | Stock |
| Frame | |
| Year/Type | 2018 Softail |
| Rake/Stretch | Stock |
| Suspension | |
| Front end | |
| Length | Stock |
| Triple trees | Stock |
| Swingarm | Stock |
| Rear shocks | Stock |
| Wheels, Tires, and Brakes | |
| Front | |
| Builder/size | H-D Dyna nine-spoke |
| Tire/size | H-D Dunlop19 |
| Calipers | Stock |
| Rotors | H-D Split seven-spoke |
| Rear | |
| Builder/size | H-D Dyna nine-spoke |
| Tire/size | H-D Dunlop16 |
| Caliper | Stock |
| Rotor | H-D Split seven-spoke |
| Pulley | H-D Turbine Billet |
| Accessories | |
| Front fender | Klock Werks Top Hat |
| Rear fender | Stock |
| Gas tank | Stock |
| Dash | Hand-built sheet metal by Heath Pinter |
| Gauges | Stock, relocated into the fairing |
| Handlebars | Biltwell Tracker High |
| Grips | H-D Get-A-Grip |
| Mirrors | Stock |
| Hand controls | Stock, reshaped |
| Foot controls | H-D Defiance |
| Headlight | Stock |
| Taillight | Rizoma Club S |
| Turn signals | Rizoma Club S |
| License mount | Biltwell |
| Seat | Stock seat re-foamed and wrapped in leather |