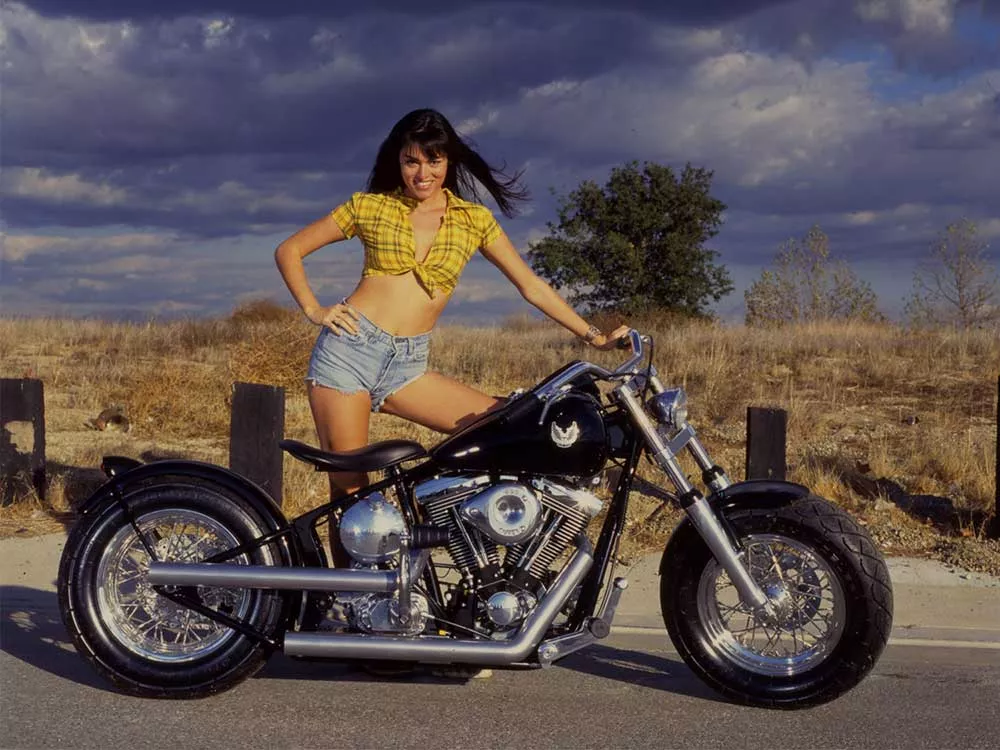 This article was originally published in the April-May 1998 issue of Cycle World's Big Twin magazine.
Russell Mitchell's customs are absolutely, positively not for wimps. Witness the black beauty pictured here, a bike that's no yuppie, rubbie, biker-come-lately, "nice" motorcycle. Instead, Mitchell's company, Exile Cycles in Van Nuys, California, builds customs that go beyond mere simplicity. The styling of his creations charges past the realm of the primitive and boldly dons the mantle of severity. They don't quite qualify as otherworldly customs, but they aren't from around these parts, either.
Mitchell emigrated to America seven years ago from Jolly old England, where he had been building custom bikes for 14 years. When he came across The Pond, he brought a brainful of European customizing influences with him and has applied those concepts to his Exile choppers ever since. And Americans like it.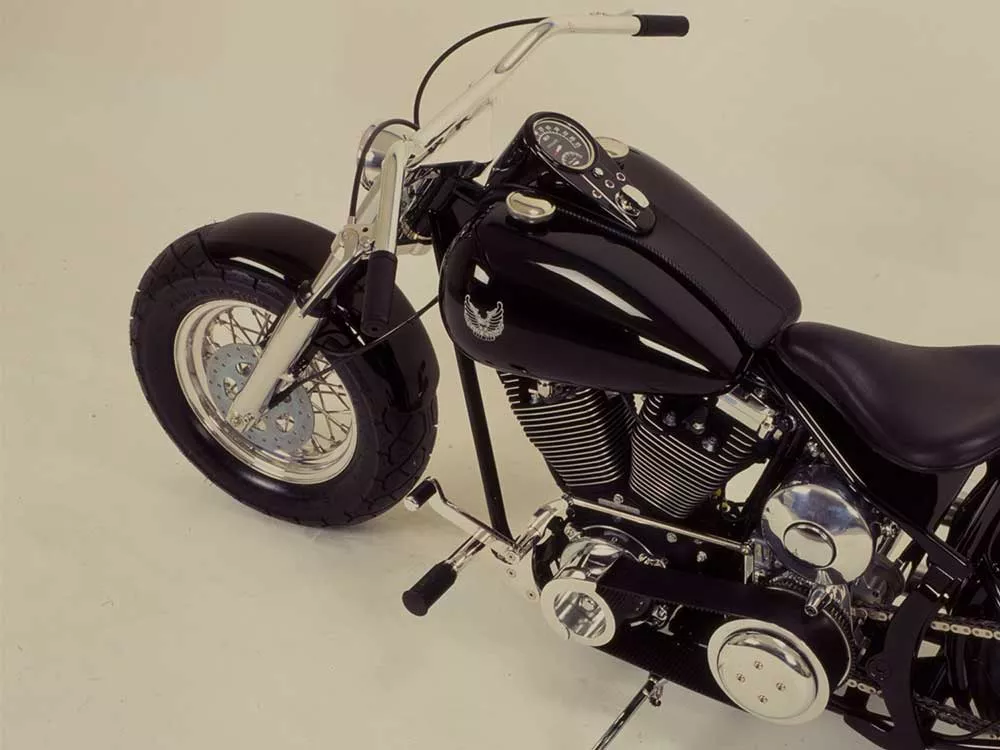 "Basically, our styling is a little bit different than what Americans are used to seeing," says Mitchell in his soft, English accent. "Most of the people who bring their bikes to us do so be­cause they've seen all the typical customs in the bike magazines but haven't encountered anything quite like what we do. Then, when they see one of my bikes, it's something very new to them. They usually say that this is the kind of bike they had been brewing in the back of their mind for years, but they didn't know it un­til they saw it."
You could say that Mitchell's particular style of bikes hark­ens back to the era of early, bare-bones choppers. And you might even say his bikes are rather Teutonic in appearance. And if you did, you would be right. "I mostly equate my style to the German style," he says. "I didn't grow up studying Germans, but my own taste seems to have de­veloped in parallel to the German taste in bikes. I like the stuff that the Swedes do, but I'm not really into the long front ends like they are. That's a little too over-the-top for my liking. I want something that's functional and as clean as it can be. And as hard-core black as possible."
Much of the Exile style of bike is made possible by Mitchell's expertise in the art of bending and grinding metal; he definitely does not build bolt-on motorcycles. "For example, we could have used an aftermarket handlebar with matching gear," says Mitchell, "but then you'd have a bar with all this paraphernalia hanging off of it, hydraulics and wiring everywhere. Attractive, but not quite what we were going for. We basically want the bike to look as clean as possible front to back."
To get precisely the look he was after with this machine, Mitchell fabricated or somehow altered practically every component and system. He made the front fender, the oil tank, the exhaust pipes and the forward controls, as well as every bracket on the bike. He also machined the front wheel, built the entire front-brake setup, including the rotor, and completely fabricated the pogo suspension under the seat. Needless to say, this is one very talented machinist and fabricator.
Despite Mitchell's enormous talent, he didn't come to the States to get into the motorcycle industry. But once his friends began to appreciate his abilities as a machinist, and then saw the customs he had created in the past, they persuaded him to start building bikes here in the colonies.
Mitchell is now convinced that making customs is his life's calling, and that Exile Cycles will be around for quite a while. "This isn't the only style of bike I want to make," he says, "but it's what everybody wants now. I have some exciting designs coming in the future."
Whatever those de­signs might turn out to be, we can't wait to see them.
| Specifications: | |
| --- | --- |
| Bike Name: | Exile |
| Owner: | Hennie Roos Johannesburg, South Africa |
| Designer/Fabricator: | Russell Mitchell Exile Cycles Van Nuys, CA |
| Paint and Chrome | |
| Molding: | Andrew's Powder Coating |
| Paint: | Andrew's Powder Coating |
| Polishing: | El Monte Plating |
| Engine | |
| Year: | 1997 |
| Model: | H-D Evo |
| Builder: | H-D of Johannesburg |
| Displacement: | 88 cu. in. |
| Cases: | H-D |
| Lower end: | H-D |
| Rods: | H-D |
| Pistons: | H-D |
| Heads: | H-D |
| Cam: | H-D |
| Valves: | H-D |
| Lifters: | H-D |
| Ignition: | Dyna |
| Coils/wires: | Dyna |
| Carb: | S&S "E" |
| Air cleaner: | S&S |
| Pipes: | Exile 2 1/2" drag pipes |
| Mufflers: | Exile |
| Transmission | |
| Year: | 1997 |
| Type: | Sputhe case, Jims gears, Tech Products starter |
| Clutch: | Rivera diaphragm |
| Primary drive: | Primo 3" open belt |
| Year: | 1997 |
| Make: | Daytec |
| Type: | Softail style |
| Builder: | Daytec |
| Front Fork | |
| Make: | Exile |
| Type: | "Sani-Tree" triple-trees |
| Modifications: | H-D FLT sliders with caliper brackets removed; H-D FLST tubes |
| Rear suspension: | |
| Type: | Softail |
| Make: | Works Perfomance |
| Swingarm: | Daytec |
| Modifications: | Fender welded to swingarm |
| Front Wheel/TIRE | |
| Wheel: | Exile billet hub; Exile 1/4" stainless spokes |
| Tire: | Metzeler |
| Rim width: | 3 1/2" |
| Brake: | Exile system to match rear brake/sprocket |
| Rear Wheel/Tire: | |
| Wheel: | Monster |
| Tire: | Metzeler |
| Rim width: | 6" |
| Brake: | Sprocket |
| Accessories | |
| Handlebar: | 1 1/4" aluminum Widebars |
| Risers: | Integral |
| Grips: | Horn & Hi/Lo microswitches in left grip |
| Mirrors: | None |
| Gas tank: | 6-gal. |
| Oil tank: | Round, with battery box & filter |
| Front fender: | Exile |
| Rear fender: | Exile |
| Headlight: | Headwinds |
| Taillight: | Molded Sparto |
| Speedo: | Chrome Specialties |
| Tach: | Integral |
| Instruments: | 3-light dash |
| Seat: | Corbin Metro |
| Foot controls: | Exile Forwards |
| Other: | Front-brake master cylinder hidden between gas tanks |