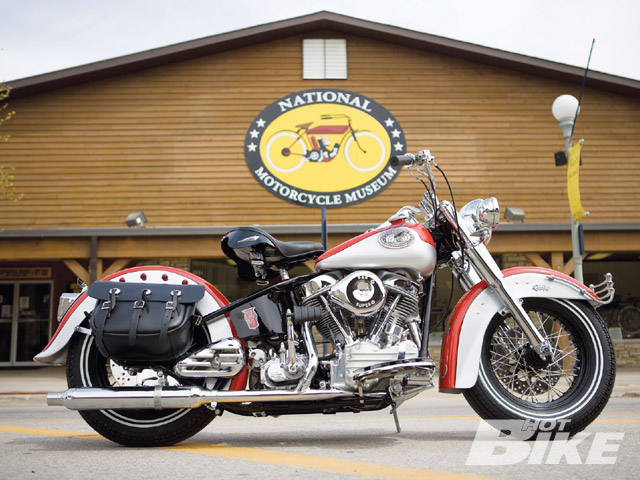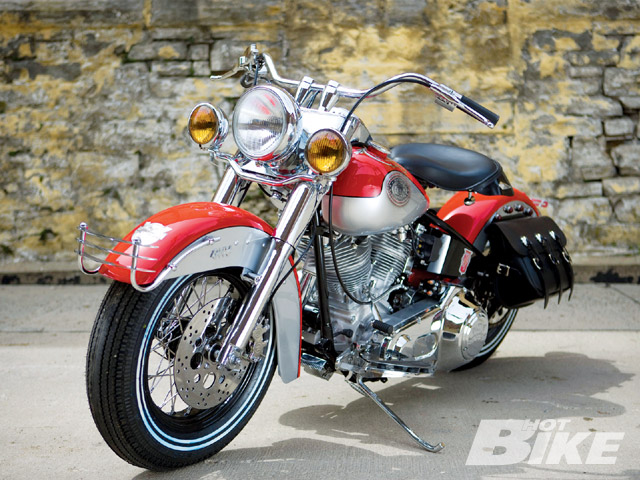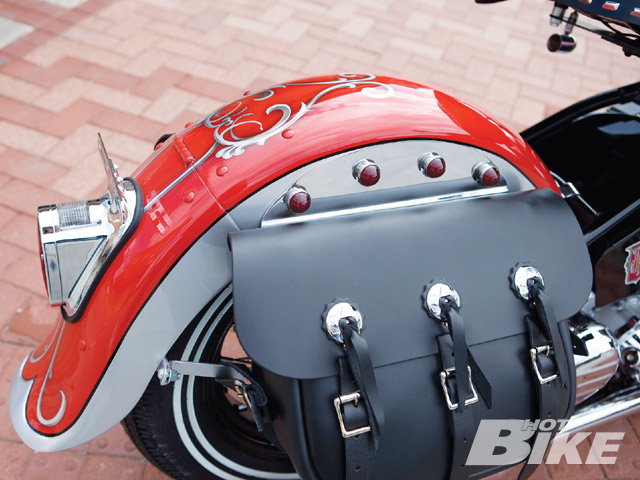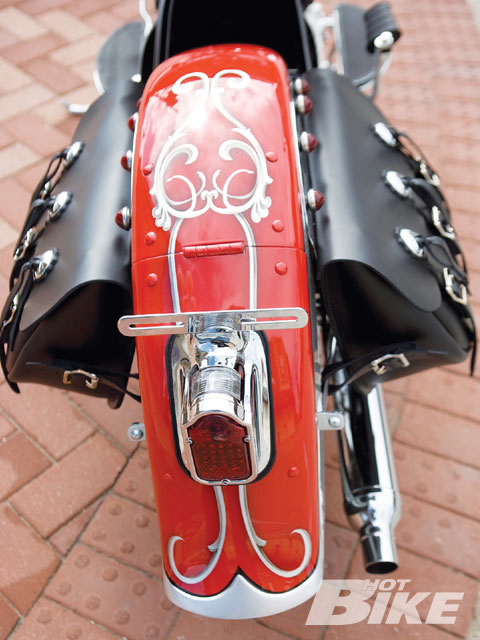 Picture this: It's New Years Eve in Bikersville, USA, and you're patiently waiting for the clock to stroke midnight. Your palms are sweating, your heart is racing. Why? Not for the fact that you're looking forward to that kiss from your special someone, but because you're wondering if that $5 you coughed up for a raffle ticket, or $25 you chipped in for six raffle tickets to the National Motorcycle Museum in Ananmosa, Iowa, is actually going to get you the custom-built, modern day version of a 1955 Panhead built by J&P; Cycles for the National Motorcycle Museum. You never know until you try, right?
This retro Panhead could very well be yours. The drawing will be held on Dec. 31, 2009 and winners need not be present to win. So if you can't make the trek to Iowa, you still have a chance to ride into the New Year on this 1955 replica Panhead. Just look at last year's winner of the National Motorcycle Museum's cutom bike, Steve Duffy from San Francisco, California. Steve walked away with a brand new, custom styled Panhead with a plethora of donated parts from notable manufacturers built for the Museum by J&P; Cycles.
As with last year, many V-twin industry philanthropists stepped up yet again by donating parts for this year's project in order to help keep motorcycling history and preservation high on the priority list of all enthusiasts. "Again this year we are extremely humbled to have the top names in the motorcycling industry donating products for this bike," said John Parham, president of the National Motorcycle Museum Board of Directors and owner of J&P; Cycles. "Without their support, this raffle would not be possible. This year's bike is a true beauty. We've gone way back with this one, incorporating the technology of today with the appropriate safety measures, all while keeping the styling classic," Parham added.
With over 225 motorcycles on display in the Museum from 1903 to the present, especially the famed "Captain America" from Easy Rider; there is plenty of two-wheeled eye candy, not to mention the cool vintage posters, old tools, early model engines, and basically any other great motorcycle paraphernalia that you can imagine. And with your support of a raffle such as this, the Museum can continue to grow its collection of fine artifacts.
Kody Wisner, special projects coordinator for J&P; Cycles, got to work with the inventory he had to work with and the finsihed product is the very beauty you see before you. For the engine sitting between the Tedd's V-Twin Panhead replica frame tubes, a P-Series 93ci engine from S&S; Cycle was decided on. To accompany the mill, a Rev-Tech four-speed transmission, starter, and alternator from Custom Chrome was donated. For shifting purposes, a Rivera Pro Clutch and Primo belt drive were a no brainer. And to handle the exhaust fumes, a Paughco exhaust was chosen. Also decided on were Performance Machine hand controls and brakes, Pac-Kit replica Panhead leather saddlebags, Wire Plus wiring components, Auto Gem lights and baby bullets, Coker tires, and a frontend and sheetmetal from Bikeris Choice. Everything and anything else that was needed to complete the build was pulled from the racks of the J&P; Cycles warehouse. Then for the paint, J&P; decided on Underground Art Studios to spray the colors and lay the graphics since it did such a bang-up job on last year's giveaway bike. A huge thanks from J&P; goes out to Scott Takes and Underground Art Studios for their superb work.
Over the past three issues, we took you through the process of the bike's conception to what you see before you today. From the mock-up stages, fabrication, tear down, finish work/paint, re-assembly, to final assembly. We were there to watch this beautiful bike grow into the custom it is today. And best of all, it could be yours! Just log on to the National Motorcycle Museum's website (www.nationalmcmuseum.org) or visit the J&P; Cycles website (www.jpcycles.com) to enter. We're almost sad to see it go, but at least one lucky winner will get to take it home and call it his or her own. Just treat it right because we'll find you if you don't! Good luck.
| | |
| --- | --- |
| SPECS | |
| BIKE OWNER | It could be you |
| SHOP NAME | National Motorcycle Museum/ J&P; Cycles |
| SHOP PHONE | (319) 462-3295 |
| SHOP WEBSITE | www.nationalmcmuseum.org |
| YEAR/MAKE/MODEL | 2009 Panhead replica |
| FABRICATION | Kody Wisner |
| ASSEMBLY | Kody Wisner and Tony Lueck |
| BUILD TIME | 3 months |
| | |
| --- | --- |
| ENGINE | |
| YEAR/MANUFACTURER | 2009/S&S; |
| TYPE/SIZE | P-Series/93ci |
| BUILDER | S&S; |
| CASES | S&S; |
| CYLINDERS | S&S; |
| HEADS | S&S; |
| ROCKER BOXES | S&S; |
| CARBURETOR | S&S; super E |
| AIR CLEANER | S&S; |
| EXHAUST | Paughco |
| | |
| --- | --- |
| TRANSMISSION | |
| YEAR/MANUFACTURER/TYPE | '09/RevTech/Four-Speed w/ kicker |
| CASE | RevTech |
| CLUTCH | Rivera Pro-Clutch |
| PRIMARY DRIVE | Primo |
| | |
| --- | --- |
| FRAME | |
| YEAR/MANUFACTURER | '09/V-Twin |
| RAKE | None |
| STRETCH | None |
| | |
| --- | --- |
| SUSPENSION | |
| MANUFACTURER FRONT | Bikers Choice |
| LENGTH | 2 inches under |
| TRIPLE TREES | Bikers Choice |
| MANUFACTURER REAR | N/A |
| SWINGARM | N/A |
| | |
| --- | --- |
| WHEELS, TIRES, AND BRAKES | |
| MANUFACTURER FRONT/TYPE | Ride Wright Wheels/Spoke |
| SIZE-HEIGHT/WIDTH | 16×3.5 |
| TIRE/SIZE | Coker/3/8-inch double whitewall |
| CALIPER | Performance Machine |
| ROTOR | Ride Wright Wheels |
| MANUFACTURER REAR/TYPE | Ride Wright Wheels/Spoke |
| SIZE-HEIGHT/WIDTH | 16×3.5 |
| TIRE/SIZE | Coker/3/8-inch double whitewall |
| CALIPER | Performance Machine |
| ROTOR | Ride Wright Wheels |
| | |
| --- | --- |
| FINISH/PAINT | |
| COLOR | Red with silver two tone and silver graphics |
| PAINTER | Scott Takes/Underground Art Studios |
| GRAPHICS | Underground Art Studios |
| POLISHING | Kody Wisner |
| POWDERCOAT | Anamosa Specialty Coatings |
| | |
| --- | --- |
| ACCESSORIES | |
| FRONT FENDER | Bikers Choice w/ custom bumper |
| REAR FENDER | Biker's Choice |
| GAS TANK∩ | Biker's Choice |
| OIL TANK | J&P; Cycles |
| DASH | J&P; Cycles |
| GAUGES | J&P; Cycles |
| HANDLEBARS | J&P; Cycles |
| RISERS | J&P; Cycles |
| MIRRORS | J&P; Cycles |
| HAND CONTROLS | Performance Machine |
| FOOT CONTROLS | J&P; Cycles |
| FOOTPEGS | J&P; Cycles |
| HEADLIGHT | Bikers Choice |
| TAILLIGHT | J&P; Cycles / Auto Gem |
| TURN SIGNALS | Your Arm |
| LICENSE MOUNT | J&P; Cycles |
| SEAT | V-Twin replica seat |
| SADDLEBAGS | Pac-Kit bags mounted w/ Auto Gem accessory lights |