Carey Hart was given his first motorcycle at age four, and he hasn't stopped riding since. The first man to land a backflip in competition has since retired from pro freestyle motocross, but Hart got into flat track recently, having bought and converted an Indian Scout for the Super Hooligan race series last year. So while he was checking out the new Scout FTR1200 Custom on display at Daytona this spring, Indian Motorcycle reps approached him to arrange a ride. The bike was shipped straight from Florida to Hart's compound in Central California, where this video was born. We caught up with him recently to get his impressions of the bike, and ask him why it may well be his ultimate do-it-all machine.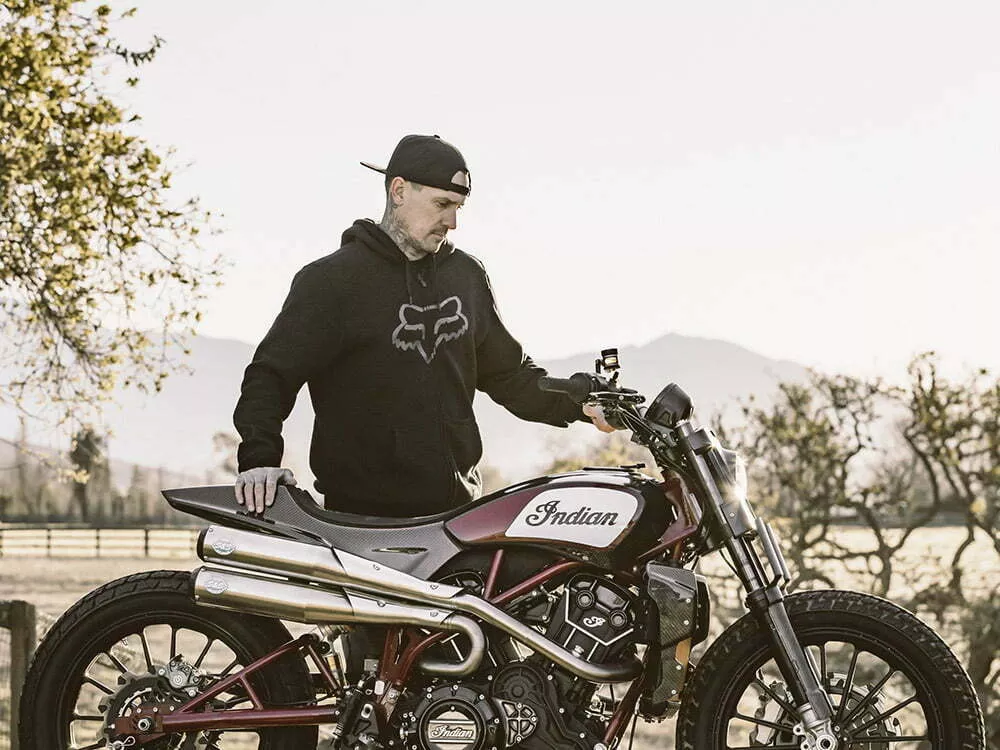 So did Indian basically come up to you and say, "Hey, would you like to try this thing?"
Funny thing, 'cause I actually bought a 750, thinking I would throw it in my shop and give it to my kid when he turns 20, and then I saw the 1200 go viral on social last summer and started drooling over that. In Daytona, Reid and Taylor came over and asked me if I wanted to ride this thing, and I said, "Of course!"
When watching the video, it looks like you've taken the bike out to a purpose-built track—or are those just some trails you're riding on?
That location is on my land, and the motocross-looking track you see there was my moto track, and that bike (the FTR) could actually handle it all. It might be tricky to load it up and head out to Glen Helen (a motocross track) but just on a natural turn track it was a blast. I had so much fun shooting there… I didn't want to give that thing up.
---
---
I understand that not long ago you converted a stock Scout into a Hooligan racer. So what's the comparison between that bike and this one?
I had a stock production Scout that I converted to do the Hooligan races specifically and have ridden it out on that track. This bike (the FTR) definitely does feel lighter and less bulky—the turning characteristics are night and day, but again, you're comparing a Scout running around on dirt and trails to this; I mean the thing (FTR) turns on a dime. I was really, really surprised at how well it turns.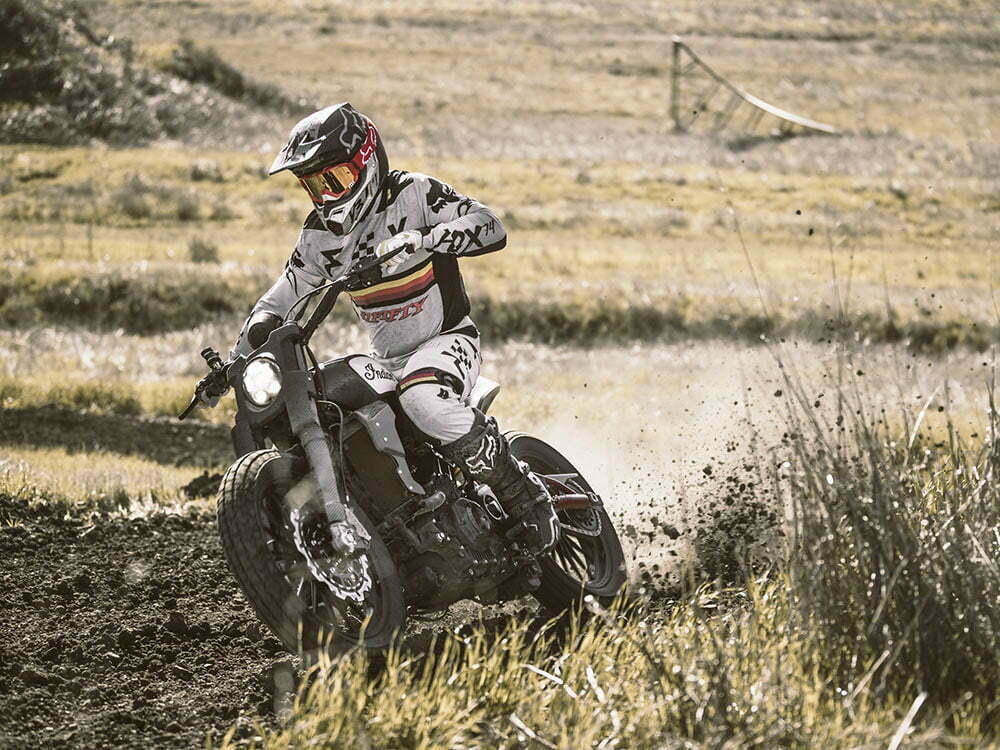 What about the riding position—is it more upright and streetable or do the ergonomics get into more of a racing stance?
Well, the way I was riding it—and the positioning of the pegs… If you kind of look at the ratio of pegs to handlebars—it's a really comfortable bike to stand up on. From my motocross background, I don't sit when I ride, I'm always on my feet, but it's a really comfortable bike even to sit and cruise on trails with.
Any issues with the high pipes and heat management? I've heard stories of "burn notices."
I actually had no problem with them. I was standing up a lot so I'm far from a traditional flat-tracker, but you know, those bikes you kind of ride toward the back of them a bit, and S&S actually did a really good job with the heat shields and all. Plus the sound of the pipes—man, just so nasty…so good.
I'm not sure if you had a chance to take it out on the street, but what's your feeling about tooling around on this thing, say, from café to café?
Absolutely no question—just the seated regular riding posture on it is really comfortable (though you probably want to lay down a little bit more seat foam). I'm praying that one day that thing hits production, 'cause for me that would be like the ultimate all-around bike. It's just a fun little rip-around bike, not as big and clunky as an adventure bike or dual-sport. If you can find a detour that's a dirt road, you'd probably want take it and then pop out on the asphalt. From looking at it, it looks like it's ready to hit the road.
Were there any specific features that surprised or really made an impression on you after riding the FTR1200?
I would say probably a couple of things: the geometry of the bike and how well it… There's no flop to the front end and it doesn't feel like the front end's too steep or too pushed out, and the rear wheel feels like it's underneath…and doesn't feel like it's too far behind you. I think one of the coolest things is that it feels really light and nimble—it doesn't feel like a traditional V-twin, a kind of bulky, heavy bike. I feel like the weight sits pretty low in it as well, it doesn't feel top-heavy. It's just really maneuverable. The other thing is, just aesthetically, looking at the bike, I was blown away by all the carbon (fiber) work on it. The carbon work is just insane.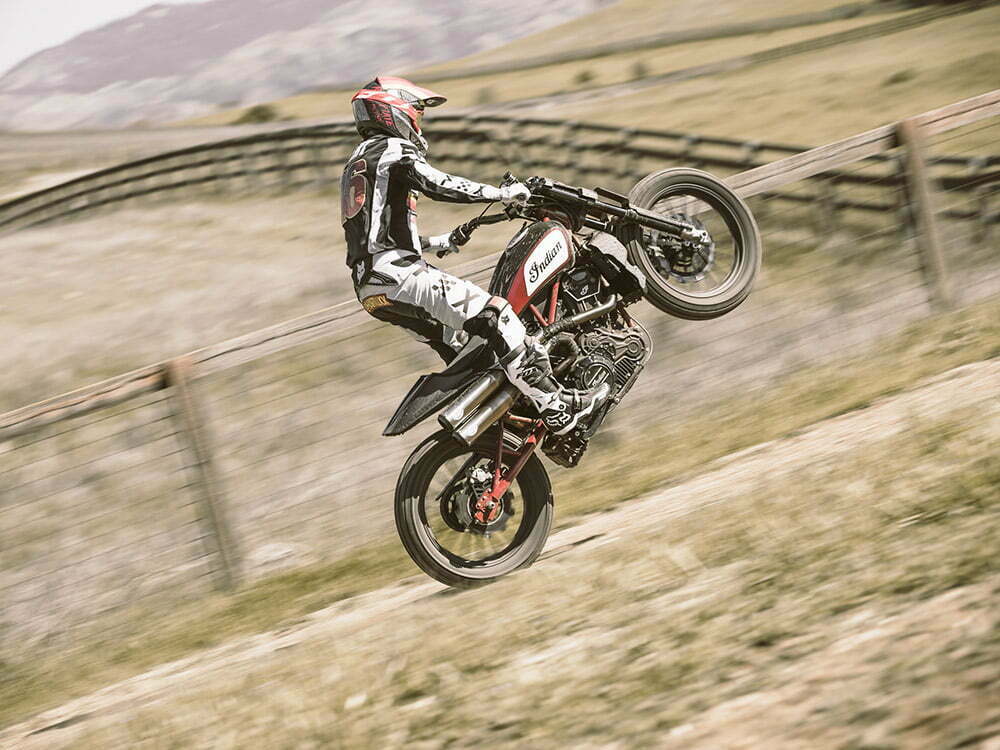 Now, in a couple of days you'll be transitioning to riding your Chieftain out in Germany (for Good Ride Salutes USAG Stuttgart). That's going to be quite a different experience.
Yeah, I'll be on my Chieftain in Germany, but I love my Chieftain. I've had a few of them now and tinkered on them and they're just great bikes, just so comfortable. I have a couple of guys I ride with and we do like 500- to 800-mile days, and the road fatigue is next to nothing on that bike. But the event will be awesome. I'm really looking forward to it!
To sign up to get exclusive updates on the FTR1200 Custom (and view the videos), check out indianmotorcycle.com/en-us/ftr1200/.