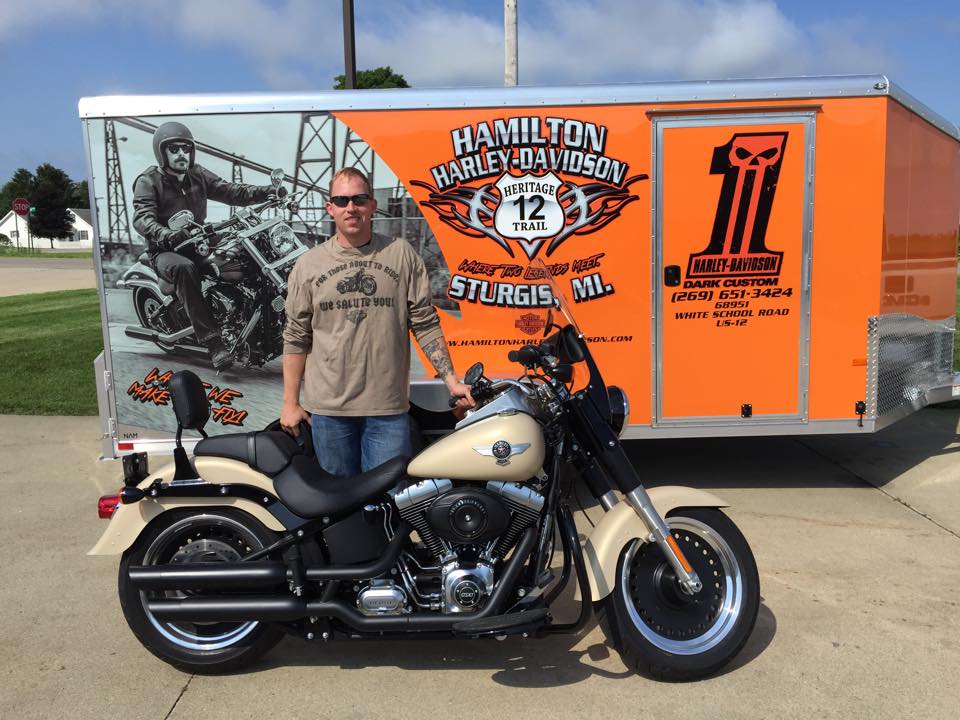 Motorcycling has always had a huge heart when it comes to those who serve their country in the military. Discounts, bike giveaways, and other benefits are all ways the industry gives thanks for that service. In the fifteen years I've worked for Hot Bike and our other cycle mags, I've never heard of Jeremy Burk's take on recognizing vets through motorcycling. Personally, I think it's a pretty cool idea and I'd like to see more dealerships give it a try. Instead of giving one bike away to one veteran, why not give it away to every vet?
Obviously Hamilton Harley-Davidson, the Sturgis, MI dealership Jeremy works at, isn't handing out free hogs to anyone with a military ID. That'd be awfully generous but it's rather lacking as a business model. Renting a Harley to vets for free, on the other hand, lets Hamilton keeping giving back to the troops over and over again. How cool is that?
Jeremy is Hamilton's P&A manager, social media marketing guy, and a go-to guy for getting things done. The idea's seed took root in his noggin last winter. "I watched a video that Harley-Davidson released showing a few of the executives from the MoCo giving six new Harley's to Wounded Warrior Alumni and it touched me big time. I thought about it for a few days and formed a few goals and made a plan, and presented the idea to Tommy Hamilton, my boss."
At first he wasn't too receptive to the idea because he is not one of the dealership owners that has super deep pockets; giving away a bike is expensive. Eventually, though, he warmed up to the idea. Burk and Hamilton contacted their rep at H-D and ended up having a brainstorm session with Harley Corporate, an exec from the Wounded Warrior Project, and Hamilton's district managers. One of the ideas they couldn't agree on was, who gets the bike?
Then it dawned on them: instead of giving the bike to ONE vet, give it to EVERY vet! So the idea of #freedomride was hatched: "We sought out sponsors from local businesses and actually raised the money in our small town to purchase a brand new Fat Boy Low in Sand Camo, for any active or inactive USA veteran to rent for free. All they have to do is call us, schedule a time slot for an hour or a weekend, or whatever they want to do," Jeremy says. "We are the first dealership to do this and we are now the smallest dealership in the Harley-Davidson Rental Program." The first vet to take the bike out was Nathan Johnson (pictured). Jeremy reports that the inaugural #freedomride was a great turnout with over 125 bikes last Sunday and Nathan and the #freedomride Fat Boy helped lead the way.
If you want to find out more, visit Hamilton's website here.