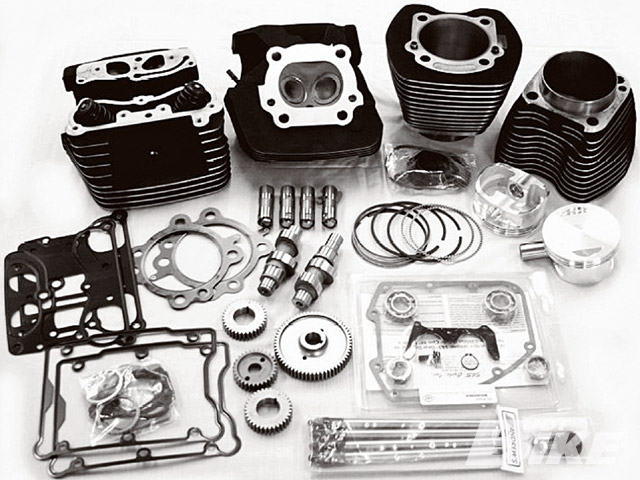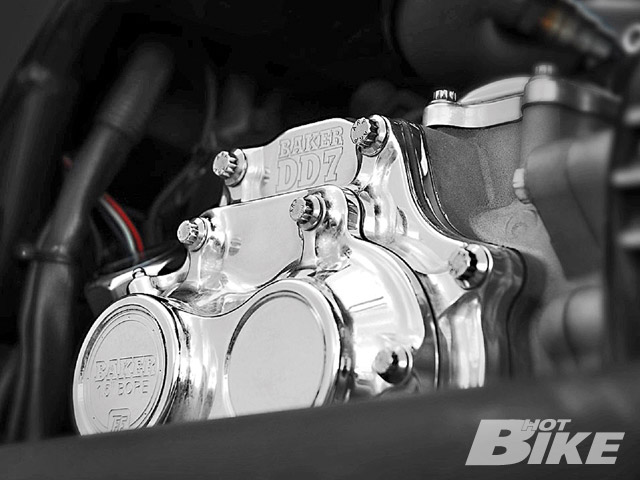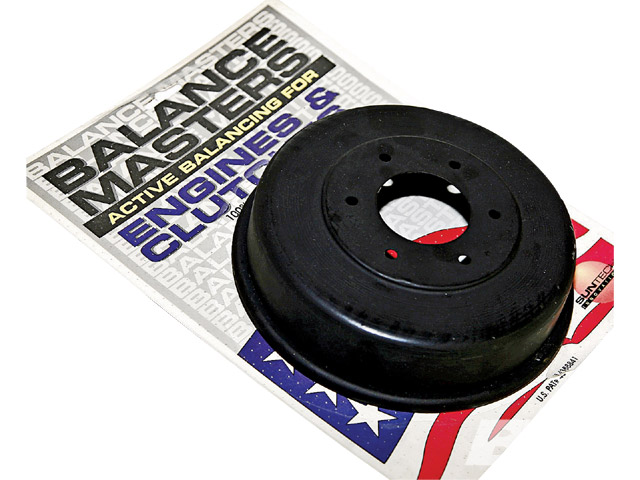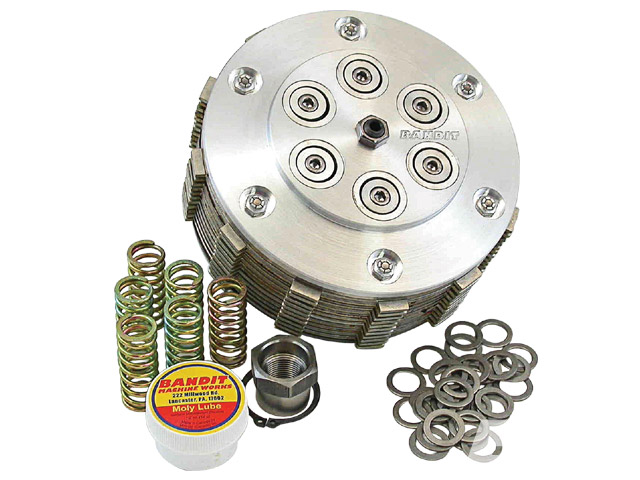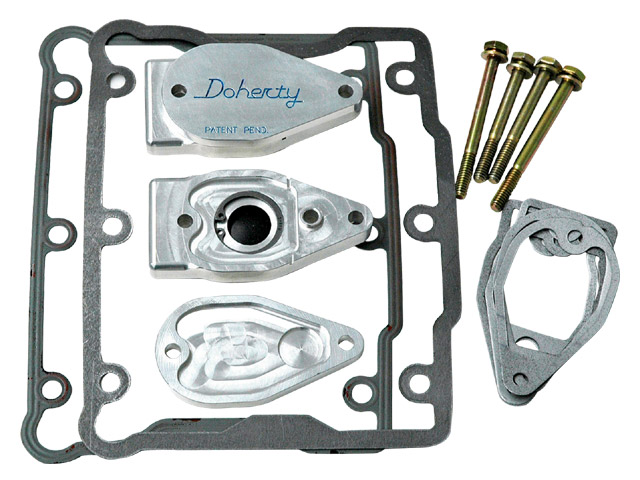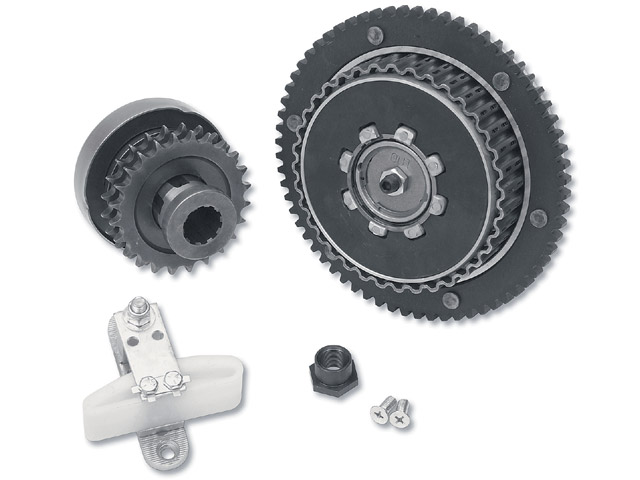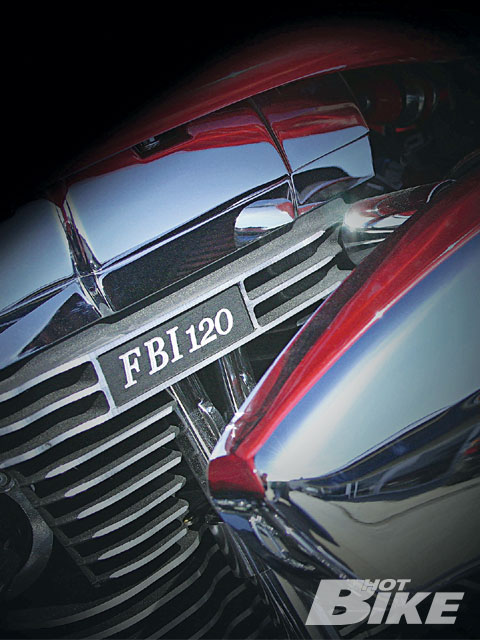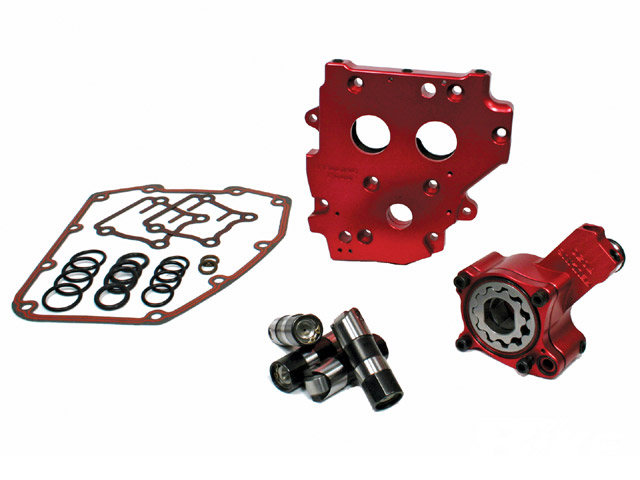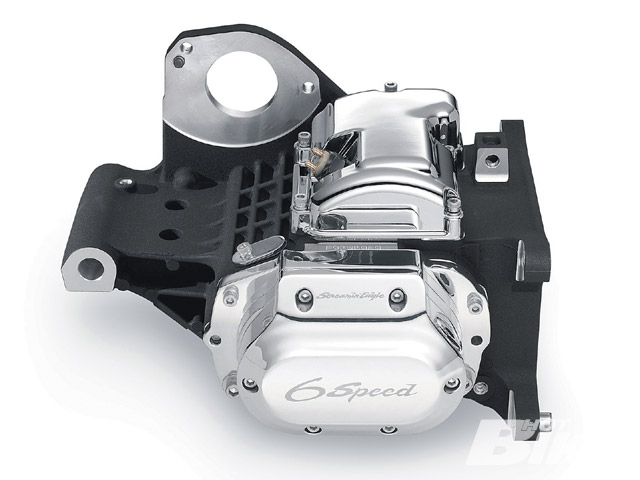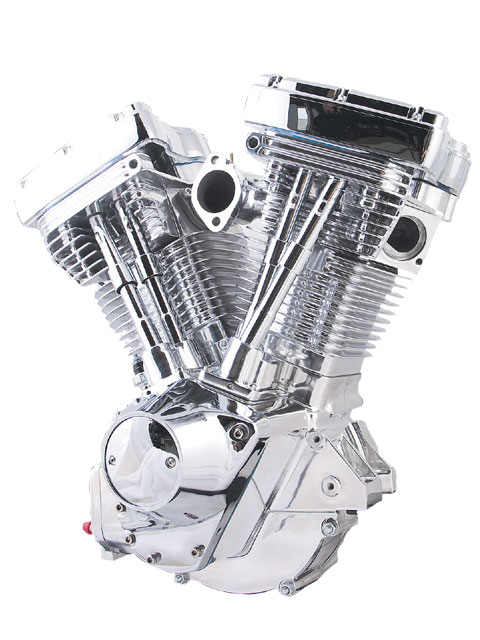 AMS Hi-Torque Pork Engine Kit
Contact For Price
Looking for a little boost? This hop-up kit from AMS features five-axis CNC ported heads with ceramic thermal barrier coated exhaust ports, multi-angle valve seats, and high intake velocity. When bolted on an AMS precision bored and honed 96ci or 105ci Big Bore Cylinder kit, the power increases are sure to get your blood pumping.
AMS
(800) 210-8675
www.automotivemachine.com
---
Baker Drivetrain DD7
$2,995
The seven-speed trans from Baker is ready to take on your '06 Dyna and '07-later big twin. If you're looking for a little something extra, the DD7 features the following gear ratios: 1st (3.76), 2nd (2.75), 3rd (2.06), 4th (1.55), 5th (1.27), 6th (1.10), 7th (1.00).
Baker Drivetrain
(877) 640-2004
www.bakerdrivetrain.com
---
Balance Masters Clutch Balancer
Contact For Price
This device bolts on to the stock clutch of Harley big twins and Sportsters from 1938 to present and automatically readjusts each time the clutch engages to act as a self-adjusting active balancing device that mounts over the stock clutch pressure plate. It not only self-adjusts to the clutch's rotational speed, but also to the rotating mass of the clutch plates and hub assembly each time the clutch is engaged.
Balance Masters
(818) 882-8431
www.balancemasters.com
---
Bandit Machine Works
$499
The Sportsman Superclutch is now available for '07-later Twin Cams and features two more friction plates than stock, and the plates are twice as wide for more surface area in the clutch shell. The Sportsman also features six adjustable coil springs, and two sets of springs with shims included to suit stock or race engines.
Bandit Machine Works
(717) 464-2800
www.banditmachineworks.com
---
Doherty Machine Mystfree
$229.95
Have you been affected by oil mist from your Twin Cam's breather system? The Mystfree helps eliminate oil mist from coating your bike, you, or your passenger by controlling and virtually eliminating misting that is normally associated with a build up in crankcase pressure and inadequate oil pump scavenging.
Doherty Machine
(928) 541-7744
www.dohertymachine.com
Drag Specialties Primary Drive Kits
Starting At $639.95
These kits are now available and include the compensating sprocket assembly, chain adjuster assembly, and complete clutch assembly with Kevlar plates. The primary chains are sold separately. The kits will fit '90-06 big twins, excluding '06 Dyna models.
Drag Specialties
www.dragspecialties.com
---
Evil Engineering 2-inch Belt Drive
Starting At $2,695
The Bobber style HT Belt Drive is made from billet aluminum and features a Helical Offset Tooth (HOT) setup to handle your performance engine. The drive uses a 7-inch clutch and the entire assembly is available in raw or polished with a right side drive option.
Evil Engineering
(800) 372-8612
www.evil-engineering.com
---
JIMS Engines From Fat Baggers Inc
Contact For Price
Looking for a monsterous JIMS engine to power your bagger? The Fat Baggers Inc. (FBI) crew has a whole lineup of JIMS engines ranging from 120ci to 131ci to give your bike the extra pep in its step. The 131 features a 4 5/16-inch bore and a 4 1/2-inch stroke with a compression ratio of 10.5:1; the 120 features a 4.125-inch bore and a 4 1/2-inch stroke with a compression ratio of 10:1.
Fat Baggers Inc
(877) 324-2453
www.fatbaggers.com
---
Feuling Oiling System
Starting At $859
This Oiling System from Feuling includes a billet high-volume oil pump, a billet camplate, hydraulic roller lifters, and a gasket kit. It is said to increase oil pressure, oil volume, engine oil flow, and return oil scavenging. Now that's cool.
Feuling Parts
(619) 917-6222
www.feulingparts.com
---
GP Designs Twin Cam Mainshaft
Outer Bearing Support
Contact For Price
This component secures the crankshaft by adding another bearing. The bearing secures the shaft at its outermost point on the left side, preventing possible crankshaft bearing failure and it bolts directly to the engine case and the inner primary. The Mainshaft Outer Bearing Support fits '03-later Twin Cam FLH models.
GP Designs
(866) 356-2464
www.gpdesigns.net
Harley-Davidson Screamin' Eagle Six-Speed
Overdrive Transmission
$2,799.95
This six-speed with overdrive trans from the Motor Company is a direct replacement for many Evo and Twin Cam Dyna, Softail, and Touring models utilizing a five-speed transmission. The trans incorporates a late-model shifting mechanism and a shift-ring system with forged-steel shift forks.
Harley-Davidson
(800) 443-2153
www.harley-davidson.com
---
Illusion Motorcycles EPA/CARB Certified Engines
Starting At $5,350
The 80ci-114ci Illusion engines are available with either an EPA or CARB certification. The certified engines feature a 3.5 to 4.125-inch bore and a 4.25-inch stroke. The certified engines breathe through a model-specific Mikuni 42mm carb with a custom designed fully compliant airbox. And they're legit!
Illusion Motorcycles
(714) 894-1942
www.illusionmotorcycles.com
---
Milwaukee Twins High Tech 3-inch Belt Drive
$1,049.99
This new 3-inch open belt drive conversion is now available for '00-06 Softail models and includes complete clutch kit covers, pulleys, a 14mm belt, and necessary mounting hardware.
J&P; Cycles
(800) 397-4844
www.jpcycles.com
---
Kuryakyn Inner Primary Cover
$139.99
These new inner primary covers from Kryakyn fit '07-09 Electra Glides, Road Glides, Street Glides and Road Kings. Bolt it right up to the stock engine case and primary housing to give your primary setup a chrome finish.
Kuryakyn
(866) 277-9598
www.kuryakyn.com
---
Matthews Performance Big Fin Heads
Starting at $1,450
Matthews has released its take on 45-degree V-twin heads with the release of the Matthews M2 and M3 heads. These high-flow heads feature the same port design used in the company's NHRA Prostock car and motorcycle engines. If the pros dig 'em, you might too!
Matthews Performance Products
www.matthewsperformanceproducts.com
Prowler BAR Transmission
$2,499.99
Have a high-horsepower engine? The Prowler six-speed BAR transmission is a right-side-drive unit that features a stabilizing bar between the shafts to prevent flexing. The Prowler also features an additional bearing support.
MC Advantages
(800) 726-9620
www.mcadvantages.com
---
Mid-USA Ratchet Top Assembly
for Big Twin Four-Speed
$333.55
V-Factor's new replacement transmission top was designed for '52-79 big twin four-speed models. It includes all the small internal parts in one convenient kit. The Ratchet Top is available in chrome.
Mid-USA
(314) 351-3733
www.mid-usa.com
---
Bud's Biker Parts Oil Bud
Starting At $595
The Oil Bud could prolong the life of your engine by protecting it from overheating. This oil cooler uses an aluminum extruded aluminum design with braided stainless steel hoses to regulate oil temperature and mounts under the frame rails. The Oil Bud fits most Softails and Touring models, including 2009.
Bud's Biker Parts
(406) 457-2458
www.budsbikerparts.com
---
JIMS Fat 5 Overdrive Transmission
Contact For Price
This new trans from JIMS was made with the big engine, big tire enthusiast in mind. It has all the added features of a six-speed tranny but it's been re-designed with oversize gears to handle the increased torque loads of today.
JIMS
(805) 482-6913
www.jimsusa.com
---
Performance Machine Contrast
Cut Contour Belt Drive
$2,799.95
This Contour primary has made its way into the PM production line and it's available with the Contrast Cut finish to fit your '91-09 Softails, Dynas, and custom applications. The Countour motor plate and lock-up clutch can handle the power output of big V-twins and clutch lever effort is smooth because of the lower rate springs.
Performance Machine
(714) 523-3000
www.performancemachine.com
Primo Brute IV Open Belt Drive
$2,333.09
This Brute IV Extreme 2007 3-inch Electric Start Open Belt Drive is brand new for Primo and fits all 2006 Dyna models and all 2007 later Softail and Dyna models. The kit includes a one-piece billet motorplate, 3-inch drive belt, front pulley, rear pulley, starter ring gear, and the Pro Clutch.
Rivera Primo
(562) 907-2600
www.riveraengineering.com
---
Prairie Tech Innovation Diaphragm
Clutch Spring Conversion Kit
Starting At $176
If you've experienced slip and drag from your stock '41-84 big twin's four- or five-speed trans, then the Diaphragm Clutch Spring Conversion Kit may solve your problem. The kit works with your stock hub, basket, and plates.
Prairie Tech Innovations
(877) 992-9910
www.prairietechinnovations.com
---
R&R; Cycle's Big Inch Engines
Contact For Price
Looking for big power from a big beefy motor? R&R; Cycle has plenty of large displacement motors to choose from, including 127, 139, 147, and a whopping 155 ci. R&R; Cycle motors are available as Evolution style or Twin Cam style and are made in the USA and CNC machined from high-quality parts.
R&R; Cycle
(603) 645-1488
www.rrcycles.com
---
S&S; Cycle Chain Drive Cams
$295
S&S; has just released these new chain-driven cams for '07-later big twins. The cams are compatible with the stock chain drive. They are also available in many different grinds.
S&S; Cycle
(608) 627-0283
www.sscycle.com
---
T-Man Performance 135ci Big Bore Kit
$1,325
Attention JIMS 120ci and 131ci engine owners! T-Man Performance has released a big bore kit that bumps up your 120ci or 131ci JIMS engine to 135 ci, featuring custom-designed pistons and ring sets to utilize the 4.375-inch Revolution Performance cylinders spec'd by T-Man Performance. The kit comes complete with cylinders, your choice of flattop or 15-degree domed pistons, and head and base gaskets.
T-Man Performance
(336) 993-7068
www.tmanperformance.com
Tech Cycle Modular Belt Drive
Contact For Price
The new modular belt drive system from Tech Cycle is now available for '07-later Softails and '06-later Dynas. Choose either a 2-inch or 3-inch belt drive system and an optional contoured side belt guard is also available along with a high torque gear reduction starter designed specifically for '07 models with 96ci engines.
Tech Cycle
(215) 702-8324
www.techcycle.com
---
Tedd's Cycle Ignition System
$219.96
This V-Tech Ignition System ftis all '70-97 carbureted models (Evos, Shovels, and Sportsters). It can also be set for either street or race applications and will work with electric or kick start applications. The V-Tech system features an adjustable rpm limiter ranging from 4,000-8,000 rpm.
V-Twin Mfg
(800) 833-8946
www.vtwinmfg.com
---
TP Engineering Pro Series Engines
Contact For Price
The Pro-Series engines from TP Engineering are available in 114, 121, and 124ci applications and include a Pro-Series Smart Pump patented oil pump, Pro-Series 7075-T6 billet lifter blocks, forged coated pistons, patented Pro-Vent billet rocker boxes, billet cam cover, Pro-Series forged roller rocker arms, and Pro-Series Scramjet air filter.
TP Engineering
(203) 744-4960
www.tpeng.com
---
Ultima Belt Drive Kits
Contact For Price
The new belt drive system from Ultima was made for '91-05 Dyna models for Twin Cam and Evolution setups. The backing plate is made from 6061-T6 billet aluminum and claims to keep your bike balanced due to its lightweight construction. You can also choose the outboard support option.
Ultima
www.ultimaproducts.com
---
Zipper's Performance Five-Speed
Transmission Trap Door
$299.95
Using the original Bisagno design, Zipper's now produces these transmission trap doors that are CNC machined from billet aluminum with heavy-duty double row bearings for strength and shaft alignment and support. The new trap door assembly is made to fit '87-06 five-speed big twins.
Zipper's Performance
(410) 579-2828
www.zippersperformance.com