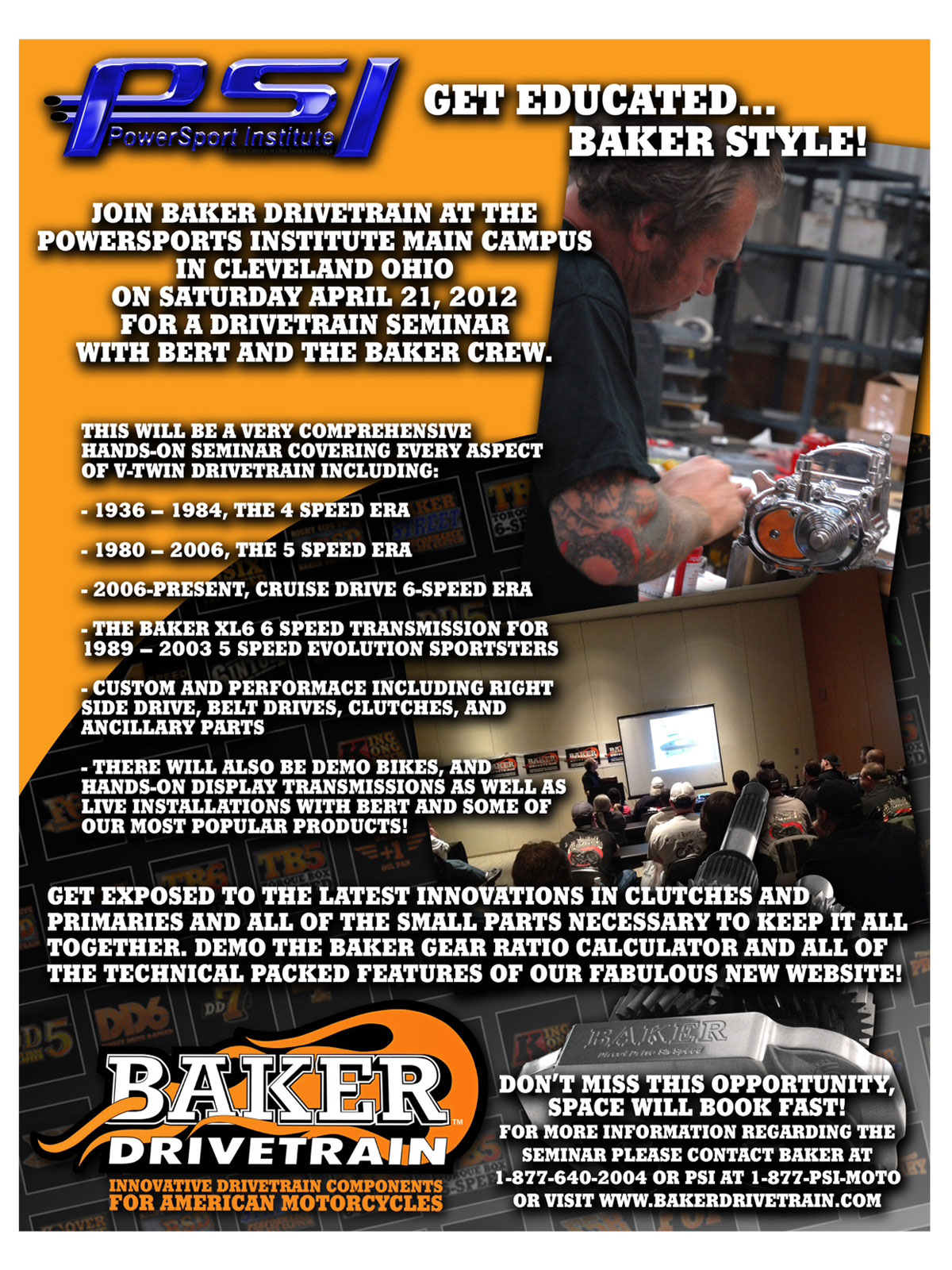 Join Baker Drivetrain at the Power Sports Institute main campus in Cleveland Ohio in Saturday April 21, 2012 for a full day Drivetrain Seminar with Bert and the BAKER Crew. This will be a very comprehensive hands-on seminar covering every aspect of V-Twin Drivetrain including:
1936 – 1984, The 4 Speed Era: The complete evolution of the 4 speed transmission, how they work, what makes BAKER better, and the latest upgrades to fully modernize your 4 speed bike. This includes an in depth look at the 4 speed starter, primary, and clutch system and a live demo of the BAKER fully equipped 4 speed Shovelhead.
1980 – 2006, The 5 Speed Era: Learn the evolution and development of the 5 speed transmission, from shift systems to gear ratios. Get the BAKER 6 speed history lesson, the OD6, the DD6, their differences and applications as well as a hands-on DD6 install with Bert himself. Discover the F5R and DD6RV reverse kits and see a live demo of the BAKER reverse demo bike.
The Cruise Drive Era, 2006 Dyna and 2007 to Present Softail and Dresser models: The DD7, why was it developed and how does it improve your late model bike? Follow Bert through a live DD7 install. F6R reverse kits, F6F Factory Six Fix kit and Street Door explained and reviewed. The newest N1 shift drum for Cruise Drives revealed. The hottest of our new products, the Bully Primary and Attitude Adjuster manual tensioner will be on display and ready for your inspection.
The BAKER XL6 6 speed transmission for 1989 – 2003 5 Speed Evolution Sportsters: Take a hands-on look at the XL6, the only true bolt-in 6 speed conversion available.
Custom and Performance, Belt Drives, Clutches, and Ancillary Parts: Learn the history and development of Right Side Drive from the guy who invented it! Get exposed to the latest innovations in clutches and primaries and all of the small parts necessary to keep it all together. Demo the BAKER Gear Ratio Calculator and all of the technical packed features of our fabulous new website!
Don't miss this opportunity, space will book fast! For more information regarding the seminar please contact BAKER at 1-877-640-2004 or the Power Sports Institute at 1-877-PSI-MOTO or visit www.bakerdrivetrain.com