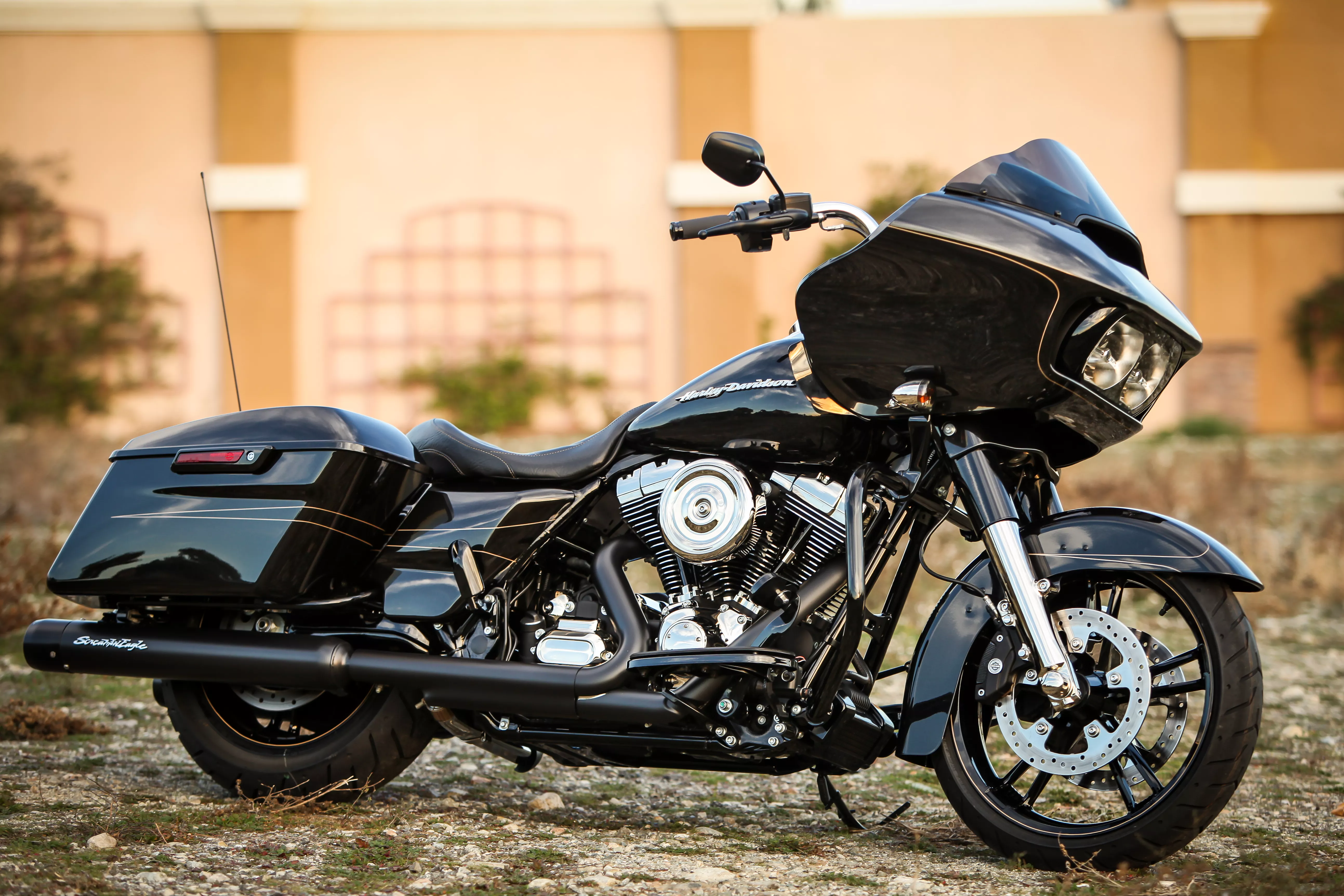 Sometimes a few modifications are all you need to catch my eye. This newly upgraded 2016 Road Glide Special was sitting out on our sales floor at my work, Pomona Valley Harley-Davidson, and I just had to stop and take a better look. The simple adjustments made turned this baby into a 2 wheeled beauty.
The already modified look of the Road Glides with the Sharknose fairing, the CVO model style low-profile rear suspension, and reduced-width primary housing and derby cover brought these bikes a sleek look to begin with. Brian Breeland, who works his magic in our Service Department, knew he could make it even better.
The bike ended up with an all over Black and Tan look, which was the reason it pulled my eye to begin with. The stock paint is called "Black Quartz", a black finish with an all-over small golden flake that adds depth, and catches your eye in the light, with standard pin-striping adding an antique cream color to accent the flake.
To continue with the color scheme, Breeland had the 19" front and 16" rear Enforcer Cast Aluminum wheels powder coated a vivid black, and Renzy Perret added a simple pinstripe to them to match the current pinstriping that runs throughout the bike.
If you spend some time looking at the parts Harley has to offer, you will see pieces that look custom made, like the seat they chose, which comes as an upgrade for the Screaming Eagle Street Glide, a perfect choice for this 2016 Road Glide modification.
With the diamond embroidery matching the paint colors, the Black and Tan theme continues. Personally though, my favorite part was taking all the chrome and amping it up with nickel plating on so many pieces. Taking a cool chrome finish and turning it into a warm reflective antique metal tone, accenting all of the remaining chrome was replaced with simple black.
Taking the forks and splitting them up with nickel on the bottom and powder coat black on the uppers, and replacing the mirrors and hand controls with flat black pieces to make the nickel plate pop. To continue that flat black to accentuate the nickel finish, they upgraded the pipes to the Screaming Eagle mufflers and heat shields for a sleek look and smooth sound.
I think the guys in Service knocked it out of the park on this one, and I can't wait to see what other bikes they turn out as the year progresses.
-Twila Knight