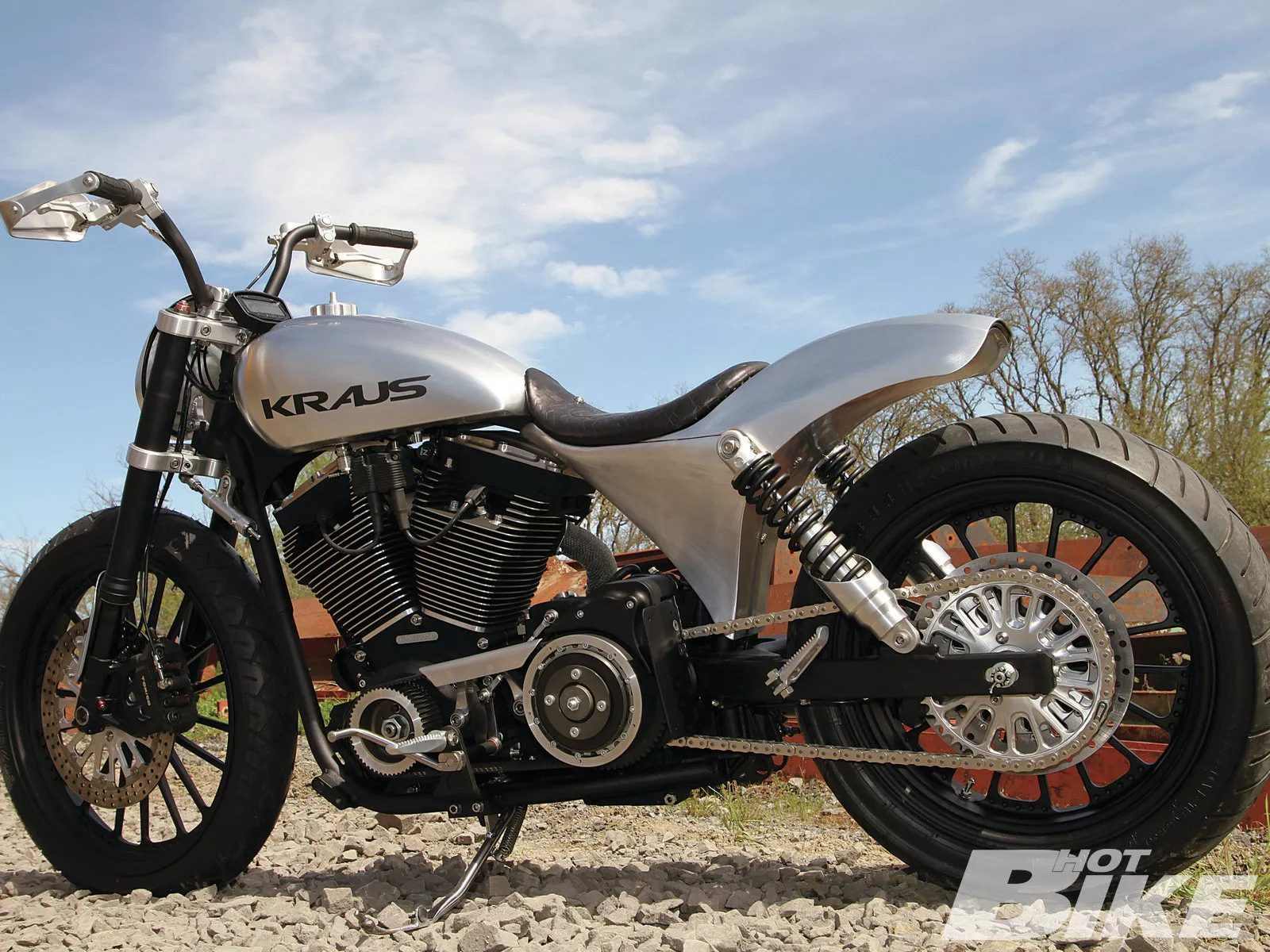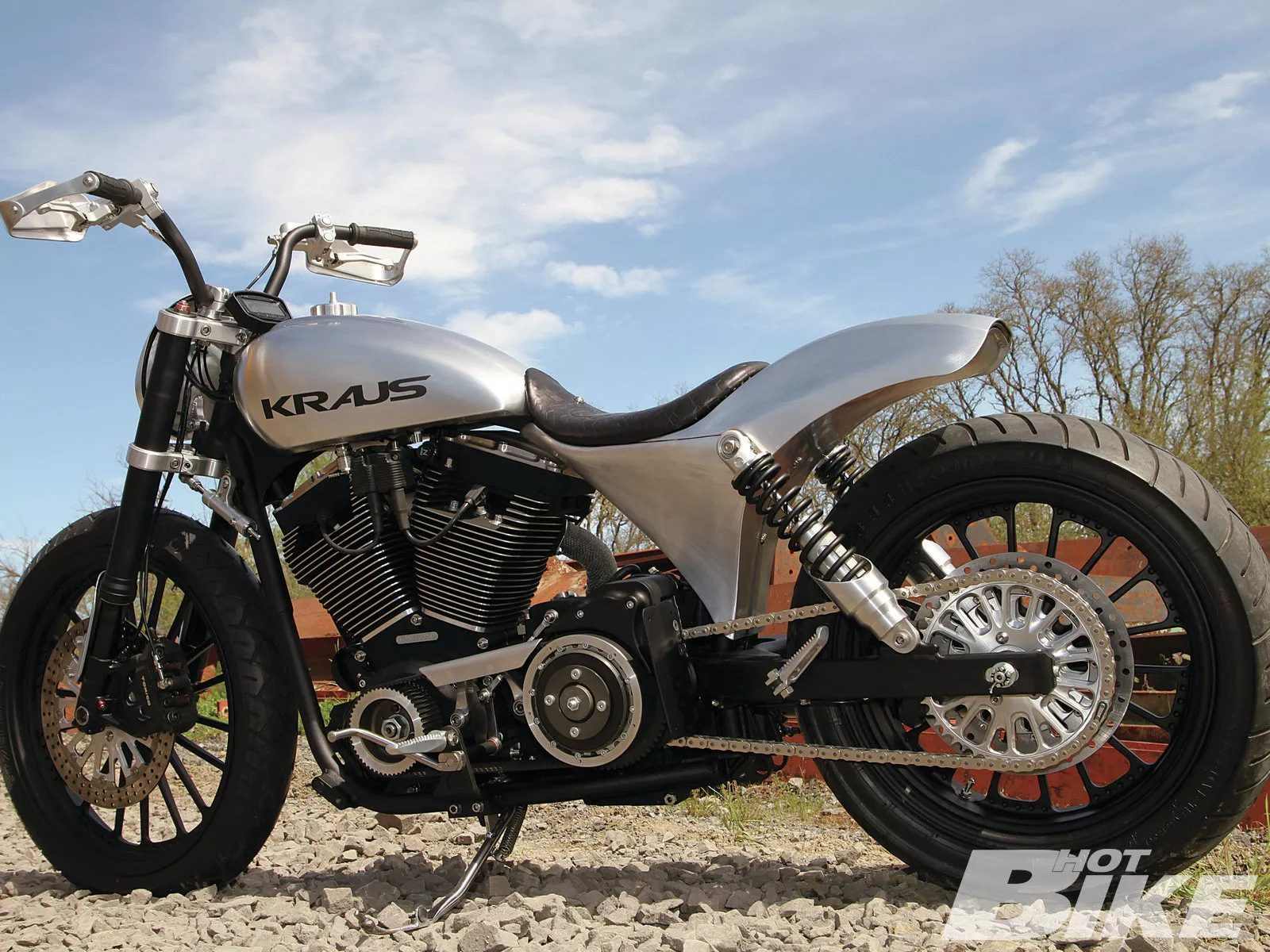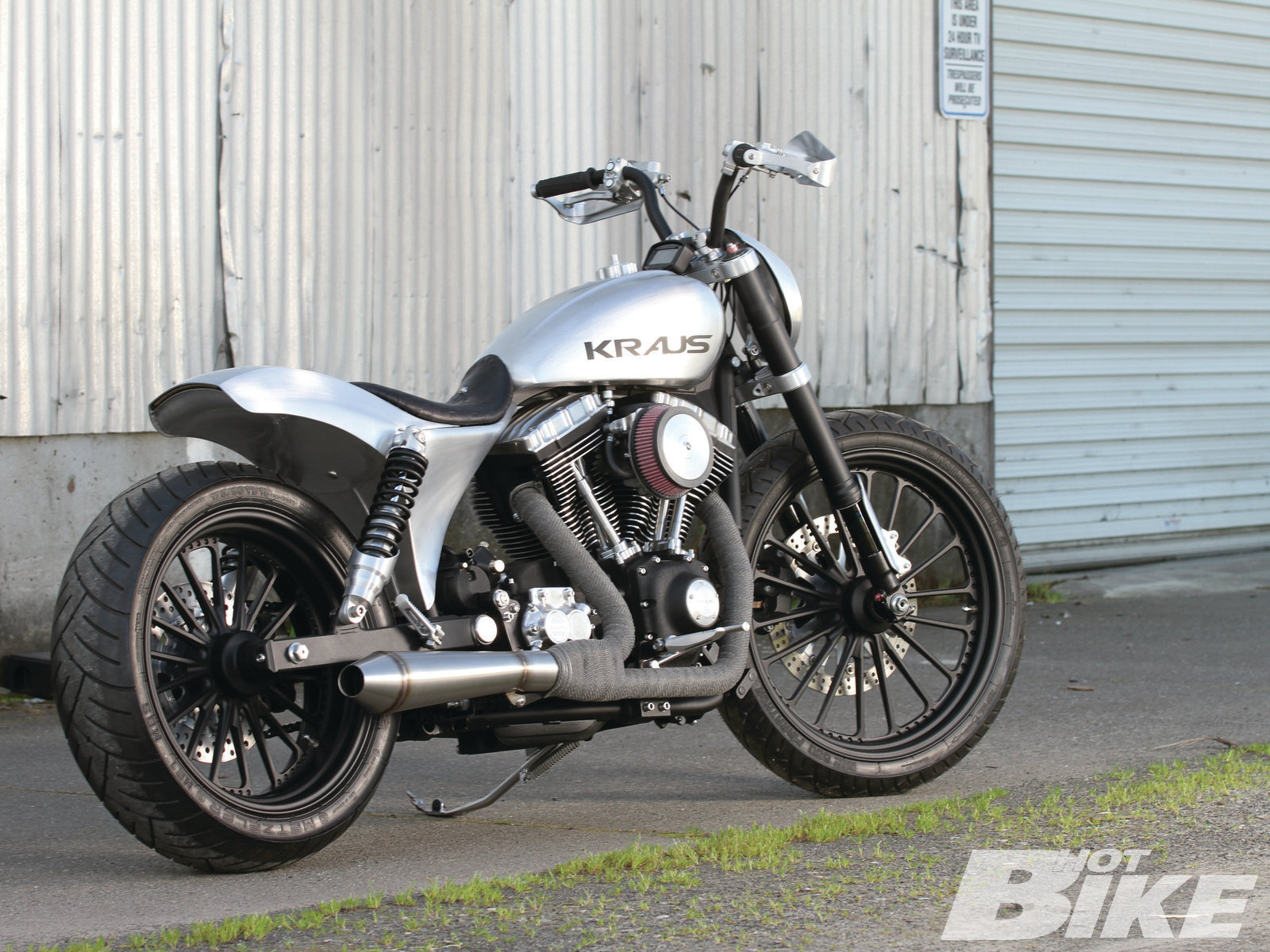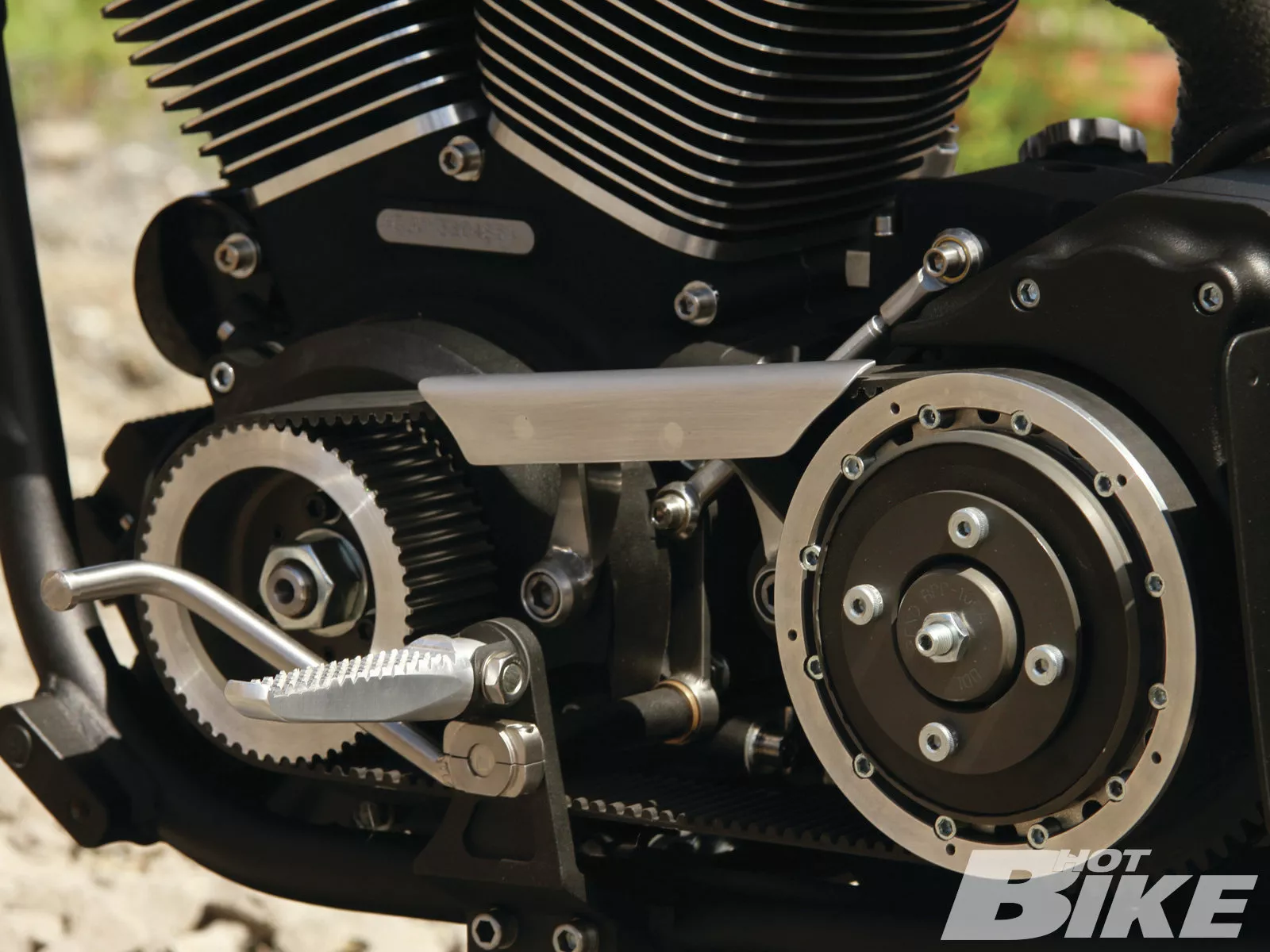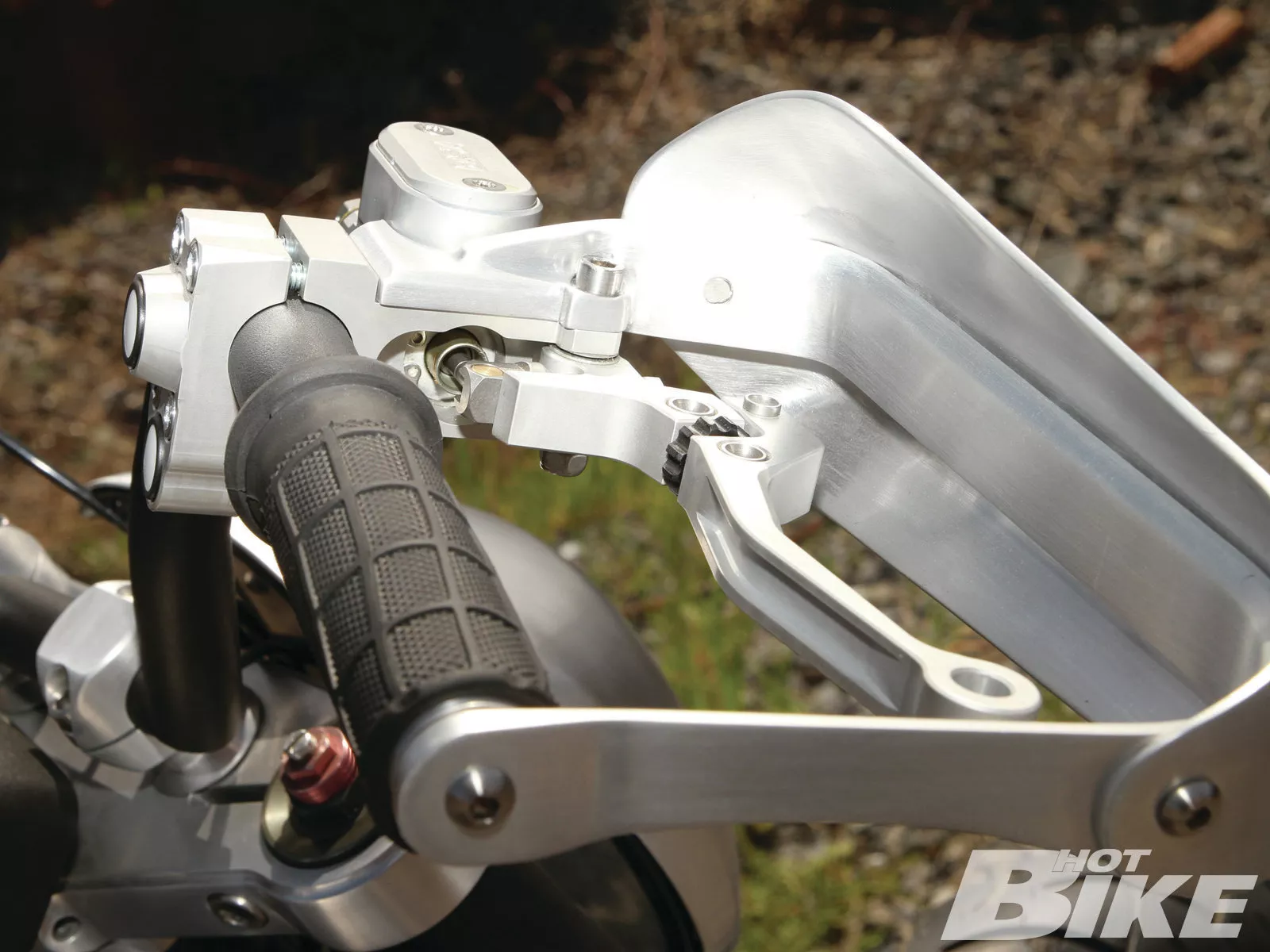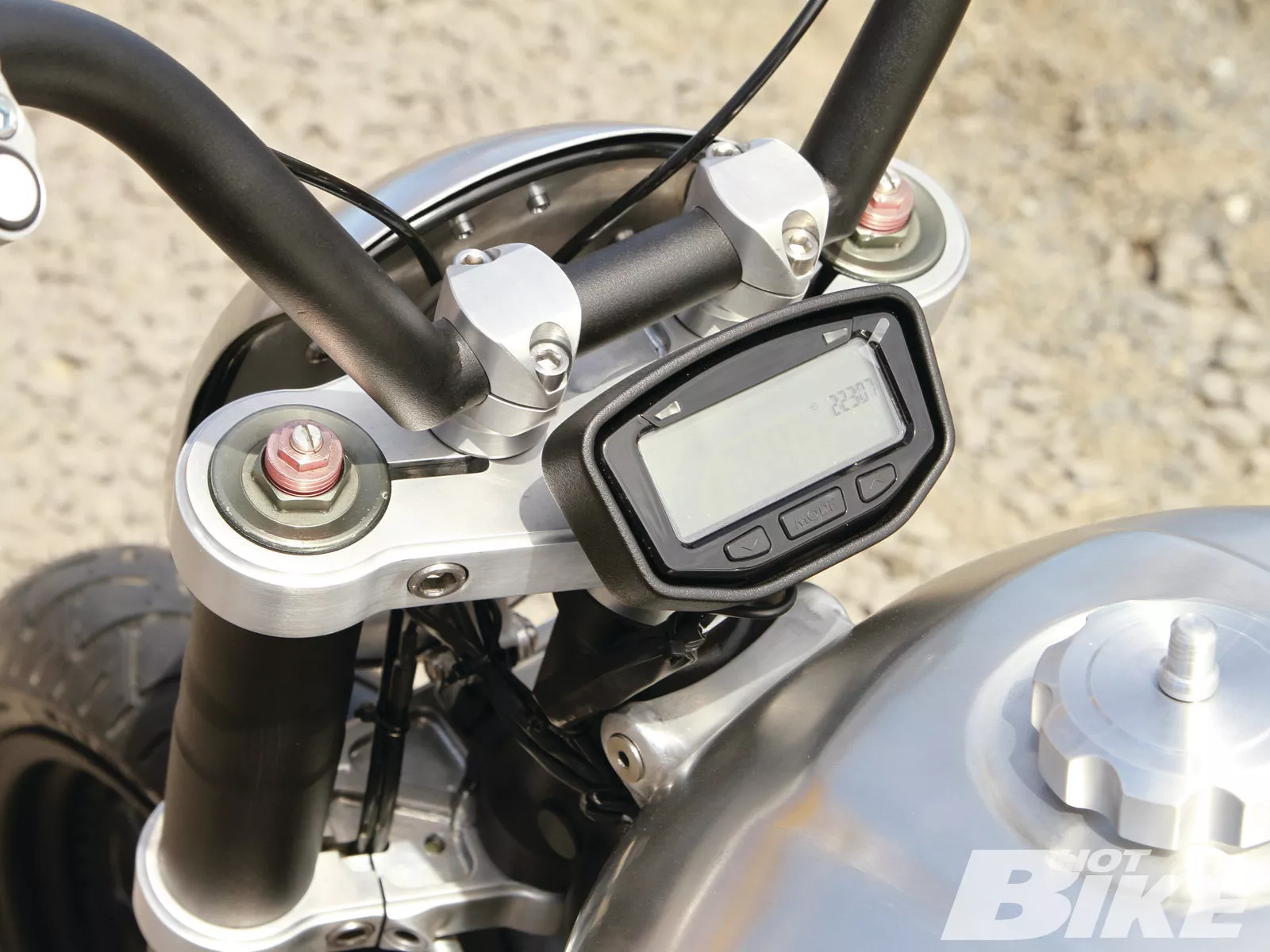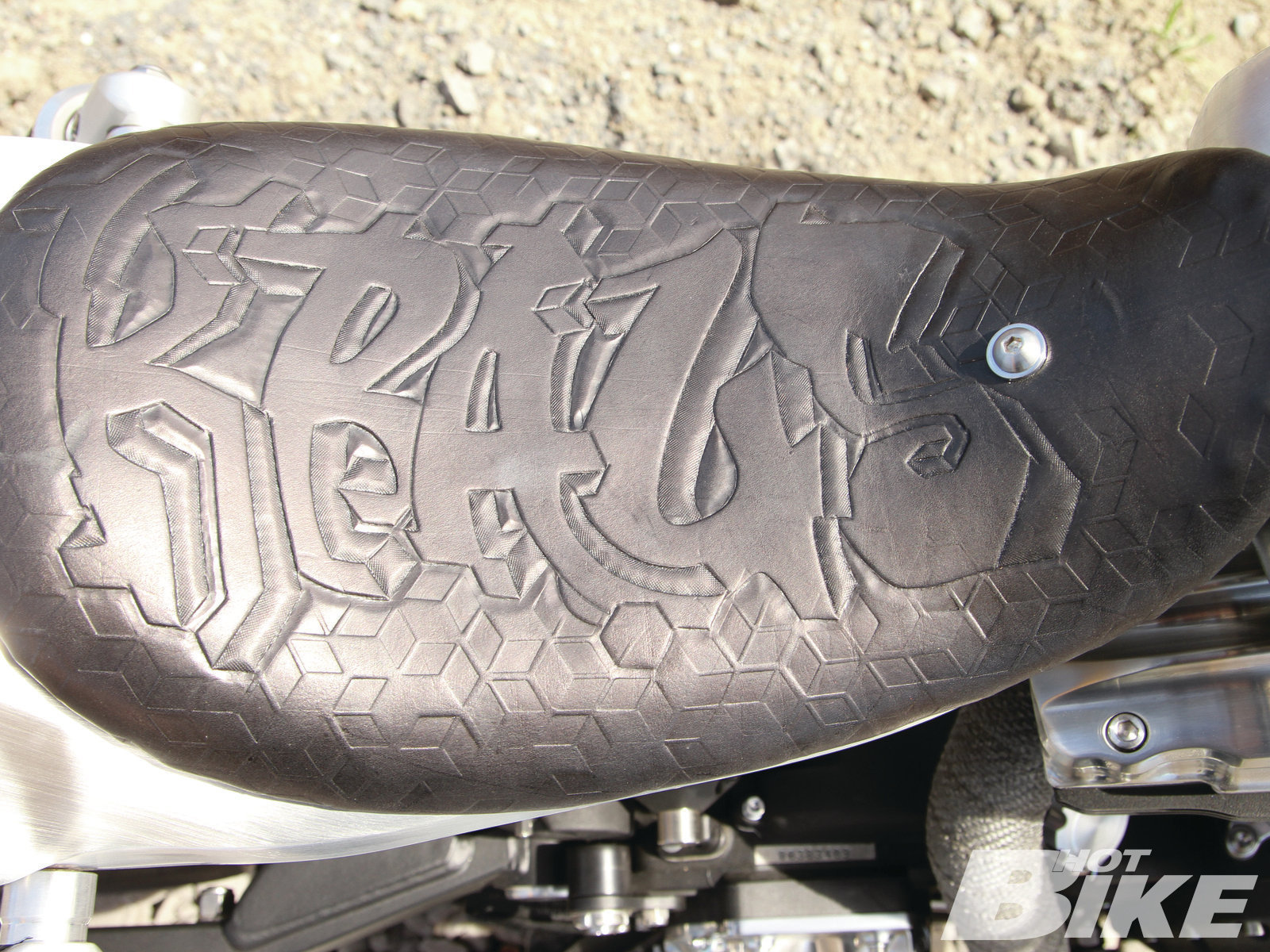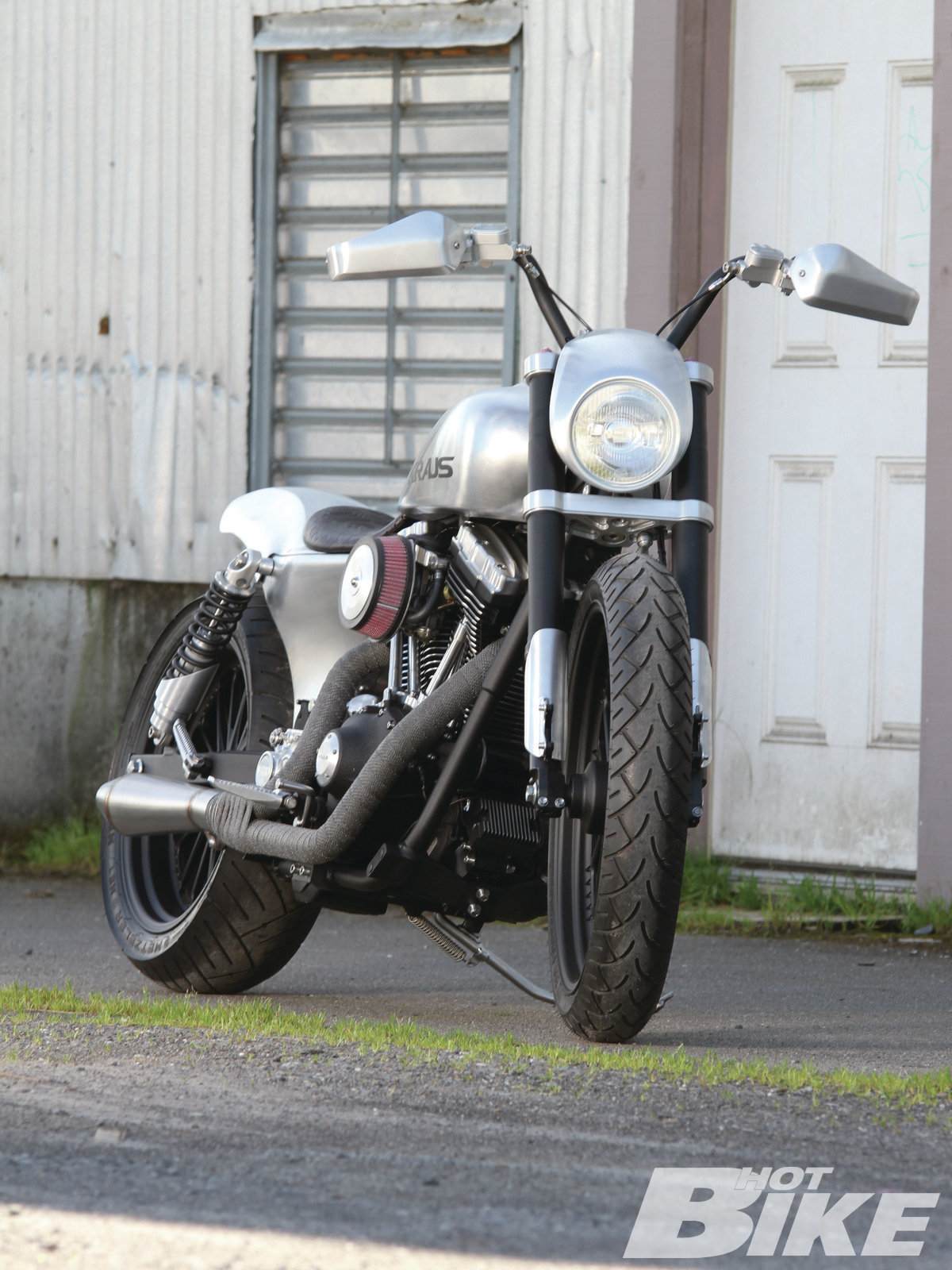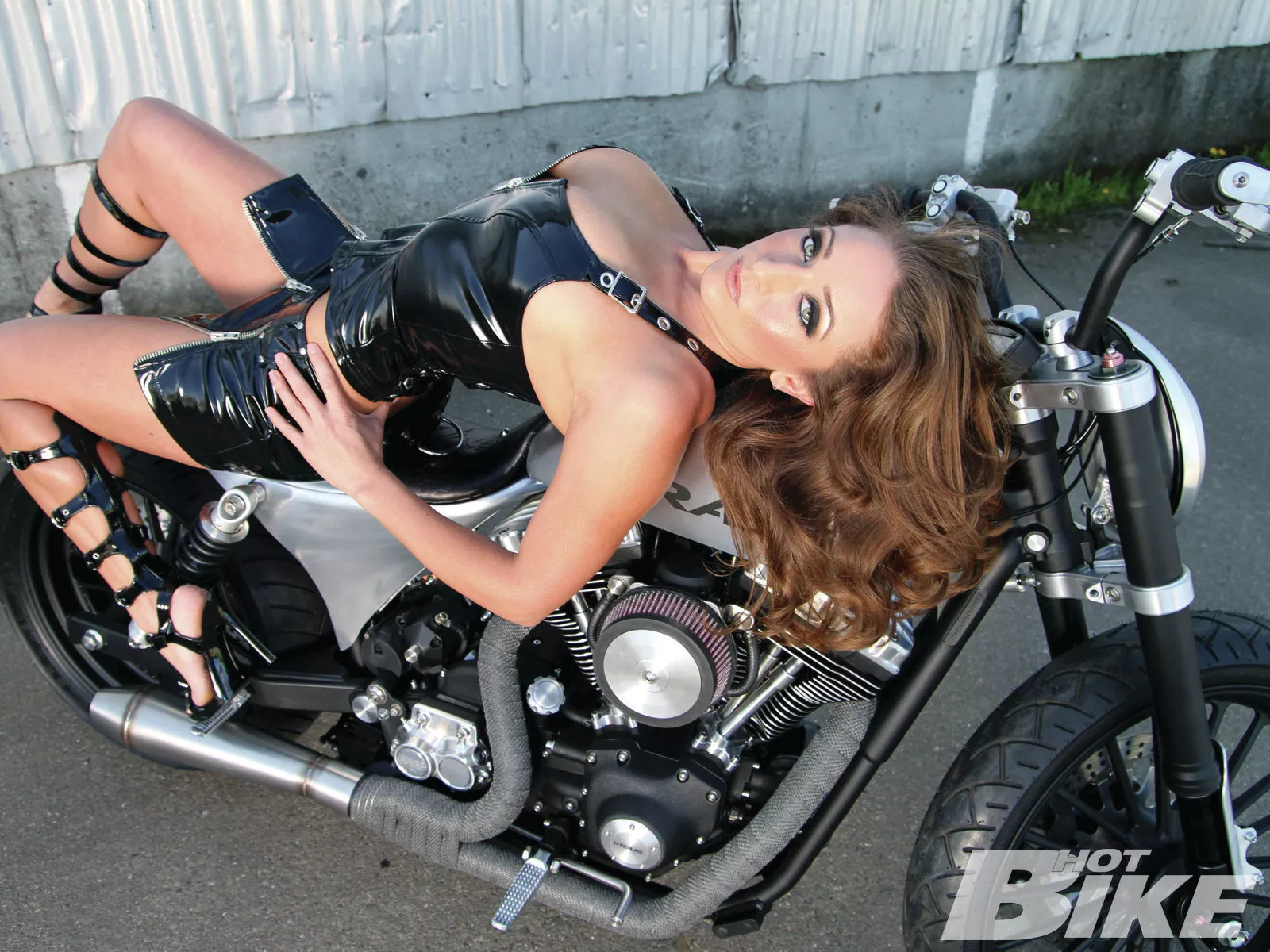 When it comes to finishing off a custom motorcycle project, there are plenty of tricks a bike builder or painter can employ to hide the minute and even large imperfections that may have arisen from not taking the time to weld, shape, or finish off the sheetmetal properly. Large amounts of bondo/body filler, metalflake, and layers upon layers of paint and clearcoat are a couple of tricks that come to mind. However, when a builder decides to go au natural, well…he better have his shit together and be on top of his metal shaping game, otherwise he'll get laughed right off the block.
Satya Kraus, owner of Kraus Motor Co., has his shit together, and this bike is proof. Raw and exposed for all to see, Satya let his work speak for itself and this once-stock '00 Dyna speaks volumes with its simple yet industrial style. Looking something like a modern day Road Warrior killing machine, the bike begs you to hop in the saddle and say "F@&k; it, let's ride!"
"My customer, Nick Erickson, had seen a Dyna that I had built for myself a couple years ago, and he really liked it," Satya tells us. "He asked if I would build him one with similar styling; aggressive and made to ride hard. My Dyna had an aggressive supermoto style to it. With Nick's bike I wanted to do something that would still appeal to Harley riders since one of Nick's favorite bikes is his FXR. Thinking along the lines of minimal and to the point, we stripped a stock '00 FXDX down to the frame and motor. We threw out the stock frontend, bars, controls, wheels, and brakes…basically all the crap that sucked. We pretty much tossed everything except the frame, motor, and trans. We even scrapped the heavy closed wet primary."
With basically a clean slate to start with, Satya and his team made a few mods to the frame which included cutting off the battery box mounts and the electrics box on the left side and trimming the rear fender horns down to less than half their stock length. They then formed and shaped a new battery box and mounted it between the nubby fender horns.
To help hide the battery box and give the Dyna a svelte mid-section, they crafted some aluminum side panels that perfectly followed the stock frame curves and housed all the stock electronics in the triangle under the seat. They also built an aluminum tail section that rests on the new battery box, then embedded the taillight and blinkers in a strip across the back of the fender tip. To give the bike more definition, the fender section has some contour and bodylines incorporated into it, which were then carried through into the shape of the tank.
"I stopped by my friend Sandy Kosman's shop and searched through some of his old goodies to find a set of Kosman trees with a similar offset as the stock Dyna ones. We had to do a little machining to get the trees to fit our application but running parts made by a motorcycle legend is all worth it," Satya comments. To get sporty and aggressive handling up front, Satya utilized an inverted GSXR1000 frontend. "To clean up the front we shaved the right side caliper mounts and only ran the left side Tokico brake. The six-piston Tokico coupled with a 320mm PM floating rotor helps the bike stop nice and fast," Satya states. Out back they wanted to keep the brake setup clean as well but instead of going the sprotor route they wanted to do things a little differently. "We mounted a rear caliper to the inside of the left side of the swingarm and mounted a four-piston Tokico caliper so it resided just in-board of the sprocket," Satya tells us. "We then made a hub spacer that separated the brake rotor and sprocket so the brake is between the sprocket and wheel. It hides the brake nicely allowing for a super clean right side and also keeps from relying on a sprocket brake. This gives us the opportunity to change rear spockets for optimum gearing and allows for a performance rear brake with out the greasy pads."
The Kraus crew handcrafted an aluminum headlight cowl to give the bike a little streamlining and carry the bare aluminum theme through to the frontend. They also added some trick fork covers down on the bottom of the forks. To help cut weight they took off the heavy passenger footpeg mounts and mounted some clean aluminum pegs directly to the swingarm. "Taking weight off in every way possible helps make a Dyna a whole lot more fun to ride," Satya tells us. "It becomes agile and responsive."
---
_
"With Nick's bike I wanted to do something that would still appeal to Harley riders since one of Nick's favorite bikes is his FXR. Thinking along the lines of minimal and to the point, we stripped a stock '00 FXDX down to the frame and motor."
_
---
In the drivetrain area they cut up a motor plate for a Softail BDL open beltdrive setup so that it would mount up to the Dyna. Once they had the primary mounted up, they made a small aluminum belt guard to protect Nick's fancy jeans when he rides. They dressed the engine up a little with a K&N; air filter and a raw aluminum cover, then made a custom 2-into-1 pipe with a stainless steel reverse cone. "These pipes allowed us to run mid-foot controls," Satya states. "The mids are custom and just simple and clean. No need to get too fancy, but they work great. We also left the forward control mounts on the frame so if Nick ever wants to mount up some highway pegs for a long haul, he easily can."
To further enhance the ergonomics and get the aggressive riding position he was after, Satya bent up some 1-inch tubing for a set of bars that are sort of like mid-rise dirt bike bars. Satya then called up Gard Hollinger at LA County Choprods and had him send over a pair of ISR hand controls. "On my bike I used Acerbis plastic hand guards that are very functional but for this we fabbed up some custom aluminum hand guards that will help keep the wind off and protect Nick's fingers and levers from making contact with mirrors while splitting lanes," says Satya. "Nothing worse than having a cars mirror grab a whole lot of front brake for you as you try so slice between it." To further clean up and lighten the bike and provide Nick with some instrumentation, the stock gauge was thrown away and a digital Trail Tech Vapor gauge was mounted on the top tree. It's light and functional. At the rear of the bike, the bike's blinkers are super-bright LEDs tucked away out of sight. "Nick's Dyna is all about function with good looks, a Harley the way we build them," Satya comments. "Nick is planning to ride the hell out of the bike, and I hope he does. That's what they are for." HB
Specifications
| | |
| --- | --- |
| Bike Owner | Nick Erickson |
| Shop Name | Kraus Motor Co. |
| Shop Phone | (707) 632-6252 |
| Shop Website | krausmotorco.com |
| Year/Make/Model | '00/H-D/Dyna |
| Fabrication Kraus Motor Co. | |
| Assembly | Kraus Motor Co. |
| Build Time | Several Months |
| | |
| --- | --- |
| Engine | |
| Year/Manufacturer | '00/H-D |
| Type/Size | 88ci/Twin Cam |
| Builder | H-D |
| Cases | H-D |
| Cylinders | H-D |
| Heads | H-D |
| Rocker Boxes | H-D |
| Carb | H-D |
| Air Cleaner | K&N |
| Exhaust | Kraus Motor Co. |
| | |
| --- | --- |
| Transmission | |
| Year/Manufacturer/Type | H-D |
| Case | H-D |
| Clutch | BDL |
| Primary Drive | Bdl Open Belt |
| | |
| --- | --- |
| Frame | |
| Year/Manufacturer | '00/H-D |
| Rake | Stock |
| Stretch | Stock |
| | |
| --- | --- |
| Suspension | |
| Manufacturer Front | Gsxr 1000 |
| Length | 28.5 Inches |
| Triple Trees | Kosman Specialties |
| Manufacturer | Rear H-D |
| Swingarm | H-D |
| | |
| --- | --- |
| Wheels, Tires, And Brakes | |
| Manufacturer Front/Type | Performance Machine |
| Size-Height/Width | 21×3.5 |
| Tire/Size | Metzeler/120×70-21 |
| Caliper | Tokico |
| Rotor | Performance Machine |
| Manufacturer Rear/Type | Performance Machine |
| Size-Height/Width | 18×5.5 |
| Tire/Size | Metzeler/170×60-18 |
| Caliper | Tokico |
| Rotor | Performance Machine |
| | |
| --- | --- |
| Finish/Paint | |
| Color | Raw Aluminum And Flat Black |
| Painter | Powder Coat |
| Graphics | Kraus |
| | |
| --- | --- |
| Accessories | |
| Rear Fender | Kraus Motor Co. Aluminum Tail Section |
| Gas Tank & Cap | Kraus Motor Co. Large Moto |
| Oil Tank | Stock |
| Handlebars | Kraus Motor Co. |
| Hand Controls | ISR |
| Foot Controls | Kraus Motor Co. |
| Footpegs | Kraus Motor Co. |
| Headlight | Kraus Motor Co. |
| Taillight | Kraus Motor Co. |
| License Mount | Kraus Motor Co. |
| Seat | Obie Beaver/ Beaver Leather Craft |