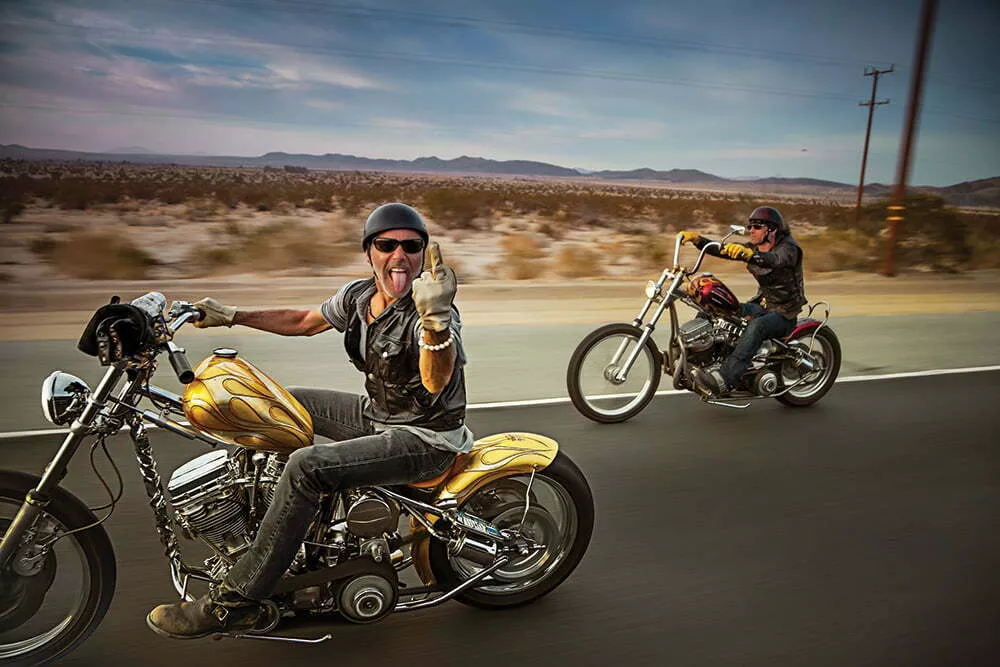 I met Timothy White about eight years ago on a charity motorcycle ride, and we hit it off immediately. "You should let me shoot you," he said, somewhere along the ride. I started to laugh a little and turned away. "What?!" Timothy came back, pressing me. I explained I'd been shot at enough in my lifetime in the Marines, and I just had to giggle when he offered to shoot me—for free nonetheless! We both laughed for a few and then he straightened up and said, "No, man, I'm serious though. Let me shoot you!" I gave a quick smirk and we burst out in laughter again. Hell, I'm smiling as I write about it.
Little did I know at the time that not only can this guy shoot, but he's the shooter. Timothy has photographed just about everyone. From astronauts and actors, assholes and comedians, top-hat-wearing guitarists and saxophone players, to models, politicians, Blues Brothers, and Superman, Timothy really has photographed our lifetime. His archives are inconceivable and go on, and on, and on. The likes of the Smithsonian, The Academy of Motion Picture Arts & Science, and a litany of galleries throughout the world seek out his work because of his pedigree.
The list is overwhelming, but here are just a few: Dennis Hopper, Denzel Washington, Indian Larry, Harrison Ford, Dr. Dre, Eric Clapton, Guns N' Roses, Howard Stern, George Clooney, James Brown, Donald Trump, James Gandolfini, Jay-Z, Jerry Lee Lewis, Metallica, Michael Jackson, Mick Jagger, Neil Simon, NWA, Oliver Stone, Oprah Winfrey, Pee-wee Herman, Phil Collins, River Phoenix, Robin Williams, Roy Orbison, Reese Witherspoon, Cindy Crawford, Spike Lee, Sylvester Stallone, Tiger Woods, The Rock, Tom Cruise, Tom Hanks, Tom Jones, Tom Berenger—hell, he's shot all the Toms. I'm telling you this list is endless.
I received a phone call a few years back from Timothy, and as soon as I picked up he said, "V-Rod, what do you know about them?" I'd ridden them a few times but I'm a little awkward on them because I'm 6-foot-2, but I can tell you the Screamin' Eagle V-Rod I saddled up on was a lightening bolt. Before I could finish answering his query, he busted in with, "I just bought one from Harrison Ford and it has like 300 miles on it. It's so fast. I love it." Now I just needed to get him out from wearing the skid lid he constantly put on. He was in SoCal now, where all the drivers are either smoking a J or texting on their phones. I've tried talking him into a 3/4 open-faced helmet or even a Simpson, and he just scoffs at the idea. Skid lid, full-face, or no helmet, what I'm driving at is Timothy can ride like the best of them.
Early on in his career Timothy worked for Rolling Stone magazine where he began shooting his impressive roster of musicians. That continued on into not only actors and celebrities but also some of the most recognizable movie posters of this generation. For more than 30 years Timothy has had his finger on the pulse of what and who is hip in our culture, and because of that he is one of the most sought-after celebrity photographers.
If you are looking for Timothy's work, you don't have to go far. It can be seen 24/7 at the Morrison Hotel Gallery at the Sunset Marquis in Los Angeles, or you can check out his website at timothywhite.com. If you are looking for Timothy in person, more than likely he's splitting lanes on Sunset Boulevard on Han Solo's V-Rod or on his chopper affectionately known as "The Rolex," built by Indian Larry of course. Just look for them New York plates, baby.