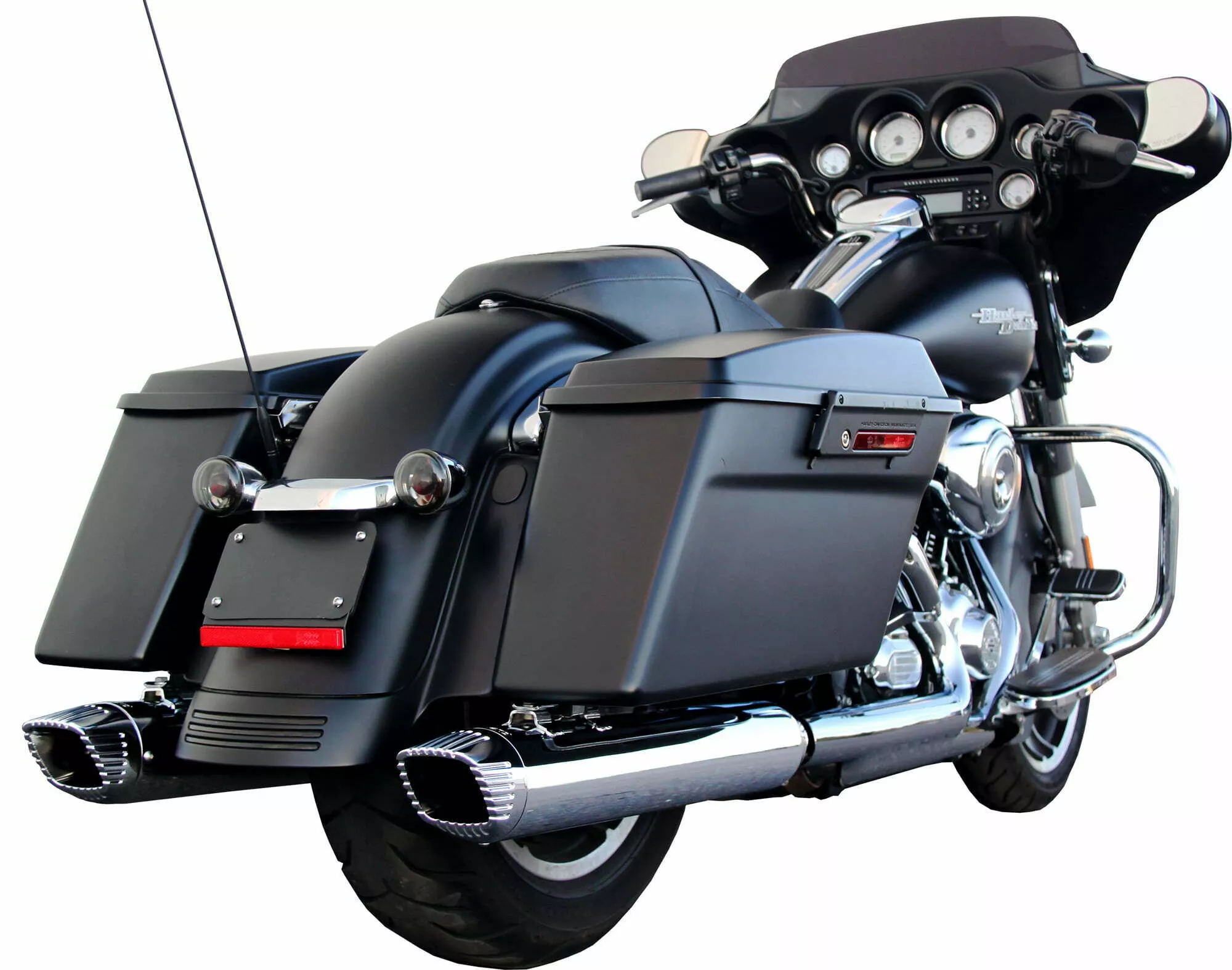 Whether it's your local hangout, a distant roadhouse, or a dusty happy hour at the honky-tonk, the sights and sounds of America wouldn't be complete without the sound of amplified music. Inspired by the unmistakable look of a classic microphone, Firebrand's new Baritone Slip-Ons bring that slice of Americana to your ride.
Available in show quality chrome or black ceramic mufflers; and with your choice of chrome, black or contrast cut billet end caps, the Baritone 4" Slip-on's fit all Touring models including Tri-Glides and those with extended and skirted bags (Freewheeler specific version also available). Additionally the End Caps can be rotated to 4 different positions, allowing for even more customization. Equipped with 2.5 inch perforated core baffles wrapped in dual density packing, Baritones belt out a deep bass note which blends perfectly with the soundtrack of your ride. As with all Firebrand products, Baritone Slip-Ons are hand crafted with pride in Anaheim, California.
4" Muffler bodies available in show quality chrome or black ceramic

Billet aluminum end caps available in chrome, black or contrast cut

End caps can be rotated to four positions, and blend perfectly with bags when in up-slash position

Engineered to produce a deep bass tone and increased performance in both stock and modified engines

Chrome versions start at $799.95, Black start at $849.95. See firebrandmotorcycle.com for complete pricing and part numbers.
About Firebrand Design, LLC
Firebrand Design, LLC. manufactures and designs innovative products for motorcycles. Their goal is building a place in the industry where passion meets cutting edge, and innovation drives the company. Firebrand products are distributed by Drag Specialties and HardDrive Parts. For more information visit www.firebrandmotorcycle.com.